Are you tired of responding to texts with a standard "okay" message? Why not spice it up with some slang words for okay? Your friends will be surprised when you use new words.
So ditch the boring "okay" and show off your slang game. Trust us, your friends will appreciate it.
12 Unique Slang Words For Okay!
Okay, so let's talk about slang words for "okay." "Fine and dandy" is a fun way to say something is good. "Copacetic" is a bit more fancy, like you are surprised or impressed.
"All good in the hood" adds a touch of urban flair, while "groovy" takes us back to the funky 70s. Feeling British? Try out "tickety-boo."
Are you looking for something a bit more straightforward? "No worries" always wins. And if you want to keep it chill, go with "cool beans."
So, there are plenty of options out there to let people know everything's A-OK.
1. On Point – Everything Is Correct:
Welcome to the world of precision! When everything is on point, it's like solving a puzzle with every piece in its rightful place.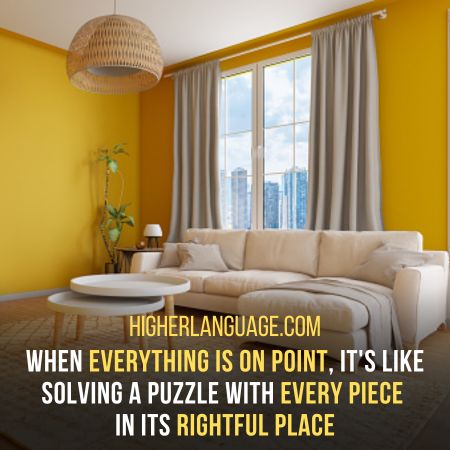 We all strive for that level of accuracy, whether in our work, our personal lives, or even just putting together an Ikea bookshelf.
Being on point doesn't just make things look good; it serves a greater purpose.
It makes it easier to find what you need when you need it. It ensures that everything works as intended, saving valuable time and energy.
So, the next time you feel like cutting corners or taking shortcuts, remember that being on point is the way to go!
2. Copacetic – Everything Is Good:
Picture this – you're chilling with your friends, catching up on life, and looking for a way to describe how everything is good and settled. That's when the word "copacetic" comes to mind.
It's one of the many slang words for okay. But have you ever wondered where these words come from?
Some belief "copacetic" originates from the phrase "comme ci, comme ça," meaning "so-so" in French. Others trace it back to the Italian "capisce," which translates to "Do you understand?"
Either way, we agree that "copacetic" is a fun and catchy way of saying everything is good and settled.
3. All Good – Nothing To Be Worried About:
There's nothing better than hearing the words "all good" from someone you trust. It's like a warm hug on a cold day, a reassuring pat on the back, or a big thumbs up from your favorite superhero.
It means you can breathe a sigh of relief and let go of all those worries weighing you down.
If you get a good report from the doctor, a job offer after an interview, or if your family is safe and healthy. So don't worry, and be happy that things are going well.
4. Chillaxin' – Calmly Taking Care Of Business:
Are you the kind of person who wants to get things done but doesn't want to sacrifice relaxation?
Well, my friend, it's time to start chillaxin'. This state of mind is all about taking care of business without stress. So you can get the job done while feeling relaxed and at peace.
Think of it as a middle ground between productivity and meditation. It's a perfect balance of calmness and capability.
So kick off your shoes, sip your favorite beverage, and start chillaxin' your way through life. Trust me; you won't regret it.
5. You Got It, Chief! – An Affirmative Response:
"You got it, chief!" is a classic go-to phrase when responding enthusiastically and agreeing to a task or request.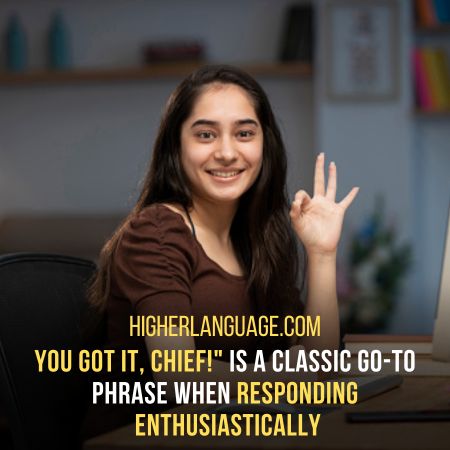 This playful phrase not only acknowledges the request but also adds a level of excitement and energy to your response.
Whether it's your boss, friend, or significant other asking for your assistance, saying, "You got it, chief!" can make them feel valued and appreciated.
So next time someone asks for your help, try out this affirmative response with a big smile and watch the positive reactions pouring in!
6. Yup – Informal Way To Say Yes Or Agree To Something:
Yup, you heard that right! This tiny three-letter word can communicate much agreement and affirmation in a single syllable. It's no wonder it has become such a popular slang term used in everyday conversation.
Have you covered whether you're excitedly confirming your dinner plans with your best friend or begrudgingly agreeing to do a favor for your boss?
Who knew such a nonchalant word could have so much impact? So the next time someone asks you a question, try responding with a casual yet confident yup and see how transformative it can be!
7. Alright – Express Agreement With Something:
Now I know what you're thinking – "Another paragraph about 'alright'? Really?" But hear me out. This phrase may seem basic, but it's quite versatile.
You can use it to acknowledge someone's idea, express agreement, or even show you're listening. Its simplicity is part of what makes it so effective.
Plus, it has a universal appeal – it doesn't matter if you're from the north, south, east, or west – everyone can understand an "alright."
And let's be real; there's something satisfying about saying it. So, don't underestimate the power of this deceptively simple word. Alright, that's all I have to say for now.
8. Cool – Indicates That Something Is Acceptable:
Cool. Such a simple word, yet it speaks volumes. It's a slang term that has been used for decades, and it's not going anywhere anytime soon.
It's the perfect word to use to show your agreement with someone.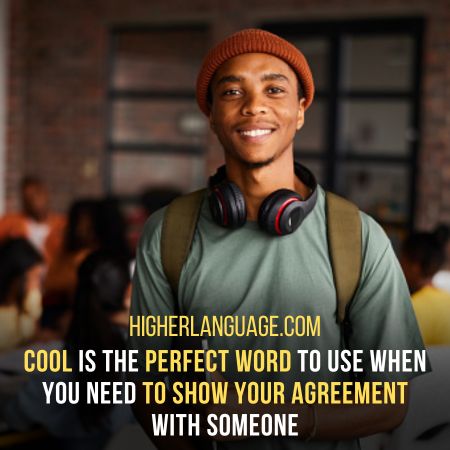 And let's face it, who doesn't want to be seen as cool? So from music and fashion to technology and travel, we constantly search for the next cool thing.
So, the next time someone asks if you want to grab a drink or catch a movie, respond with a simple, "Cool". Trust us; it's the coolest thing you can do.
9. Sure Thing – Formal Way Of Saying "Okay":
Why settle for a plain old "okay" when you can add a touch of sophistication to your vocabulary with the phrase "sure thing"?
Not only does it convey agreement, but it also implies confidence and assurance. Plus, using more formal language can elevate your professional or casual communication.
So the next time someone asks you if you're ready to go or would like another cup of coffee, try responding with a confident and sophisticated "sure thing" and watch yourself command the room.
10. Solid – Means "I'm Okay With This":
Solid! You might have heard this phrase before; it's a short, sweet, and straightforward answer that agrees.
Kind of like saying, "Yup, I'm okay with this." It's a casual way to show your approval and support for something.
The origins of this phrase are not certain, but some say it might have come from the '60s or '70s when people used it to express their solidarity with certain movements.
Nowadays, it's still a popular way to show your agreement with someone or something, and the best part is that it's so easy to use that you can drop it whenever you feel like it. Solid, right?
11. Wicked – Express General Approval:
If you ever find yourself wandering through the streets of London and someone exclaims "Wicked!" in your general direction, don't panic. They're not casting spells; they're simply expressing their approval.
This British phrase has long been used to show enthusiasm for something, from a delicious meal to a thrilling ride at the amusement park. And let me tell you; it's a versatile expression.
You could say it with a smile and a wink to your best mate or belt it out at the top of your lungs during a concert. So try it- you might feel a bit more British by the end of the day.
 12. Noted – Acknowledge Something With An "Ok" Vibe:
Have you ever wanted to acknowledge something but weren't quite sure how to express it? Here's where "noted" comes into play – the perfect phrase for when a simple "ok" won't cut it.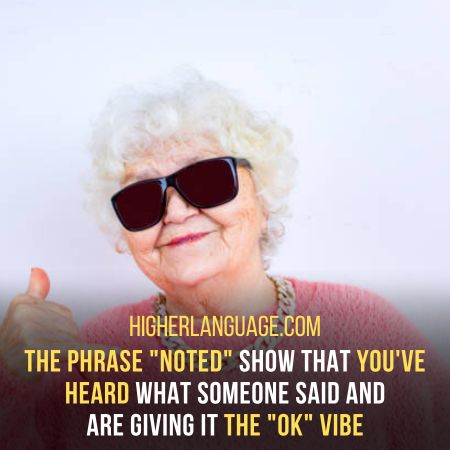 It's a subtle way to show that you've heard what someone said and are giving it the "ok" vibe without sounding dismissive or uninterested.
Use it in a casual conversation, a work email, or even a text message – "noted" is versatile and can be used in almost any scenario.
So next time you want to acknowledge something, try " noted " and see how it adds a touch of coolness to your communication.
Conclusion:
Regarding slang words for okay, we've got many options. From "alrighty" to "dope," the list continues. But have you ever wondered where these terms even come from?
Some originated in certain regions or communities, while others were popularized through music and movies. For example, "aight" or "aiight" became popular in the 90s through rap and hip-hop culture.
And if you're feeling particularly casual, you might go for "k," which is just one letter short of being almost too cool for school.
So next time someone asks if you're okay, give them something to remember with one of these slang words. Just be sure to use them in the appropriate context.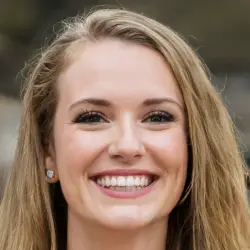 Latest posts by Sylvia Simpson
(see all)