If you're traveling to the UK, you may want to brush up on some British slangs for goodbye to make your trip more exciting.
Saying goodbye is okay. But you can also try saying something else, like "see ya later" or "have a great day", to make it more fun. Here are some more alternatives for you!
12 British Slangs For Goodbye – Let's Try Some New Ways!
If you're planning a trip to the UK or want to impress your British friends, knowing the local lingo is important.
And when it comes to saying goodbye, the Brits have some unique expressions that are fun and functional.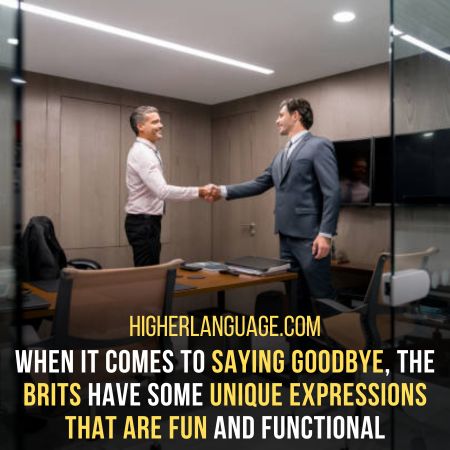 For starters, there's "Cheerio," a classic British farewell that's often accompanied by a wave of the hand. If you're feeling cheeky, try "Ta-ta" or "Tatty-bye."
These slang phrases are great for casual situations, but for a more formal goodbye, you can't go wrong with "Goodbye" or "Farewell."
Whatever expression you choose, don't forget to add a smile and a nod – after all, manners are important, even in slang.
1. Cheerio – A Classic British Goodbye Phrase That Means "Goodbye" Or "Farewell":
Cheerio! The quintessential British farewell embodies a sense of politeness and charm. But did you know that it didn't always mean "goodbye" or "farewell"?
Originally, it was an exclamation of joy or approval, akin to saying "bravo!" or "well done!" But the meaning shifted to bidding adieu to someone or something over time.
Nowadays, saying "Cheerio!" is a delightful way to say goodbye, whether you're waving from a train platform or signing off an email.
So the next time you find yourself in the midst of all things British, remember to add a cheerful "Cheerio!" to your vocabulary.
2. Ta-Ra – A Friendly And Very Informal Way Of Saying Goodbye:
Ta-ra! It's an upbeat and casual way of saying "goodbye" that's sure to make anyone smile.
This slang term originated in Britain, but it's now used worldwide. In fact, it's one of the many expressions that demonstrate how the English language is constantly evolving.
While it may not be as formal as "farewell" or "adieu," it's perfect for friendly goodbyes with your friends, family, and colleagues.
Next time you're about to leave a party, try out "ta-ra" and see the looks of delight on your friends' faces. It's the perfect way to end the night on a positive note!
3. Bye-Bye – Another Informal Way To Say Goodbye; Often Used By Small Children:
Do you ever get tired of the usual "goodbye" or "see you later"? Want to mix it up a bit and add some childish fun to your daily conversations? Then, look no further than "bye-bye"!
Not only is it a playful and informal way to say goodbye, but it also brings about nostalgia for our childhood days.
So go ahead and use it with your friends and family, and don't be surprised if it starts catching on with the adults too! Who says we always have to be so serious anyway? Bye-bye, for now, folks!
4. Chin-Chin – A Cheerful Expression Used When Parting From Someone:
Chin-chin! No, I'm not toasting you with a drink. Instead, I'm saying goodbye cheerfully with this Japanese expression.
It's a delightful phrase to use when you part ways with someone, and it sure sounds a lot more exciting than just saying "bye."
Interestingly, this seemingly cute expression's origins might surprise you. It actually comes from the Chinese word "qing-qing," which means "please, please" in Mandarin.
But the Japanese have adapted it to signify a friendly farewell. So the next time you meet with friends, say "chin-chin" before you go!
5. Pip Pip – A Classic British Term Of Farewell:
Pip pip, old chap! Are you familiar with this charming British farewell? It may sound a bit outdated, but don't let that fool you – pip pip is a classic term that's been in use for over a century.
It's believed to have originated as a way for British soldiers to say goodbye before heading to battle. Today, it's often used in a lighthearted, almost comical way.
So whether you're bidding farewell to your mates or simply signing off on an email, why not add a touch of British flair with a cheerful pip pip? It's sure to leave a smile on everyone's face.
6. Farewell – A Slightly More Formal Term For Saying Goodbye:
Farewell, the slightly more formal term for saying goodbye, is just one of those words that sounds like it belongs in a bygone era of fancy hats, white gloves, and horse-drawn carriages.
However, despite its old-fashioned charm, farewell still packs a punch when expressing one's good wishes for someone departing.
Saying goodbye can be sad. But it is also a way to wish someone good luck as they start something new. It is like giving them a blessing for their journey.
So don't be afraid to break out this classic phrase next time you want a slightly more formal goodbye.
7. Word Up! – A Cool And Casual Way To Say Goodbye:
Goodbyes can be awkward, but they don't have to be! If you're tired of the same old formal farewell, consider switching it up with a cool and casual "word up!"
This trendy phrase is a fun and lighthearted way to say goodbye that will leave a lasting impression on anyone you bid farewell to.
Whether you're leaving the office for the day or saying goodbye to your friends after a night out, "word up!" is a cool and effortless way to make your goodbyes more memorable.
So next time you're ready to hit the road, try out this fun and funky farewell and see how it catches on. Word up!
8. Toodle Pip – A Cute Way To Say Goodbye:
Toodle Pip may sound like a new dance move or a trendy coffee shop, but it's actually a very cute way to say goodbye.
This playful expression originated in England in the early 20th century and has been used by Winnie the Pooh and Mary Poppins.
Not only does it sound adorable, but it's also a great alternative to the usual "goodbye" or "see you later."
Whether you're bidding farewell to a friend, coworker, or family member, the lighthearted nature of Toodle Pip is sure to leave them with a smile on their face.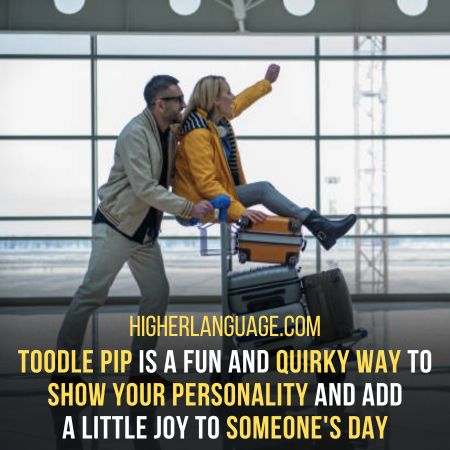 So the next time you say your goodbyes, why not try Toodle Pip? It's a fun and quirky way to show your personality and add a little joy to someone's day.
9. Cheers – A Popular Phrase Used When Parting Ways With Friends:
Cheer is a phrase that has become an integral part of our daily vocabulary when it comes to bidding farewells to our friends.
The word itself might bring up images of clinking glasses and warm embraces; truth be told, it's not too far off.
The term is thought to have originated from the French word "chere," which means "dear." As time passed, the word got shortened to "chiers," which evolved into the English "cheers."
Nowadays, we use this versatile expression in a multitude of contexts. For example, cheers has become our go-to word for a friendly parting, from toasting with drinks to simply saying goodbye.
So why not raise a glass to this hugely popular phrase that never fails to evoke feelings of warmth and goodwill? Cheers to cheers!
10. Peace Out – A Very Popular Slang Phrase Used To Say Goodbye:
If you've ever watched a teen movie or hung out with a group of young people, chances are you've heard the phrase "peace out." But where did this slang phrase come from?
It turns out that "peace out" is a shortened version of the phrase "peace out, homie," which was popularized in the 1990s by hip-hop and rap artists.
"peace out" has become a catch-all way to say goodbye to friends, family, or even strangers.
With its swift, effortless nature and amicable vibe, it's no surprise that this laid-back approach has become so beloved.
So the next time you're saying farewell to someone, why not try throwing in a "peace out"? It's sure to bring a smile to their face!
11. See Ya Later – A Very Informal Way To Say Goodbye:
Nothing quite like the farewell of "See ya later," is there?
It's the perfect blend of informality and optimism, conveying both a sense of familiarity and a confident expectation of a quick return.
It's the kind of send-off that leaves you feeling good, even if you're the one doing the leaving. And let's be honest; we could all use a little bit more of that in our lives.
So go ahead, embrace the "See ya later" mentality – it's like a verbal high-five that's sure to brighten anyone's day.
And remember, whether it's a friend, a family member, or even a coworker saying it to you, you can rest assured that they'll be back before you know it.
 12. Bye For Now – Similar To See Ya Later, But With A Touch More Formality To It:
If you're looking for a way to sign off from a conversation with a little more polish than a casual "see ya later," then "bye for now" might just be the perfect phrase for you.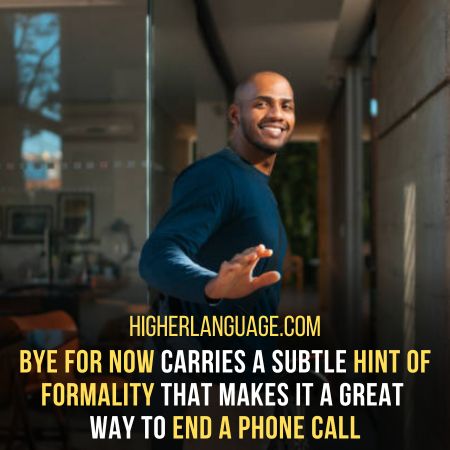 It carries with it a subtle hint of formality that makes it a great way to end a phone call or chat with acquaintances or colleagues.
When you say "bye for now" to someone, it shows them that you want the conversation to end. But it also makes them feel good that you had a nice talk.
So next time you're wrapping up a chat with someone, consider adding a little extra flair with a "bye for now."
Conclusion:
When it comes to saying goodbye in the United Kingdom, the Brits have many slang terms at their disposal.
From the timeless "cheerio" to the contemporary "ta-ta," options for bidding someone goodbye are abundant.
But perhaps the most beloved of all British goodbye phrases is "laters," a shortened version of "see you later."
"Laters" is the ideal way to bid farewell, with its warm and friendly vibe. It's perfect for saying goodbye to both friends and colleagues alike!
So next time you're in the UK, don't be afraid to bust out a little British slangs for goodbye – and don't forget to add a cheeky wink for good measure!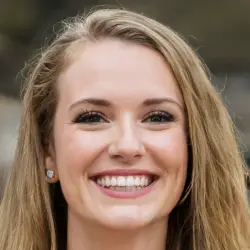 Latest posts by Sylvia Simpson
(see all)