Jeep has become a very convenient partner for those who love adventures. They use different slang words for jeep when talking about their experiences.
In this article, you'll learn the common slang words for jeep. These will help you to show your knowledge when talking to a Jeep lover.
Slang Words For Jeep
Jeeps are all-terrain vehicles that have been popular since World War II. Over the years, they have become a symbol of freedom and adventure.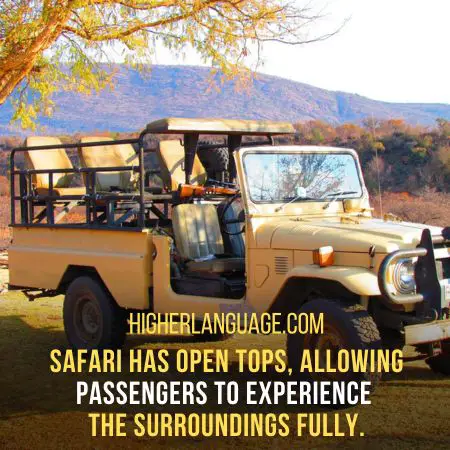 They are often associated with ruggedness and exploration. However, jeep enthusiasts have devised their own terminology to describe these iconic vehicles.
This section will explore some of the popular slang words used for jeeps.
1. Jeeper:
A jeeper is someone who owns or loves driving a jeep. This term is commonly used among jeep enthusiasts.
This word refers to themselves or others who share the same passion for these vehicles.
Being a Jeeper means being part of a tight-knit community that values camaraderie and adventure.
2. Wrangler:
The term "wrangler" is often used interchangeably with "jeep" in popular culture.
This is because the Jeep Wrangler has become one of the most well-known and recognizable models of jeeps.
However, among jeep enthusiasts, a wrangler is a type of jeep designed for off-roading adventures.
These rugged vehicles are coveted by those who are serious about exploring challenging terrain.
3. Mud Slinger:
As the name suggests, a mudslinger is a jeep for off-roading in muddy conditions.
These jeeps have been modified with larger tires and aggressive treading. These help to tackle deep mud and other obstacles.
They are seen as the ultimate form of jeep for those who love getting dirty and pushing the limits of their vehicle.
4. Urban Assault Vehicle (UAV):
This is one of the common slang words for jeep. This word refers to its versatility and ability to navigate through urban landscapes.
With compact size and agile handling, jeeps are perfect for zipping through busy city streets or squeezing into tight parking spaces.
The term "urban assault vehicle" also adds a touch of badassery to the image of a jeep.
It makes it appealing to those who want to stand out in an urban setting.
5. Beach Cruiser:
Jeeps are popular among beachgoers and surfers. This is due to their ability to drive on sandy beaches.
The term "beach cruiser" is often used to describe jeeps perfect for cruising along the coastline.
They are also good for carrying boards and gear to the beach. These jeeps are typically open-top.
They provide a fun and carefree driving experience while taking in the ocean views.
6. Rock Crawler:
A rock crawler is the perfect jeep for tackling challenging terrain and obstacles.
These specialized vehicles are built with advanced suspension systems and other modifications.
These allow them to climb over rocks and boulders without getting stuck.
The term "rock crawler" describes the vehicle and the activity of off-roading in rocky terrain.
7. Rubicon:
The Rubicon is a name that holds a special meaning for Jeep enthusiasts.
It refers to the Rubicon Trail, a rugged off-road trail in California.
This term often describes a jeep capable of handling challenging terrain.
8. Mall Crawler:
On the other end of the spectrum, a mall crawler refers to a jeep.
It has been extensively modified for show rather than performance.
These jeeps are often seen cruising around city streets or parked at malls and car shows.
They rarely do they see any off-road action. Some may see them as for show.
Others enjoy the customization and personalization of being a mall crawler owner.
9. Trail Rated:
Another term commonly used by jeep owners is "trail-rated."
This refers to a rating system created by Jeep to indicate a vehicle's off-road capabilities.
A "trail-rated" jeep has been tested on various off-road challenges and has passed with flying colors.
This term often describes jeeps specifically built for off-roading with features such as 4-wheel drive, high ground clearance, and specialized tires.
10. Safari:
The term "safari" may seem out of place when discussing jeeps, but it has a specific meaning within the jeep community.
A safari jeep is modified for safaris and other outdoor adventures.
These jeeps often have open tops, allowing passengers to experience their surroundings while on an adventure fully.
11. Jeep Wrangler:
The term "Jeep Wrangler" has become synonymous with jeeps in general.
This iconic model has been around since World War II. It has evolved into the rugged, versatile vehicle we know today.
It's no wonder many people refer to any jeep as a "Wrangler," even if it may be a different model or make.
12. Jeepster:
The term "Jeepster" is often used to describe a jeep that is more vintage or retro in style.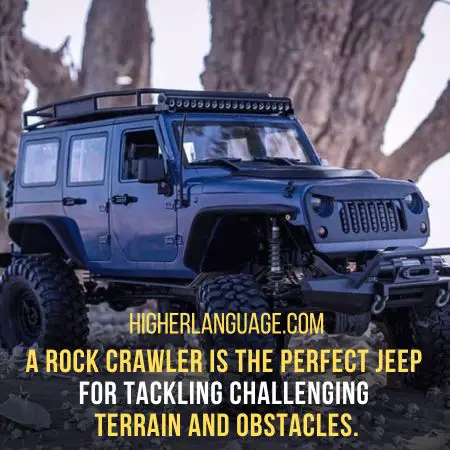 It can also refer to a specific jeep model, such as the Jeepster Commando. It was produced by Jeep from 1966 to 1973.
The term "Jeepster" can also be used affectionately by owners with a special connection with their older jeeps.
Types Of Jeeps
Jeeps are a type of vehicle known for its off-road capabilities and rugged design.
The United States Army originally developed it during World War II. It has now become a popular choice among civilians as well.
Over the years, different types of jeeps have been created. These are used to cater to various needs and preferences.
1. Classic Jeep:
The classic Jeep, also known as the Willys MB or Ford GPW, is the original model that was produced for military use.
It has a distinct boxy design. It is equipped with four-wheel drive, making it suitable for off-road terrains.
The classic jeeps were primarily used during World War II. Some still exist today and are considered collector's items.
2. Wrangler:
The Wrangler is the modern version of the classic Jeep, produced by Jeep since 1987.
It retains the rugged design and off-road capabilities of its predecessor.
It has added features such as improved suspension and a more powerful engine.
The Wrangler comes in various models. For example, the two-door, four-door, and pickup truck versions.
3. Cherokee:
The Cherokee is a mid-size SUV produced by Jeep since 1974. It has a more refined and spacious design compared to the classic Jeep.
This design makes it suitable for daily use as well as off-road adventures. The Cherokee also offers different engine options.
And advanced technology features such as lane departure warning and blind spot monitoring.
4. Grand Cherokee:
The Grand Cherokee is a larger version of the Cherokee, introduced in 1993. It offers a more luxurious and comfortable ride compared to other jeeps.
It has heated and ventilated seats, a panoramic sunroof, and adaptive cruise control.
Despite its size, the Grand Cherokee still maintains its off-road capabilities.
5. Gladiator:
The Gladiator is Jeep's first pickup truck since the Comanche was discontinued in 1992.
It shares the same platform as the Wrangler but with a longer wheelbase to accommodate a truck bed.
The Gladiator also has impressive towing and payload capacities. It makes it suitable for both work and play.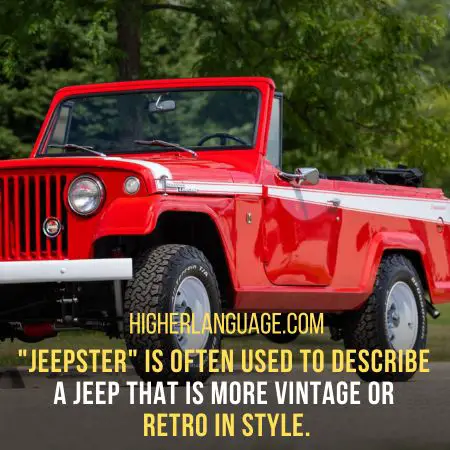 Jeep offers a diverse range of vehicles to suit different needs and preferences.
Every lifestyle has a jeep, from the rugged classic jeep to the luxurious Grand Cherokee.
Jeep has covered you whether you're looking for off-road adventures or a daily ride.
So next time you see a jeep on the road, take a moment to appreciate its history and evolution.
Keep exploring and experiencing the world with your trusty jeep by your side.
Conclusion:
As you can see, many slang words are used to describe jeeps, depending on their purpose and style.
Whether you're a beach cruiser or a rock crawler, there's a jeep for everyone.
So next time you see one of these unique vehicles on the road, remember that it may have a nickname among its community, adding to its personality and charm.
And if you need some off-roading or beach cruising fun, consider joining the Jeep community and finding your perfect ride.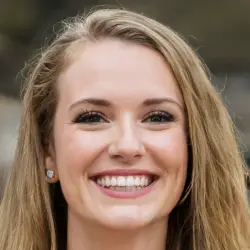 Latest posts by Sylvia Simpson
(see all)