If you want to be fashionable and speak with sophistication, let's discuss some "1940s slang words and phrases". Nowadays, it is all the rage to have an eloquent vocabulary.
You may know some words and phrases, but did you know that "dame" can be used to describe a woman? There are lots of other words like this too. Read more to know them!
1940s Slang Words And Phrases – A Round To The Past!
It's time to put on your thinking cap and explore the delightful 1940s slang words. Despite World War II, people still came up with outrageously creative vernacular.
Whether you were a cool cat or just looking to blow your wig, there was a phrase for everyone. Need to make a quick exit? Just say you have to split.
Want to compliment someone's outfit? Tell them they look sharp as a tack. And don't forget about the terminology used in the armed forces – like "GI" and "jarhead."
These old-fashioned phrases may seem like a thing of the past, but they sure add some snazzy flair to any conversation. So here we have some more for you!
1. Ace – Meaning Excellent Or Top Notch:
Are you tired of using the same old adjectives to describe something great? Then, look no further than the word "ace"!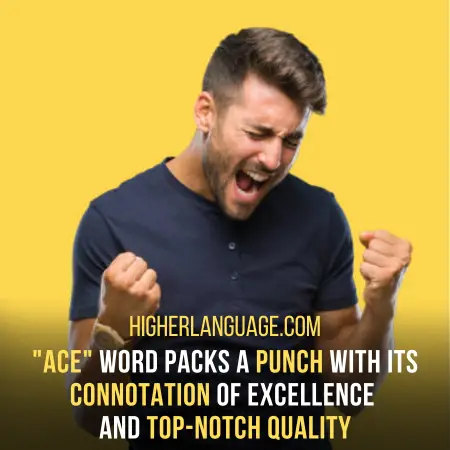 This four-letter word packs a punch with its connotation of excellence and top-notch quality. Oozing confidence and swagger, calling something "ace" immediately elevates it.
And let's not forget about its versatile usage – from sports to academics to everyday life, "ace" is the perfect word to describe something exceptional.
So why settle for plain old "good" or "great" when you can add some flair with "ace"?
2. Palooka – Someone Who Is Not Very Good At Something:
Palooka might not have a positive connotation, but it's worth knowing. In popular culture, someone not very good at something has been dubbed a palooka.
The origins of this phrase are quite interesting; it was first used in the late 19th century to refer to a professional boxer who was neither skilled nor well-trained.
Since then, it has been used to describe anyone who is clumsy, awkward, or ineffectual. From politicians to athletes, we've all come across palookas.
So, the next time you meet someone who lacks proficiency, you can casually refer to them as a palooka and trace back the origins of this quirky term.
3. Butter And Egg Man – A Wealthy Person:
The phrase "Butter and Egg Man" may sound like a funny nickname for a wealthy individual, but it is rooted in the early 20th century.
Back then, a Butter and Egg Man made a fortune in the dairy industry – a lucrative business.
The few who lived unapologetically and without restraint embraced each day to its fullest potential with their luxurious lifestyles and the persistent pursuit of pleasure.
Nowadays, the term refers to anyone that has achieved affluence without considering their pursuits or heritage.
So next time you meet a Butter and Egg Man (or Woman), don't be surprised if they're living it up in style!
4. Buzz Wagon – An Ambulance:
Regarding ambulances, the Buzz Wagon is in a league of its own.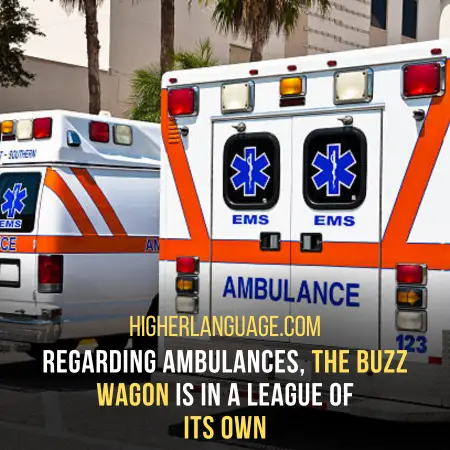 This quirky little vehicle has been around since the early 1900s and has been responsible for transporting countless patients to hospitals nationwide.
Despite its age, the Buzz Wagon has managed to keep up with the times, thanks to its modern features and state-of-the-art medical equipment.
From its compact size to its bright red exterior, there's no mistaking the Buzz Wagon when you see it speeding down the street.
So the next time you're in need of medical assistance, just keep your ears open for the familiar sound of the Buzz Wagon – it's sure to come to your rescue in no time!
5. Cat's Meow – Something That Is Amazing, Great, Or Wonderful:
We've all heard the phrase "the cat's meow" before, but do you know where it comes from? In the past, flappers used the term to describe something fabulous.
And what could be more fabulous than a cat's meow? Cats are known for their sassy attitudes and incredible agility, so it's no wonder we associate their "meows" with something great.
But the term has evolved beyond just feline slang – now it's used to describe anything that's truly top-notch.
So the next time you hear someone say, "that's the cat's meow," you'll know exactly what they mean.
6. Bogart – To Hog Or Take Something That Isn't Yours:
The word "Bogart" has been around for a long time, but its usage has evolved over the years.
Originally, it referred to the actor Humphrey Bogart and his tendency to hold onto a cigarette for an absurdly long time. Now, it means to take or hog something that isn't rightfully yours.
So, if your friend takes all the chips at the party, you can tell them to stop Bogarting them! It's a fun and catchy way to remind people not to be greedy.
So next time you hear someone Bogarting something, gently remind them that sharing is caring. Or else you'll have to call them out on their lack of Bogart etiquette!
7. Dressed To The Nines – Looking Your Best, Dressed In The Fanciest Clothes:
Something about wearing fancy clothes makes you feel like you can conquer the world, am I right?
Whether slipping on a tuxedo or a glamorous ball gown, dressing to the nines can boost your confidence to new heights.
And let's not forget about the compliments – who doesn't love being told they look fabulous?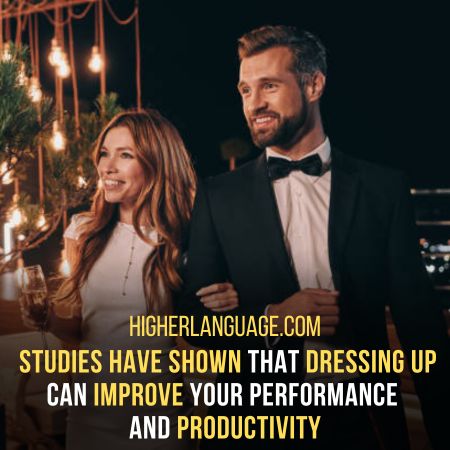 But it's not just about the aesthetics. Studies have shown that dressing up can improve your performance and productivity.
So next time you have an important presentation or interview, go ahead and put on your fanciest outfit – it might just make all the difference.
8. Eagle Eye – Someone Who Pays Close Attention To Detail:
Do you know someone who always seems to notice the smallest details? Maybe they have the eyes of an eagle!
An eagle eye pays close attention to detail, no matter how minuscule or insignificant it may seem.
These people notice the small things in an email, like a typo, or they can tell when someone's tone changes while talking. They pay close attention and are very helpful in every kind of situation.
So, next time you need to be sure all the T's are crossed, and I's are dotted, turn to the person with the eagle eye – they won't let you down!
9. Good Egg – A Nice Person:
Have you ever met someone who is just a good egg? You know, the type of person who radiates positivity and kindness no matter what life throws their way?
These individuals are a rare breed, and it's hard not to feel uplifted when you encounter one. But what makes a good egg exactly? Well, it goes much deeper than just being nice to others.
A good egg is someone who embodies empathy, selflessness, and resilience. They don't let setbacks define them, and they always prioritize the needs of others before their own.
So, the next time you come across a good egg, take a moment to appreciate its presence and strive to embody those admirable qualities in your own life.
10. Submarine – To Duck Out Of Sight Quickly:
Ahoy there! Did you know that during the 1940s, the term "submarine" had a bit of a different meaning? It wasn't just the underwater vessel that we know today.
No, no, no. To "submarine" was to duck out of sight quickly, probably to avoid someone or something.
It's like when you're at a party, and you see your dreaded ex coming your way – you might try to submarine or make a quick and sneaky exit.
It's a fun little slang term that adds a bit of excitement to our vocabulary. So next time you need to make a quick getaway, just remember to submarine!
11. Soda Jerk – A Person Who Works At A Soda Fountain:
Back in the day, a soda fountain was the town's social hub. And who was the star of this establishment? You guessed it – the soda jerk!
This charming character was the ultimate multitasker, juggling orders for sundaes, sodas, and milkshakes, all while effortlessly chatting with customers.
But being a soda jerk wasn't just about speed and skill – it was about personality too.
You had to have a flair for the dramatic, effortlessly tossing ice cream scoops into cones and layering toppings with precision.
The soda jerk was true artist, and their talent was often the main attraction in any soda shop.
So next time you're sipping on a root beer float, remember the unsung hero behind the counter who made it all possible – the fearless soda jerk!
12. Horse-Feathers – An Expression Of Disbelief:
Horse-feathers! Have you ever heard this expression before? It's a playful way of saying, "I don't believe it!" or "That's ridiculous!" But where did it come from?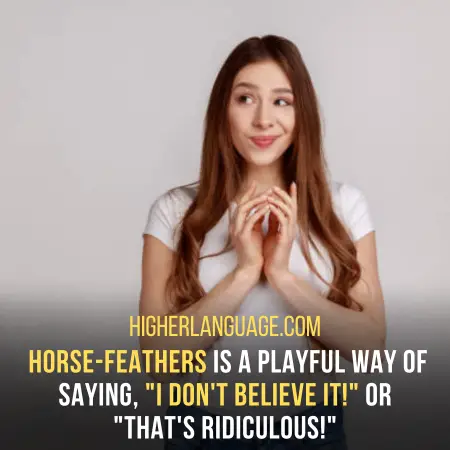 Well, it turns out that "horse feathers" is a term rooted in horse racing.
Back then, unscrupulous trainers sometimes fed their horses feathers to add weight and give the illusion of a healthy horse.
Of course, this "trick" didn't improve the horse's performance, so the term "horse feathers" became synonymous with something just a fake or a fraud.
So the next time someone tries to pull the wool over your eyes, you can respond with a cheeky "horse feathers!"
Conclusion:
The 1940s was a unique era full of colorful characters and slang that was all it's own. From words like "cat's meow" to phrases like "23-skidoo," 1940s slang was both interesting and practical.
In fact, many of these phrases are still in use today! For example, did you know that when someone says "cool" or "groovy," they use slang that originated in the 1940s?
Whether you're a history buff or just love learning new things, delving into 1940s slang words and phrases is sure to be a treat.
So why not try incorporating some of these old-school words into your vocabulary? They might just add a little pizzazz to your everyday conversations.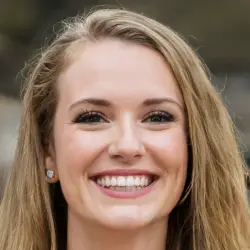 Latest posts by Sylvia Simpson
(see all)