A hundred bucks, a century, a C-note, a Benjamin, or even a lobster are just a few of the many slang words for 100 dollars!
So, why stick to the boring old "one hundred dollars" when you can add some flair and personality to your vocabulary? It's time to start using these slang words like a pro!
9 Interesting Slang Words For 100 Dollars!
Slang is more than just a casual way of speaking. It's a language in itself, with its own set of rules and idioms that are constantly evolving.
The beauty of slang is that it can be used to express yourself in a way that traditional language cannot. It's a way of connecting with others and showing your personality through words.
Some people use slang to fit in with a certain group, while others use it simply because it's fun. But beware, there's a fine line between being cool and cringe-worthy when using slang.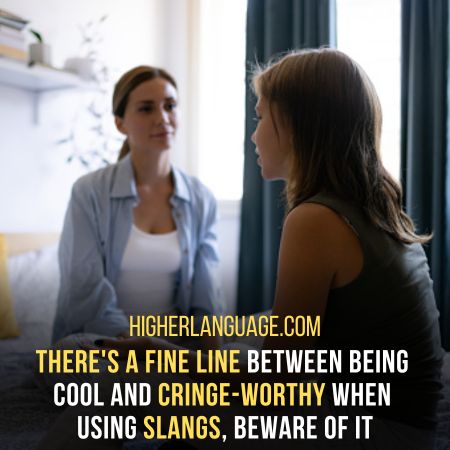 So next time you want to impress your friends with your knowledge of the latest slang words, just remember to do so with finesse.
1. A Benjamin – A $100 Bill That Features Benjamin Franklin On The Front:
Ah yes, the Benjamin – that sweet piece of paper with so much value. You know whose face is on it, right? Benjamin Franklin!
A founding father, an inventor, and an all-around smarty-pants. It's no wonder he made his way onto the $100 bill.
But did you know that Benjamin has been around since 1929? That's almost 100 years of making it rain with Benjamins.
And if you're lucky enough to have a Benjamin in your wallet, hold it tight. It's not every day you get to carry around a piece of history (and a lot of cash).
2. Dub Or Double Sawbuck – Short For Double Sawbuck, Meaning Two Ten Dollar Bills:
Have you ever heard of the terms "dub" or "double sawbuck"? If not, it's time to brush up on your slang! These words refer to two ten-dollar bills, making for twenty bucks.
The term "sawbuck" itself originates from the resemblance of the Roman numeral X to the shape of a sawhorse used to hold the timber in place for cutting.
But where did the "double" come from? Apparently, it's just another way to say "two".
When someone says "dub" or "double sawbuck, " they talk about money. Knowing this can make you sound smart!
3. C-Note – Short For A "Century Note" Since It Is Worth One Hundred Dollars:
Have you ever heard of a C-note? No, it's not slang for a musical note, but it is worth singing about.
A C-note is a nickname for a "century note," worth a cool one hundred dollars! Can you imagine having a stack of C-notes in your wallet? You'd be one smooth operator.
The term "C-note" goes back centuries, with "C" being the Roman numeral for 100, where the slang term began.
So next time you feel fancy, toss the term "C-note" and impress your friends with your knowledge of the almighty dollar.
4. Grand – Often Used About Amounts Of Money, As In "Spending A Grand":
Are you ready to spend some serious cash? Well, get ready to drop a grand!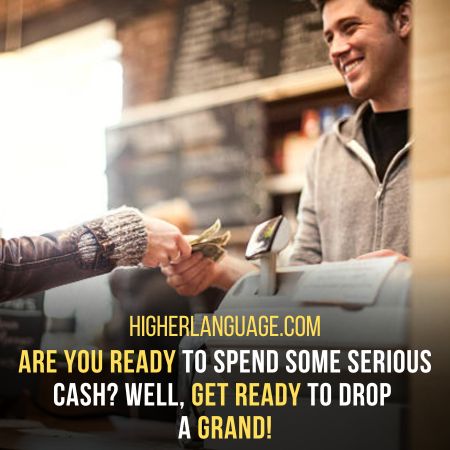 That's right, a thousand dollars just waiting to be spent on that fancy dinner reservation or that new pair of designer shoes you've been dreaming about.
This term has been used for a while and has become quite popular in everyday language. But where did it come from?
The word itself originally meant large or imposing and eventually made its way into financial jargon to describe a significant sum of money.
So go ahead, live a little, and spend that grand like a boss. Just don't forget your budget!
5. Dollar General – Play On The Popular Store Name, Dollar General:
Are you looking for a store where you can get great deals and discounts without breaking the bank? Then, look no further than Dollar General!
With a name that plays off the popularity of the dollar store concept, Dollar General offers a wide range of products at low prices.
From snacks and groceries to clothing and household items, this store has you covered. Plus, with locations across the United States, it's easy to pop in and pick up whatever you need.
So why not play the game and join the millions of shoppers who swear by Dollar General for their everyday needs?
6. Long Green – Another Way Of Referring To A Hundred Dollars:
Did you know that there are many slang words for 100 dollars? Yep, you read that right! It's called "Long Green".
The origins of this term are a bit blurry, but some say that it dates back to the greenbacks – the paper currency that was first introduced during the Civil War in the 1860s.
Whatever the history, "Long Green" has become a popular slang term for a nice, crisp hundred-dollar bill.
So next time you're boasting about your finances, remember to throw in the term "Long Green" and watch people around you scramble to learn its meaning.
7. Greenback – This One Refers To The Color Of Paper Money And Means 100 Dollars:
Are you familiar with the term "greenback"? It's a common nickname for the good hundred-dollar bill. But do you know why it's called a greenback?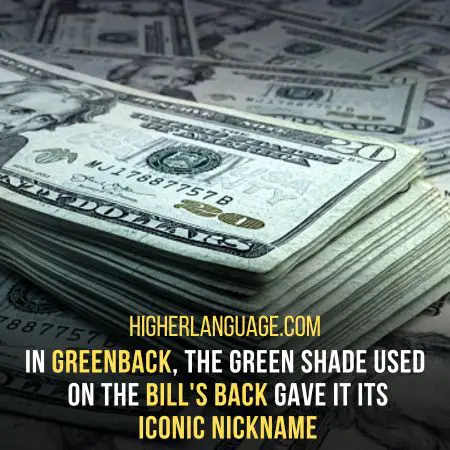 Well, it all comes down to the color of the paper money. That's right, the green shade used on the bill's back gave it its iconic nickname.
But don't let the color fool you, this bad boy packs a serious punch. One greenback can buy you a fancy dinner, a new outfit, or even a weekend getaway.
So next time you're lucky enough to come across a few of these green pieces of paper, remember the history behind their name and use them wisely.
8. Single Ounce Is A Famous Expression:
If you're looking for a flashy way to tell your friends how much money you've got in your pocket, Single Ounce might be the slang term you're looking for.
This particular slang refers to the crisp, clean $100 bill you might find lucky enough to carry around.
Ditch the formal currency and embrace the vocabulary of the street, where Single Ounces reign supreme.
Whether trying to impress your friends or simply looking for a fun way to talk about cash, Single Ounce is a great option to add to your lexicon.
Who knows? Maybe you'll even inspire your crew to start using their slang for different denominations.
9.  Double Eagle Shows 100 Dollars:
If you're cruising down the streets of America, someone approaches you and says, "Yo, can you spot me a double eagle?"
Don't worry; they are not asking you to go bird-watching! "Double Eagle" is just one of the slang words for 100 dollars in the United States.
It originated from the coin minted in the 1800s with the image of an eagle on it. Looking for more lingo? How about "Benjamin," "C-note," "Buckaroo," or "Big ones"?
Now, when someone is talking about their "chips" or their "dough," you know they're talking about big money! So next time you're feeling like a baller, go out there and show off your double eagles.
Common Cultural References For The Slang Words For 100 Dollars 
Ever hear someone say they're going to "drop a Benjamin" or "make it rain, hundreds"? Well, these are just a few of the ways people refer to a one-hundred-dollar bill.
But where do these slang terms come from? "Benjamin" is a nod to Benjamin Franklin, the founding father, and face featured on the bill.
Meanwhile, "making it rain" is a more modern reference, popularized by rap music and describing throwing money in the air like confetti.
Another way to say "a hundred" is "C-note". This means the number 100, which looks like the letter C in Roman numerals.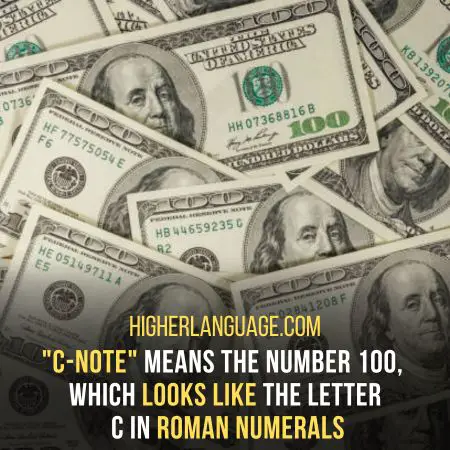 Another way to say it is "blue cheese". This comes from gamblers who thought the blue eagle on a hundred-dollar bill looked like cheese.
So whether you're trying to talk like a rapper or just impress your friends with some lesser-known slangs, now you know a few more ways to express that hundred-dollar bill.
Slang Words Related To Specific Items That Cost $100
Slang words have always been a part of everyday language, and when it comes to specific items that cost $100, they become even more exciting.
Take Air Jordan sneakers, for example. These basketball shoes have been around for decades, and with the rise of sneaker culture, their slang names have become just as iconic.
From "J's" to "retros," people can't get enough of these classic kicks with a hefty price tag. But, on the other hand, we have the beloved Bottle of Hennessy.
This cognac has been a staple in the hip-hop industry for years, and its various nicknames reflect this.
Whether you call it "Henny," "Hennything is possible," or "liquid gold," you can't deny that it adds a touch of class to any occasion.
It shows that even everyday items can become legendary with the right kind of slang.
Conclusion:
Nowadays, it seems like everything has its slang term, including money.
When it comes to big bucks, people have come up with many creative slang words to express their wealth, and $100 is no exception.
Some common slang words for $100 include "Benjamin," "C-note," and "dollar bill."
You can use slang words for money. For example, instead of saying $100, you can say "Hunny," "big ones," or "Franklin." This makes talking about money more fun and interesting.
Just keep in mind that the bill's value may change, but the coolness of the slang term never will.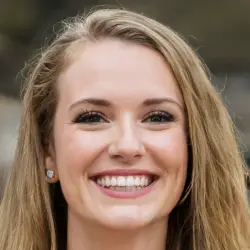 Latest posts by Sylvia Simpson
(see all)