We all have our favorite slang words for cars, whether it's the classic "whip" or the newer "ride." So, why restrict yourself to the ordinary when so many other options are available?
Whether you're a car enthusiast or just someone who appreciates a good ride, there's no denying the colorful vocabulary we use to describe our four-wheeled companions.
12 Fascinating Slang Words For Car!
Cars are an essential part of our lives, providing us freedom and the ability to travel wherever we please.
Did you know that there's an entire language used to show affection for our vehicles? From "whip" to "ride," we all have special words exclusive just for us and our cars.
Some of the most popular slang words include "jalopy," which refers to an old and beat-up car, and "pimpmobile," which describes a flashy and luxurious car.
Whether you refer to your car as your ride, wheels, or cruiser, these slang words add a unique touch of personality to our conversations about our most prized possessions.
1. Ride – An Informal Way To Refer To A Car:
In casual conversations, many people may use the word "ride" to refer to their car. It's a quick and informal way to describe their mode of transportation without using the word "car" repeatedly.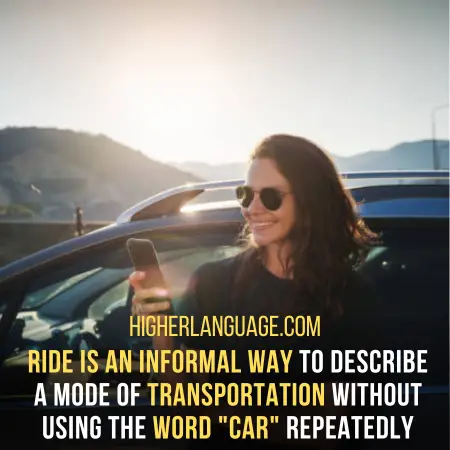 It's interesting how language evolves throughout time and how slang terms come in and out of fashion.
Whether you call it a "whip," "ride," or "set of wheels," one thing is for sure – having reliable transportation is a necessity in today's world.
So next time you're referring to your "ride," remember that it's not just a car but a symbol of independence and freedom.
2. Launch Control – A System Used To Optimize Acceleration From A Standing Start:
Launching a car from a standstill is a thrilling experience. But how do drivers achieve the optimal acceleration that leaves them feeling like they've been pushed back into their seats?
Enter launch control, a tool designed to provide consistent acceleration and optimize the vehicle's performance off the line.
Utilizing sensors and electronic controls, the system modulates the engine's power and distributes torque to the wheels, resulting in a controlled and efficient launch.
With launch control, drivers can achieve maximum acceleration without worrying about excessive wheel spin or uneven weight distribution.
Launch control is an invaluable tool for drivers looking to extract the most from their vehicle's performance, whether on the track or on the street.
3. Rollin – A Slang Term Used When Referring To Someone Driving Around In Their Car:
Rollin' is a slang term that has become a part of the modern-day language, especially when referring to someone driving around in their car.
There's no denying that hopping into a car and driving aimlessly can be a liberating experience.
Driving around the city is fun. You can roll down the windows, listen to music and feel the cool air on your face. It's an exciting feeling!
So, the next time you see someone rollin' down the street in their car, acknowledge their sense of freedom and tell them how jealous you are of their adventure.
4. Junker – An Old And Unreliable Car:
Junker is not just any regular car – it's a vehicle that has been used and abused time and time again.
It's an old and unreliable car that has seen better days and may have been passed down from generation to generation.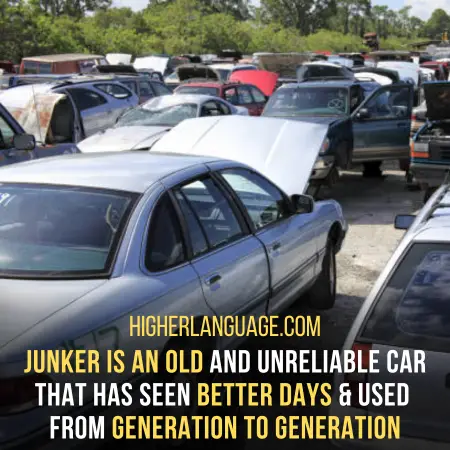 But despite its flaws, there's something almost endearing about a Junker. Maybe it's the memories attached to it or the sense of adventure that comes with driving a car that's on its last legs.
A "Junker" is an old car. People may not think it looks nice, but it has a unique story. So don't be too quick to judge one if you see it. It may not look fancy, but it has something special to share.
5. Slick-back – A Classic Vintage Car With Long Tail Wings:
The slick-back is a classic vintage car that exudes a sense of nostalgia and elegance.
Its long tail wings are a signature feature that sets it apart from other cars of its time. The sleek and aerodynamic design makes it a favorite among car enthusiasts.
The slick-back was once the epitome of style and sophistication, and despite the passing of time, it continues to captivate people with its unique charm.
Its effortless coolness can transport you back to a time when life was simpler and the thrill of driving was pure joy.
If you're lucky enough to come across a slick back on the road, take a moment to appreciate this rare gem from days gone by.
6. Chirping Tires – The Sound Made When Tires Suddenly Lose:
Have you ever heard the sound of chirping tires on the road? It's a sudden, sharp noise that alerts you that a driver has lost control of their vehicle.
Despite sounding almost musical, this noise can often be the precursor to a dangerous or deadly accident.
Chirping tires occur when a driver makes a sudden turn or abrupt stop, causing their tires to lose traction with the road.
While it may seem like a minor inconvenience, chirping tires should be taken seriously as they often indicate reckless driving.
So next time you hear this sound on the road, drive defensively and stay alert to potential dangers.
7. Traction And Slip Against The Pavement:
When it comes to driving, one of the most important factors is your traction against the pavement.
Depending on the conditions of the road, you could be experiencing either too much slip or too much traction.
Slips can occur when the pavement is wet, icy, or covered in loose debris, and while a certain degree of slip is necessary for steering and control, too much slip can be dangerous.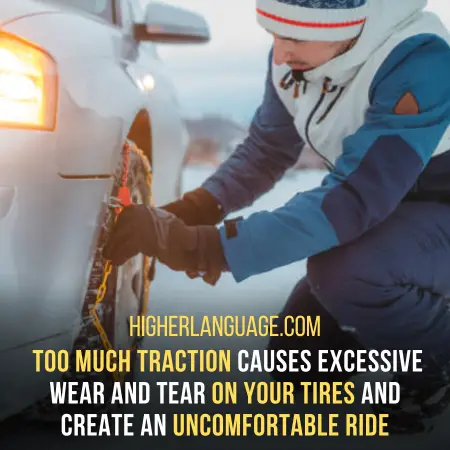 On the other hand, too much traction can cause excessive wear and tear on your tires and create a bumpy and uncomfortable ride.
Maintaining the right level of traction requires careful driving and monitoring of the road conditions and the condition of your tires, brakes, and suspension.
8. Open Roader – Someone Who Likes To Drive Long Distances As A Hobby:
For some, driving is simply a means to an end, a way to get from point A to point B. But for open roaders, it's so much more.
These adventurous souls relish the freedom and excitement of hitting the open road and driving long distances for fun.
Whether exploring new routes, discovering hidden gems, or basking in the endless expanse of the horizon, open roaders find joy in the journey itself.
They don't mind the hours spent behind the wheel or the occasional challenge of rugged terrain.
The road means lots of chances for people who like adventures. Likewise, driving long distances is fun for those who like to explore.
9. Whip – A Slang Term For An Expensive Or Stylish Vehicle:
The whip is a slang term for an extravagant and fashionable vehicle. It's a term that has gained widespread use, especially in hip-hop and has become a symbol of status and wealth.
Owning a whip means owning an extraordinary vehicle worth showing off. The term exemplifies style and sophistication, and it's no wonder why owning a whip is a dream for many.
From luxurious sports cars to top-rated SUVs, owning a whip is all about standing out from the crowd and being the envy of others. So, if you want a luxurious and stylish ride, a whip is the way to go.
10. Burn Rubber – Means To Accelerate Quickly In A Vehicle:
Are you a fan of speed? Love to feel the rush of acceleration? Then you know there's nothing quite like the feeling of burning rubber.
Car lovers and people who like a rush of excitement often use this phrase. It means going fast in a car.
Whether you're driving a sports car down a winding road or peeling out of a parking lot, burning rubber is synonymous with power, excitement, and a love of the road.
So next time you hit the gas pedal and feel your tires start to spin, embrace that burn and enjoy the ride.
11. Donut – A Mark Made By Spinning The Car's Wheels Stationary:
Have you ever done a donut with your car? This reckless move can produce a doughnut-shaped skid mark on the road, appropriately named a "donut."
Although it might seem like a moment of exhilaration, donuts are highly dangerous and can cause accidents.
It's important to remember that this type of driving should only be executed in controlled environments, such as at a racetrack or in open lots, away from people and other vehicles.
Leave the donuts to the bakery and stick to safe driving habits.
12. Jackrabbit Start – When A Driver Suddenly Slams Down On The Gas Pedal, Causing The Car To Jump Forward:
A jackrabbit start can be a heart-pounding experience for both drivers and passengers.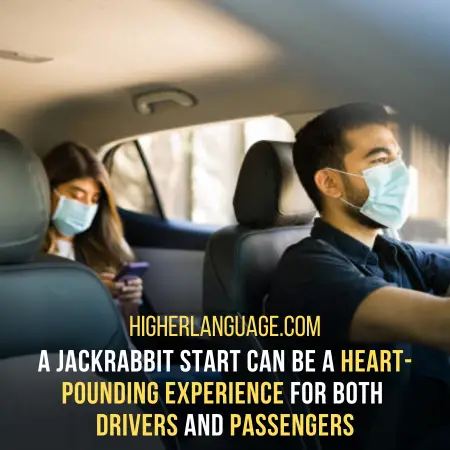 As the driver slams down on the gas pedal, the car lurches forward, causing heads to snap back and belongings to fly forward.
While some may find this sudden acceleration exhilarating, it can also be incredibly dangerous.
Not only is it hard to control the car during a jackrabbit start, but it puts unnecessary strain on the engine and can lead to wear and tear over time.
Next time you drive, take a deep breath, and don't start driving too fast. Your car and the people in it will be grateful.
Conclusion:
As the world of automobiles evolves, so do the terms we use to describe them.
With each new generation of the car, the slang words used to refer to them also updates. From "whips" to "rides," "hoopties," to "whips," slang words for cars have been around for decades.
Whether you're a gearhead or just someone who appreciates a sweet ride, using slang to describe your vehicle can make you feel like part of a special club.
So, if you're looking for new terms to add to your car lingo, try incorporating some of these modern slang words into your vocabulary.
Who knows, maybe one day, your favorite car term might make it into the dictionary.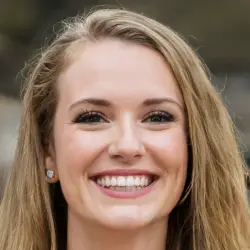 Latest posts by Sylvia Simpson
(see all)