How long does it take to learn Italian? The answer to this question depends on various factors, including your current proficiency level in the language and how much time you plan on dedicating.
Aside from that, other factors contribute to your learning process of the Italian language. We will be exploring those factors in detail.
How Long Does It Take To Learn Italian?
Italian is a Romance language, part of the Indo-European language family.
It is closely related to French, Spanish, and Portuguese and is spoken by over 65 million people in Italy and around the world.
As a native speaker of English, you'll find it quite easy to understand Italian.
How long does it take to learn Italian? It's a common question for those starting to learn the language.
The answer depends on various factors, such as how much time you can dedicate to studying and your level of motivation.
Dedication is key when mastering any language, and Italian is no different.
The amount of time it takes to learn the basics of Italian can vary greatly; some people may take a few months, while others could take much longer.
A basic understanding of the language can be achieved in six to twelve months if you dedicate at least an hour each day to studying.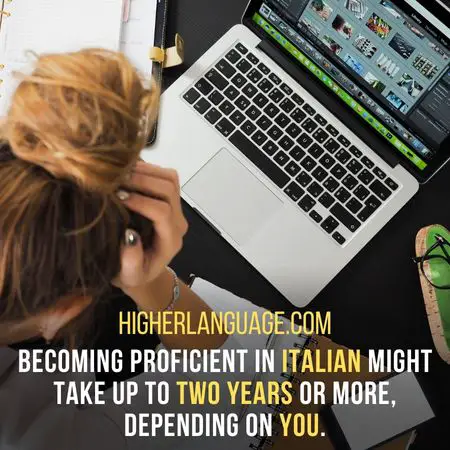 However, becoming proficient might take up to two years or more, depending on your dedication and proficiency.
Various factors contribute to your learning process of Italian. Let us discuss those factors first!
8 Linguistic Factors Contributing To Learning Italian Language
Before you dive into learning Italian, there are a few questions that you need to ask yourself.
These are all important questions to consider when determining how long it takes to learn Italian.
Depending on your existing knowledge, skills, and dedication, it could take anywhere from one month to several years.
The more effort you put into learning the language, the quicker you can speak it.
If you want to learn Italian quickly and efficiently, enrolling in a language course or taking private lessons is an excellent way to start.
Taking classes gives you access to those who can provide guidance and feedback on your progress.
Let us look at those questions or factors determining your learning progress.
1. How Much Language Exposure Do You Get:
How often are you exposed to the language? Are you living in a multilingual environment? How often do you interact with native Italian speakers?
These questions are important as they will determine how much knowledge of the Italian language you already have and how much you need to learn more.
The more exposure, the better, as it will help with pronunciation and comprehension of spoken Italian.
If you get exposed to Italian in any way, it will be easier to learn the language as you are already introduced to it. Plus, it will be easier to pronounce the words.
2. How Much Time And Effort Can You Put In:
How much time are you committed to learning Italian? How hard do you push yourself when practicing the language? Knowing these questions answers will help you schedule your learning time better.
Plus, you will be able to determine how long it will take to learn the language. If you give more time to the learning process, your progress will be faster.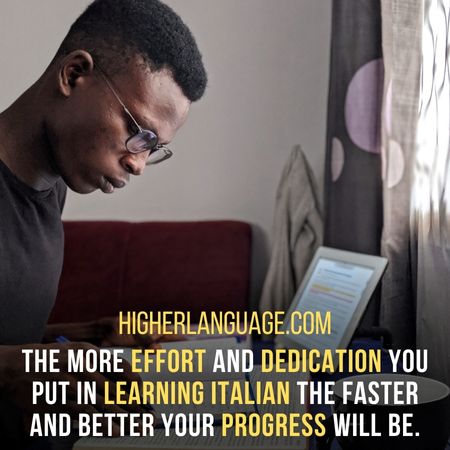 But if you need to put in more time daily, then it can take longer. Also, your effort is equally important. The more effort and dedication, the faster and better your progress will be.
3. How Well Do You Understand Grammar:
Grammar is an important part of any language. How well do you understand Italian grammar rules? Are you able to comprehend complex sentence structures without difficulty?
How about verb tenses and conjugations? It takes time to learn the intricacies of Italian grammar, but with regular practice, your understanding will grow.
Also, remember that not all rules in Italian need to be understood – there may be some exceptions you should look out for.
Finally, don't forget to double-check a book or use an online resource to confirm your understanding.
4. How Quickly Can You Speak:
Your ability to speak Italian fluently will depend on how much time and effort you put into practice.
How long does it take to learn Italian? That varies from person to person, but your vocabulary and overall comprehension will improve with regular conversations and repetition.
Additionally, learning pronunciation and understanding the flow of words is essential to speak the language fluently.
With enough practice, you can learn to speak Italian in a matter of months and become proficient within a year or two.
5. What Learning Method Are You Using:
The learning method you choose also impacts how quickly you learn.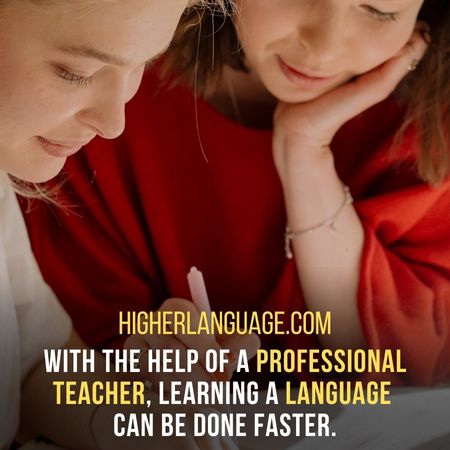 For example, if you attend language classes or take a course online, you will likely progress faster with the help of a professional teacher.
On the other hand, using self-study resources like books and websites might take longer as there is no one to check your understanding and provide feedback.
So, it is important to choose the learning method that suits best with you.
6. How Much Time Do You Spend Practicing:
Your progress with learning Italian will also be determined by how much time you spend practicing.
How often do you practice and review your lessons? How consistently are you dedicating a certain amount of time to language studies?
The more time and effort you put into learning, the faster you progress.
In addition, practicing repeatedly helps in revising the concepts you have learned and solidifying them in your memory.
7. How Difficult Is It To Learn Italian:
Learning a new language can be challenging, and Italian is no exception.
That said, learning difficulty will depend on how motivated you are and whether or not you have prior knowledge of similar languages like Spanish or French.
You can make great strides toward learning Italian with the right resources and dedication. Remember that making mistakes is part of the learning process, and don't be afraid to ask for help if you need it.
8. Is Your Native Language Similar To Italian:
If your native language is a Romance language, like French or Spanish, it will be easier to learn Italian because you already have a foundation.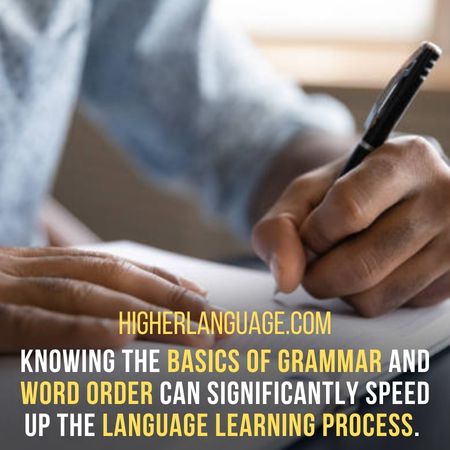 In addition, knowing the basics of grammar and word order can significantly speed up the learning process.
On the other hand, if Chinese is your first language, it might take longer to learn Italian since they are unrelated.
However, you can certainly learn the language with enough effort and dedication.
6 Tips For Learning Italian Faster
Italian is a hard language to learn. Hence if you still need an introduction to the language, it can take you quite some time to learn all the aspects of the language.
Aside from factors that can help you in learning Italian. Here are some tips that will help you learn Italian faster.
To learn Italian faster, it is important to do the following things:
1. Listen And Imitate The Pronunciation:
Listening to native Italian speakers and imitating their pronunciation is key to learning the language faster.
Listening for a few minutes each day will help you pick up the sounds of the language and become more familiar with it.
Try to replicate the intonation and accent when you're practicing.
2. Read Books And Watch Movies:
Reading books and watching movies in Italian can help you learn the language faster, as it will expose you to how words sound when spoken by native speakers.
It's also a great way to learn new vocabulary in context.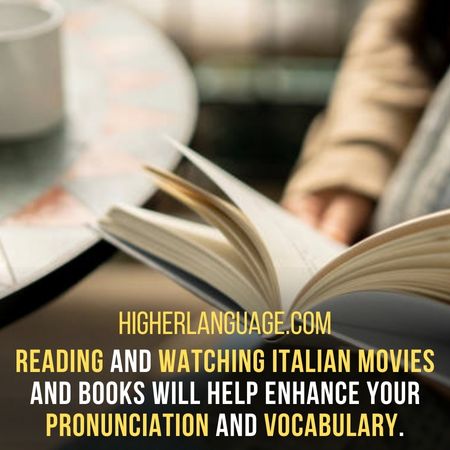 Reading can increase your vocabulary, and watching Italian movies will help enhance your pronunciation.
3. Learn The Alphabets And Grammar Rules:
Learning a language's alphabet and grammar rules is essential for mastering it.
So make sure to keep up with your studies every day, even if it's just for 15 minutes.
That will help you understand how to form sentences in Italian and comprehend the language better.
4. Use Flashcards Or Apps To Learn New Words:
Using flashcards or apps to learn new words is a great way to commit them to memory and gain a better understanding of the language.
Spend 10 or 15 minutes learning 10 to 20 words daily, then test yourself by writing the translation in English or vice versa.
5. Be Patient:
Learning a new language takes time, and becoming frustrated is easy when progress is slower than you would like.
Instead, be patient and remind yourself that everyone learns at different speeds.
It could take anywhere from several months to several years, depending on how much effort you put in – so don't give up!
6. Find A Language Partner:
Finding someone who speaks Italian and is willing to help you practice will quickly accelerate your learning.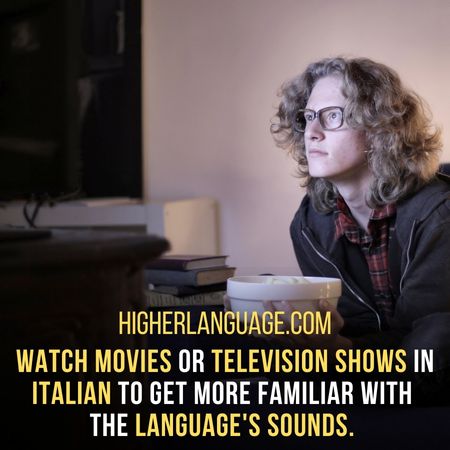 Speak with native speakers, read books, and watch movies or television shows in Italian to get more familiar with the language's sounds, structures, and grammar rules.
The more exposure you have to Italian, the easier it will be to understand the language and pick up new words quickly.
Final Thoughts:
If you're passionate and dedicated to learning Italian, there's no telling how quickly you can learn it.
How long does it take to learn Italian? It all depends on your dedication and the time you put into studying.
Learning a language can be challenging, but it is doable. Make sure to tailor your study plan to work for you and set realistic goals.
With determination and persistence, you'll have Italian conversations before you know it.
Try to set daily goals for yourself, and don't be afraid to make mistakes – pushing yourself out of your comfort zone is key in learning any language!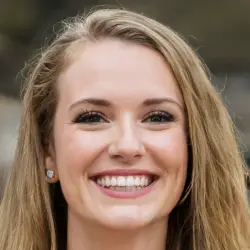 Latest posts by Sylvia Simpson
(see all)