Every language has its own complexities that make it unique and often difficult to learn. However, taking the time to understand "how long does it take to learn Vietnamese?" is essential.
The answer varies based on a person's experience with the languages, previous language study, and how much time they are willing to dedicate to studying Vietnamese.
How Long Does It Take To Learn Vietnamese?
How long does it take to learn Vietnamese? It's a question often asked by those wishing to explore the language's 6,000-year-old history and culture.
While there is no quick-fix answer to acquiring fluency, an individual's study time will depend on their current linguistic knowledge and commitment.
Most estimates suggest somewhere between 500-1500 hours of practice over the course of one year or more depending on the individual.
Moreover, a beginner with no prior experience may need around 1,800 hours of study in order to reach proficiency.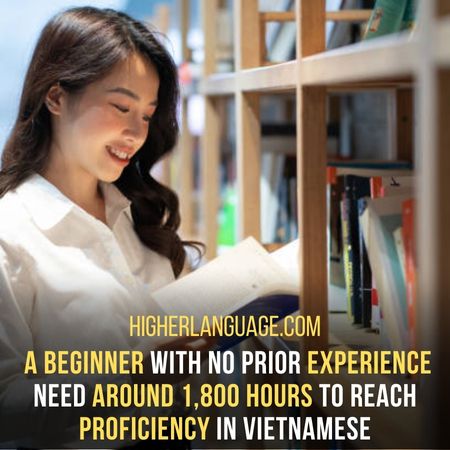 However, if you have some knowledge of a related language like Cantonese or Mandarin Chinese, your learning time could be significantly reduced.
Ultimately, the secret to success is dedication, as those who invest the time and effort into mastering Vietnamese can expect to see improvements quicker than they might imagine.
Why Is Learning Vietnamese Difficult?
We all have heard tales of the difficulty in mastering this language: cumbersome pronunciation, endless tones and diacritics, and a wildly different alphabet.
It's easy to see why the winding road to full fluency can daunt so many people. However, persistent learners may find themselves increasingly well-acquainted with Vietnamese after eight months of consistent study — no guarantees, though!
The truth is that learning any language depends heavily on dedication and discipline.
If you really focus on Vietnamese rules and grammar structures day-to-day, you'll eventually get a handle on this beautiful yet tricky tool for communication.
Languages Closer To Vietnamese
Have you ever wondered which languages are the closest to Vietnamese?
While no language is a perfect match, there are some interesting details that will make it easier to learn Vietnamese. For example, how long does it take to learn Vietnamese? Not as long as you might think!
Some people think this Asian language is easier than others. However, even though the grammar might be tricky, people who know another Asian language will learn it faster than they thought.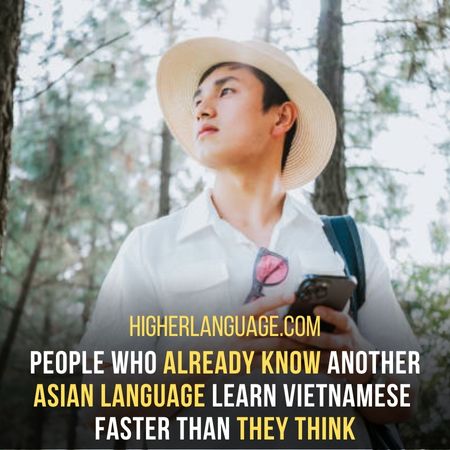 Languages like Chinese, Korean and Japanese share many similarities with Vietnamese in terms of writing characters and pronunciation.
For instance, many characters are written or read similarly between the four languages though each has its own unique difference in phonetics.
If you'd rather spend more of your time discovering Vietnam's unique culture and cuisine than learning a new language, why not take a course in one or two similar languages?
It'll save you hours of effort while still allowing you to get the most out of your trip.
Factors That Affect Vietnamese Learning Process
Learning a new language can take a lot of hard work and dedication, especially in Vietnamese.
Many factors can affect how long it takes to become proficient, such as the learner's native language, access to resources, and studying methods.
How long does it take to learn Vietnamese? Well, that largely depends on the individual's day-to-day commitment and level of comprehension with each lesson.
A great way to benchmark progress is by trying to hold basic conversations in Vietnamese with native speakers.
Additionally, prior experience with languages like Chinese may also benefit learners by allowing easier pronunciation of consonants unique to Southeast Asia.
Whether you are an independent learner or taking courses online or in person, make sure that you come up with suitable form(s) of learning that suits your needs.
This could be listening to audio recordings of words/structure/phrases regularly, and watching movies/TV shows in Vietnamese for a wider accurate range of dialects.
At the end of the day, consistent effort will take you from beginner to conversational proficiency.
Tips To Strengthen Your Grip On Vietnamese
Learning Vietnamese can be daunting, but it doesn't have to be!
It can take anywhere from one year to several months, depending on how often you practice or invest in language courses.
How long it takes to gain a strong grip on the language ultimately depends on your commitment and dedication.
A great way to get started is by immersing yourself in textbooks, audio lessons, films, and TV shows – try repeating sounds or new words out loud.
Additionally, native Vietnamese speakers offer invaluable insight into pronunciation and dialogue through conversation practice sites (like Italki) or local language classes.
Allowing yourself to learn breaks also helps break the material into manageable chunks. So stick with it, and adapting to the nuances in speech will come naturally over time!
Who Should Go For Vietnamese?
Those looking for a new language to learn should definitely consider Vietnamese. How long it takes to learn this language depends on the individual. However, the benefits are great!
Position yourself for success: take advantage of Vietnam's expanding influence and learn the Vietnamese language.
You'll be one step ahead of other competitors in both business and international relations, unlocking a world of opportunities as you gain proficiency in this important regional language.
And think of all the delicious food you can enjoy as well while mastering this beautiful language along the way!
How To Learn Vietnamese?
Learning a new language can bring many benefits; Vietnamese is no exception. With proper dedication and perseverance, anyone can quickly pick up the basics of Vietnamese.
In addition, the process of learning Vietnamese may take some time and effort, so it is important to set realistic goals for yourself.
 To get started, find online resources that offer courses or instructional videos tailored to your skill set. 
Also, to become comfortable with a language, it is essential to submerge yourself in native materials right away – text, music, and videos.
This will help you learn the correct pronunciation of words and their context.
Further, listen carefully to how natives communicate and then practice reading – out loud if possible – to get used to hearing your voice saying the same words.
As your progress increases, look through grammar books designed for beginners or work your way into more advanced material. 
Additionally, find native or fluent speakers willing to help you with pronunciation or other aspects of learning this beautiful language.
How quickly you pick up Velvet will depend on how much effort you put in but with diligence, it's not impossible!
With these tips in mind, you'll soon find yourself learning this beautiful language in no time.
Pros And Cons Of Investing In Vietnamese
Considering investing in Vietnamese can be a great idea for those with an eye for business opportunities.
Vietnam's recovering economy offers plenty to invest in, and the benefits can be plentiful. However, the risk of unforeseen complications is also something to consider when investing in Vietnam.
Pros:
First, there are some pros to learning Vietnamese that will convince you that putting some efforts is helpful.
– Investing in Vietnam is a good way to make your money grow. The economy in Vietnam is growing, so investors could make a lot of money by knowing their native language.
– For those who take up the challenge, interesting language features such as six different tones and non-regular grammar rules provide a unique learning experience.
– It is a widely spoken language in Southeast Asia and is used by many countries in the region, including Laos, Thailand, and Cambodia. Learning how to communicate in Vietnamese can be beneficial when traveling or doing business abroad.
Cons:
Investing in Vietnamese has its upsides, but there are some definite cons to be aware of.
– For one thing, the language barrier is a huge issue. How long does it take to learn Vietnamese? Your success will depend largely on how much time and effort you're willing to put in.
But experts estimate that it takes a minimum of 650 hours of study for someone with no knowledge of the language whatsoever to reach basic proficiency.
– It's also important to remember that foreign investors often have difficulty transitioning into Vietnamese culture and society. Stressful situations can arise if you don't have an understanding of local customs.
– Finally, the country's infrastructure isn't always up-to-date in certain parts, which can cause unexpected delays with projects or investments.
While these cons may be discouraging, they simply require some extra preparation in order to ensure a successful investment in Vietnam.
Conclusion:
How long does it take to learn Vietnamese? The answer depends on how much time you are willing to invest in learning the language.
Learning a new language takes a lot of dedication and hard work. You need to spend months or even years practicing it.
While learning any language is a challenge, anyone can become proficient in Vietnamese with dedication and consistent effort.
There's no denying that some people will progress faster than others, but overall what matters most is having patience and, above all else, enjoying the process.
With enough motivation and enthusiasm, you can speak Vietnamese like a native!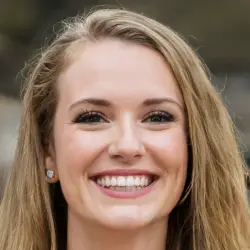 Latest posts by Sylvia Simpson
(see all)