Mandarin is the most famous dialect of Chinese. Hence many people learn Mandarin worldwide, but how long does it take to learn Mandarin?
Mandarin is a hard language to learn, especially for English speakers. So, it can take some time to master Mandarin, but it is doable!
How Long Does It Take To Learn Mandarin?
That is a question that many people ask when they are considering taking on the challenge of learning Mandarin.
Unfortunately, the answer is complex, as it varies significantly depending on how much time and effort you put into the language.
Generally speaking, though, most experts agree that it takes, on average, around 8-10 months to reach basic fluency in Mandarin.
With the caveat that your language proficiency can only improve over time.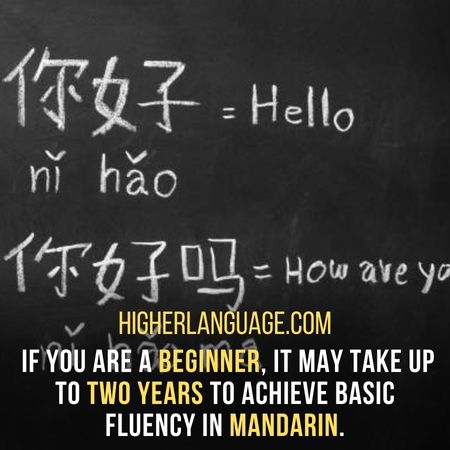 It may take up to two years to achieve basic fluency in Mandarin if you are a beginner.
It also greatly impacts how often and regularly you practice speaking, reading, and writing the language.
Language learning is a continuous process, so you should be prepared to invest time to reach your desired level of proficiency.
The number of hours required to learn Mandarin can vary significantly. That depends on your language skills and how much dedication and effort you're willing to put into the language.
While it's possible to learn Mandarin in a matter of months, you should also be prepared for it to take much longer than that.
To speed up the process, supplement your language studies with other activities.
Such as listening to audio recordings, watching films and TV shows in Mandarin, or attending conversation classes at an accredited language school.
Additionally, conversing with native speakers and immersing yourself in the culture will help you pick up Mandarin faster.
Of course, how long you learn Mandarin also depends on your circumstances.
Such as your prior knowledge of a language and your time available each day for studying.
Setting realistic goals that you can achieve might be wise, and you will become more proficient over time.
Is Mandarin A Hard Language To Learn?
Mandarin is the official language of China, and it is also one of the major languages spoken in Taiwan.
It is a tonal language, meaning how you say a word can change its meaning.
Mandarin has four tones—flat, rising, falling-rising, and falling– each must be learned separately.
On top of that, characters must be memorized, and traditional grammar rules must be followed. All of this makes Mandarin a difficult language to learn.
Some nuances and complexities in Mandarin pronunciation, grammar, and syntax can sometimes make it confusing.
However, the language itself isn't necessarily any more difficult to learn than other languages.
It just requires a more focused approach and diligence in studying.
If you have patience and commitment, it is possible to learn Mandarin without too much difficulty!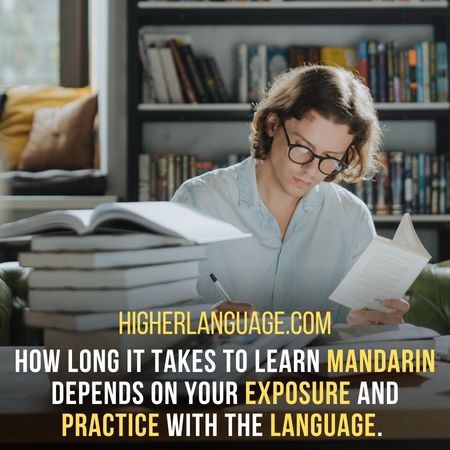 In general, how long it takes to learn Mandarin depends on your exposure and practice with the language.
For beginners, it typically takes two to four months to reach basic proficiency.
Which may include understanding basic conversations, introducing yourself, and asking simple questions.
Intermediate learners can reach a higher level of proficiency within six months to one year.
However, if you are dedicated to learning Mandarin and practicing rigorously, you can become fluent within two or three years.
7 Tips For Learning Mandarin
Learning Mandarin can be long and tedious, but you can make it easier and faster in several ways.
Various tips can help your language learning process be easier and faster.
Some of these tips include listening to how native speakers say the words and breaking down grammar rules into simple steps.
Focusing on one concept at a time (like pronunciation or grammar) and using flashcards or other studying tools to help reinforce your knowledge.
You can become proficient in Mandarin over time with a bit of practice.
Here are some useful tips for learning Mandarin.
1. Break Down Grammar Rules:
Grammar rules can be complex, but with a bit of practice and patience, you can break them down into simpler steps.
Start by learning how to form basic sentences and then work your way up from there.
Breaking down the rules will help you understand how each word is used and how they are combined to form sentences.
Such as how to use adjectives, how to form verbs, how to structure questions, and to join words together.
2. Focus On Pronunciation:
Pronouncing Mandarin can be tricky, but you can quickly become more confident in your speaking ability with practice.
Focus on how the words are pronounced and how specific tones change their meaning.
Such as how the word "ma" can mean either mother or question mark, depending on how it'sit's pronounced.
Learning to create these different tones is essential to mastering Mandarin.
With plenty of practice, you can become more fluent in using different tones and pronouncing words correctly.
3. Practice Conversing:
Conversing in Mandarin is a great way to help you master the language.
Find native speakers or online forums to practice talking with people who are also learning the language.
Joining a language learning group can also be helpful as you can practice speaking to other students who are at the same level as you.
That will help you use Mandarin and give you the confidence to start speaking in everyday conversations.
To have an effective conversation in Mandarin, you must remember how to use different tones.
Pronounce words correctly, and construct sentences with the right grammar rules.
4. Focus On Writing:
Learning to write in Mandarin is a great way to help you master the language more quickly.
Start by memorizing how each character looks and how it's pronounced.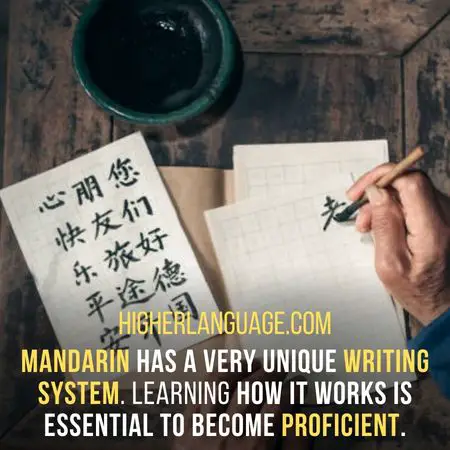 Mandarin has a unique writing system, and understanding how it works is essential if you want to become proficient.
Such as how to construct sentences with the right grammar rules.
Practice writing out words and sentences to help you master reading and writing.
5. Make It A Habit:
Making Mandarin learning a regular habit is essential if you want to become fluent quickly.
That means setting aside time daily to practice speaking, writing, and reading the language.
You can also find apps that will help you learn new words regularly to build up your vocabulary.
In addition, going over the concepts will help you have a firm grip on them.
6. Focus On One Concept:
Rather than trying to learn everything at once, try focusing on one concept at a time.
That could be how to conjugate verbs, pronounce certain phrases correctly, or use certain words in sentences.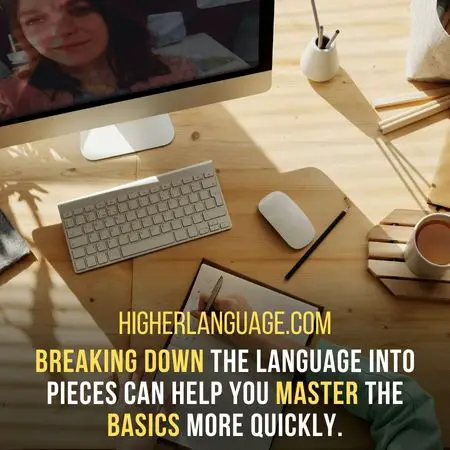 Breaking down the language into smaller pieces can help you master the basics more quickly and build your confidence when speaking.
7. Be Patient:
Learning Mandarin takes time and patience! There's no need to rush it– focus on learning to say one sentence or pronounce one word correctly at a time.
The more consistent practice you put in, the faster you'll learn.
By following these tips, you can get on your way to mastering Mandarin! It is possible with dedication and hard work.
5 Factors Contributing To Learning Mandarin
How long it takes to learn Mandarin depends on how often and much you practice and how complex the language is for you.
Factors like how well you understand the grammar and how motivated you are.
How quickly you pick up new words or phrases contribute to how fast you can learn a language.
Let us look at these factors in detail as they will help you in being focused regarding your language learning.
1. What Level Of Fluency Do You Want:
The amount of time it takes to learn Mandarin depends heavily on how fluent you want to be.
You can become conversationally proficient in a few months, but if you want true mastery of the language, that could take several years or even more.
Knowing what level of fluency you want can help determine the time it will take you to learn Mandarin.
2. Time Investment:
How much time you will need to invest in your language learning also matters to achieve fluency.
For instance, if you spend two hours a day dedicated solely to Mandarin, you can learn the basics faster.
Compared to someone who spends only one hour a day on the same task.
Spending more time and dedicating yourself to learning Mandarin will also help you learn how to understand and use the language more fluently.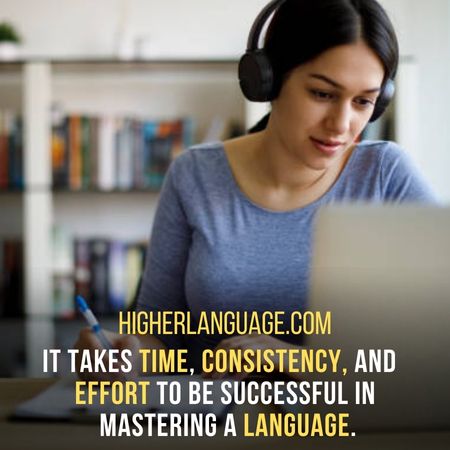 Remember that it takes time, consistency, and effort to be successful in mastering a new language.
However, learning Mandarin can be an incredibly rewarding experience, so take your time with it!
3. Study Habits Can Make A Difference:
How effective your study habits are will make a difference in how quickly you pick up the basics of Mandarin.
Incorporating grammar rules, vocabulary words, and pronunciation into your daily routine will help you learn more efficiently and get through lessons faster.
Additionally, putting yourself out there by speaking with native speakers or listening to audio can help you gain confidence and fluency more quickly.
You can expect to spend at least 300 hours studying Mandarin to grasp the language well.
That may take longer, depending on your available time and how frequently you can access practice opportunities.
4. Learning Methods You Are Using:
Learning how to speak Mandarin can also be influenced by the methods you are using.
If you depend solely on textbooks, it may take longer than if you used real-world resources.
Such as apps, conversations with native speakers, listening to Chinese music, and attending Chinese language classes.
Regardless of how long it takes, dedication and consistency will be key to how quickly you learn how to speak Mandarin.
If you can give it your full attention, learning to communicate in this language is achievable over a short period.
5. Exposure To Language:
Another factor is how much exposure you are getting to the language.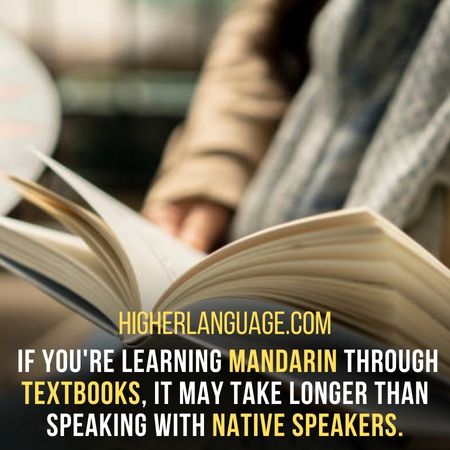 For example, if you're only learning Mandarin through textbooks, it may take longer compared to speaking with native speakers.
But on the other hand, that can help speed up your learning process since you have more opportunities to practice and improve your skills.
Final Thoughts:
Conclusively, how long does it take to learn Mandarin? The amount of time it takes to learn to speak Mandarin highly depends on how much effort and dedication you put into it.
With daily practice, exposure to the language, and enough motivation, learning how to communicate in this language can be achieved over a reasonable period.
However, everyone learns at different paces, so don'tdon't be discouraged if it takes you longer than expected to master this language.
With enough hard work and patience, you can do it!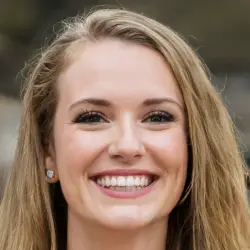 Latest posts by Sylvia Simpson
(see all)