Are you looking for languages similar to Vietnamese? If yes, then this article is the right choice for you. 
Learning Vietnamese gives you an understanding of the culture and the business world. If you have any plans to work in South East Asia, it is helpful to learn Vietnamese.
Languages Similar To Vietnamese – 6 Interesting Options
Here is a brief description of 6 languages that are similar to Vietnamese. Let us read to explore more. Choose your favorite one today!
1.  Is Chinese One Of The Languages Similar To Vietnamese?
Through a history of colonialism, the Vietnamese have had a large amount of Chinese influence. In 111 BC, China conquered Vietnam (then known as Nam Viet) for the first time and dominated it for 1000 years.
"Vietnamese adopted the Chinese script in the 10th century. After many centuries, the Vietnamese adopted the Latin script."
Vietnamese and Chinese (Mandarin) are tonal languages. That means that changing a word's pitch changes its meaning. 
There are a large number of Vietnamese words with Chinese origins. Moreover, some estimates put the figure as high as 70% of the Vietnamese lexicon. 
A 2007 analysis of 1500 words reduced that statistic to 27%. However, its methodology did not include names, vocabularies, or regional vocabs.
2. Thai Language:
Thai is a Tai language belonging to the Kra–Dai language family. Moreover, it is also spoken by the inhabitants of Central Thailand as well as Thai Chinese.
Vietnamese has a population of almost 90 million speakers. The languages Thai and Vietnamese are both analytic. Helper words demonstrate the relationship between words in a phrase in them.
Thai and Vietnamese sound similar to non-natives. It is one of the common reasons why people believe they are identical.
The vowels of the two languages can sound similar. More than half of the Vietnamese lexicon is from Chinese. 
Thai has also borrowed certain words from China's official language. That is why the vocabularies of the two languages are also similar.
3. Khasi Is Among The Languages Similar To Vietnamese:
Khasi has a connection with the Vietnamese. It belongs to the Austroasiatic language family. Khasi does not have an inflectional case system. It distinguishes between cases by using pronouns. 
The personal pronouns are also constructed by adding a prepositional marker word. It is of the nominative for the pronoun. 
The Khasi alphabet consists of 23 letters. Thomas Jones, a Welsh missionary, adopted the Latin alphabet to write in Khasi in 1841. The Khasi people still use it today.
Unlike many of its Tibeto-Burman neighbors, Khasi is still a stress language with no tones. The phonemic vowels in Khasi are plentiful. 
4. Khmer Language:
Cambodian Khmer people are a Southeast Asian ethnic group. They account for more than 90% of Cambodia's 17 million people. 
There are considerable Khmer populations in Thailand and Vietnam, as well. Both are members of the same language family. Yet they are from separate branches. 
Austro-Asian languages include Vietnamese and Khmer. Wa, Mon, and Palaung are some of the other languages in this family. They are not mutually intelligible. It will be challenging to discover commonalities between them. 
In general, Khmer is an SVO (subject-verb–object) language. The topic of the sentence is frequently placed at the beginning. At the same time, the rest of the sentence serves as a comment. 
Prepositions (words meaning "on," "in," etc.) are used instead of postpositions (as in English). You may get fortunate with some essential words in these languages. However, there were many sound alterations in between.
5. Lao Language:
Lao is a Southeast Asian language. This language is often known as Laotian. It is tonal, like other Kra-Dai languages. It includes Chinese and Vietnamese. 
The Lao language is mainly made up of words that are native to the country. Syllables in Lao are of the form (C) V (C). 
That means they have a vowel at the center part, optionally preceded by a single consonant in the onset. A single consonant then follows it.

Lao is an analytic language. The majority of its words are monosyllabic. They do not have inflections to represent declension or verbal tense.
Even if you have a phrasebook, Lao is tough to learn. Because there are so many dialects of Lao. The Vientiane dialect of the language is also considered the official version. 
It is also a lingua franca by both Lao and non-Lao tribes. These languages have slightly different scripts. But they are linguistically related. They also form a dialect continuum.
6. Hmong Language:
Approximately one million Hmong people live in Vietnam today. Mainly in the mountainous regions near the country's northern borders. Vietnam also includes 52 ethnic groups, including Kinh, Ede, Hmong, and others. 
The Hmong ethnic group is one of the most popular among various ethnic groups. That is because of its history and unique way of life.
The Hmong language, like those of China, Vietnam, Laos, and Thailand, is a "tonal" language. Hmong words are often short, with most having only one syllable. 
As a result, many Hmong words sound the same to someone who doesn't hear the differences. Hmong is an analytic subject-verb-object language. Here, the noun has adjectives and demonstratives after it.
For example, a single word like "cee" can have multiple meanings in the Hmong language. That depends on whether it is in a high, low, or another tone.
Is Vietnamese Hard To Learn?
Vietnamese is less complicated than you would assume. Pronouncing Vietnamese can be difficult because it has many unusual vowel sounds.
However, most of you are unaware that pronunciation is the only challenging aspect of the language. Every other component of the language is quite simple.
It is far more straightforward than you might anticipate. Primarily, that is when you compare it to most European languages. Some of the features are:
– "A" and "the" are not used in Vietnamese.
– Plurals are not used in Vietnamese.
– There are no ambiguous verb endings in Vietnamese.
– In Two Minutes, You Can Learn Vietnamese Tenses
Conclusion:
Knowledge of the language and human nature is gained through the study of other languages. It instills and promotes respect for others. It also improves adaptability and acceptance.
Acquiring languages similar to a specific language makes it easier to communicate. Moreover, the Vietnamese language is spoken by roughly 77 million people globally. Here, the majority of people are Vietnamese citizens.
So learning languages similar to Vietnamese has significance. It would be simple to learn Vietnamese if you know any of these languages. At the same time, these languages allow you to put your thoughts to work in a helpful way.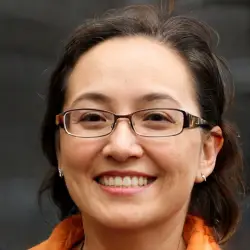 Latest posts by Elizabeth Williams
(see all)