All the languages, particularly from the same language family, have similarities. The same is the case with the Japanese. There are some languages similar to Japanese.
The similarities can be in terms of grammar, writing style, speech or similar words.
Read the article to know more about the languages similar to Japanese. This will help you decide if you are thinking to learn any foreign language.
Languages Similar To Japanese; 7 Most Similar Languages
Some of the languages that are similar to Japanese are Chinese, German, Korean, Hebrew, etc.
These languages have the most similarities with Japanese. Let's discuss these languages one by one.
1. Chinese – On The Top Of List Of Languages Similar To Japanese:
Many people assume that Chinese and Japanese are the same languages. There are multiple reasons for this.
For example, the Japanese use the majority of typical Chinese ideograms. It has also adopted the majority of Chinese words.
However, because it is spoken, some spelling rules vary altogether. So, it's only one of the few and rare parallels with the Chinese. Beyond its ideograms, the one thing left is simplicity.
a. Writing System:
One of the most striking similarities is the usage of the same characters. Japanese uses Kanji, and Chinese uses hanzi.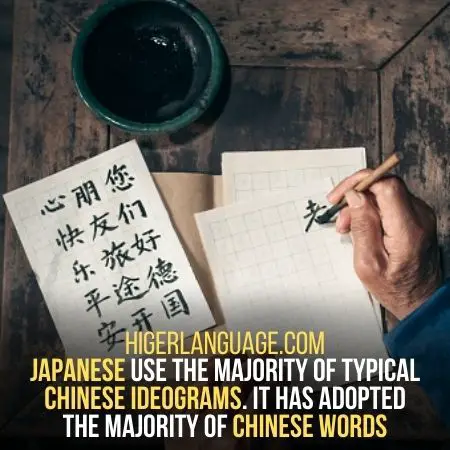 In general, over half of the characters in the two languages are the same. It's because Japan initially adopted China's writing system before developing their own.
A few relatively new characters from Japanese also incorporated into Chinese over time.
b. Numbers:
Both languages use the same way of writing numbers. They follow a similar format for writing numbers as in English, but a term for 万 or ten thousand.
This means that we can write a "hundred thousand" in Chinese or Japanese as 十万 "(ten) (ten-thousand)".
c. Name Order:
China has influenced Japan's culture very much. Thus, the two languages have the same principle of name order.
The first name comes after the last name when writing the full name.
d. Pronunciations:
Because both languages use the same writing system, the characters have similar pronunciations.
In Japanese, we pronounce "Cheers" as kanpai, while in Chinese, we pronounce it as gānbēi, for example.
e. No Plural Forms:
Another link may exist in the plural forms. In both languages, the majority of nouns do not have plural forms and have only one form.
There is generally a number, or we determine it on the basis of context to estimate the quantity of the noun.
2. German – Popular In The Languages Similar To Japanese:
Have you ever noticed how big and difficult the German language's words are?
They are confluences of little words that combine to generate larger words. These words can have different meanings.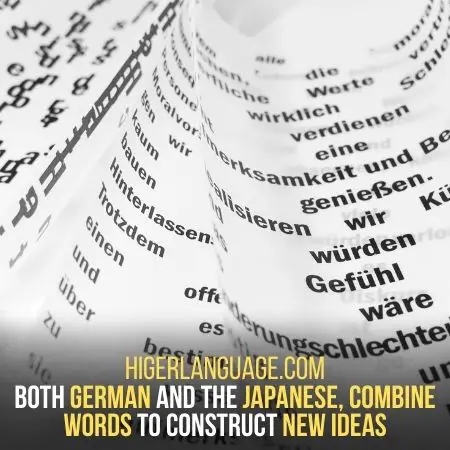 Japanese, like German, is a language that combines words to produce new ones. While talking about putting words together, there are a lot of similar languages. But German is among the most renowned.
Japanese uses ideograms, just like in German. The lack of space in the Japanese language can be perplexing at times. But the similarities are obvious.
3. Korean:
There are some similarities between the Japanese and Korean languages. Around 40% of the vocabulary of the Korean language is comparable to that of Japanese.
The Chinese language also influenced Korea, like Japan. Korea influenced the Japanese language in some ways.
At the same time, Japan impacted Korea as well. So, there is a relationship among the languages.
Korean and Japanese writing is very distinct. But, they both have the same concept. Japan created katakana and hiragana to simplify its language.
At the same time, Korea created its writing style ideograms entirely.
a. Sentence Structure And Particles:
The sentence's SOV (subject + object + verb) structure is one of the most striking parallels. Both the languages use SOV sentence structure.
Both Japanese and Korean use particles to show word relationships. This also adds emphasis to a phrase. For example:
Japanese: が (ga), は (wa), を (o)
Korean: 이/께서/가 (i/kkeseo/ga), 는/은 (neun/eun), 를/을 (reulleul)
b. Grammar:
Both Japanese and Korean have agglutinative grammar. This allows verbs to act as prefixes.
They're both null-subject languages with significant topics. Both the languages use "to do" auxiliary verbs extensively to turn nouns into verbs. For example, Korean hada 하다; Japanese Suru する.
c. Prevalence Of Chinese Characters:
A huge amount of Chinese words are present in both the Korean and Japanese languages. Around the 5th and 6th centuries, Japan adopted Kanji. Before that (about 400 BCE), Korea used to use Hanja.
In Japanese, Kanji is one of three basic writing systems. The other 2 are katakana (used for foreign loanwords) and hiragana (used for syntax).
d. Use Of Honorifics:
In both Korean and Japanese, honorifics are obligatory. They use honorifics to express respect for people.
They also use honorifics to represent the relationship to whom they are speaking. In both languages, failing to employ honorifics is a severe social blunder.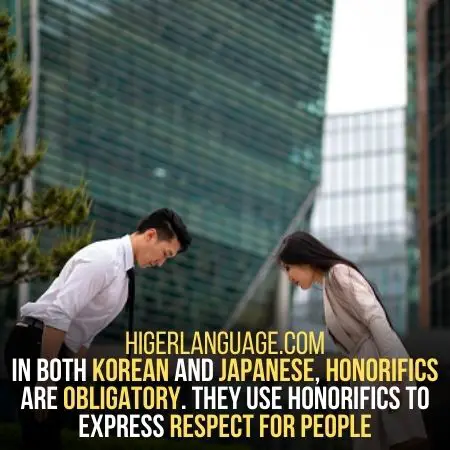 The collection of honorifics in both languages is vast. There are several levels of politeness in it.
They frequently add these as a suffix to the end of the name of a person. For example 鈴木さん (Suzuki-san), (Kim Choel-su nim) 김철수-님.
4. English – Similar To Japanese:
The English language influenced the Japanese language greatly. Around 1542-1543, the English landed in Japan. They became the first Europeans to build a business flow between Europe and Japan.
With passing years, English culture-inspired over 4,000 Japanese terms. The English language also played a great role in it. As a result, there are many words that are similar in both languages.
Japanese people believe that the foreign English speakers established the tenten and maru. The tenten and maru are the grammatical markers in Japanese.
Japanese (modified to Katakana writing) uses the words like alcohol, glass, and bread. Some other words are button, flask, swing, Jesus, cup, cover, tobacco, etc.
The majority of modern technologies and objects have names originating from English.
These terms, adopted from English, are known as wasei-eigo. Something similar occurs in the English language. For example, the words like; hashtag, download, outdoor, update, and smartphone.
4,000 English-derived words in Japanese is a large number. But the English language affected much more.
Some words adopted from English are; apartment, ice cream, elevator, animation. Others include milk, butter, dorms, computer, Christmas, and fights.
5. Japanese Vs. Tupi-Guarani:
Some Tupi-Guarani linguistic families show remarkable similarities with Japanese for some reasons. The pronunciation of words like:
– Rain
– Wall
– Restlessness, and
– Flowers is similar.
Japanese and Tupi-Guarani have comparable terms. They have exactly the same or somewhat identical meanings. Not only the language but even the Japanese grammar, at times, resembles Tupi-Guarani.
6. Hebrew – Is It Really One Of The Languages Similar To Japanese:
Some argue that the Hebrews impacted Japan's history, politics, and language system. We will not debate this further because scholars completely refute this view.
Despite this, there are some minor parallels between the Japanese and Hebrew languages. This occurs both in writing and in pronunciation.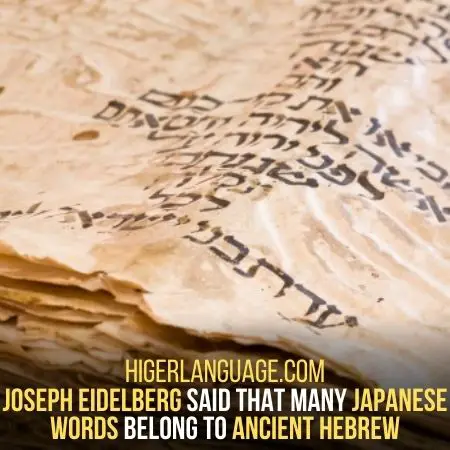 Joseph Eidelberg was a Jew. He once visited Japan and spent years there at the Shinto temple.
He wrote that many Japanese words belong to ancient Hebrew in his book. The title of his book was "The Japanese and the Ten Lost Tribes of Israel."
For example, in Japanese, the word "hazukashime" means "humiliation" and "disgrace." Its pronunciation in Hebrew is "hadak hashem". Both the meaning and the pronunciation are nearly identical.
7. Sign Language – Similar To Japanese?
Japanese is akin to sign languages for two reasons. First is the language's simplicity. Second is the gestures that reflect visual images in the same way that ideograms do.
The language and grammar of sign language are simple and clear. There are dozens of simple languages that have easy understanding. But the, sign language is the closest to Japanese.
Conclusion:
Besides the mentioned languages, scholars develop theories about Japanese and some other languages.
Some argue that the phonology of Japanese is comparable to Austronesian languages. For example, Creole.
Other scholars relate the languages of the Indo-European family to Japanese. They also tried to correlate Dravidian and other Euro-Asian languages with Japanese.
Mongolian, Turkish, and other Altaic languages also share several characteristics.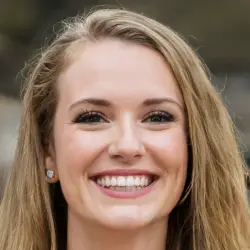 Latest posts by Sylvia Simpson
(see all)