Do people speak English in Austria? A friend of mine asked me this question. To be honest, I was not able to answer at first. This prompted me to explore the topic.
It a  was surprise to see that people can speak English so proficiently, but  I was unaware. People of this region have improved their English skills in a  short time to the next level.
Do People Speak English In Austria? Here Are 7 Aspects To Explore!
In comparison to other European countries, Austria is less famous. But it's a developed country with higher economic growth. Also, high quality of living standards is there.
So, do people speak English in Austria? Being an English speaker, I have concerns about my language's in other regions.
I have heard, "when you visit Austria, you may face language barriers as an English speaker . "But, when I saw the English proficiency results in Austria, it was a bit strange.
To clear out the confusion, I researched it and found something very interesting. So, I would like to share some of my knowledge with you.
To answer the question, "do people speak English in Austria? If yes, then whether they are fluent in English or not, let's find out.
1. English Proficiency Index:
English Proficiency Index is a scale that judges fluency  of  English in non-natives. In the reports for the year 2021, Austria ranked 2nd on the list.
Here what is interesting to me is the position. Austria overtook Scandinavian countries like Sweden, Norway, and Denmark.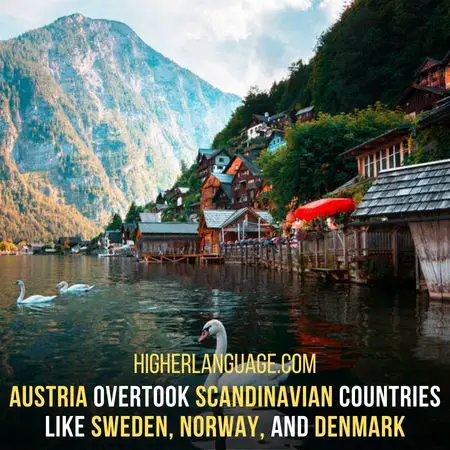 You will find a change if you compare the Index results for 2021 with the previous ten years. Austria remained between 6th to 10th position in the past.
Then what happened this time? There is no doubt that Austrians have improved their skills in English. Still, they are investing their efforts, but covering such a huge gap in a short time seems strange. 
There is a possibility that many English language students took part in the test. But that's not the conclusion.
The nation must have worked hard on fluency during the Covid-19 pandemic.
While the world had been frozen for an uncertain period, Austria didn't lose hope or waste time. On the other side, natives worked during the outbreak and ranked higher on the list.
2. German; A Native Language:
The official language of Austria is German. Furthermore, it is also the most dominant native language of the region. Almost 98% of people can speak German in Austria.
Also, the German of Austrians is different from the standard German language. Both have some distinctions in vocabulary and dialect.
The difference is the same as the difference in the English of the USA and the UK. Yet, English is a second language of many Austrians too.
During your visit, some English speakers around you will assist in communication. Yet, the number of English speakers is less as you may need to find them.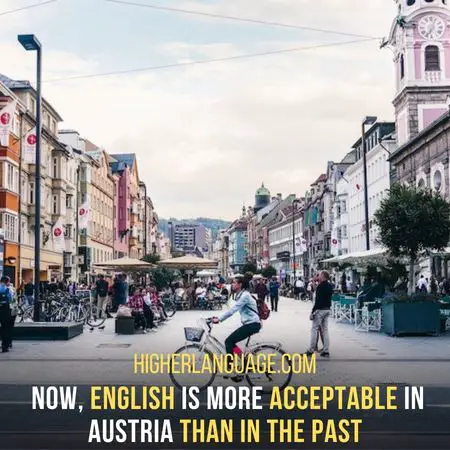 Recent reports show that the situation has changed. More people are working on their English language skills. Now, English is more acceptable in Austria than in the past.
3. Global Media:
English is a dominant language in the world. Most of the content is in English because it has billions of speakers.
It serves as the primary language in 67 countries and the second language in 27 countries. Too many non-natives of the English language have adopted it as a secondary source.
Media producers aim to have a huge audience. English is understandable in every country, so most content is in English. No other language is even near to it.
Austrians also understand English. American media and pop culture is the favorite of many natives.
About 73% – 75% of people in Austria consume international media. That shows a huge audience enjoying it and understanding the language.
With the growth of the internet, the number has ever increased. This also contributes to the higher ranking of Austria in English speaking skill.
4. Tourism:
Tourism is a fascinating aspect of Austria. Every year millions of tourists visit the country. According to a survey, 15 million tourists visited in 2020.
This is a huge number for a country having a 9 million total population. The beauty of the land and historical architecture attract people a lot.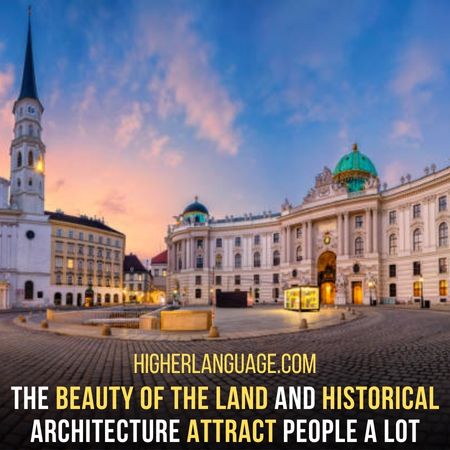 Out of the total population, 10 percent of the locals work to deal with tourism in Austria. Even  after excluding other English speakers in the country, this10% are proficient.
This is enough to understand that English is a second language of many Austrians.
In short, people in tourist spots are fluent in English, so language is not a barrier in such places.
Besides that, Austrians even learn English to communicate with foreigners to avoid miscommunication.
5. Austria is a Small Country:
The country's total population is around 9 million. Still, it is significantly lower than many other countries.
Moreover, German is the official and native language. As discussed above, German used in Austria differs from the standard German language.
So, Austrian German speakers are much lower in numbers. An Austrian can speak in the native language with other Austrians only.
Austria is a developed European country with a handsome economy. Further, it has a good score in quality of living standards.
They need English to communicate with an international audience. This shows that English is not unfamiliar among Austrians. They can communicate with foreigners.
6. International Workforce:
Austria has 18th rank in the highest quality of living standards. With an annual GDP of $445 billion, it is an important country for the international workforce.
In cities like Vienna and Linz, the international workforce serves multinational companies. Also, many famous names like Red Bull, KTM, and Swarovski have their origin in Austria.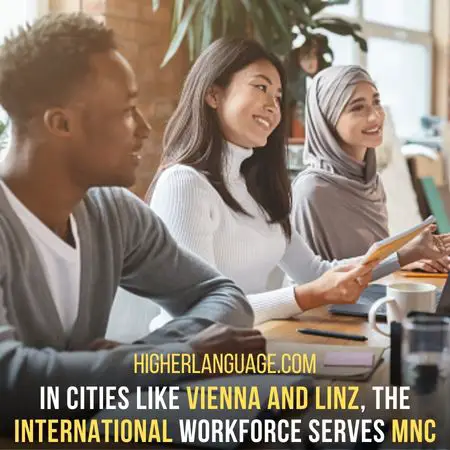 In the work environment,  people from different regions speak different languages. English is that everyone can speak and understand. There English is quite common in the workplace.
So if anybody asks, "do people speak English in Austria?" Tell them about the economy and international workforce served in Austria.
7. Urban Vs. Rural Area:
Urban areas are always ahead of rural areas.  Because people are more versatile in cross-cultural values and languages.
The same is the case with Austria. People who live in cities have more command of English skills than the ones who live in rural and remote areas.
Cities like Vienna, Linz, or Salzburg have several English speakers. Thus, you will not need to worry about the language in urban areas of Austria.
Also, people in cities have more exposure to foreigners. If you don't know the language, natives will accommodate you with their English skills.
But, you may face an uncomfortable situation in remote areas.
The reason is English education. Here I don't mean that people in Austria are behind in education. But, in rural areas, education is in the native German language.
As a result, not everyone is going to be fluent in English. On the other side, many institutions in urban areas teach English.
Many universities offer education in English. Moreover, the culture of learning English is increasing. Hence, Austria has shown the results of English fluency by securing second in the list.
Conclusion:
Austria is a developed European country with German as its first language. Moreover, English is the second language of many natives.
According to the English Proficiency Index result, Austria got 2nd place on the list.
Austrian enhanced their English fluency in a short time. They were good at English in the past, but now the nation has defeated countries like Denmark and Sweden.
In the end,  you don't have to worry anymore about "Do people speak English in Austria? However, let me know what you think about this in the comments.
Frequently Asked Questions
Q1. Do Austrians Speak English With Proud?
Many people in Austria can speak English. Yet, they prefer their native language to communicate with their country fellows. They are proud of their language.
They speak English with people who do not understand their language. To avoid the risk of miscommunication, they speak English with foreigners.
Q2. Do I Need To Learn  Any Native Language?
English is familiar in Austria. Thus, if you want to go on a tour or business trip, you may not need to learn the native language. But, it is good to know if you plan to settle in the country.
For a long-term plan,  a local language for communication will help you. You can move in the country with the help of any bilingual person.
Also, it will be a good gesture to show your respect towards Austrians. They will be more friendly and welcoming if you interact with them in their language.
Q3. Why Are People In Austria Rude?
Austrian culture tends to be dark, sad, deep, and serious because of its tragic history.
This land faced the brutality of Hitler. Nazis showed their hatred toward Jews people and suppressed them.
Moreover, this country couldn't get the status it deserved. Maybe that's why people tend to be private and less friendly towards the world.
But the fact is, not all natives are like this. Particularly, the new generation is quite optimistic and polite towards foreigners. Furthermore, their efforts in English are admirable.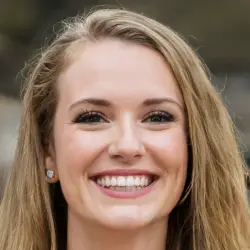 Latest posts by Sylvia Simpson
(see all)