If you're planning a trip to South Korea, you might wonder: do people speak English in South Korea? The answer is yes and no.
This article will explore in detail why English isn't spoken a lot in South Korea. And also give tips for travelers to get by with just English.
Do People Speak English In South Korea?
Whether or not people speak English in South Korea can vary depending on factors. Such as age, education, and region.
However, English proficiency is generally lower in South Korea as compared to other major English-speaking countries.
According to a 2012 study held by the English Proficiency Index:
South Korea ranked 16 out of 60 countries in terms of overall English proficiency.
This placed it behind other major Asian countries like Japan (5), Singapore (7), and China (14).
Regarding specific skills, South Koreans scored highest in listening comprehension. But they ranked lowest in reading ability.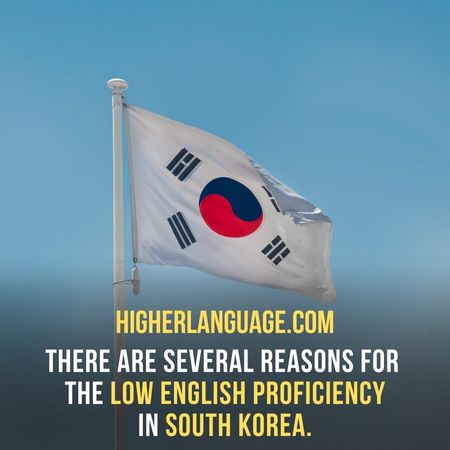 There are several reasons for the low levels of English proficiency in South Korea.
One is that the Korean educational system emphasizes rote memorization more compared to creative thinking or critical analysis.
As a result, students may have difficulty understanding. And they have difficulty especially using English for more than just basic communication.
In addition, most people in South Korea do not have regular opportunities. Where they can practice speaking English.
That is because most Koreans live in homogeneous communities. Where everyone speaks the same language.
As a result, TV shows and movies are typically subtitled rather than dubbed into Korean.
Despite the challenges, there are still signs. That shows that English proficiency is improving in South Korea.
The shift to a more globalized economy created more demand for English skills for jobs.
In addition, young people now have better access to resources like online courses. And mobile apps can help them learn English outside a traditional classroom setting.
What Percentage Of South Koreans Speak English?
The short answer is that about one-quarter of South Koreans speak English.
But the level of English proficiency varies greatly from person to person.
The Korean government has strongly emphasized English education in recent years.
So the percentage of people who can speak at least some English is likely to increase in the future.
Still, even if your Korean friends or colleagues can hold a conversation in English. They may not be completely fluent.
So it's important to be patient and understanding when speaking.
Especially with someone whose first language is not English. With a little practice, you'll be able to communicate easily with just about anyone in South Korea.
Languages Spoken In South Korea
Most people in South Korea speak Korean. But a significant minority of people speak other languages.
According to the latest census data:
Around 1.5 million people in South Korea speak English as their first language. That is roughly 3% of the population.
There are also sizable communities of Chinese and Japanese speakers in South Korea.
Chinese is the third most-spoken language in the country. With around 1 million speakers.
Japanese is the fourth most-spoken language, with about 650,000 speakers.
Why Can Most South Koreans Not Speak English?
There are several reasons why most South Koreans cannot speak English. From lack of exposure to lack of confidence in the South Koreans.
Here are the top three reasons. Why are South Koreans bad at speaking English?
1. English Taught In Schools:
One reason most South Koreans cannot speak English is that it is not taught extensively in schools.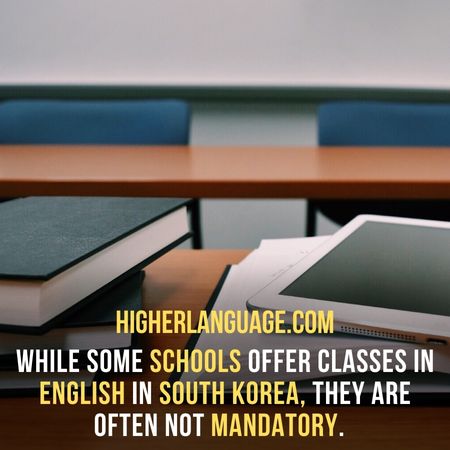 While some schools offer classes on the subject, they are often not mandatory. As a result, many students do not have the opportunity to learn English properly.
2. Number Of Opportunities:
Another reason most South Koreans cannot speak English is that there are few opportunities to practice speaking the language.
Even when people have the opportunity to take classes. They often do not have the chance to use their skills in real-world situations.
That makes it difficult for people to become fluent in English.
3. Lack Of Confidence:
Many people also do not feel confident speaking English. That is because they are afraid of making mistakes or sounding foolish.
As a result, they avoid speaking English as much as possible. Unfortunately, that can make it even harder for people to learn the language.
Is English Taught In The Schools Of South Korea?
Since the late 1990s, the South Korean government has invested in English education.
All elementary, middle, and high schools get required to offer English classes. And many students attend private English academies (hagwons).
As a result, by 2012, more than 90% of South Korean students were studying English.
Despite this investment in English education, many South Koreans still struggle with the language.
A recent survey found that only 30% of respondents felt confident using English.
That is partly because most instruction focus on grammar and vocabulary. With little emphasis on a conversation or real-world usage.
In addition, the South Korean education system is very competitive and stressful. Leaving little time or energy for extracurricular activities like learning a foreign language.
Almost all schools in South Korea teach English, starting from elementary school.
Hence, most people in South Korea can speak at least some English.
However, since English is not the native language of South Korea. There can be some difficulty communicating with locals if you do not speak Korean.
Cities In South Korea Where English

Is Spoken

Most
Only about 1 in 5 Koreans are "conversationally fluent" in English.
Here are some of the cities in South Korea where English gets spoken most: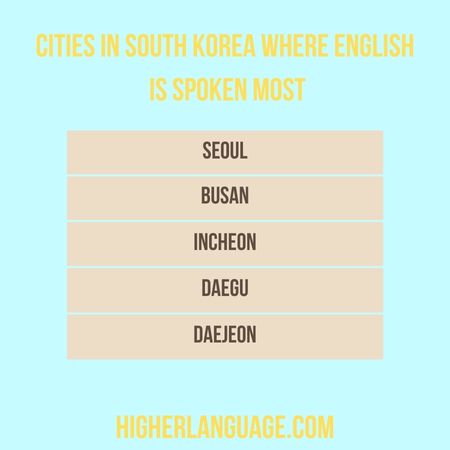 However, this doesn't mean that you won't be able to get by when traveling to South Korea.
In many of the major cities, such as Seoul and Busan. You will find plenty of people who can speak English, especially in tourist areas.
Do The Younger Generation In South Korea Speak English?
Since the Korean War, South Korea has been an ally of the United States. And American troops are still stationed in the country.
Because of this close relationship many assume South Koreans must be fluent in English.
However, this is not always the case, especially among the younger generation.
Although English is taught in South Korean schools. It is not always a priority for students, and many are not Fluent by the time they graduate.
The younger generation in South Korea generally speaks English quite well.
That is because English is a mandatory subject in Korean schools.
In addition, many Korean students attend English language institutes after school. Or on weekends to further improve their proficiency.
As a result, most Koreans under 30 have at least basic conversational skills in English.
However, it is to note that the level of English varies significantly from person to person.
While some young Koreans are almost fluent. Others may only be able to handle a basic conversation.
In addition, many older Koreans do not speak English at all. So it is always best to prepare a few key phrases in Korean.
Will You Be Okay With

Just

English While Traveling To South Korea?
Many assume South Korea is a developed country, so everyone there must speak English.
However, this is not the case. While English is becoming more popular in South Korea, most people still do not speak it fluently.
That can pose a problem for travelers who do not speak any Korean.
There are a few things you can do to try and overcome the language barrier while traveling in South Korea.
Firstly, try to learn some basic Korean before you go. Even just a few phrases will make a big difference.
Secondly, carry a phrasebook or a translation app. To look up words and phrases when needed quickly.
Finally, be patient and prepared to communicate as much as possible. Through gestures and body language.
With a bit of effort, you should get by in South Korea without too much trouble.
The majority of people in South Korea are bilingual or trilingual. So you'll likely be just fine speaking English while traveling.
However, there are some instances where you may need to know a few key phrases to get by.
Tips For English Speakers Traveling To South Korea
English is not as widely spoken in South Korea as in some other countries.
But visitors should not have any major difficulties communicating in English.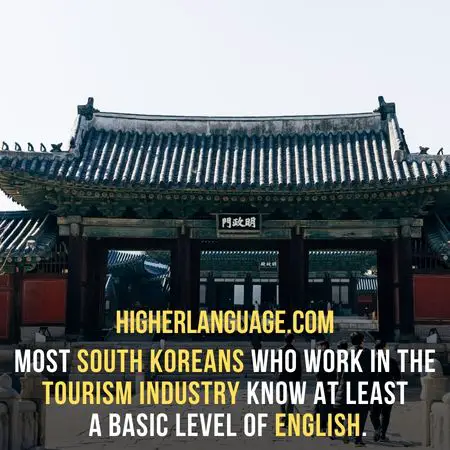 Many signs in airports and public places are in Korean and English. And most Koreans who work in the tourism industry have at least a basic level of English.
That said, there are a few things that English speakers should keep in mind when traveling to South Korea:
– Many Koreans will be uncomfortable speaking English, even if they can. Patience and a sense of humor are important.
– Koreans often use honorifics when speaking to someone of a higher social status.
For example, an older person would get addressed as "Mr./Mrs. Smith." While a younger person would get addressed by their first name.
– When speaking to someone you do not know well, it is impolite to use first names only. Instead, use titles (e.g., Mr./Mrs.) or full names until invited to do otherwise.
– Some many words and phrases do not have an exact equivalent in English. Koreans often use the closest equivalent or explain their meaning in these cases.
– Do not get offended if Koreans ask personal questions about your age or salary. These questions are polite conversation starters in Korea.
Final Thoughts:
To conclude, do people speak English in South Korea?
Unfortunately, English is not as widely spoken in South Korea. As other languages such as Mandarin or Spanish.
The younger generation is generally more proficient than the older generation.
And those who have gone through higher education. Or have worked in international companies. They are usually more fluent than others.
Nevertheless, even people who don't speak English can usually communicate basic messages and understand simple English.
However, there are still many people who can speak English. Especially in larger cities.
Therefore, if you plan to travel to South Korea, it is still a good idea to learn some basic phrases in Korean.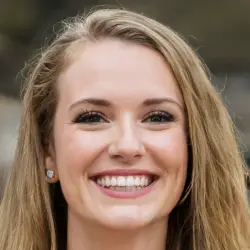 Latest posts by Sylvia Simpson
(see all)