Many people hesitate to start learning English. "Is English the hardest language to learn?" This could be because many learners consider it as one of the most difficult languages to master. But is this correct?
Note: Stick to the end, and you also will get some pieces of advice for new learners of English. If you're reading this, we're guessing  that you've already made a great start!
Is English The Hardest Language To Learn? -12 Major Causes
Many of the words in the English are from Ancient Greek and Latin. The language also has some pretty complicated grammatical, spoken, and written rules.
Even native speakers start to make mistakes due to these rules! English is a Germanic language. People who speak another Germanic language will find English easier.
Let us have a look at the most common reasons people find English language difficult to learn.
1. Exceptions And Tons Of Rules:
Written English is the most challenging component. Native English speakers sometimes make mistakes in their writing, particularly in punctuation.
When writing, we should also follow many grammatical structures and rules. There are also many rules for new speakers to learn.
These rules range from using the comma in lists to using conjunctions to connect ideas. However, the spelling rule 'I' before 'E' only works occasionally.
Irregular verbs do not conjugate in the same way that other verbs do (and we have a lot of irregular verbs).
2. Contradictions And Inconsistencies:
Have a look at some sentences to understand the contradictions in English. These are:
– We will begin with a box, and the plural is boxes. Then why is the plural of ox becomes oxen, not oxes?
– If the plural of man is always called men, why should not be the plural of pan called pen?
– If I speak of my foot and show you my feet and give you a boot, would a pair be called beet?
– The teacher taught. But the preacher never ever praught.
There are also many homophones (words that sound the same but have different meanings). For example, "would" vs. "wood," "ball vs. bawl," "eight" vs. "ate" are some examples.
3. Vocabulary Of English Has Mixed Origin:
More specifically, the language is a member of the Indo-European language family. It also has roots in German, Latin, French and Persian, Hindi, and Russian influences.
Especially when attempting to apply rules you are already familiar with to new words. The same goes for the phrases that do not even follow the same rules.
In fact, 29 percent of English is French, 29 percent is Latin, and 26 percent has Germanic roots. The remaining 10% makes all the other languages.
This can help French, German, and Latin speakers. As they are already familiar with much vocabulary. 
4. Idioms In English- Is English The Hardest Language To Learn?
English has also a lot of Idioms in it. They are small, quirky sayings. These idioms do not mean like that but are commonly used within a language.
They are to describe a distinctive act, process, or expression. Some of the most common – and unique – idioms in the English language are:
– "Hit the hay" – to mean you are going to go to sleep
– "They hit the roof" – to describe someone as being very angry
– "Costs an arm and a leg" – something that costs a lot of money
– "Break a leg" – a way of wishing someone good luck
When a new language learner hears a phrase like "break a leg," his perplexity increases. Does he wonder as what you mean by it?. Idioms are meaningless, perplexing, and unpredictable in what they refer to.
Native speakers also use many common conversational idioms. You must be familiar with them if you want to hold a conversation.
5. Is English The Hardest Language To Learn?-Varieties Of English Language:
Sometimes this question comes in our mind: Is English the hardest language to learn? As it has many variations.
There are many dialects of English. The US and also other countries with a large proportion of English-speakers have differences. These variations can be in their:
– Vocabulary
– Phrases
– Grammar
– Spelling
– Pronunciation
6. Many Tenses In English:
Tenses are another common source of frustration while learning the English language. Tenses can drastically alter the meaning of a sentence.
This occur when tenses are spoken or also written. There are many different tenses in English. Each of which can mean something different.
There are a lot of arguments around how many tenses are there? Some experts believe there are thirteen, while others believe that there are sixteen.
The fact that we can't agree on a specific amount demonstrates how difficult they are. Many native speakers unknowingly shift tenses. It isn't easy to maintain consistency.
7. Rules Of Plurals:
The plurals in English vary in such a way that sometimes you find it hard to remember the rules. In most cases, singular nouns are plural by adding a -s at the end.
However, there are some instances where the pluralization rules change. It depends on which letter a noun ends in.
If the noun ends in s, -ss, -sh, -ch, -x, or -z, you must add es to the end to make it plural. For instance, 'bus' becomes 'buses,' and 'tax' becomes 'taxes.'
If the noun ends with the letter fe, the 'f 'is frequently changed to ve before adding the –s to form the plural. 
For example, 'wife' becomes 'wives,' and 'shelf' becomes 'shelves.' When we talk about the words like mouse and ox, here a non-native speaker learns to add -s to form a plural.
8. Pronunciation In English:
The rules of written English were not difficult enough to grasp. The way we pronounce words when speaking complicates matters.
1. Many words in English starts with letters at the beginning of them. These words are silent when pronounced. For example:
– "Mnemonic" – as 'new-mon-ic.'
– "Knife" – 'nife.'Spellings of words with silent letters are very difficult for new language learners. They are tricky to write down. – as they frequently use phonetics to make spelling words easier.
2. Even many words that end in the same letters do not always have the same pronunciation. Some are also loud. As an example:
– The word "Cough" as 'coff.'
– Through" is pronounced as 'throo.'
– The word "Rough as 'ruff.' These two words end in "ough" but they are: "Coff," "Thru" and "Ruff" — Are we crazy?
9.

Synonyms Are Not Always Same In Meaning:
When learning English, you will most likely consult a thesaurus. You will discover that several groups of words generally mean the same thing. These are 'synonyms.'
You might say that you want to "see a movie" or "watch" it on television in everyday speech. It would be incorrect to say, you would "see a television."
Even if the two words have very similar meanings, you should consider the context. It is possible that they come out completely different.
10.

Inflection Also Change Meanings- Is English The Hardest Language To Learn?
The words you emphasize can alter the meaning of a sentence, even if they are only slightly. For Example:
I want to talk to her. It is a simple statement of fact. Easy peasy! Can you spot the difference between these sentences based on bolded words?
– I want to talk to her. Note the word "I" in the first sentence. This indicates that the speaker wishes to converse with her.– I want to talk to her. Note the word "want" is in the second sentence. This could imply that the speaker was told not to speak with her and is now expressing a desire to do so. 
– I want to talk to her. Note the word "talk" is in the third sentence. This is how the speaker demonstrates that they are only interested in talking. Especially if others suspect the speaker has bad intentions.
– I want to talk to her. Note the word "her" is in the fourth sentence. This indicates that the speaker is only interested in speaking with her.
11.

Difference In Dialects- Is English The Hardest Language To Learn?
When we are pronouncing " bath " or " castle, " there is a north and south distinction. It is a long "A" in the south and a short "A" in the north.
Each country has its way of pronouncing words. For example, the US, Canada, Australia, etc. This means that where you study English has a significant impact on you. It also affects your pronunciation.
We assume that regional dialects also exist in all languages. People in the United Kingdom struggle to learn English. The country has many regional dialects.
12.

The English Language- Nonsensical:
The English language has frequent inconsistencies and illogical pairings. These make reading, speaking, and listening difficult for non-native speakers.
Take the word 'strawberry,' for example. What does the word "straw" have to do with the red, juicy berry fruit? Sometimes the pairings appear illogical.
It is not just words either. There are also many instances where nouns can become verbs, but the rules vary depending on the word.
Teachers, for example, will have 'taught' their students, whereas preachers will have 'preached.'
Advice For New Learners
Do you want to be successful in English? Below are some tips that would be helpful for new beginners:
1. Please Be Patient:
It is also critical to be patient with yourself and the language-learning process. There is no getting around because it takes time, and you will make mistakes.
But the effort is well worth it! You and only you have control over what you do when you do it, and how you do it.
2. Begin With The Fundamentals:
When you first start out, don not overburden yourself. To begin, concentrate on the key vocabulary, phrases, and grammar points. Do not worry too much about the more challenging material.
Concentrate on specific areas. You will also notice areas where you are weaker once you start learning the fundamentals. Perhaps you excel at English spelling but struggle with pronunciation. 
3. Speak More Often:
Perhaps you can read English but cannot understand it when spoken to you. Determine your areas of weakness and concentrate on improving them.
It is critical to remember that making mistakes is fine. Thus speaking the language sooner rather than later will help you learn faster.
4. Practice And Only Practice!
"Practice makes a man perfect," they say. Don't pass up any opportunities to practise. The only way to master the language is to practise.
You should also use English whenever possible. You can not learn English unless you speak it and practise it!
5. Be Confident:
Learning a language can be intimidating. It is critical to have faith in your abilities. It is to improve and succeed.
Remember that short, consistent periods of practice are far better for the mind. Just be confident and you will ace it.
Conclusion:
Most people are also born with the ability to learn languages. On the other hand, children acquire new languages more quickly than adults.
The complexity of a language is determined by how similar it is to your tongue. English is usually recognised as one of the hardest languages to learn.
It is difficult for learners and native speakers because of its spelling and grammar. But consistency and hard work can help you to ace any language barrier. You only need to be determined.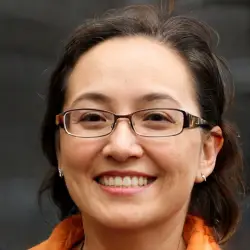 Latest posts by Elizabeth Williams
(see all)