If you are a German speaker and wonder, "what are some languages similar to German" we have got your back.
You will be glad to hear that several language options are available to you. Due to having German roots, these would be simple to master.
This article lists some of the languages similar to German. These are the closest languages to German.
Languages Similar To German – List Of 4 Languages
Many languages belong to the Germanic language family. All these languages somehow share some basics. This sharing makes it easier for a speaker of one language to learn the other.
Stick to the end of the article to learn about the shared thing between German and these languages.
1. Dutch – 1st On The List Of Languages Similar to German:
The lexical similarity between these languages is exceptionally high. Over 80% linguistic similarity exists between German and Dutch. This suggests that 4/5 of the terms in the two languages are similar.
However, it doesn't guarantee that they're mutually understandable to native speakers. This is because of the additional syntax and pronunciation changes.
The Similarities Between Dutch And German:
Anyone who is even a little proficient in Dutch will quickly learn German than others and vice versa.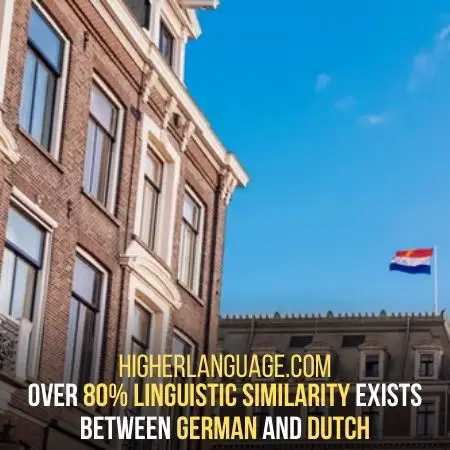 These Germanic languages, including Dutch and German, belong to the same language family. Despite their significant differences, these languages have several grammatical and lexical traits.
a. Vocabulary:
The strong relationship between German and Dutch is evident from the phrases and words. Some examples are:
| | | |
| --- | --- | --- |
| Dutch [NL] | German [DE] | English [EN] |
| Goed | Gut | Good |
| Dag | Tag | Day |
| Brood | Brot | Bread |
| Bed | Bett | Bed |
The Dutch and German lexicons have more overlapping than either does with English. Look at the phrases below:
| | | |
| --- | --- | --- |
| Dutch [NL] | German [DE] | English [EN] |
| Hond | Hund | Dog |
| Spelen | Spielen | To Play |
| Klein | Klein | Small |
| Snel | Schnell | Fast |
Of course, a number of examples are only the tip of the iceberg. To put it another way, the Dutch and German lexicons overlap similarly as Italian and Spanish do.
b. Grammar & Syntax:
Simple Dutch and German sentences use the basic structure of subject-verb-object. This is the present tense structure. This is a similar structure used in English.
| | | |
| --- | --- | --- |
| [DE] | [NL] | [EN] |
| Der Hund rennt zum Baum. | De hond rent naar de boom. | The dog runs to the tree. |
There are considerable grammatical differences between Dutch and German. But, there are several rules and structures that both languages share. These are:
– Ending the phrase with the second verb
– Putting '-ge' in the starting of the verb to signify past tense
This is why native Germans often choose Dutch as the simplest language to study.
c. Alphabet:
The 26 characters of the Latin script make up the modern Dutch alphabet. This also goes for German.
German also has 26 letters. This basic similarity makes it easier to learn any of these languages.
d. Pronunciation:
When spoken, Dutch sounds pretty similar to German. This helps to make it a simple language to grasp for Germans.
Many Dutch words sound identical to similar German counterparts. As a result, they're quite simple to remember. Here's a simple comparison:
| | | |
| --- | --- | --- |
| Words | German | Dutch |
| I | ich | ik |
| wife | Frau | vrouw |
| tree | Baum | boom |
| book | Buch | boek |
| play | spielen | spelen |
2. Luxembourgish – 2nd On The List:
Between Luxembourgish and German, there is a significant level of linguistic competence. They are all members of the family of Western Germanic languages. As a result, they'll definitely share many terminologies.
Similarities Between German And Luxembourgish:
German is, in fact, a Luxembourgish dialect. They have a lot in common. They share some basic similarities, such as:
a. Alphabet:
The Luxembourgish alphabet consists of 26 letters from the Latin script. This is like the German alphabet.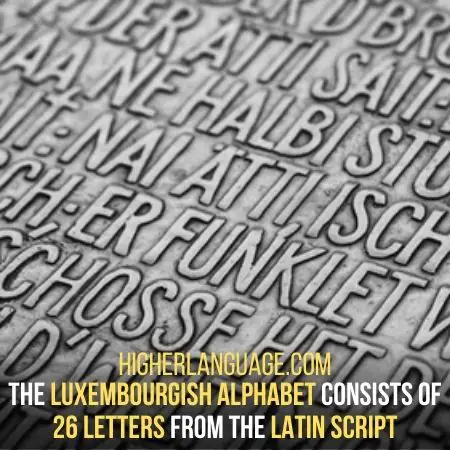 This same number of letters is easy to learn any of these languages if you know the other one.
b. Pronunciation:
Luxembourgish is a language that evolved from a local dialect of German.
As a result, it has some pronunciation similarities to German. But, it is best known for its distinct diphthong sounds.
c. Vocabulary:
Both languages share many words. So, Luxembourgish can be a pretty simple foreign language for Germans to learn.
The following are some German words that are Luxembourgish equivalents:
| | | |
| --- | --- | --- |
| Words | German | Luxembourgish |
| Two | Zwei | Zwéin |
| Bring | Bringen | Bréngen |
| Four | Vier | Véier |
| Week | Woche | Woch |
| Person | Mensch | Mensch |
d. Grammar & Syntax:
Luxembourgish shares several characteristics with German and the other West Germanic languages.
One linguistic similarity is that past tenses are never used in both languages. They are now considered outdated.
3. English – 3rd On The List Of Languages Similar to German:
If your first language is English, German is your uncle's language. English seems to be the most helpful and easiest second language to learn. This is because it uses the same script as German.
German and English have had a long and tumultuous connection. Both the languages are linguistic siblings that have been apart for a long time.
Similarities Between German And English:
The syntax of German and English is very similar. The reason is that both languages were originally one.
Many words sound pretty similar in both languages. Some common similarities are:
a. Germanic Languages:
The most important point is that English is a language that evolved from West Germanic. It developed around 2,000 years ago.
Both English and German languages as members of the
. These are from the Germanic branch of the Indo-European language family. This implies that they're still in contact now.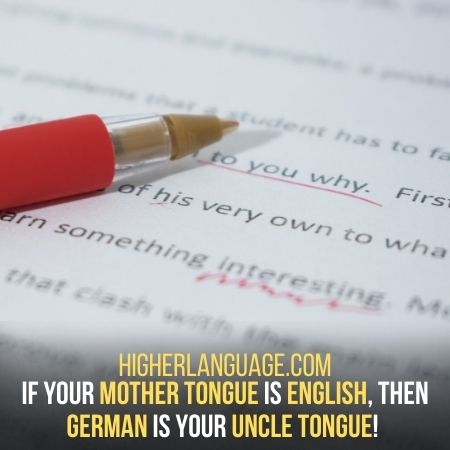 More than 1/3 of English lexicons are thought to be of Germanic roots. Moreover, modern languages have borrowed Greek, Latin, and French vocabulary.
b. Alphabet:
The Alphabet is one of the most noticeable similarities between English and German. Both languages have got the same 26 letters that the Latin alphabet has.
This is a significant advantage. It makes it simple for English speakers to begin writing in German right away.
c. Vocabulary:
You'll find it astonishing that how many words in German and English are the same! If you can communicate in English, there's a high possibility you already know a few German words.
Many German words have made their way into the English language. Many of them are in use regularly.
There are, yet, a lot more, which makes memorizing English vocabulary for a German speaker a lot easier.
When it comes to food or drink, German terminology in English is much more widespread. Here are a couple of such examples:
| | |
| --- | --- |
| German | English |
| Bringen | Bring |
| Butter | Butter |
| Finger | Finger |
| Gold | Gold |
| Intelligent | Intelligent |
d. Grammar & Syntax:
The grammar of English is mainly built on Germanic principles. English speakers will notice the closeness in grammar structure while learning German.
The way verbs vary depending on the tense might be the best example of this. An example is the German word 'trinken,' which means 'to drink.'
From 'drink' to 'drank' to 'drunk,' the English words change depending on the tense. The words 'trinkt', 'trank,' and 'getrunken' are used in German for the same three tenses.
The same general rule holds for the majority of other verbs. As a result, an English speaker could usually get a clear sense of German verb structures right away.
This is why English is an easy language to learn for Germans.
e. Pronunciation:
Aside from the number of common words, there are many terms that sound similar in both English and German.
The pronunciations of common English and German words are sometimes very similar.
The consonants 't' and 'd' in German and English are identical. This makes language acquisition easy for Germans. Here are a few examples:
| | |
| --- | --- |
| English | German |
| House | Haus |
| University | Universität |
| Camera | Kamera |
4. Scots – Last On The List:
Germany and Scotland have strong trade ties as well as cultural affinities.
The German term "kennen" and the Scottish word "ken" reveal interesting linguistic closeness. These words mean "to know."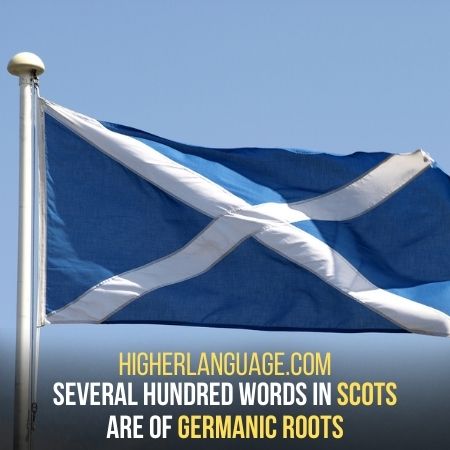 Scots is a Germanic language that is a modern version of Old English. The current Scots language has stayed true to the old German roots.
Similarities Between German And Scots:
Like all other Germanic languages, Scots also share some similarities with German. Some of the commons ones are:
a. Alphabet:
Scots is a language that uses 18 letters from the Latin script and is not the simplest to master.
But the similarity in the script can help to learn the language for Germans.
b. Pronunciation:
Scots belongs to the Germanic language family. Thus it can have a Germanic sound to it.
But, the language contains a large number of consonants with diverse pronunciations. It all depends on whether they're at the start of a word or not.
c. Vocabulary:
Several hundred words in Scots are of Germanic roots. There have some very basic words in this list, such as:
| | | |
| --- | --- | --- |
| Words | German | Scots |
| No | Nein | Nae |
| House | Haus | Hoose |
e. Grammar & Syntax:
In terms of grammar, Scottish Gaelic is similar to Irish and Manx. It has structures that may be more similar to those found in Celtic vocabulary than in German.
Conclusion:
All the above-discussed languages share several similarities with German. If you already know any of these languages, you can easily learn German.
In another case, if you are a German speaker, this would also help you learn these languages. This is because they share many words and vocabulary.
Don't be hesitant to learn a new language if you are on edge about it. There are lots of advantages to learning a foreign language.
These include cognitive benefits such as better memory and listening abilities. Knowing various languages improves one's professional chances in any area.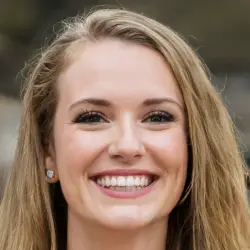 Latest posts by Sylvia Simpson
(see all)