How long does it take to learn the language? The answer depends on a variety of factors, including your prior linguistic knowledge, the time you devote to studying, motivation and interest.
Learning Hindi can be a great way to expand your linguistic abilities, appreciate a new culture, and communicate with over 500 million people across the globe.
How Long Does It Take To Learn Hindi?
Hindi is an Indo-Aryan language spoken by over 572 million people worldwide and is India's official language.
It's also one of the 22 languages officially recognized in India, making it a great option for learning how to communicate with people from the subcontinent.
So how long does it take to learn Hindi? It is worth knowing. The answer depends on several factors. First, your commitment and dedication will determine your success!
 Investing time and energy into the language regularly will help you become more comfortable and confident in speaking, reading, and writing Hindi over time. 
With that being said, some sources say that it takes anywhere from 1-2 years to gain fluency, while others report it could take up to 5 or 6 years.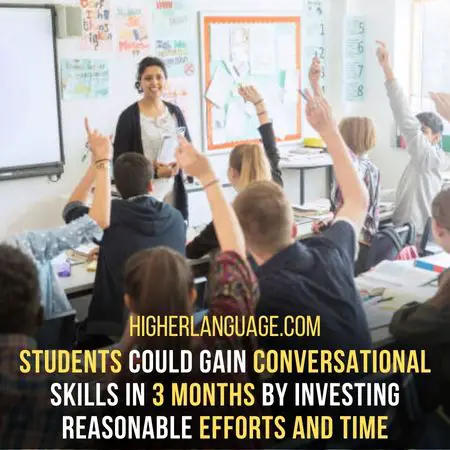 Additionally, students could gain essential conversational skills in as little as three months by investing a reasonable amount of effort and time.
This foundation can then be improved with involved guidance or full immersion. Mastery is attainable within six months!
Ultimately everyone's experience with learning Hindi varies, so don't expect certain results at set periods of time.
Factors Affecting The Learning Process
Learning is incredibly complex, and various factors can influence how quickly and deeply something is learned.
For example, how long it takes to learn Hindi could very well depend on;
– The student's existing language abilities
– Access to instruction in the Hindi language
– How often is the person exposed to Hindi
– How much motivation and effort the student has to learn Hindi
– Interest of the learner in the Hindi language
– Available resources to practice and learn Hindi such as books, audio, and video recordings, teachers or tutors
– Environmental factors like how often you interact with native speakers, how much they are exposed to spoken Hindi, or how many people are around who already speak it.
Looking deeply into the study of how we think and remember can be a powerful tool to help improve our cognitive abilities, especially regarding memory.
An array of factors can influence brain recall; examining them all in detail will reveal fascinating insights.
How Is It Hard To Learn Hindi?
Learning Hindi is no easy feat, but how hard it is to learn relies heavily on how you approach it. The reason is it is a language with its own unique script, fundamentals, and nuances.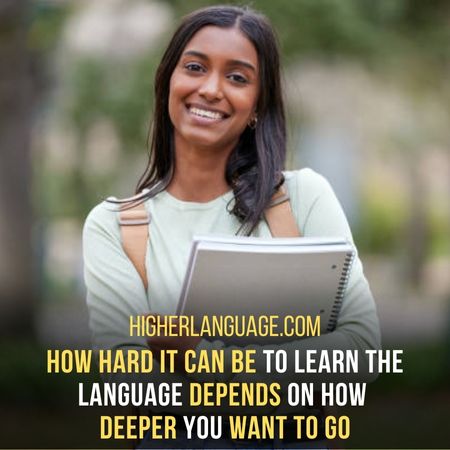 How hard it can be to learn the language depends on how in-depth you want to go and how much time you are willing to spend devoted to learning it. 
Those that dedicate themselves to the language often find progress in only a few months. 
On the other hand, those seeking basic conversational skills can learn enough of the language within a couple of months with regular practice. 
Some find taking formal lessons beneficial, while others opt for self-learning by using ample resources such as books, courses, or even apps available nowadays. 
No matter how one approaches learning Hindi, understanding grammar is essential for mastering the language.
While mastering any foreign language requires significant investment in time, patience and practice, learning Hindi isn't necessarily impossible.
So, we can say that level of hardness of Hindi depends on the learner's preferences, capabilities, and motivation.
Learning Hindi For English Speakers
Learning any language can be hard, and Hindi is no exception.
Learning Hindi for an English speaker can be quite intimidating due to how different the two languages are. But don't let this dissuade you from trying!
It's not that difficult to learn, and many have successfully mastered it.
Of course, it could take much longer if you have other commitments or distractions in your daily life that may keep you from making Hindi your priority.
In that case, it may take many hours of practice, study, and memorization to really grasp the complex grammar and intricate vocabulary that are involved in this language.
Each noun has two genders, masculine and feminine, as well as three grammatical cases, which add another layer of complexity.
Plus, the Devanagari script used in Hindi can seem like a foreign language for English speakers. However, with some effort and dedication, anyone is able to learn how to read it.
So, how long does it take to learn Hindi for an English speaker? Depending on how much time an English speaker can spend practicing on a daily basis and how apt they are at learning languages.
However, with the right motivation and dedication, learning to speak and write in Hindi is certainly achievable.
Languages Closer To Hindi
Are you curious to find out how long it would take to learn Hindi? Then, you may be surprised that there are languages quite similar to Hindi.
If you're already familiar with other languages in the Indo-Aryan family, such as Urdu or Gujarati, then picking up Hindi may not be much of a challenge.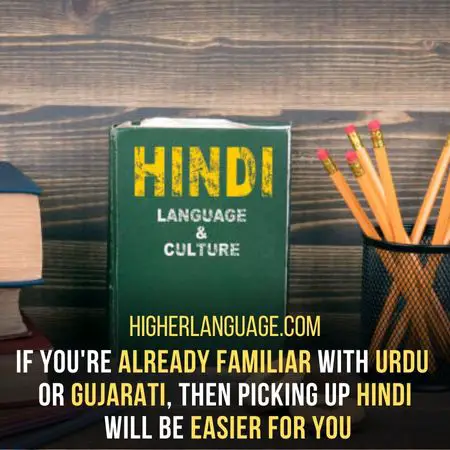 It usually takes around four months to learn how to speak simple Hindi conversations, and even less time if you're already familiar with other languages from its family.
There are many languages that are much closer to Hindi than English, such as Urdu, Gujarati, Marathi, and Bengali.
So, discovering these can mean expanding your conversational abilities faster and easier.
In addition, for anyone wishing to converse in Hindi, establishing a base with Sanskrit and Punjabi is an excellent starting point.
These languages are linguistically close to Hindi, which makes them the optimal building blocks for comprehending this dialect.
While there are obvious differences, it takes far less time to transition from either language into Hindi, making learning how to fluently speak the language much easier.
–

Languages Closer To Hindi Can Help Learning Hindi Fast:
If you are already familiar with some of the languages closer to Hindi, such as Urdu, Bengali, or Punjabi, it can greatly reduce the time it will take to learn Hindi.
By speaking in a related language, you can not only build your confidence by recognizing some words and phrases due to shared vocabulary but also practice pronunciation more easily.
This way, you can continue refining your language skills and feel comfortable!
Furthermore, it is best to be realistic if you want to learn a new language. However, if your target language is Hindi, then you may be able to learn the basics faster than you thought.
With enough practice and dedication, you'll find that speaking in this new tongue will become second nature.
Is It Worth Learning Hindi?
While studying Hindi can require a lot of hard work and dedication, the rewards are well worth it.
It's only natural to ponder how much time and effort is necessary in order to see results. Still, with patience and consistency, you'll be able to reap the benefits of your efforts.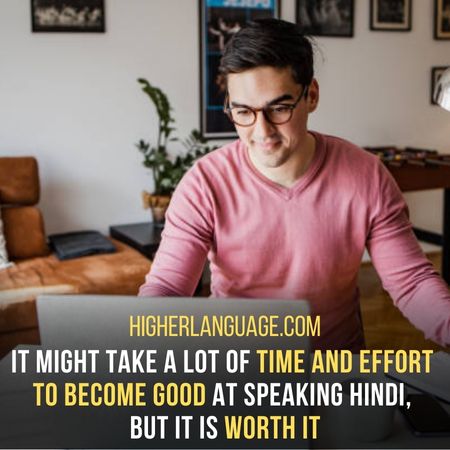 It might take a lot of time and effort to become good at speaking Hindi, but it is worth it. You will learn more about India's culture, history, and literature.
Also, by learning one of India's most-spoken languages, you'll discover richer pathways into its multifaceted past.
Even if language learning isn't one of your passions, learning enough to get by can greatly enhance your experience during an Indian adventure.
Knowing how to greet someone in their native language makes travelers welcome guests – so why not invest a little time beforehand and ensure that every trip to India is enjoyable?
How To Learn Hindi In Effective Ways?
Learning how to communicate in Hindi can be a great asset. How long it takes to learn Hindi depends on your commitment to it.
An effective way to learn Hindi is to immerse yourself in the language by watching Hindi movies, listening to music and podcasts, and reading books and newspapers written in Hindi.
By recognizing words, phrases, and emotions associated with conversations, you will soon be able to speak at least basic phrases of the language.
You may also wish to consider taking classes or using online resources in order to get a more comprehensive understanding of how the language works.
You could become an expert speaker in no time with practice, patience, and commitment!
Conclusion:
The bottom line is that "how long does it take to learn Hindi?" is up to you and how much effort, time, and dedication you are willing to put in.
With the right guidance or full immersion, you can gain an essential understanding of Hindi in as little as three months. However, some people could learn the language in six months or less.
For others, it may take up to a year or longer before they feel truly comfortable speaking Hindi.
No matter how quickly or slowly you progress, remember that every little bit of effort counts, and you will see improvement with each passing day.
With determination and diligence, you can achieve fluency in Hindi quickly! Best of luck on your language adventure!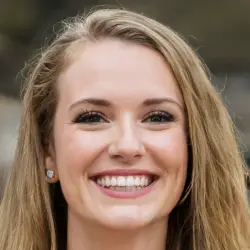 Latest posts by Sylvia Simpson
(see all)