There is no denying that English is the most spoken language in the world. But what about Singapore? Do people speak English in Singapore?
Roughly estimated, English has 370 million native speakers. It has 1.5 billion learners worldwide. Are these facts also true for Singapore? Let's Find Out!
Do People Speak English In Singapore?
The majority of the Singaporean population speaks English as their first language. Singapore is a small island nation in South East Asia, home to almost 5.8 Million people.
Around 2.5 million speak English in Singapore.Singapore was founded in 1819 when British traders and merchants started a colony.
This was to help them with trade in the region. Due to this reason, English is widely spread here.
Singapore is also one of the most diverse countries in the world. It has over 4 million people living there who were born there!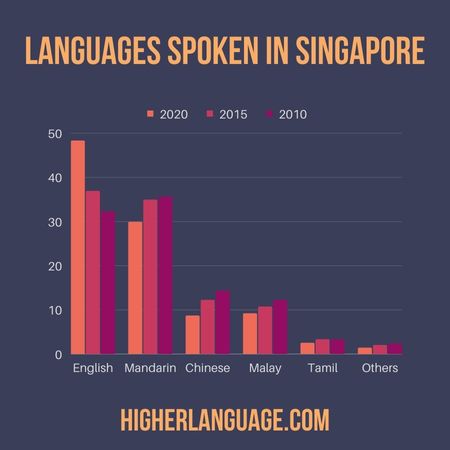 What Percentage Of People Speak English In Singapore?
One of the most common questions is, "How many people speak English in Singapore?"
The answer is: Over 48.3% of the population speaks English in Singapore.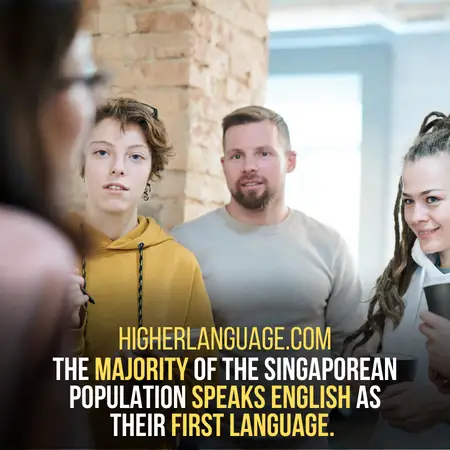 The majority of residents are bilingual, speaking both English and another language. But not everyone uses English exclusively. Singlish is the most popular form of local jargon here.
Language Diversity In Singapore:
The country of Singapore is a melting pot of different ethnicities and cultures. It's home to a large population of Chinese people. But there are also many Malay and Indian residents as well.
Because of this diversity, you will find many different languages being spoken here. This includes English, Malay, and Mandarin. English is the most commonly used one among all these groups.
In addition to English, people can also speak Singlish. They use Singlish when interacting with locals who do not understand English.
Singaporeans have been famous for having very strong accents when speaking English.
However, most foreigners will find it easy once they start practicing their language. They can do so through socializing with locals over time!
In fact, it's estimated that over 70% of the population speaks at least one of these three languages!
Singlish is a language that has evolved out of the need for people speaking different languages to communicate in everyday life. It's funny because there really isn't any such thing as "Singlish."
It's just slang or phrases used by locals when they want to be funny or sarcastic. But don't know how else they can express themselves (like saying, "this is so cool!").
Singlish – The Native Language Of Singapore
The native language of Singapore is Singlish. It is a mixture of English and Malay, as well as other languages spoken by the people who live there.
Singlish is an extremely informal language used when talking to friends and family. You won't hear it spoken anywhere else in the world.
This is because there are thousands of words and phrases unique to Singapore. You will never hear them outside of this country!
Is English Taught In Schools In Singapore?
The English language is a compulsory subject in schools in Singapore. Students start learning English from an early age.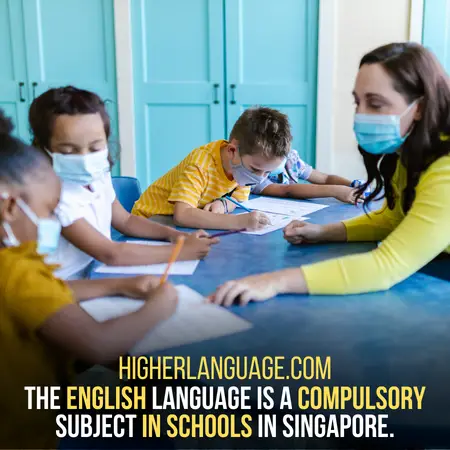 So it's not uncommon for them to be fluent in the language by their late teens or early twenties.
However, there are still some people who choose not to learn English. They feel that there aren't any benefits associated with learning it.
They believe that they will get along better without knowing another language. Therefore don't see the point of spending time studying this particular one.
How Singapore Became An English-Speaking Country?
During the 19th and 20th centuries, Singapore was a British colony. Only a small portion of the educated elite spoke English there.
There were three significant ethnic groups in the country:
– Chinese
– Indians
– Malay
So how did Singapore grow to be a popular study abroad location for students from all over the world?
Singapore has a large population of non-native English speakers. Many of these students come to study in English or to study English in Singapore.
Singaporean adults scored 4th position out of 112 countries in the EF English Proficiency Index. They have some of the world's highest average English proficiency levels.
This data is from the 2021 edition of the EF EPI based on test data from 112 countries around the world. 2 million test takers took the EF Standard English Test (EF SET) in 2021.
Promotion And Spread Of English In Singapore:
Language policies won't perform well without additional initiatives to encourage mixing and integration.
English is the language of instruction in the schools of Singapore. Children of all ethnicities go to the same school in Singapore. For social interaction, English usage increased as well.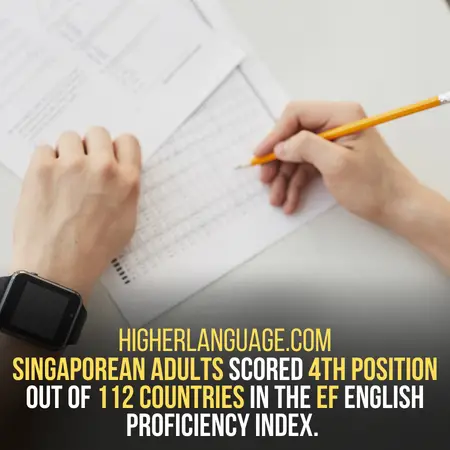 It is true that not only the educational system is responsible for these efforts. The entire government was involved in the promotion of English in Singapore,
To promote practical training, adult education training institutes were established in the 1960s.
They urged employees to enroll in introductory English courses. This was important to gain access to continuing technical education.
In addition, the largest employer, the government, chose English as the official language. The benefits of learning English for a job and promotion quickly became clear.
In fact, English language ability was a requirement for socioeconomic mobility. The broadcast media also had a significant impact.
Television was first launched in 1963. Radio Television Singapore then had free-to-air broadcasts in the four official languages.
The spread of English was made possible by the establishment of an English channel. The prevalence of the internet has also strengthened English's position in Singaporean society.
Other Languages Of Singapore
Singapore has four widely spoken languages. English is one of the official languages of Singapore.
It's also spoken by a large number of people, especially those who live in government housing. They work at the city's many multinational companies (MNCs).
Malay is another language of Singapore. It's the national language of Malaya and Malaysia. But it also has official status in Singapore. Around 10% of Singaporeans speak Malay.
Chinese and Indian languages are also spoken in various parts of this country. In fact, Singlish is widely understood as a second language for many people.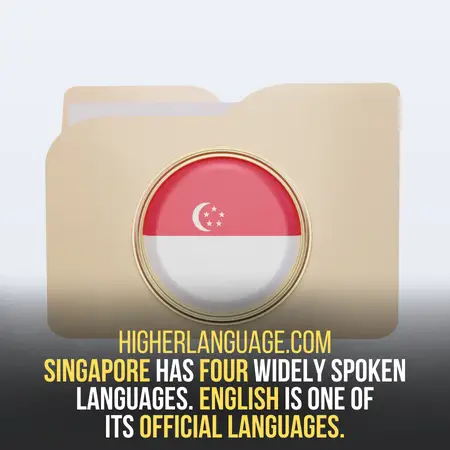 About 29% of people speak Mandarin Chinese in Singapore. The percentage of people speaking Tamil and other Indian languages is relatively low, i.e., 10%.
Singlish mixes English words with local dialects. It is spoken by those who grew up speaking Chinese or Tamil as their primary tongue.
Other Dialects Of Singapore
As already stated, Singapore is home to a large number of Indian and Chinese dialect speakers.
An official campaign began in 1979 to popularize Mandarin. It strengthened Singapore's Chinese community's unity and competitiveness in the global commercial sector.
Ethnologue lists some other unofficial dialects and languages spoken in Singapore:
– Bengali
– Hakka
– Min Nan
– Min Dong
– Hindi
– Gujarati
– Javanese
– Punjabi
– Malayalam
– Madura
– Sinhala
– Singaporean Sign Language
– Telugu
Conclusion:
Singapore's English-language history is still an unfolding one. What's clear is many speak English as their first language.
It is used as an official language for government business, education, and media. But there are also other languages used, including Tamil, Malay, and Mandarin.
Singlish is spoken informally among friends or family members. But the working language for business and government is still English.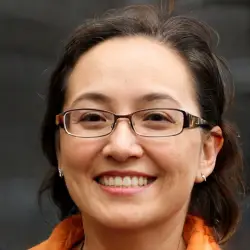 Latest posts by Elizabeth Williams
(see all)