How do people speak English in Amsterdam fluently, even when it's not their first language? This statement contains more appreciation than the question.
Amsterdamers are among the most productive nations in the world. Whether about economy or quality of life, they always hit top rankings in every race they compete.
9 Reasons Why Do People Speak English In Amsterdam So Fluently!
Amsterdam is the capital of the Netherlands. Being one of the richest cities in the world, it has everything a person can dream of.
Unlike New York City or any other economically strong city, it is also a city of the happiest people. Work-life balance is one of the most noticeable attributes of this place.
There is no second opinion that a happy nation is the most successful nation. When people are free from struggling for basic needs, they aim higher and achieve bigger.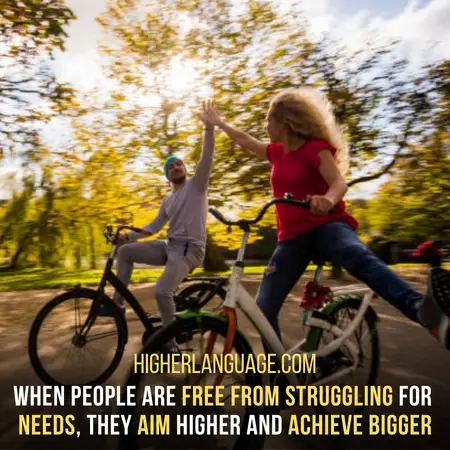 This is the case of Amsterdamers. If you check top-ranking countries, you will find Amsterdam in the top place.
By every platform, Amsterdam secured first place in English Proficiency Index for non-natives.
It is the capital of the most fluent country in English. Although English is not a native language, people are still fluent in this language.
Dutch is the locals' first language but also got first in the English Proficiency Index. It is a list of rankings that judges the fluency of non-native English speakers.
Like everyone, you must also want to know, "do people speak English in Amsterdam?" If yes, how is it possible, as they are Dutch? Following are some reasons for answering your question.
1. English Is A Part Of Basic Education:
Education is the foremost reason behind the Netherlands' success in English skill tests. Here, learning English is a compulsory part of basic education.
There are different levels of learning the language in secondary education. The first level of the test demands fluency in English. And, one cannot move further until passed.
As a result, more than 90% – 93% of people are proficient in English. People have a grip on the foreign language even at street level. You will find 9 out of 10 people who can speak English.
Even newspaper sellers, drivers, servers, flower sellers, etc., can communicate in English.
About Amsterdamers, it is common that if you ask whether they can speak English or not, they take it as an insult.
They would respond with, "what do you mean, I'm an illiterate who can't speak English?" This is because education is a priority in the region, and English is part of basic education.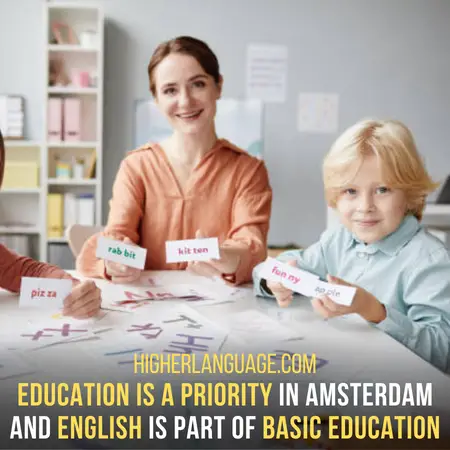 Every person has basic education. Thus, not knowing English means illiteracy. And, "illiteracy" is a foul word for Amsterdamers.
2. Dubbing Culture Is Unpopular In Amsterdam:
After WW-2, American culture dominated the world. Consequently, English is everywhere. Further, American media overtook the globe to be more influential.
Now, many people in the world consume English content. You can find its dominance everywhere, i.e., from websites and social media to Hollywood.
Due to the fame of American content, many non-natives of English dub into local languages. Also, Consuming English content has become a symbol of pride.
Amsterdamers are very adaptive and sharp people. They don't support dubbing culture and prefer American content in its original language.
Dubbing English movies and series is not popular in Amsterdam. Some people may like Dutch subtitles, but the ratio is very low.
Even children watch cartoons in English, so they get exposure to the language from a young age. Whether movies or music, natives prefer the original language only.
Watching English shows and listening to songs strengthens their control over the language. Therefore, they become fluent in English.
3. Amsterdam Is Multicultural:
Amsterdam is a multicultural city. Speakers of various languages make it a multilingual region. Because everyone can't speak every language, so English helps here.
In multilingual regions, English remains the language of communication. In such a case, people from several countries and different cultures live together.
Amsterdamers keep interacting with foreigners in the capital of the Netherlands.
By speaking longer in a foreign language, they become proficient in English.
4. No Cultural Protectionist Sentiment Among People :
If you visit different countries, you will see people are sensitive to their language. For instance, Germans and French people are very possessive.
Moreover, some cultures don't like English or the domination of the language. So, speaking English in such regions doesn't benefit like in North Korea and Iran.
In such a scenario, there is no option other than learning the local language or leaving the place.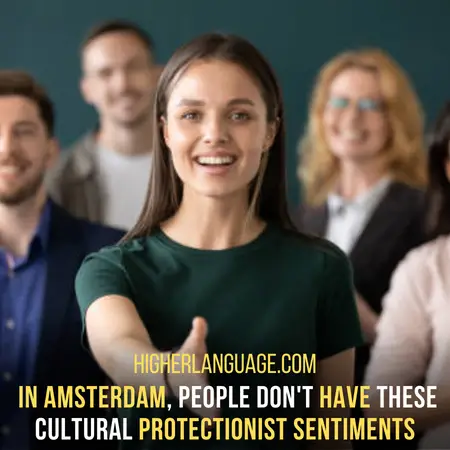 But, in Amsterdam, people don't have these cultural protectionist sentiments. Natives are not reluctant toward English.
You will not feel misfit or strange if you don't know Dutch while living in Amsterdam. Locals will accommodate you with English without any offense.
This generosity of Amsterdamers helps them in becoming proficient in English. They master a foreign language like their native one.
5. Amsterdam Own World-Class Education System:
Dutch people of Amsterdam are customary to be on top of every race. They rank at the top regardless of the economy, quality of life, safety list, or English Skill Index.
In the quality of education, Amsterdam cannot be left behind. It provides world-class education at a higher level.
Among 350 top universities in the world, there are 13 universities in the Netherlands. Also, 7 of them come under 150 leading universities.
The University of Amsterdam ranked in 57th place. As the country's capital, Amsterdam is integral to higher education rankings.
Students from all over the world desire to study in Amsterdam's universities. Of course, the key is a high quality of education, but another important reason exists.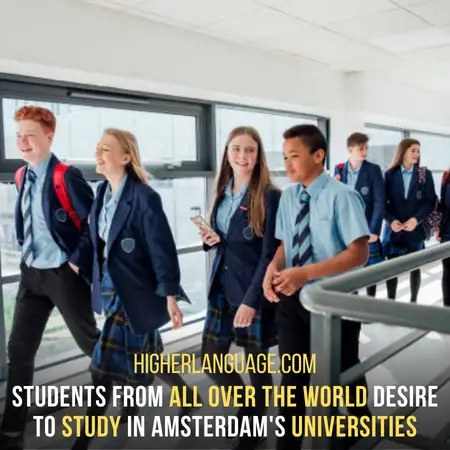 More than half of the universities offer education in English. So students don't have to invest their time and money in learning Dutch before the actual program.
Due to the international environment in the classrooms, students interact in English.
Many Amsterdamers have learned it already. By speaking frequently, they improve their fluency and accent as well.
6. Amsterdamers Has A Global Mindset:
The Netherlands is economically strong, with an annual GDP of 910 billion. Being the capital, Amsterdam contributes the most. Moreover, it is a hub of multinational companies.
Amsterdamers have a global mindset. Hence, there are a lot of entrepreneurs in Amsterdam. That's why the city is very business friendly.
Besides, many foreign companies have headquarters in Amsterdam. Because of its higher economic growth, it's a busy city.
Many worldwide names, like Adidas, Royal Dutch Shell, IKEA, Philips, etc., have headquarters in the city.
The international business environment demands a global workforce. Therefore, international language serves as a medium of communication.
Because of international collaboration, Amsterdamers speak only English in the workplace. Thus, this is another opportunity to improve their fluency in the foreign language.
7. Tourism Is A Factor:
Amsterdam has many sites of attractions for tourists all over the globe. There are many places to visit, like Vondelpark, Jordaan-A'dam, Lookout, Rijks-museum, Van Gogh Museum, etc.
Tourists visit the country throughout the year. Foreigners are unknown in their native language. Even many Dutch speakers from different cultures prefer English due to different dialects.
In such situations, Amsterdamers speak in English to avoid confusion. Also, they are very welcoming and friendly, so they try to accommodate others.
If you plan a trip to Amsterdam, I guarantee you will feel free about the language. You will find English speakers in every little street.
8. Adventure Is In Their Blood:
Amsterdam is one of the richest cities in the world. Further, it ranks 7 in the highest quality of living standards.
People don't need to worry about the necessities of life. They are free to enjoy life to the fullest. They love adventures and are always busy having some fun.
People are rich and can afford foreign trips. Many young people love to explore the different sides of the world, so they keep traveling.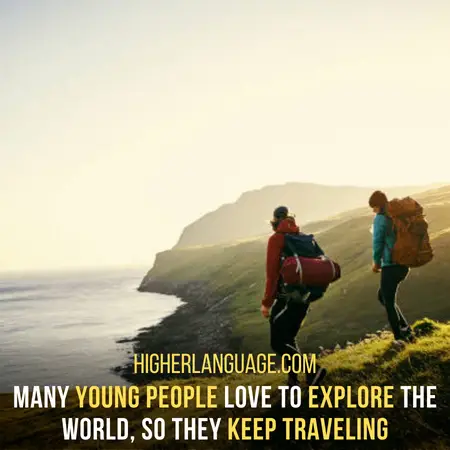 The city has world-class educational institutions, yet many students love to study abroad. Their parents can afford to send them to foreign countries without worrying.
As a consequence, Amsterdamers get enough exposure to the international language. English is understandable in every country, so they have a strong grip on it.
9. Fewer People Speak Dutch:
The total population of Amsterdam is 882633 inhabitants as per the reports of 2022. But not all Amsterdamers Speak Dutch as their first language.
Although about 25 million people can speak Dutch as their first language, it is not much.
Moreover, there are many Dutch dialects, so Dutch speakers in Amsterdam are lesser. Only fewer people can interact in Dutch.
This factor plays an integral role in the English skill of Amsterdamers. They cannot communicate with a large audience due to language barriers.
Natives of the country have a global mindset rather than being stuck in local boundaries.
This thing motivates Amsterdamers to learn English and speak like natives.
Final Thoughts:
Amsterdam is the capital of the Netherlands. It has the first position in the English Proficiency Index for non-natives.
Almost everyone is proficient in English in this city. There are reasons behind it, like education, the international workplace, American media, etc.
So, if you want to visit Amsterdam but don't know the answer to the question "do people speak English in Amsterdam?" I hope this article will clear your mind.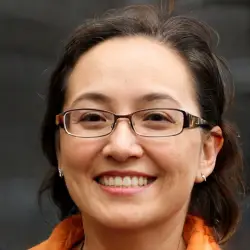 Latest posts by Elizabeth Williams
(see all)