When it's time to turn up and celebrate with your crew, having some cool and trendy slang words for the party in your back pocket is important.
If you're throwing a fun-filled bash or just hanging out with your friends, choosing the perfect words that capture and set the ideal mood is essential.
Here

Are 12 Most Exciting Slang Words For The Party!
Are you and your squad planning a shindig but struggling to develop a catchy name?
Look no further, my friend, because I am here to hook you up with some of the most on-point slang words for the party!
If you like to have a wild party or prefer hanging out with your friends in a chill atmosphere, there's a special word for each kind of situation.
Keep it old school with a good old-fashioned house party, or turn up the heat with a wild Baywatch. Feeling fancy? Pop open the champagne and host a boujee bash.
But no matter what you call it, remember to party responsibly and have a blast with your crew!
1. Bash – An Informal Or Wild Party:
Ready to have a blast? Get ready for a bash! Bash is a term used for a wild party, generally informal and boisterous.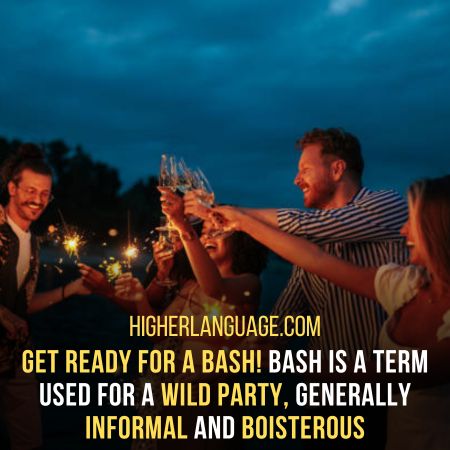 It's the kind of party where anything goes – dancing on tables, spontaneous karaoke performances, and drinking games.
Some other slang words for the party include shindig and rager, but something about the word "bash" just screams "epic."
So throw on your party clothes, grab some drinks, and get ready for a night you won't forget – it's time to get your bash on!
2. Banger – A Great Music Performance Or A Wild Party:
When people gather to celebrate, it's not just any regular party. It's a banger!
This slang word has been around for quite some time to describe a wild and unforgettable party that can last all night long.
But it's not just about partying. It has also found its way into the music scene.
A banger is an epic music performance that gets the crowd jumping and screaming. It's all about good energy, great vibes, and endless fun.
So next time you hear someone say they are going to a banger, get ready for a night of sheer madness and entertainment!
3. Rager – A Wild, Out Of Control Party:
Looking for a party that's wild, crazy, and out of control? Look no further than a rager!
This slang term for a serious party is about going hard, letting loose, and having a great time with friends.
Whether you're throwing a rager at your own house or crashing someone else's, you can expect plenty of loud music, dancing, drinking, and general mayhem.
Just be prepared for a serious hangover the next day! So if you're in the mood for a truly unforgettable party, round up your crew and get ready to rage.
4. Shindig – An Informal Gathering For Fun And Entertainment:
Ready to shindig? A shindig is more than just your average party – it's a laid-back affair where everyone's welcome and the main goal is to have a good time.
And let's be real, who doesn't love a good shindig? If you're unsure where the term comes from, it blends two slang words – "shin" meaning leg, and "dig" meaning dance.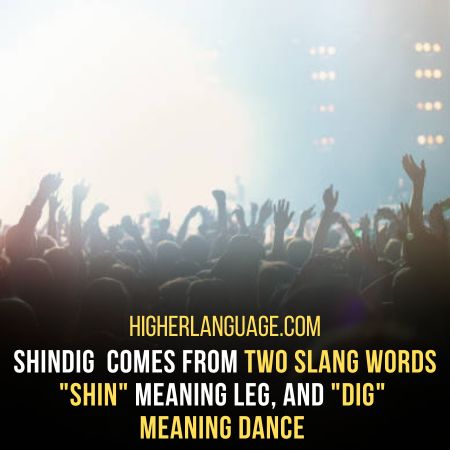 So, shindigs are all about getting together, kicking up your heels, and having a ball.
Think backyard barbecues with games and live music or cozy house parties with board games and plenty of snacks. Whatever form your shindig takes, it'll be a night to remember.
5. Throwdown – A Celebration With Music And Dancing:
Alright, listen up, party people! It's time to throw a throwdown! A throwdown is another way of saying a raging party. This celebration is about music, dance moves, and good vibes.
Whether it's a birthday bash, graduation party, or just a simple get-together, a throwdown guarantees a night of unforgettable fun.
It's the perfect opportunity to put on your dancing shoes, let loose, and show off those epic moves you've been practicing in your room.
So, prepare to party like never before and make memories that will last a lifetime. Let's get this throwdown started!
6. Blowout – An Extravagant, Expensive Party:
When it comes to throwing a blowout, there's no holding back. This type of party is all about showing off your money and having a good time while doing it.
Some slang words for a blowout might include a rager, a shindig, or even a fiesta (if you're feeling particularly spicy).
But don't be fooled – just because a blowout is extravagant and expensive doesn't necessarily mean it can't be done on a budget.
Any party can be turned into a blowout with a little creativity and determination. So what are you waiting for? Let's get this shindig started!
7. FOMO – Fear Of Missing Out:
Don't let FOMO get the best of you. We know how it feels to watch your friends turn up on social media while you're stuck at home with nothing to do; that's why we've got a solution!
Get ready for an amazing experience right in the comfort and safety of your own home with us.
Don't let fear keep you from having an unforgettable night out! We have the perfect list of slang words to get your party spirit in check.
From "turnt" and "crunk," to "lit" and a real 'banger', we've got all the vocabulary essential for creating one epic evening.
So grab your favorite beverage, wear your dancing shoes, and let's start this party!
8. Kickback – An Informal Gathering:
Looking for a chill, informal gathering with your favorite people and drinks? Look no further than a Kickback, the latest hip slang term for a party or get-together at someone's home.
Picture it: comfy couches, a few beers or cocktails, and your favorite tunes playing in the background.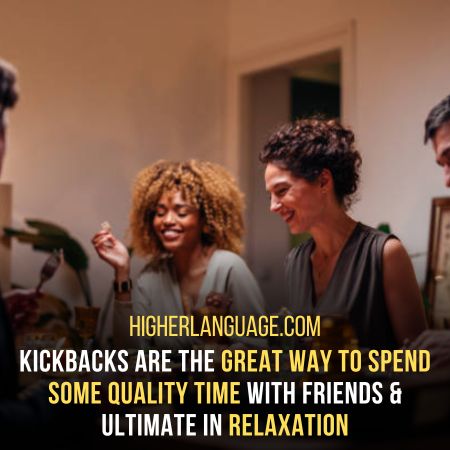 Kickbacks are the ultimate in relaxation and can be a great way to spend quality time with friends, catching up, and making new memories.
So why not skip the club scene and opt for a cozy get-together with your squad next time you feel like a night out? It's a guaranteed good time – just don't forget the snacks!
9. YOLO – You Only Live Once:
YOLO is a phrase I'm sure you are all familiar with. It's the perfect excuse to do things you wouldn't normally do.
YOLO believes that life should be lived with no restrictions, allowing you to indulge in activities like parties and have a great time.
Nothing screams "I only live once" more than hitting the dance floor with your wildest moves or trying that "one" shot your friends are pressuring you to take.
So, next time you're in a party setting and are hesitant to do something, just remember, YOLO!
10. Seize – Enjoy The Moment And Live For Today:
Y'all ready to live it up and seize the day? Life is too short to sit around and wait for something to happen. Let's throw a shindig and enjoy every second of it!
Bust out the cold ones, dim the lights, and turn up the tunes. We gotta make the most of our time because tomorrow isn't guaranteed.
So, let's live in the moment and have a blast. Gather the crew, and let's party like it's 1999. There is no better way to seize the day than with good company, drinks, and good vibes. Let's go!
11. Hoedown – An Old-Fashioned Celebration:
Grab your boots and cowboy hat, because it's time to throw a hoedown! This old-fashioned, country-style celebration is all about good ol' fashion fun.
From line dancing to square dancing, there's something for everyone at a hoedown.
You might hear some slang terms for party tossed around, like shindig or hootenanny, but no matter what you call it, a hoedown will bring smiles to faces and boots to the dance floor.
So round up your friends and family, fire up the barbecue, and start this hoedown!
12. Funk Out – To Let Loose And Have Some Real Fun:
If you want to let loose and have some real fun, it's time to funk out! But before you hit the dance floor, let's get familiar with some slang words for the party.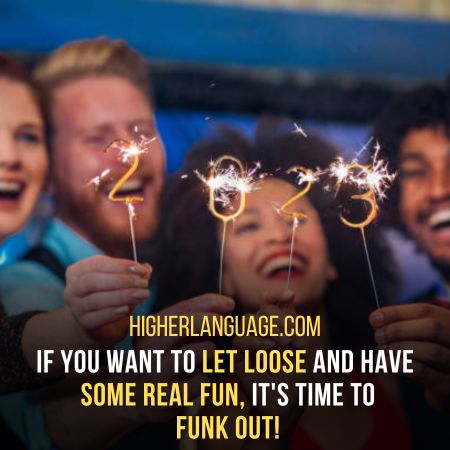 First up is "shindig," a throwback term from the 50s that means a lively gathering.
Want to sound cooler than cool? Then use "rager," which describes an all-out party that's sure to get wild (just make sure you're prepared for the aftermath).
And, of course, we can't forget "turn up" – a modern phrase that means to get the party started and keep it going all night long.
So put on your dancing shoes and get ready to funk out at your next shindig or rager – just remember to turn up the volume and let loose!
Conclusion:
Ready to kick it up and add flavor to your next bash? Look no further than these slang words for the party.
Whatever party you plan to have, there are infinite ways for you to express it – get ready to turn up the volume and light up your evening!
Want to invite your peeps over for a turn gathering? Or maybe you're planning a shindig that's gonna be lit AF.
These slang words will help you sound cool at a party. So put on some fun clothes, grab some drinks, and have a great time with everyone else!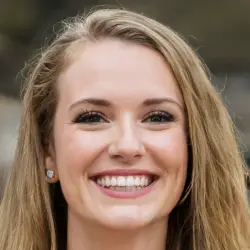 Latest posts by Sylvia Simpson
(see all)