Why is Russian hard for English speakers? Learning a new language can be challenging and rewarding at the same time.
Most English speakers find Russian especially difficult because of its vastly different alphabet, pronunciation, and grammar rules.
Why Is Russian Hard For English Speakers?
Learning Russian can be quite challenging for an English speaker, but totally worth the effort.
As an official language of Russia, Belarus, Kazakhstan, and Kyrgyzstan, it has been custom-made for the Slavic region throughout its history.
The complexity of the language rivals that of English! Comprising 33 letters, many of which are unfamiliar vowels to English speakers, its alphabet can be daunting.
In addition, verb tenses are very limited, and each word has its own set of prefixes and suffixes and multiple cases. This causes words to be much longer than their English counterparts.
Russian words consist of several different syllables and stress points, requiring quite a bit of memorization for correct pronunciation.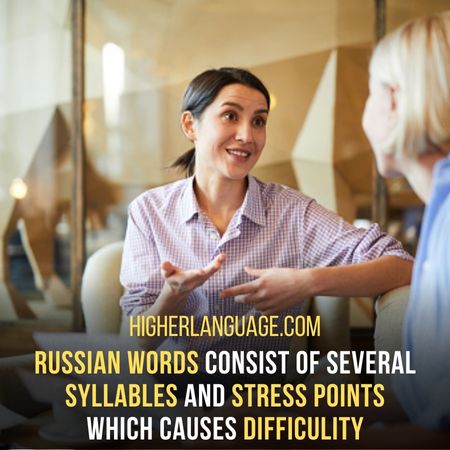 Additionally, Russian words often have multiple meanings depending on their context, making it difficult for English speakers to learn the language without a guide or teacher.
On top of this, there's also a lot of slang vocab that you won't pick up from textbooks!
Lastly, with its mix of verb conjugations and complex grammar rules, mastering the structure of the language can be quite tricky.
Despite its complexity, Russian is a language worth studying; it opens pathways to numerous opportunities and provides insights into diverse cultures.
The Cyrillic Alphabet Is Completely Different From The Latin Alphabet
The Cyrillic alphabet is a true anomaly for English speakers because it is entirely different from the Latin alphabet used in English.
Why is that? Cyrillic was created in the 9th century and is still primarily used as the writing system for languages like Russian, Bulgarian and Serbian.
While the Latin alphabet is widely used and has a simple correspondence to our English letters. Like, "A=a, B=b," – the Cyrillic alphabet is a completely different set of shapes and symbols.
Used broadly throughout Eastern Europe, Russia, and Central Asia, there are 33 basic letters in the Cyrillic alphabet.
No doubt they look very strange compared to our familiar Latin characters, making it hard to read and write in Russian – not just due to a language barrier but an entirely new set of symbols!
 Because it is so dissimilar to our own alphabet, many English speakers find learning Russian incredibly difficult.
Russian Has More Vowel Sounds Than English Does
Russian is a notoriously hard language to master, particularly for English speakers.
Why? A big part is the number of vowel sounds – there are simply more options in Russian than in English.
This means that there are subtle distinctions we're not used to making, and words often come out sounding entirely different from the standard pronunciation guides.
Additionally, the written system doesn't always line up directly with the spoken language, and even experienced native speakers have trouble reading quickly.
As a result, most non-native speakers need help to pick up Russian conversationally, though it can take enormous effort on a student's part to gain fluency.
There Are No Definite Or Indefinite Articles In Russian
Why is Russian hard for English speakers? For starters, there are no definite or indefinite articles – like 'a', 'an', and 'the' – in Russian.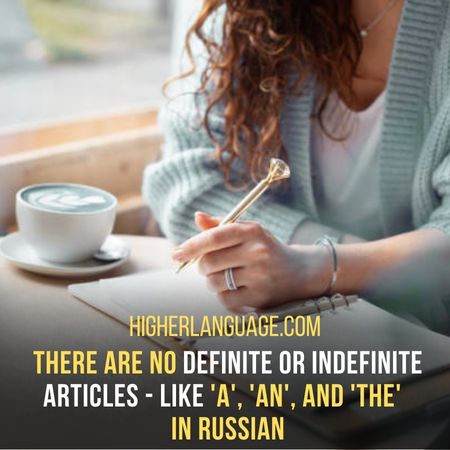 This means that nouns in Russian typically need more specification than these articles give in English.
To make matters more complex, you cannot simply bypass articles because nouns still have gender and number related to them.
Therefore, it is imperative to remember which words need the corresponding form!
If you've ever attempted to speak any Romance language, you'll be familiar with this part – though it's even less forgiving in Russian than in other languages.
So if you're looking for a real challenge and want to learn a new language, Russian could be a great place to start!
Russian Nouns Have Gender And Number
Mastering Russian can be an intimidating endeavor for English speakers.
In addition to memorizing many words and expressions, you must also recognize that nouns have their own genders within the language.
Nouns perceived as traditionally masculine often evoke the idea of maleness, while feminine nouns generally signify femininity and ideologies associated with women.
Meanwhile, the neuter gender covers any other noun not belonging in either of these categories.
On top of all this, singular Russian nouns must be memorized separately from their plural forms, making them an even larger hurdle for non-natives to tackle.
With enough dedication, however, native-level fluency with such peculiarities is possible.
Russian Words Are Longer And Complex Than English Words
Trying to learn Russian can be arduous for English speakers due to the abundance of lengthy and intricate words.
Take "vyolknut," for example, which means "to put out" in our language. The Russian word for "no" is two letters longer than the English word, but there are multiple meanings behind those two letters – from "expel" and "extract" to "objection, surprise, or refusal."
If memorizing all those terms wasn't hard enough, Russian words can alter their meaning and form depending on the context of a sentence or even the gender of the noun.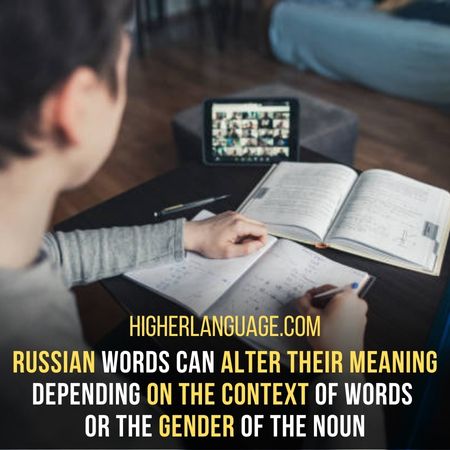 That's why many learners come away, finding that despite its small vocabulary base, Russian can really push them out of their comfort zone.
There Are A Lot Of Consonants And Few Vowels In Russian
Learning Russian challenges English speakers due to its vast number of consonants, the relative absence of vowels, and the intricate rules governing its pronunciation.
The Russian alphabet has 33 letters, but most of these are consonants – 21 in total! To make matters more complicated, the short vowel sounds often change or are dropped altogether when words are strung together.
Additionally, foreign language learners must become familiar with the nuances that shape how they enable words to appear differently on paper than they sound aloud.
For example, the long 'i' can be broken down into two syllables ('yi'), and 'o' sometimes becomes a kind of silent letter (in which case it would be pronounced 'ah').
With so many complexities and rules associated with pronouncing Russian words accurately, it's no wonder why it may seem daunting to learn!
 There Are Six Cases In Russian, Compared To Only Two In English
When it comes to understanding Russian, its six grammatical cases can be a real challenge for English speakers.
Cases allow us to express relationships between nouns and other parts of speech in a sentence. In English, we make do with two cases: nominative and objective.
Russian has four more cases than English – accusative, genitive, dative, and instrumental.
Consequently, demanding more attention to its intricate guidelines is a must to master the language.
All these additional "variables" must be considered before a sentence can be built correctly in Russian, making it harder to master fluently than in languages with fewer cases, like English.
Russian Adjectives Come Before The Noun They Modify
If you thought learning a language would be easy, think again.
If the target language is Russian, it can be especially challenging for English speakers due to its characteristic grammatical structure – adjectives appearing before the nouns they're describing!
While English puts adjectives after the words they modify, Russian follows an opposite structure seen in other romance languages like Latin and French.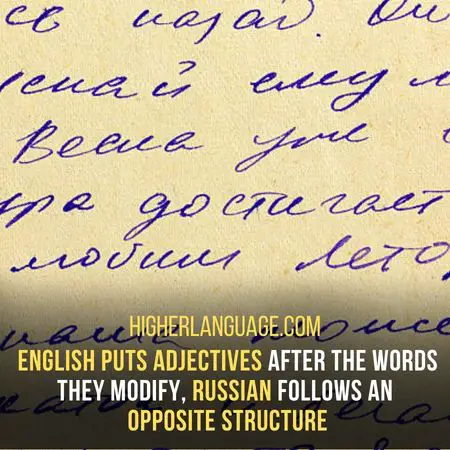 This certainly contributes to why Russian is considered one of the hardest languages to learn. The placement of each word in a sentence can be the difference between clear and confusing meanings.
So comprehending how syntax structures work is essential when mastering this intimidatingly beautiful language.
Verbs Have Up To Four Conjugations, Depending On Tense And Person
English speakers may cringe at learning Russian, given that, depending on tense and person, verbs can have up to four conjugations.
Russian has seven tenses, compared to English's three—past, present, and future.
For example, while "I am" is always "I am" in English, it can be "я иду" (present tense), "я шёл" (past), "я буду" (future) or "я был" (imperfective past) in Russian. 
On top of this complexity of tenses, there are also six persons—notably three for singular nouns.
Add in different verb types, which can quickly become overwhelming for someone with little to no prior language experience! 
Although it may prove difficult for a native English speaker who has taken Russian lessons to recall all the verbal inflections necessary to communicate efficaciously, practice makes perfect!
Conclusion:
Why is Russian hard for English speakers? Learning Russian as an English speaker can be challenging, especially due to its complex grammar rules and varied syntax.
The pronunciation differs far from how one would say words in English, and unfamiliar alphabets can make decoding it challenging.
Additionally, many Russian words have multiple meanings and no clear context clues to help you decipher them.
All these difficulties combine to make learning a difficult task, though not an impossible one.
With hard work and determination, anyone can learn the nuances of the language, making for a satisfying conclusion at the end of your journey.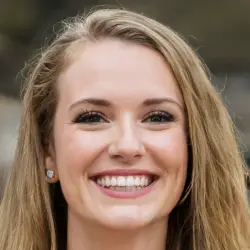 Latest posts by Sylvia Simpson
(see all)