Do you want to talk about shoes in a cool way? Let's forget the words "sneakers" and "boots" and learn some new slang words for shoes. This will make your shoe talk more interesting!
Elevate your shoe-vocab knowledge to the next level by mastering some new and interesting apt slang expressions for shoes. So, it's time to begin!
12 Slang Words For Shoes That Make You Smart!
Footwear has come a long way since the days of simple leather sandals. And with every innovation came new footwear lingo adopted by fashionable folks everywhere.
Today, we will explore some fascinating slang words used to describe shoes that any self-respecting shoe enthusiast should know.
From chucks to flat forms, sneakers to stilettos, shoes are an extension of our personality and can express our style perfectly.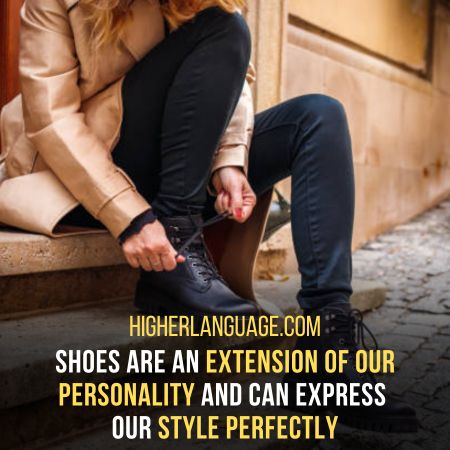 So whether you're a sneakerhead or a boot whore, there's a slang word for you! But why is this important, you ask?
Mastering the language of shoes is essential in this era. From popular culture to social media, utilizing lingo related to footwear helps us forge connections with shoe lovers across the globe.
Let's explore shoe slang so we can all be part of a global community!
1. Sneaks – A Term For Trendy Sneakers:
Ever heard of sneaks? No, not the kind that you do when you're trying to be sly; we're talking about trendy sneakers.
This term has been around for a while now, and it's safe to say that sneaker culture is booming. From Air Jordans to Yeezys, a pair exists for everyone.
But what makes a sneaker trendy? It could be the sleek design, the limited release, or celebrity endorsement.
For whatever reason, sneakers have become a ubiquitous part of fashion and are an essential accessory for any sneaker enthusiast.
So, next time you see someone rocking a fresh pair of kicks, remember they're not just sneakers but sneaks.
2. Footwear – A More Formal Way To Say Shoes:
Why settle for just "shoes" when you can step up your vocabulary game with the term "footwear"?
Not only does it sound more sophisticated, but it encompasses all types of footwear – from sandals to loafers to sneakers.
Using "footwear" is a great way to sneak in some extra syllables into your conversations and impress your friends with your fanciful language.
So, the next time someone asks you about your "shoes", why not respond with a proud declaration of your fashionable "footwear"?
You never know; it may just be the start of a whole new level of linguistic excellence.
3. Kix – Short Form Of Kicks (Cool Shoes):
Regarding shoes, Kix is that perfect pair that never goes out of style.
Whether you're a sneakerhead or love comfortable yet stylish shoes, Kix should be on your radar.
The term "Kix" gained traction among sneaker lovers, alluding to stylish shoes that can add a unique edge to any ensemble.
From classic Converse Chuck Taylors to chunky dad sneakers, Kix has taken the fashion world by storm. They're not just shoes; they're statement piece that tells the world you know what's cool.
So, if you're looking to up your shoe game, grab a pair of Kix and step out in style!
4. Trainers – Another Word For Athletic Shoes:
Trainers are a comfortable and stylish type of shoe that works for any kind of exercise. They are great for running, lifting weights, or even dancing.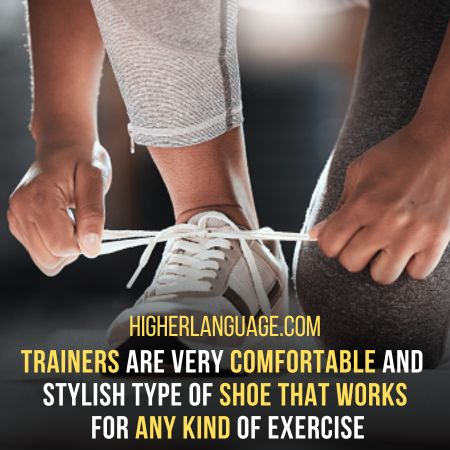 They come in various colors and styles, so you can find a pair that fits your personality and wardrobe.
Plus, trainers are designed with high-quality materials and advanced technology to provide the support and cushioning your feet need during intense workouts.
So the next time you're in the market for new athletic shoes, skip the boring old sneakers and go for something fun and functional. Your feet (and your fashion sense) will thank you!
5. Shoesies – Australian Slang For Shoes:
If you ever find yourself in Australia and someone asks you to hand them their shoesies, don't panic – they simply mean their shoes.
Shoesies is a beloved Australian slang term used to refer to footwear.
While the origin of this word remains unclear, there's no denying that it is a fun and unique way to describe your favorite pair of kicks.
From sneakers to high heels, shoesies can describe any shoe, making it a versatile term in your language arsenal.
When you vacation in Australia, someone might admire your new shoes—a sign that they believe you have exceptional taste.
6. Tappers– Old-Fashioned Terminology For Dress Shoes:
Are you an enthusiast of all things antique? If so, you should add "tappers" to your vocabulary!
This old-fashioned term refers to dress shoes that were popular in the early 20th century.
You know, the kind that makes a satisfying "tap-tap" sound on hardwood floors. Not only did tappers serve as fashionable footwear back in the day, but they were also functional.
The metal taps attached to the soles provided extra grip, making it easier for dancers to execute complex moves without slipping.
So the next time you're getting dressed up for a fancy occasion, consider slipping on a pair of tappers and channeling your inner Fred Astaire.
7. Heelers – Flip-Flops With A Strap At The Back Of The Heel:
Summer is approaching, so it's time to pull out the sandals and show off our perfectly pedicured toes. But have you heard of heelers?
They're the revolutionized version of flip-flops, with a strap at the back of the heel that keeps them securely on your feet. No more awkward toe-gripping or slapping sounds as you walk!
Heelers are the perfect solution for those who want the comfort of flip-flops but the stability of sandals.
Not to mention, they come in a variety of styles and colors, from basic black to neon pink. So why not give your feet the gift of heelers this summer? Your toes will thank you.
8. Sandals – Open-Toe Shoes (Usually Made Of Leather):
Sandals are the perfect shoe for any warm-weather activity! From beach days to picnics in the park, these open-toe shoes are a must-have in any summer wardrobe.
Made of comfortable leather, these versatile shoes come in various styles and colors to fit any fashion sense.
Want to show off your pedicure? Opt for a strappy pair that leaves your toes free. Prefer a more classic look? Slip on a simple leather slide.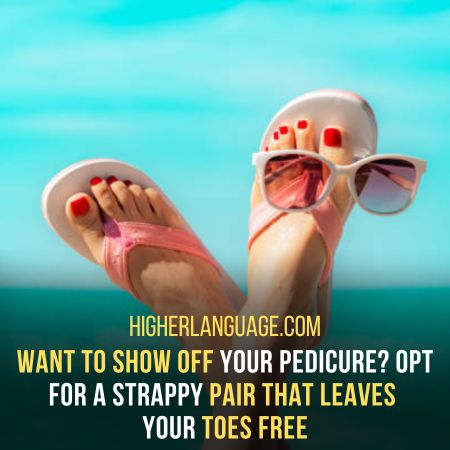 No matter your preference, sandals are the go-to shoe for fun in the sun. Trust me; your feet will thank you!
9. Brogues – Oxford Or Derby Style Shoes:
Looking to upgrade your shoe collection? Look no further than brogues – the classic, versatile shoe that can be dressed up or down.
But when choosing between the Oxford or Derby style, how do you decide? Well, it depends on your style and the occasion.
The Oxford boasts a sleek, closed-lace design perfect for more formal events. Meanwhile, the Derby has an open-lace design that lends itself better to casual outfits.
But whichever style you choose, you can't go wrong with a good pair of brogues. They're a timeless investment that will elevate any outfit (and your style game).
10. Tip-Tops – Another Way Of Referring To Shoes:
We thought we'd heard it all about shoes, sneakers, kicks, and trainers. But have you ever heard someone refer to their footwear as tip-tops? Yes, you heard that right.
Tip-tops are another way of referring to shoes, and it's not just a new fad. In fact, the term dates back to the early 1900s when it was commonly used in America.
It's believed that the term originated from the idea that shoes should always be in tip-top shape, clean, and polished.
While the term may not be as popular as it once was, it's still a fun and quirky way to describe your favorite pair of sneakers.
So the next time someone compliments your tip-tops, you'll know exactly what they're referring to.
11. Creps Or Crepers – A Slang Word For Sneakers:
If you're wondering what's the deal with the slang term "creps" or "crepers," let me fill you in.
These words are used to refer to sneakers or trainers in the UK and are becoming more popular in other parts of the world as well.
It's a bit like how Americans say "kicks" or "sneaks" – another way to describe stylish and comfy shoes.
Ever heard someone exclaim, "Those creps are out of this world!" or "That's a killer pair of sneaks you got right there?"
Well, now that you know the slang terms for sneakers, never be taken aback again when somebody uses them – demonstrate to others that you're up-to-date with popular lingo.
12. Railers – Refers To High-Top Shoes With Laces:
Forget about sneakers; let's talk about Railers – the cool, high-top shoes with laces. They are the perfect mix of style and comfort for any occasion.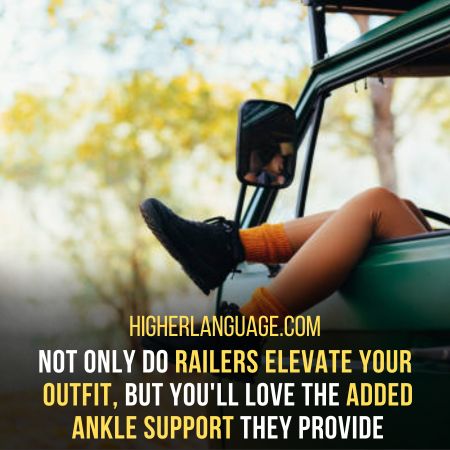 Not only do they elevate your outfit, but you'll also love the added ankle support they provide.
And let's not forget about the endless possibilities to lace them up – from crisscross to straight lacing, and there's always a new way to rock your Railers.
So, whether you're skating at the park or just strolling through the city, these shoes are a must-have for any fashion-forward individual.
So, what are you waiting for? Get yourself a pair of Railers and step up your shoe game!
Conclusion:
There's a never-ending list of creative and quirky options regarding slang words for shoes.
From kicks to sneaks, daps to creps, and everything in between, the slang vocabulary for footwear is as varied as the styles themselves.
And it's not just English that has its slang for shoes – languages worldwide have unique terms.
So, look no further than the world of shoe slang, whether you're a sneakerhead who can't get enough of the latest drops or simply looking to expand your linguistic knowledge.
You may discover a new nickname for your favorite pair of kicks!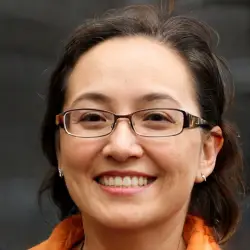 Latest posts by Elizabeth Williams
(see all)