Dating can be complicated, especially when you're unsure what the other person is trying to tell you. That's why slang words for dating have become increasingly popular.
It can be hard to tell if someone likes you when they text. If you want to know if your crush likes you too, look up some words in the dictionary. This will help you understand what they mean!
12 Common Slang Words For Dating To Use When Getting Into Relations!
Navigating the dating world can be tough, especially when you're trying to decode all the slang words people use these days.
From "ghosting" to "breadcrumbing," it feels like there's a new term popping up every week.
But fear not, my single friends, because I'm here to help translate some of the most common (and confusing) slang words for dating.
These terms will be useful whether you're swiping left or right, trying to find "the one," or just living your best single life. So grab a drink, and let's dive into the wonderful world of dating slang!
 1. Bae – "Before Anyone Else":
If you've been near social media or the younger generation, you've probably heard the term "bae." This slang refers to a person's significant other or the person they prioritize above all others.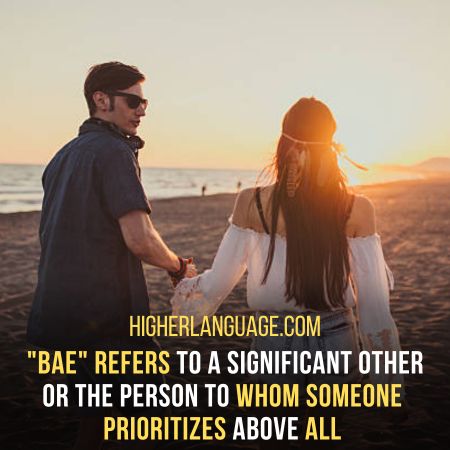 In today's world, where dating has taken on a new spectrum of forms, it's important to stay up-to-date on the different slang words used to describe relationships.
Your friends might say words that you do not know. So it is cool to know the meanings of these words. If a friend asks about your "bae", you will understand what they mean!
2. Smooth Out – Correct Any Problems In A Relationship:
Have you ever been in a relationship and realized that things aren't as smooth as you thought they would be? Unfortunately, it happens to the best of us.
But before you start freaking out, let me advise you on how to "smooth out" problems.
First things first, communication is key. Don't be afraid to talk to your partner about what's bothering you. Use those "slang words for dating" that make you sound cool and hip.
And if that doesn't work, try to compromise. Find a solution that works for both of you. Remember, relationships aren't always rainbows and butterflies, but you can make things smoother with a little effort.
3. Give The Cold Shoulder – To Ignore Someone As Punishment:
Dating comes with its own set of slang words that are used to describe different actions and situations.
One of them is giving someone the cold shoulder. It's a commonly used phrase that means to ignore someone as a form of punishment.
While nobody likes to be ignored, it can happen for a variety of reasons, such as a dispute or disagreement.
So, if you find yourself on the receiving end of the cold shoulder, don't despair. It's not the end of the world, and you can always try to make amends.
And for those who have a habit of giving the cold shoulder, remember that communication is key in any relationship, even if you're both using different slang words.
4. Patch Up – Fix Up Something That's Broken:
We all have that one ex we can't seem to get over. The one who broke our hearts and left us feeling like smashed glass on the kitchen floor.
But fear not, my friends, because we can patch up our broken hearts just like that broken glass. That's right; we're discussing fixing something broken or needing repair.
And let's be real, in the world of dating, there are plenty of slang words for patching up a relationship.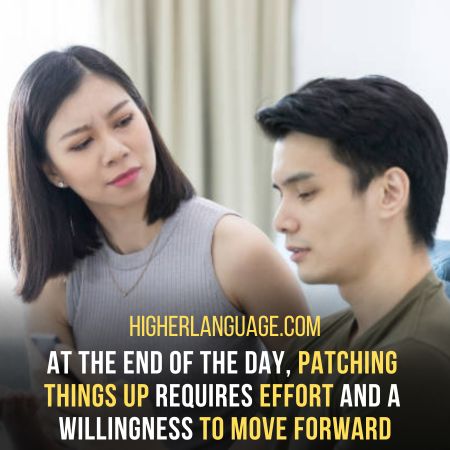 Whether it's a "make-up," "rekindle," or "mend things," at the end of the day, patching things up requires effort and a willingness to move forward.
So grab some glue, some duct tape, or whatever tools you need to make it happen, and let's patch up those broken hearts!
5. Play Nice – To Get Along With Each Other:
Let's talk about playing nice and getting along with each other. It's important in all areas of life, from the playground to the boardroom. And let me tell you, using slang words for dating is not the way to do it.
Sure, we've all heard and maybe even used phrases like "hitting it off" or "swiping right", but let's not forget that our chosen words can impact how others perceive us.
So, instead of trying to sound cool or trendy, let's focus on being respectful and kind to one another. Trust me, that's the key to successful relationships – romantic or otherwise.
6. Netflix And Chill – An Invitation To Watch A Movie Together:
Netflix and chill – the phrase that has made waves in dating. It's the not-so-subtle invitation to watch a movie and potentially engage in extracurricular activities.
But what's with all the slang words for dating? We've got ghosting, breadcrumbing, and now Netflix and chill? It's almost like we've run out of ways to articulate the complexities of today's dating landscape.
Regardless, if you're down for a night of streaming and snuggling, just know that "Netflix and chill" might be the move.
Just make sure you're on the same page – no one likes to be left hanging (or should we say, "ghosted"). Happy streaming, lovebirds.
7. Situationship– A Relationship That Lacks Commitment:
If you're unfamiliar with the term "situations," you might want to brace yourself for a new, complicated world of love and dating.
A situation is a relationship that lacks a clear definition or commitment, which can confuse things.
And if you thought dating, in general, was already hard enough, wait until you throw in all the slang words and phrases that come with being single in the modern dating world.
From "ghosting" to "breadcrumbing," there seems to be a countless number of new terms popping up every year. But hey, if nothing else, we always have Urban Dictionary to rely on for a quick definition.
8. Swerve – To Reject Someone Politely:
When it comes to dating, sometimes it's just not a match, and you need to swerve. No, not swerving a car, but politely rejecting someone's advances.
And let's be honest; there are so many slang terms for dating these days; it's hard to know which one to use.
From "ghosting" to "benching" to "breadcrumbing," it can all be overwhelming. But at the end of the day, swerving is about respecting the other person and yourself.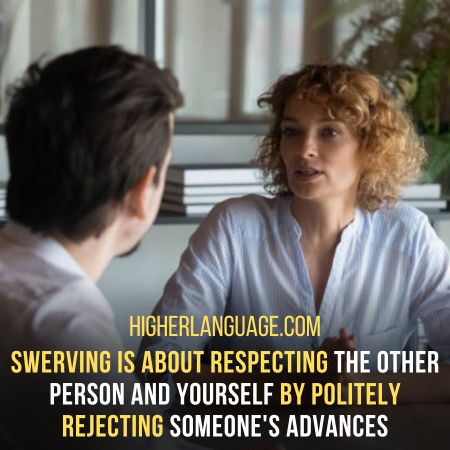 Don't drag it out or give false hope; just kindly let them know it's not going to work out. Trust us; it's better for everyone in the long run.
9. Zombie-Ing – When An Ex Re-Emerges:
Every week, there's a new slang word for dating. First, it was "ghosting," when someone you were dating suddenly disappears without explanation.
Now there's a new (and equally spooky) term to add to your vocabulary: "zombie-ing." This term refers to when a ghoster suddenly reappears in your life, like a digital zombie rising from the dead.
Maybe they're sliding into your DMs or sending you a casual "hey" on a dating app. Regardless, zombie-ing can be just as confusing and frustrating as ghosting.
But hey, at least it's always good to have new slang to describe the ups and downs of modern dating, right?
10. Hit It Off – When Two People Have Chemistry:
Yes, that magical feeling of hitting it off with someone. You know what? I'm talking about the spark, the chemistry, the butterflies in your stomach that make you feel like you're 13 years old again.
It's a feeling that's hard to describe, but you know it when you feel it. And let's be real; sometimes, we need some slang to describe our feelings.
Maybe you're vibing with someone, or you're into them, or they're your crush. Whatever you want to call it, when you hit it off with someone, it's a beautiful thing.
So lean into the slang, embrace the butterflies, and enjoy connecting with someone on a deeper level.
11. Catfishing – Deceive Someone Into A Romantic Relationship:
Have you ever heard the term "catfishing"? Unfortunately, it's not a new type of fish but a phenomenon becoming all too common on dating websites.
Catfishing is when someone creates a fake online persona and uses it to deceive someone into a romantic relationship.
These catfish are slick, using slang words like "ghosting" and "breadcrumbing" to manipulate their unsuspecting victims.
It's important to be wary of fishy online behavior and never give out personal information to someone you haven't met. But don't be the one that gets caught in the catfish trap!
12. Breadcrumbing – Leaving Hints That You're Interested:
Welcome to the world of dating slang, where breadcrumbing is the name of the game.
If you're unfamiliar with the term, breadcrumbing refers to leaving little "crumbs" of interest for someone you're not entirely sure about.
You know, the occasional like on Instagram or a flirty DM out of the blue. It's all about keeping the conversation going without fully committing.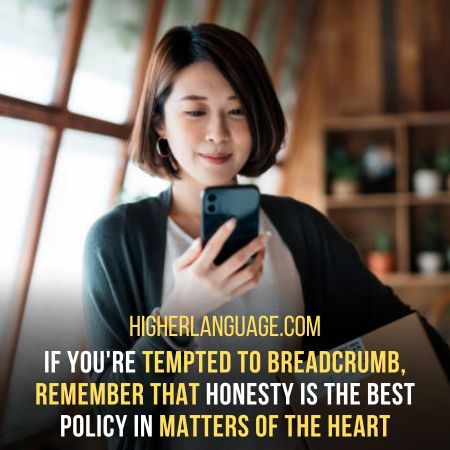 And while it might seem harmless, it can mess with someone's head. So the next time you're tempted to breadcrumb, remember that honesty is always the best policy in matters of the heart.
Conclusion:
All relationships have their struggles; when it comes down to it, communication is key. Having the right language to express yourself can be incredibly helpful in navigating any relationship.
All these slang words for dating can help you explain precisely how you're feeling (which is infinitely better than bottling up or trying to have a passive-aggressive conversation).
By using words like "bae" and "give the cold shoulder," you can effectively communicate with your partner in a way that opens the door for honest conversations instead of potential fights.
Plus, sometimes it's just fun to pull out one of these terms occasionally! Who knew being "in the know" could be so helpful? So, when all else fails, just remember: Play nice!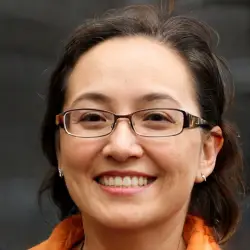 Latest posts by Elizabeth Williams
(see all)