Slang words for girlfriend have been around for as long as romantic relationships. From "bae" to "boo thang," there seems to be a never-ending list of endearments.
Using slang words to refer to your girlfriend can potentially strengthen your relationship by creating unique feelings and connections that are meaningful for both you and your partner.
12 Slang Words For Girlfriend – Must Read
In the world of dating and relationships, there is no shortage of slang terms when it comes to referring to a significant other.
One of the most popular slang words for girlfriend is "bae." Derived from the acronym for "before anyone else," this term has become ubiquitous in the modern-day vocabulary.
Other popular slang words for a female partner include "boo," "babe," and "baby girl." While some may argue that these terms are cutesy or even derogatory, they remain a prominent part of the dating lexicon.
So next time you're hunting for the perfect nickname for your beloved, consider using one of these slang words and let the sparks fly.
1. Bae – A Shortened Version Of "Babe":
Do you ever find yourself scrolling through Instagram and wondering what "bae" means? Well, my friend, wonder no more! Bae is a sweet and shortened version of "babe" or "beloved."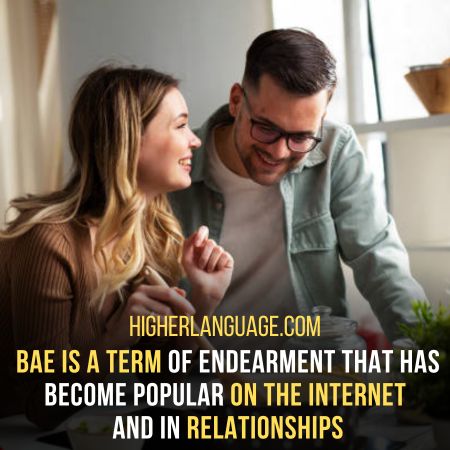 It's a term of endearment that has become popular on the internet and in relationships. And honestly, who doesn't love a good abbreviation? It's a secret language only you and your bae can understand.
If you're feeling particularly affectionate, show some love to your significant other by giving them a shoutout, and you'll see lots of hearts coming your way.
2. Boo – A Term Of Endearment For Your Special Someone:
Boo – a word with many meanings. To some, it may bring up scary images of ghosts and ghouls, but to others, it's a term of endearment for their special someone.
It's a way to show them they're loved and cherished and hold a special place in your heart. Some couples have unique versions of the word, like "Boo Bear" or "Boo Boo."
It's a playful and affectionate nickname that can make your loved one feel extra special.
The next time you want to express affection towards your significant other, try using their endearing nickname to show how much you care.
3. Lady Love – A Playful Way To Refer To Your Partner:
Lady Love is a fun and flirty way to refer to your significant other. It's a term of endearment that adds a little playfulness to your relationship.
Whether you're out in public or cuddled up on the couch, calling your partner Lady Love will surely put a smile on their face. Plus, it's a great alternative to pet names like babe or honey.
If you want to express your love and affection differently, consider using the nickname Lady Love and observe your partner's reaction. Then, it might become your preferred nickname.
4. Ride Or Die Chick/Girl – Who Is Always There For You:
If you're lucky enough to have a Ride or Die Chick, hold her tight! This special lady sticks with you through thick and thin, no matter what life throws your way.
Whether you need a shoulder to cry on, a partner in crime for your wildest adventures, or just someone to listen to you vent about the latest drama in your life; she's always there for you.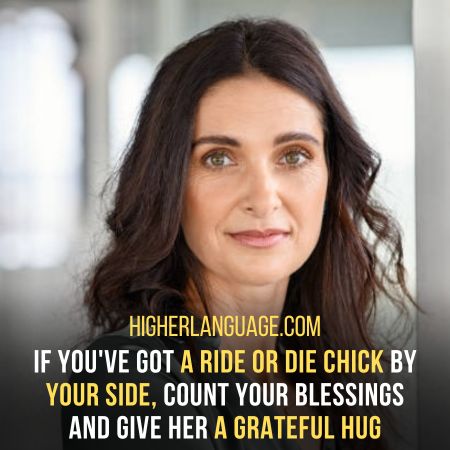 Plus, she's probably fun as hell to be around! So if you've got a Ride or Die Chick by your side, count your blessings and give her a big, grateful hug today.
5. Main Squeeze – Significant Other:
When it comes to having a significant other, they're more than just a partner – they're your main squeeze!
The person who makes you weak in the knees, who you can't imagine living without, and who you go to for emotional support, laughter, and love.
Your main squeeze is the one who makes all the daily stresses fade away with a single kiss or embrace.
Whether you've been with them for a few months or several years, they captivate you with their charm, wit, and care.
So, let's raise a glass to our main squeezes and celebrate that we're lucky enough to have them in our lives!
 6. Lovey – Affectionate Way Of Saying "My Love":
If you're looking for a more cutesy and affectionate way of addressing your significant other, you may want to try out the word "lovey" instead of the more common "my love."
The word "lovey" is often used to describe someone cherished and loving, and it can also be used as a term of endearment between partners.
This sweet and quirky term is a great way to add extra love and affection to your everyday conversations with your partner. So try calling your loved one "lovey" and see if it brings a smile to their face!
7. Sugar Pie/Honey Bun – Sweetheart:
Sweetie pie, sugar plum, honey bun – we all have endearing nicknames for the ones we love most. But where does the term "sugar pie" come from?
Some say it originated in Quebec, where sugar pie is a beloved dessert made from just a few simple ingredients: brown sugar, flour, butter, and cream.
Others speculate that the term evolved from an expression of endearment used by lovers, equating their affection's sweetness to sugar's decadent sweetness.
Regardless of its roots, "sugar pie" remains a charming way to refer to your loved one. If you're looking for a cozy dessert to share with your loved one, try making some sugar pie inspired by the Québécois.
8. Mamacita – Spanish Term For Affection:
Mamacita is the spicy Spanish term of endearment used by lovers, friends, and parents across Latin America.
The word can be translated to "little mama" in English, and its use has been popularized in movies, music, and everyday conversations.
The term is often associated with flirtatious interactions, but locals in Latin America use it to address women of all ages, especially those who they have a close relationship with.
Mamacita is like saying mom, sister, or best friend. When complimenting a woman in Spanish, try using "Mamacita". It will make it more special.
9. Sugarplum – A Combination Of Sweetness And Beauty:
Sugarplums are more than just a treat from a certain classic holiday story. They also combine sweetness and beauty that can make even the most mundane things feel like a fairytale.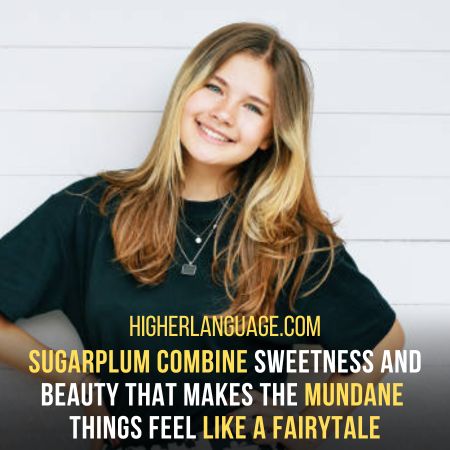 The name might make you think of something sticky and messy, but sugarplums are a delicate dance of flavor and texture.
They're typically made from dried fruits, nuts, spices, and of course, sugar; all blended to create a sweet, chewy treat that's bursting with color and whimsy.
Whether you're looking to satisfy your sweet tooth or add a bit of festive cheer to your décor, sugarplums are a wonderful way to add a touch of magic to your life.
10. Princess – Show Respect And Admiration:
Once upon a time, in a land far, far away, there lived a Princess who was the embodiment of grace, intelligence, and beauty. To even be in her presence was a breathtaking experience.
From how she walked with poise to how she spoke with such eloquence, the Princess was truly a sight to behold.
But what truly sets her apart is her kind and compassionate heart. She always sought ways to help her people and make the world a better place.
We speak of the Princess with much respect and admiration, for she truly is a shining example of what it means to be a noble leader. Long may she reign!
11. Honeybunch – An Old-Fashioned Way To Say She's Special:
Honeybunch – the term that never goes out of style. It's an endearing way to show someone they are as sweet as honey.
Just picture it: you and your significant other are enjoying a romantic dinner on the porch, and the sun is setting, casting a warm glow around you.
You lean over and whisper, "Hey there, honeybunch," to your beloved.
That's sure to put a smile on their face, right? But honeybunch isn't just for romantic relationships – it's perfect for moms, grandmas, and besties.
It's a timeless way of showing someone they hold a special place in your heart. So go ahead, embrace the old-fashioned charm of Honeybunch, and let the sweetness flow.
12. Queen – Let Her Know She Is The Queen Of Heart:
Ladies and gentlemen, have you found the queen of your heart yet? If you have, it's time to let her know that she reigns supreme over your feelings.
You can't just sit around and let her think that she's merely a commoner in your kingdom of love.
No, no, no! You must shower her with the royal treatment, whisper sweet nothings in her ear, and remind her daily that she is the ruler of your affections.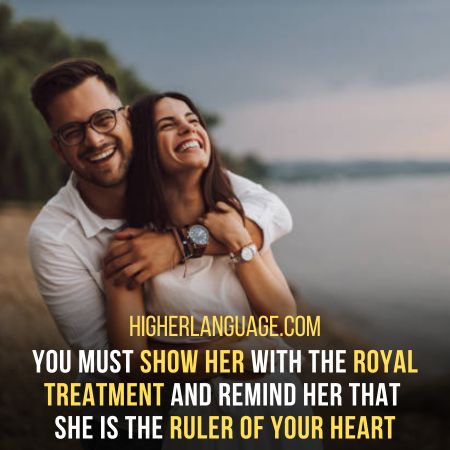 Trust me; it'll make her feel like the queen she truly is. So, go ahead and wear your heart on your sleeve, and let her know she's your only royal highness.
Conclusion:
With the many slang words for girlfriend, it's easy to find just the right words to show your significant other how much they mean to you.
Whether you call them "Boo", "Lady Love", or any of these other words of endearment, your sweetheart will appreciate the affection!
From "bae" and "main squeeze" to "ride or die chick/girl" and everything in between, there is a wealth of inspiring ways to express how precious your partner is to you.
Let them know how special they are today using the perfect term that speaks directly from your heart!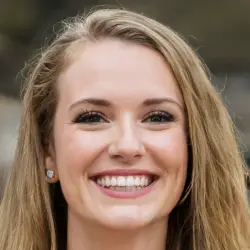 Latest posts by Sylvia Simpson
(see all)