It's no secret how difficult it can be to learn a new language. But how long does it take to learn Swahili? The amount of time it takes to achieve the desired level varies from person to person.
This depends on how you learn the language, how much free time you have, how often you practice, and how much help you get from tutors.
How Long Does It Take To Learn Swahili?
Learning Swahili can be both difficult and time-consuming. If you are looking to become fluent in the language, it could take months or even years of sustained study and practice.
However, how long does it take to learn Swahili depends on how much time and effort you are willing to put into it.
If you have the right resources, such as apps, websites, and experienced tutors, along with a good work ethic, you can expect to start picking up the basics of the language within just a few weeks!
Typically, dedicating 8-10 weeks to studying Swahili enables you to acquire a fundamental grasp of the language; however, your commitment and dedication will affect how long it takes.
For more precise details, an average person can expect to become proficient in Swahili in around 155 hours of study.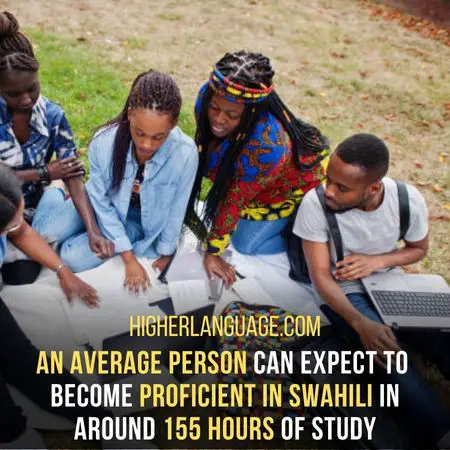 This number equates to a little over six weeks if the dedicated time for practice and learning for 21 hours each week – that's about 3 hours each day! 
Once all the basics have been mastered, it will take another 165 hours or so (about seven weeks) to learn intermediate Swahili. 
That's just under an impressive 330 total hours (less than four months!) for a determined individual, which is perfect for those looking to learn a completely new language fast!
Ultimately, how quickly or slowly you journey through learning Swahili comes down to your dedication and determination when studying and practicing the language.
How To Get Started Learning Swahili?
Learning how to speak Swahili isn't as intimidating as it may seem! On the contrary, it is surprisingly easy to get started.
The internet is an excellent resource for those wanting to learn Swahili, with plenty of helpful articles and resources available.
Most language courses offer beginner classes or tutorials that will help you understand how the language works and how to build basic sentences.
If you want to learn Swahili, spend a month focusing on it. This will help you be able to have basic conversations in the language.
Additionally, there are many apps available for your phone where you can do puzzles and practice vocabulary.
So with a bit of effort, learning how to communicate in Swahili may be just around the corner!
Is Swahili A Hard Language?
Swahili is a difficult language because it has such an interesting and complex history.
It was created as a trade language between cultures in East Africa many centuries ago, meaning that its structure and use have changed drastically over time.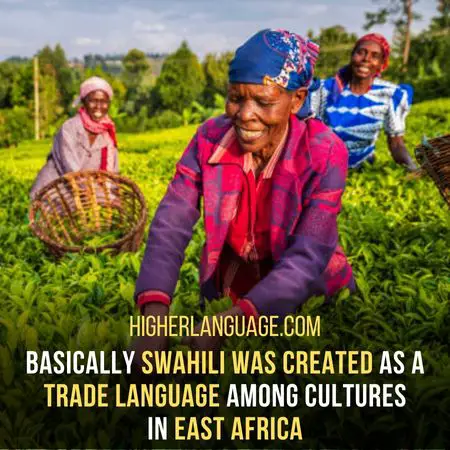 Because of this, even native speakers can disagree on how certain words should be pronounced or sentences should be structured.
Additionally, the language relies heavily on different levels of formality for different types of speech.
This means learners must be aware of how to properly address someone if they want to communicate with them correctly.
On average, it takes several years of dedicated studying, and proper exposure to the language before any level of fluency can be achieved.
Thus, if you plan on learning Swahili anytime soon, expect to work hard!
Why Are People Not Stimulated Toward Learning Swahili?
One of the main reasons people aren't motivated to learn Swahili is that it takes long to become fluent.
It can take several years to become comfortable speaking and writing the language, during which time there may not be an opportunity or incentive to practice.
Additionally, it is not considered an 'essential' language like French, Spanish, or Mandarin, which has international economic and political applications that can prove beneficial in life.
With so many time-challenging languages that appear more practical, it's no wonder why we tend to steer clear from learning Swahili.
Supporting Languages To Learn Swahili
If you're looking to learn Swahili, several other languages with similar roots may help you along the way.
For example, if you already speak Somali or Shadinyena, having those skills can help speed up the process of how long it takes to learn Swahili.
Knowing another language in the Bantu family will make it much easier to comprehend than if there weren't any similarities.
Other languages, such as Comorian and Miji Kenda, also use parts of the same Swahili grammar which can be very useful for understanding how sentences are structured.
Even when learning Swahili isn't accessible to you locally, there is still hope! Audio lessons and books are two great options for mastering the language without a hassle.
So if getting started in Swahili has been on your mind lately, don't wait any longer—start today with these helpful resources!
Why Should You Learn Swahili?
Swahili, or Kiswahili, is a widely spoken language throughout East Africa, and it definitely has its benefits.
Not only is Swahili relatively easy to learn since it follows a regular orthography with no tones or gender systems, but it's also extremely rewarding!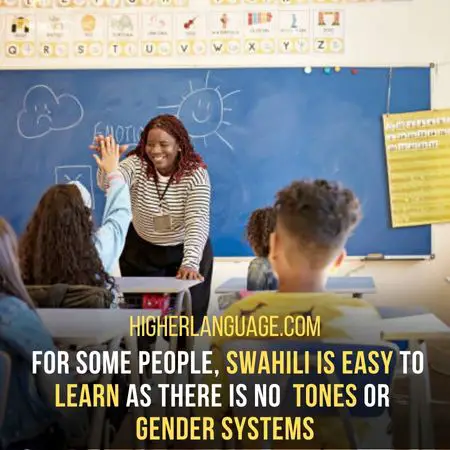 Knowing how to communicate in Swahili can make traveling in Africa much more interactive, open up possibilities for job opportunities and give insight into the African culture.
It's said that a basic beginner's level of fluency can be reached after just 160 hours of study, so you'll be speaking the language in no time!
Some Interesting Facts About Swahili
Swahili is an amazing language with a vast and diverse history.
It's the native language of East African countries like Kenya, Tanzania, and Uganda, but it's spoken by millions more in regions like Somalia and the Congo too!
As for "how long does it take to learn Swahili?", that depends on how good you want to get – basic conversation can be picked up pretty fast, though!
For example, learning to say phrases like 'Jina lako ni nani?', which translates to 'What's your name?' shouldn't take a few hours.
But if you want to be truly fluent in reading, writing, and speaking Swahili there are lots of deep grammar and verb conjugation rules you'll have to master.
Still, those who learn Swahili open themselves up to beautiful culture and literature from one of the oldest major languages in Africa!
How Important Is It To Learn Swahili?
Learning Swahili is an important skill to have in today's world. Not only is it the lingua franca of much of Africa, but it also allows you access to a vast literary tradition.
With effort and discipline, mastering the basics of Swahili can be achieved in a matter of six months for conversational purposes.
To speak fluently with native speakers may require more focused study over an extended period.
Learning Swahili also gives you insight into other cultures and how they view the world, and this can help create better understanding between people from different backgrounds.
Are you looking to expand your abilities, improve your communication talents, or gain knowledge about a different region of the world?
Then learning how to speak Swahili could be just what you need! With these new skills, you can become more knowledgeable and versatile.
Thus, don't miss out on this amazing opportunity – start exploring and mastering a whole new language today!
Tips To Learn Swahili Like A Pro
Learning to speak Swahili like a pro takes time and practice – there's no one-size-fits-all answer regarding how long it takes.
If you already know how to read and write, then your time to become proficient in the language is greatly reduced.
However, even if you don't have any prior experience with Swahili, don't be discouraged, as it's full of fun and rewards.
The best thing you can do is get out and start speaking with native speakers in order to learn more.
Also, find online tutorials that teach you how to pronounce words correctly and how grammar works.
Plus, there are plenty of resources available, ranging from textbooks, tutors, and even apps! 
The key to learning Swahili quickly is dedication and consistency – once you practice regularly, your skills will improve significantly! 
If you want to learn how to speak Swahili, all you need is determination and commitment!
With effort and dedication, within months, you can easily become comfortable enough with Swahili to confidently strike up conversations!
Conclusion:
Ultimately, in order to master Swahili swiftly, it is essential to dedicate sufficient time and effort to learning the language regularly.
In this way, you can ensure that your progress is steady and that fluency will soon be achieved!
The rate of progress is also largely dependent on how different Swahili is from one's native tongue as well as how motivated one is.
While some may only need a few months to speak basic conversational Swahili, others who devote more time can become fluent in as little as 2-3 years.
Ultimately, how fluent someone becomes relies heavily on their dedication to learning this East African language.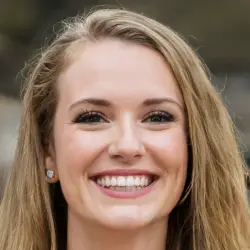 Latest posts by Sylvia Simpson
(see all)