How long does it take to learn Norwegian? That answer varies greatly depending on the individual and their natural aptitude for language learning.
It also depends on whether you are learning just the basics or becoming more proficient. So, there is no definite answer to this question.
How Long Does It Take To Learn Norwegian?
Determining "how long does it take to learn Norwegian?" is highly contingent on several factors.
These include your level of commitment, dedication, and enthusiasm towards the subject matter, as well as any prior knowledge or experience you have when it comes to learning a language.
Generally speaking, it can take one to two years to learn to a conversational level of understanding.
If you want to be able to speak Norwegian fluently, you should plan on a longer timeline. It could easily take five or six years to learn because Norwegian has a unique grammatical structure.
For native English speakers, it is estimated it will take around 1,100 hours to acquire good conversational skills in Norwegian!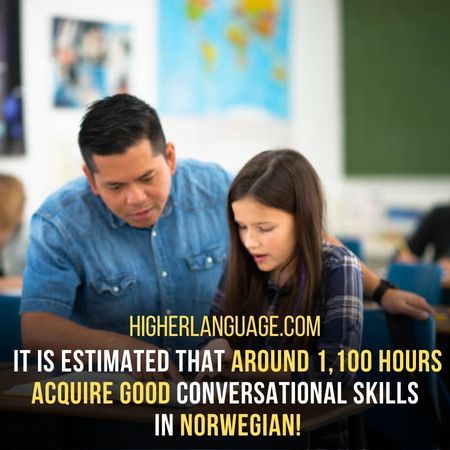 However, achieving basic proficiency or conversational ability may require 600-800 hours, depending on your initial understanding of the language.
So, if you want to learn to speak Norwegian fluently, prepare for a long journey.
Finally, if you're serious about learning the language, allocate enough time and find a tutor specializing in teaching Norwegian – the results will be worth it!
Why It Is Hard To Learn Norwegian?
Gaining a comprehensive understanding of the Norwegian language can be a difficult feat.
To master Norse, one may have to spend hundreds of hours over many months or even years learning its intricate grammar rules, intonation patterns, and pronunciation.
Grammar and pronunciation can be especially tricky for English-based learners.
For example, unlike English, Norwegian has two distinct verb forms—the imperative form (for giving commands) and the present tense.
It also pressures listeners to keep up with the rapid pace of spoken Norwegian, as many words blend until they sound like just one syllable.
Finally, there are two written forms, Bokmål and Nynorsk – a seemingly small distinction that adds another layer of difficulty to mastering the language correctly.
Ultimately, learning Norwegian requires patience and dedication, but speakers become ever closer to fluency with commitment!
Does Learning Norwegian Worth It?
Learning a new language can be incredibly rewarding, and Norwegian is no exception. 
How long it takes to learn this unique language varies depending on your dedication; however, it is possible to master the basics of Norwegian within four to six months.
This can be accelerated if you take formal classes or immerse yourself in different media available in the language, such as television shows and music.
Knowing Norwegian opens up a whole new world of opportunities, ranging from travel experiences to the chance for more job prospects in business and foreign relations.
Further, if you learn Norwegian, you will get to know a new culture better, be able to talk with more Norwegians and learn a new language.
Plus, you don't have to worry about competing with other individuals who already know the language – dialects spoken by only a few thousand people remain!
As such, Norwegian offers plenty of potential benefits that can enrich your life in many ways.
Why Less Number Of People Go For Norwegian?
Although many people are familiar with the beauty and culture of Norway, few take the initiative to learn the language surrounding it.
Most individuals can gain a basic understanding of Norwegian in roughly six months.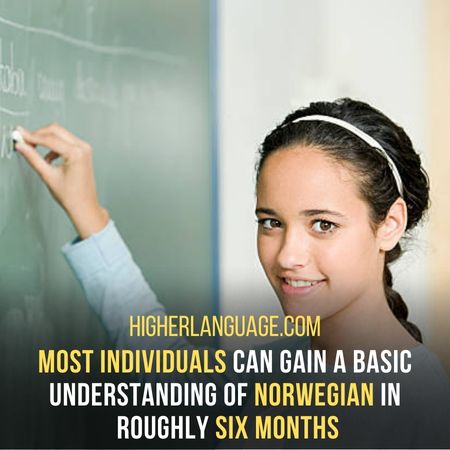 Though you may be able to learn how to order food and make small talk in that short amount of time, becoming fluent would take years of dedicated practice.
For this reason, many opt for easier languages such as Spanish or French instead of taking on the commitment required to understand Norwegian's vast nuances truly.
Despite this difficulty, those who do pursue Norwegian will be rewarded with an even greater appreciation for its culture and history.
How Does English Affect Learning Aptitude Towards Norwegian?
English is common in Norway, and many people feel comfortable. How does this affect individuals' desire to learn Norwegian?
To be perfectly honest, it depends on the person; some may see little need to learn when they can easily get around with English, while others take an avid interest in learning the language.
Those who love the language may pick it up quickly, while others could take a year or more of classes and still have difficulty conversing.
Even in some cases, people do not bother to learn Norwegian at all. Finding the motivation to learn can be hard when a person can survive without knowing how to speak the main language.
Ultimately, if you're living in Norway and do not feel confident enough in your Norwegian ability, investing time into improving it is always worth it.
You never know when being able to brush off some conversation will add flavor to your travels!
How To Learn Norwegian In Better Ways?
If you're devoted and determined, how long does it take to learn Norwegian? The answer is: It's up to you.
You should look to join Norwegian language classes if you want to learn faster and commit more time and effort towards that goal.
Additionally, supplementing the classes with books written specifically to teach Norwegians can help enhance your learning.
To immerse yourself entirely in the culture, explore online marketplace programs and venture out to a nation where your target language is natively spoken.
While there, you can also join some conversational classes to develop your skills further!
Listening practice is also important to learn this language, so tune into Norwegian radio or TV stations when possible.
The most important thing is to stick with it no matter what – with serious dedication, you'll be surprised how quickly you pick up Norwegian.
What Things Should You Avoid While Learning Norwegian?
Learning Norwegian can be a fun and rewarding experience, but if you want to master the language, it's important to know what pitfalls to avoid.
One thing that's key, regardless of the amount of practice, is making sure you don't try to rush it. Focus on learning one accent at a time and mastering it instead of going over multiple accents.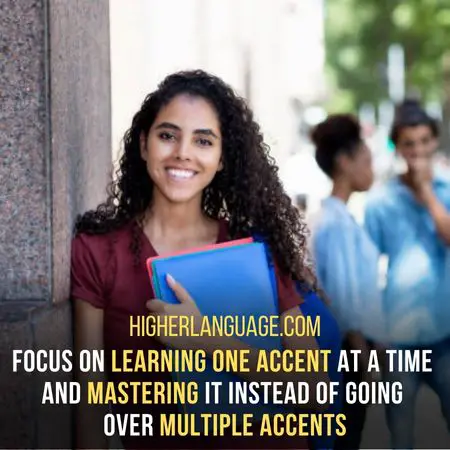 Additionally, learning too many technical words upfront or using English cognates can limit your ability to converse in natural Norwegian.
Also, even though immersion is important, make sure not to overwhelm yourself by listening exclusively in Norwegian since this can slow your progress.
By avoiding these common missteps and focusing on building a strong foundation in the language, anyone can have an enjoyable time while learning Norwegian!
What Are Some Languages Supporting Learning Norwegian?
Many languages support the learning process, whether you're a beginner or looking to refresh your language skills.
Most importantly, Norwegian shares a fairly close bond with other Scandinavian languages.
Attaining fluency in Swedish or Danish can help you get your footing when it comes to expressing yourself in Norwegian.
Considering that English and Norwegian share numerous similarities, it is much simpler for those who speak the former to grasp some words and phrases of the latter.
As such, amongst all languages accessible for learning Norwegian, English stands out as a great choice.
If you are already conversant in either German or Dutch, plus Swedish or Danish, mastering this captivating Nordic language will become even easier.
Who Should Learn Norwegian?
Learning Norwegian can be a great asset, no matter who you are.
Businesspeople will find that speaking Norwegian will open up new opportunities to network and participate in commerce.
Academics can benefit by accessing world-renowned universities and cutting-edge research organizations in Norway.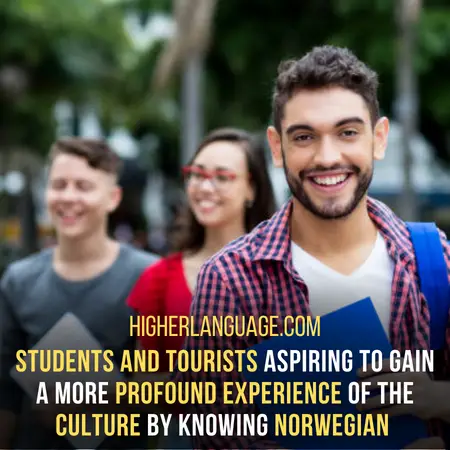 Students and tourists aspiring to gain a more profound experience of the culture they're about to visit may want to take advantage of learning its language.
Doing so will allow them to truly immerse themselves in their destination's lifestyle and get acquainted with its locals on an intimate level.
How long does it take to learn Norwegian? That depends on the learner! With enough dedication and language resources, such as apps, podcasts, tutors, etc. 
It's possible to build fluency in any subject matter, from basic elements to complex topics. Thus, with effort and determination, anyone can become fluent quickly!
Conclusion:
How long does it take to learn Norwegian? It's a tricky question, as the answer is different for everyone.
Generally speaking, it could take up to two years to be proficient enough in the language to hold conversations, read and write with others.
However, with consistent practice and dedication, learning even more complex topics like grammar can be done in significantly less time.
The key is consistency; set aside time daily to review material and study new concepts.
You may even surprise yourself with hard work and focus on how quickly you catch on!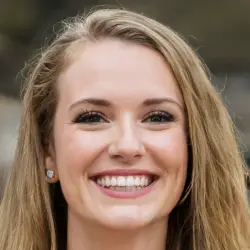 Latest posts by Sylvia Simpson
(see all)