The common question is, "How similar are Scandinavian languages?" Are they similar to other languages families as well? The same question goes for Norwegian. Are there any "Languages Similar To Norwegian?"
Yes, there are some languages similar to Norwegian. Follow the article to get complete information about these languages.
List Of 5 Languages Similar To Norwegian
Norwegian is similar to Danish, Swedish, Faroese, and some others. English and German are also somewhat similar.
Here are five languages similar to Norwegian down below. So, let's get in them.
1. Danish – 1st On The List Of Languages Similar To Norwegian:
When it comes to vocabulary, Danish and Norwegian are fairly close, if not identical. This could be because Norway was formerly under Danish authority.
They do, however, sound rather distinct from one another. The two languages are as different as Castellano and Valenciano are from each other. Also, the written languages of Denmark and Norway (Norwegian Bokmal) are quite similar.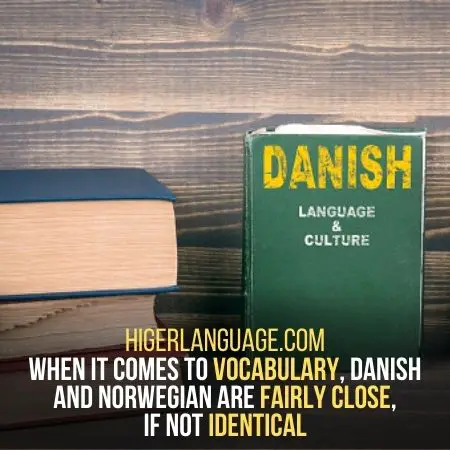 But, the main distinction is in the spelling and pronunciation of words. The terms are frequently the same and have almost identical meanings. But, they have slightly different spellings.
However, in some circumstances, a word would be used in Norwegian and the other in Danish. This is similar to how English has 'lorry' and 'truck.'
2. Swedish – 2nd On The List Of Languages Similar To Norwegian:
Swedish and Norwegian have so many similarities. So, it's easy to figure out that they came from the same place.
Alphabets And Pronunciation:
In terms of pronunciation, both Swedish and Norwegian are very similar. Their alphabets are nearly identical.
The exception is a few letters that sound almost identical but have a different shape.
Grammar:
In terms of grammar, Norwegian and Swedish, both are extremely similar. They have just slight changes. Norwegian has three genders, which is one of the few variances worth highlighting.
Swedish, on the other hand, only has two. Despite its third gender, Norwegian may be easier to learn in terms of grammar than Swedish. It is more regular.
Comparing the grammar of the two, on the other hand, is nearly meaningless. They're remarkably similar.
Mutual Intelligibility:
Swedish and Norwegian have a high degree of mutual understanding. When it comes to written communication, the Swedes and Norwegians have no problems.
Even foreigners who do not speak either language may perceive the striking parallels. Both Swedish and Norwegian have the same voice and appearance.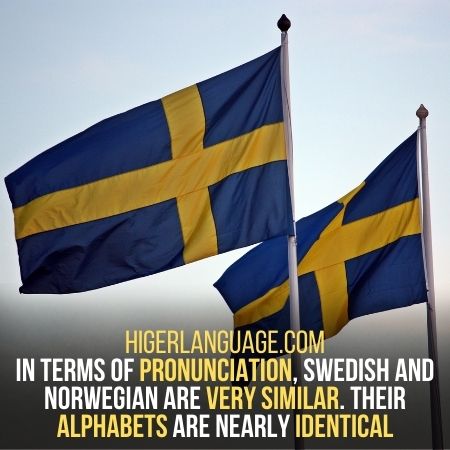 In Swedish and Norwegian, for example, the word for "house" is "hus," and the term for "car" is "bil."
Even if the words have the same pronunciation, the appearance of the words varies from time to time.
The Swedish word for "red" is "röd," and the Norwegian word is "rød," but both have the same pronunciation.
Vocabulary Words:
In terms of vocabulary, Norwegian and Swedish are quite similar. The great majority of vocabulary in both languages comes from their shared predecessor. These predecessors can be North-Germanic or "Old Norse."
Because of the similarity, Norwegians and Swedes can communicate with each other. In both languages, there are so many similar sentences and terms. Look at some common phrases:
| | | |
| --- | --- | --- |
| ENGLISH | SWEDISH | NORWEGIAN |
| Good morning | God morgon | God morgen |
| What's your name? | Vad heter du? | Hva heter du? |
| How are you doing? | Hur har du det? | Hvordan har du det? |
| How old are you? | Hur gammal är du? | Hvor gammel er du? |
| Good luck | Lycka till | Lykke til |
| I don't understand | Jag förstår inte | Jeg forstår ikke |
| Goodbye | Adjö or farväl | Adjø or farvel |
| I love you | Jag älskar dig | Jeg elsker deg |
Here are some common words too:
| | | |
| --- | --- | --- |
| ENGLISH | SWEDISH | NORWEGIAN |
| Bread | Bröd | Brød |
| Cookie | Småkaka | Småkake |
| Apple | Äppel | Eple |
| Thank you | Tack | Takk |
| Horse | Häst | Hest |
| Farm | Bondgård | Bondegård |
| Suburb | Förstad | Forstad |
| Animal | Djur | Dyr |
| Pear | Päron | Pære |
| Feud | Fejd | Feide |
| Airport | Flygplats | Flyplass |
3. English – Similar To Norwegian:
To a linguist, yes. It's almost as though they're cousins. Both Norwegian and English are members of the Indo-European Language Family. They are from the Germanic branch.
The Norwegian language is quite similar to the English language. There are even existent shared isoglosses. This linguistic phenomenon in English can be found in some Norwegian dialects.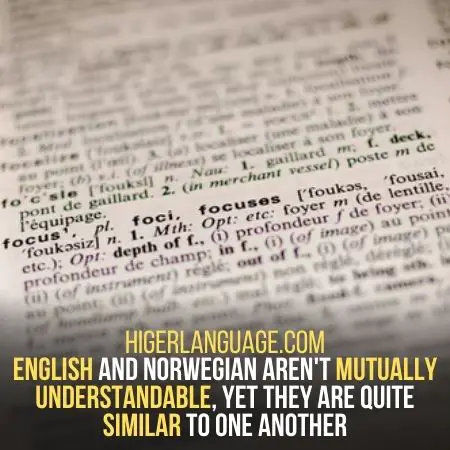 They aren't mutually understandable, yet they are quite similar to one another. Norwegian is a simple language to learn for English speakers.
Vocabulary:
Norwegian, like English, is a Germanic language. Thus, there are many parallels between the two. When reading and interpreting English, it provides enough cues for Norwegian students.
For example:
| | |
| --- | --- |
| ENGLISH | NORWEGIAN |
| Bread | Brød |
| Milk | Melk/mjølk |
| Coffee | Kaffe/kaffi |
| Tea | Te |
However, while there are several cognates, there are also a number of fake buddies. For example:
| | |
| --- | --- |
| NORWEGIAN | ENGLISH |
| Actor | Prosecutor |
| Bare | Only |
| Bra | Good |
| Butt | Thick, blunt |
| Fag | Subject |
| Hell | Good luck |
| Late | Seem |
Grammar:
The word order in Norwegian is extremely similar to that of English. It follows the standard SVO pattern. Even in larger sentences, Norwegian has a striking resemblance to English.
There are many other grammatical parallels as well. In Norwegian, for example, to produce the possessive, they add an 's' to the end of the word, much as we do in English:
mann = man
sykkel = bike
manns sykkel = man's bike
However, there is a minor issue with the possessive apostrophe. This needs to be addressed carefully.
Verbs:
The verb system of English is more sophisticated than Norwegian in general. This component of instruction will need some time.
For example, establishing the passive voice is simple in Norwegian. But, it is more complex in English, which might lead to problems.
4. German Language:
Despite the fact that they are both Germanic languages, they are not ineligible. However, many terms have similar or recognizable versions in both languages.
On the other hand, Norwegian is easier to learn from a grammatical aspect. Because of the similarities, some locals refer to Norwegian as "German for dummies."
Norwegian grammar is a lot easier to understand than German grammar. It is more similar to ancient German dialects. These dialects are Schwäbisch and Swiss-German.
The Norwegian language contains fewer cases (3). It is easier to conjugate. Female is uncommon in Eastern Norwegian (bokmål). It generally utilizes two sexes (neutral and male).
Many words are interchangeable. As a zero novice, you will comprehend more than 50% of written text if you speak German, English, or Dutch.
It will take 3–6 weeks for auditory adaptation to grasp it by listening only. But it may take considerably longer to understand people over the phone.
The Faroese and Norwegian languages are closely related. Several vocabularies and grammatical patterns of Faroese are known to the Nordic languages.
The grammar of Faroese is comparable to that of Old Norse and Icelandic. But, the pronunciation is closer to that of Norwegian.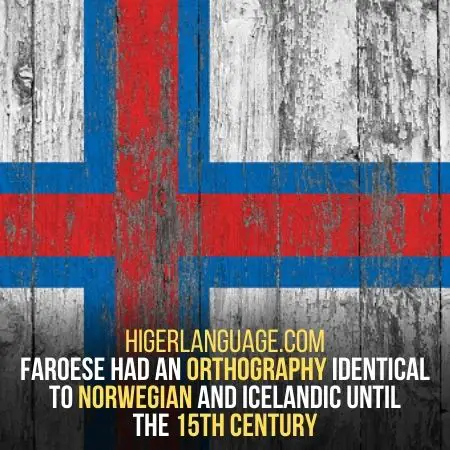 Faroese had an orthography identical to Norwegian and Icelandic until the 15th century. The ruling Danes, however, banned Faroese in schools and churches after 1536.
Is Learning Norwegian Hard?
Norwegian is one of the simplest languages for English speakers to learn. It's like Swedish and several other Scandinavian languages.
Its speakers, like those of Swedish and Dutch, are often fluent in English. But, it can be a bit difficult to put into effect at times.
The large majority of Norwegians can speak English as well as Norwegian. They can do so to a high degree.
Conclusion:
Norwegian is a North Germanic language (Norwegian: Norsk). It is Norway's official language. The Norwegian language is descended from Old Norse.
Norwegian forms a dialect with mutually intelligible regional and local variants. It's like Danish and Swedish.
Some dialects of Norway and Sweden, in particular, are highly similar. Norwegian has a lot in common with German and English. It is not mutually comprehensible with either of them.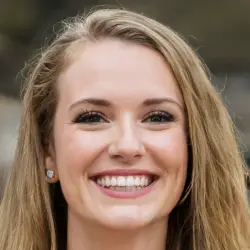 Latest posts by Sylvia Simpson
(see all)