The idea of "learn Spanish while you sleep" sounds very attractive. I mean, who wouldn't want to learn a new language without having to study for hours?
Learning Spanish while you sleep is an excellent way to learn how to speak it. The best part about this method is that it's not just for beginners but also for advanced learners.
How To Learn Spanish While Sleeping – 7 Easy Ways
Curiosity dragged you here, Right? You must be trying to find the answer to your question, whether you can learn Spanish while sleeping or not.
So, Yes! Learning Spanish while sleeping is possible!
The best way to learn Spanish is by immersing yourself in it. But what if you don't have enough time for that?
What if you don't want to spend money on a formal course, or if you want to learn more than one language at the same time?
The good news is that there are many ways to learn Spanish while sleeping! Then this method might be for you.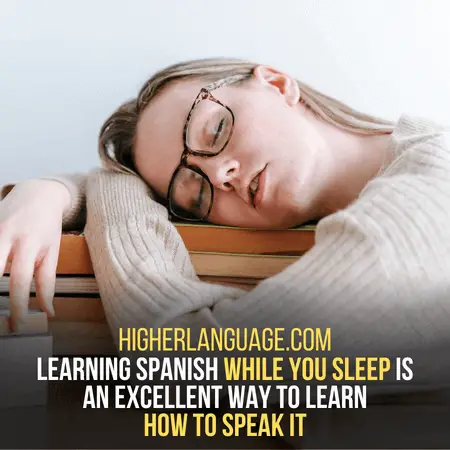 And if you really want to get into the habit of learning while sleeping, why not try learning while dreaming?
Some of the most popular methods are to listen to audiobooks or podcasts in the target language while you sleep. You can also listen to music to learn Spanish while sleeping.
Some people might even try putting themselves into a lucid dreaming state by using techniques. So get ready: your journey into Spanish continues!
Here are some of the most common and easy ways:
1. Audiobooks:
We all love to sleep and what's better than utilizing sleeping time? If you're a fan of audiobooks, Audible is a great place to start learning Spanish.
Audiobooks are great for learning. This is because they're relatively simple—you can just listen while drifting off to sleep. And when you wake up in the morning, your brain is still fresh!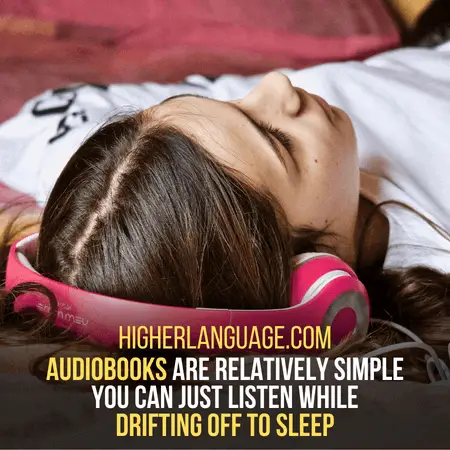 The audio CDs have a lot of good music and are usually narrated by native speakers.
You can put them on as background noise, or listen to them one at a time. It's easy to pick up vocabulary in this way!
2. Podcast:
If you're more of a podcast person, it is another way to learn Spanish while you. For this, check out Podcasts or iTunes.
These are podcasts that are often focused on specific topics. For example, business and finance, cooking, or even just language learning.
They're usually free. But if you'd like to support the creators, there are some websites where you can do so by making a small donation.
The best part about these types of podcasts is that they're easy to switch off while you fall asleep (and they work well on long car rides!).
3. Music – Enjoy And Learn Spanish While You Sleep:
If you want something more low-key than an audiobook or podcast, try listening to music in Spanish!
This is the best way if you like listening to music while falling asleep. There are plenty of options out there as well—just make sure it's something relaxing!
You can find lots of albums on Spotify or iTunes. They will help you build up your vocabulary while also having fun listening to some great tunes!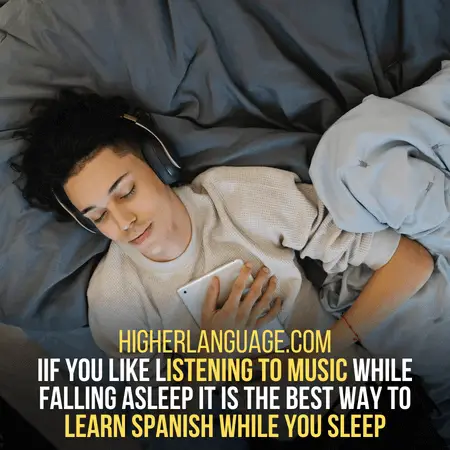 You could also try learning songs by ear. It's even easier than just learning how words sound when they're sung!
4. Apps:
Sleeping is a great time to learn a foreign language. There are some apps or techniques that help you learn Spanish while you sleep.
These are designed to work with your natural sleep cycles. So, it will only start teaching when you're in the lightest stages of your sleep cycle – which should be in the morning.
These also use lessons that are 15-20 minutes long. They contain voiceovers from both native speakers and celebrities like Reese Witherspoon.
These apps adapt themselves to your level of understanding. So, you can be sure that you are not learning too fast or too slow for your abilities.
5. Read And Learn Spanish While You Sleep:
There are also some other methods such as reading in your target language before bed.
Even listening to it in the background while you do other things like working on your computer.
It is important to note that there is no evidence that any of these methods work better than each other. It really just depends on what works best for you personally.
6. Night School:
You can learn a new language while you sleep! It is called "night school."
Night school is a program where you study a language like Spanish while you sleep.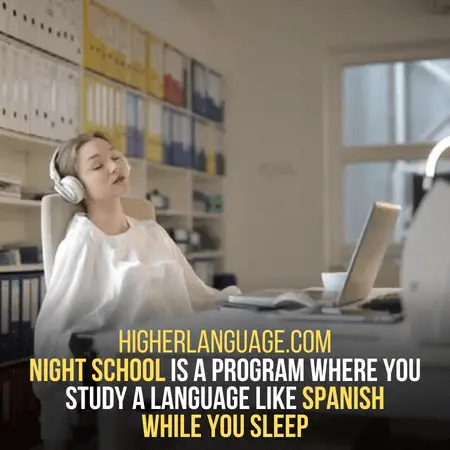 The program sets the alarm to wake the user every 20 minutes and asks them to review what they learned that day.
They are then asked to answer some questions in the language they are learning. They can also answer some questions in their native language.
This way, the user learns vocabulary and grammar while they sleep!
7. Subliminal Spanish Learning:
If you're not into these options but still want help with your Spanish learning efforts, check out:
Subliminal Spanish Learning. It'll help you hear and pronounce words without even realizing it!
You'll learn new vocabulary words, and grammar rules. You will even learn how to use them in real-life conversations. It's like having a teacher right in your ear!
And all this time, it's happening without you even realizing it. This is because we're taking advantage of your subconscious mind.
Science Behind "Learn Spanish While You Sleep"
You might be wondering how this is even possible to learn Spanish while you sleep.
The answer lies in the fact that we all have two hemispheres in our brains. They are responsible for two different functions.
One hemisphere is responsible for logical thinking and language skills. The other one is responsible for creativity and emotions.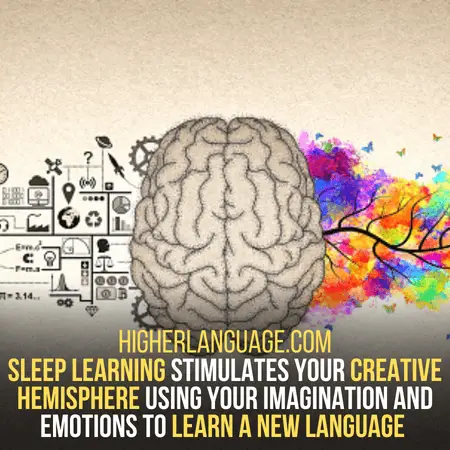 Theory: you can stimulate your creative hemisphere by using your imagination and emotions. Then you can learn a new language without actually studying it.
On A Lighter Note
If you're like me, you're probably already falling asleep while reading this. I know that it's not easy to learn Spanish while sleeping, and we totally get it—but I also think that it's worth the effort!
You can learn Spanish while you sleep by following these easy steps:
1. Set a timer for 15 minutes before bed.
2. Start with a simple sentence, like "I want to go to the park."
3. Repeat this sentence every 15 minutes until all of your energy has been completely zapped out of you!
4. If you wake up in the middle of class and can't remember what you were saying during your sleep cycle… don't worry! Just try again tomorrow morning when your energy is at its highest!
Conclusion
By the end of this article you must have got two points:
– When you're tired, it's easier to learn new things.
– You can use your brainpower to learn new things while you're asleep.
If you want to learn Spanish while you sleep, all you need to do is take a few minutes each day and learn something new.
You don't have to be perfect—just get started! And when you do, your brain will pick up the skills as it goes along. That's how learning works!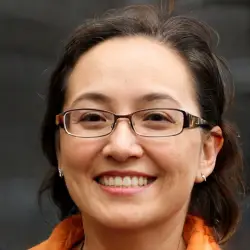 Latest posts by Elizabeth Williams
(see all)