China is a fascinating place to visit. It's enriched with history, cultural charm, and scenic beauty. But, you might think, do people speak English in China?
language can be a barrier to your good experience while traveling. Let's explore if people in China can speak English.
Do People Speak English In China?
Many people around the world speak English in the modern era.
The first reason for that is British colonization. From Asia to Africa, some countries had been under British rule in the past. Or they still are.
Due to colonization, the colonized nations picked up English. And later, most made English their second language.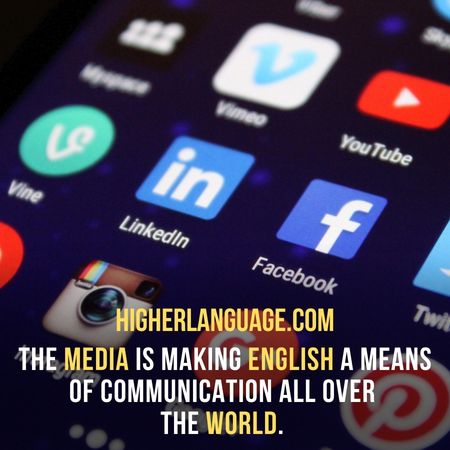 Another reason in the modern world is globalization. The media is making English a means of communication all over the world.
Because of that, English is the language of business in many countries.
Chinese is a completely different language from English. In fact, Chinese is one of the hardest languages to learn.
Although, in the past, English wasn't that commonly spoken in China.
But along with the advancement of the world. English is becoming more famous in China.
In China, English is mostly spoken by the younger generation. And mostly in cities that have more tourist attractions.
How Many People Speak English In China?
China is the most populated country in the world. With a population of 1.4 billion.
Of that, around 82 million people can speak English, which is 6% of the population.
More than 10 million population is pro-efficient in English. Others can speak conversational English.
This population mostly consists of younger people. Who have studied English in schools or have traveled abroad. Or they live in major cities in China.
Most of the rural and uneducated population cannot speak English.
Official Language Of China
The official language of China is Chinese. Chinese is a very complex language. It has different dialects. And the most famous dialect is Mandarin.
Mandarin is the most widely spoken native language in the world.
There are nearly one billion Mandarin speakers in China. And 1.2 billion worldwide.
But Mandarin is one of the many dialects of Chinese. That shows the complexity of the language.
Dialects don't necessarily mean accents. However, the accent is a sub-part of dialect.
For example, Cantonese and Mandarin are two dialects of Chinese. Yet both are completely and utterly different from each other.
So, although both Mandarin and Cantonese are Chinese dialects. Both are quite different.
So much so that the people who speak Mandarin dialect only cannot understand Cantonese.
How Good Is Chinese People's English?
Although English is being taught in Chinese schools. Still, not all those students are not fluent in English.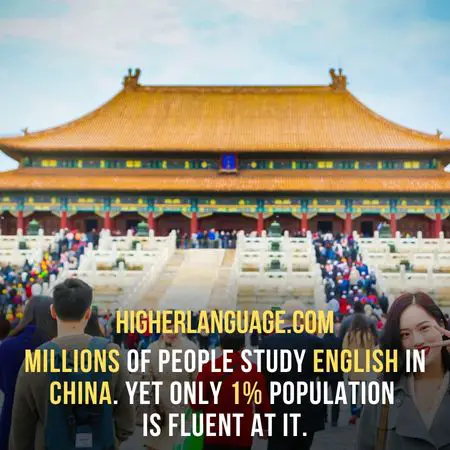 Millions of people are studying the English language. Yet less than 1% of them can speak English fluently.
The pro-efficient English speakers in China are mostly found in metropolitan areas.
English is mostly spoken in big cities where multinational companies exist.
Since most Chinese people are not exposed to spoken English through media.
Most are not that well-spoken in English, even if they know it.
Cities Of China Where English Is Spoken Most
English is mostly spoken in China, in big cities. Or the places that receive the most tourist yearly.
You'll also encounter fewer English speakers in urban areas. That is because most Chinese people are shy or hesitant to talk in English.
Suppose you go toward the west of China. In remote areas. English might be nonexistent. Such as the city of Urumqi.
In cities like Urumqi, even in the big hotels. The staff might not speak English at all. So, you will struggle to communicate.
Here are the top five cities in China that have the most English speaker.
1. Shanghai:
It has many international restaurants and brands. Which makes it the most international city in China.
Because of that, Shanghai receives many tourists each year.
Shanghai also has the most English speakers in the whole of China.
Shanghai has a colonial history. Because of that, most locals got exposed to English.
Aside from that, most youngsters in Shanghai are quite fluent in English. And easy to communicate with.
Suppose you are planning to visit China with just English speaking skills. Shanghai is a great city with beautiful places. And communication in English.
2. Shenzhen:
Shenzhen has a total population of 10.7 million. Shenzhen has advanced quite a lot over the years.
It was a fishing village in the early 80s. Now the city has advanced to become a world manufacturing hub.
Most local people are very well educated. The youngsters have studied English in schools.
Due to the British influence of the past. The natives are familiar with English. Compared to other regions in China.
Most of the staff hired in hotels and restaurants speak English. That makes it a perfect location for tourists.
3. Beijing:
Beijing is the second largest city in China. With a population of 21.7 million.
It is the capital city of China. It has the Great Wall of China. That is one of the seven wonders of the world.
The Great Wall of China is one of the biggest tourist locations in China. But, aside from that, there are many other places to explore in the city.
There are restaurants and hotels with English-speaking staff. It even has chains of some international hotels.
Young people study English in schools, so most are fluent in it.
There are even foreigners who live in Beijing whom you can communicate with.
Since Beijing is China's capital city, there are many embassies here.
So, English is on a bit larger scale spoken in Beijing.
4. Hong Kong:
Hong Kong is the most romanticized city in China in the world. It has a population of 7.2 million.
Hong Kong has been under British rule for a long. However, in 1997, China got Hong Kong back.
Because of that, there has been a heavy influence of colonization on the city.
Hong Kong is like an international point. With various cultures mixed.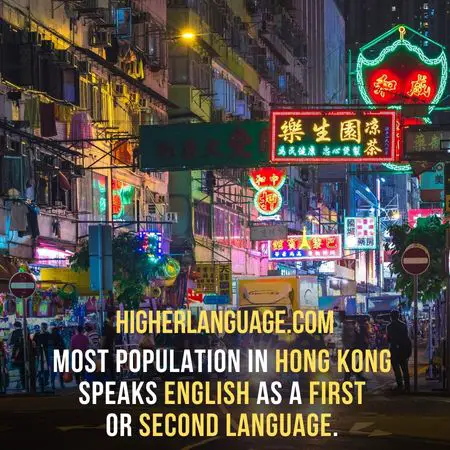 Most population either speaks English as a first or second language.
It is also a huge tourist attraction. Because of that, even the local restaurants have English-speaking staff.
5. Guangzhou:
In the present times, Guangzhou is the trade and commerce center in China.
Each year Guangzhou receives many tourists. Visit the museum and the cultural sights.
Many locals can speak English very well. The young generation is learning English in schools.
And since there are many international businesses. They interact with people in English.
So, while traveling to Guangzhou. You won't have much trouble communicating with the natives.
History Of English In China
English became a part of China's education system in the 1960s. There was a short period of denunciation.
But then, in 1970, the government revived English in schools. Since then, English has been popular in China.
The number of learners of English in China exceeds 300 million. China is making progress with teaching English at earlier levels in schools.
Also, due to globalization. China has accepted the importance of English in the modern world.
English is gradually progressing in China today as a language of trade and business.
English Taught In Schools Of China
Most young adults and teenagers in China can speak common English phrases such as "Hello" or "Thank you."
English is mandatory in Chinese schools. From grade one to onwards. But the quality of teaching depends on the school and area.
In big cities, there are better schools with good teachers and resources.
The rich people even get tutors to teach English to their children.
But in rural areas, most of the time, children don't have proper resources. The teachers aren't that well educated.
Or the study plan isn't that reliable. Consequently, those students are not able to learn proper English.
And for most parts of rural areas, only Chinese gets taught in schools.
Most students in rural areas value learning skills. So, they attend vocational schools to get jobs right after graduation.
Because of that, they never get a proper English education.
Moreover, most Chinese people think. That there is no value in learning English in their own country.
Because of that, they don't put effort into learning proper English. And ignore the importance of English in the modern world.
So, most times, Private tutors teach English. Or through online classes for people who can afford them.
Why Only A Few People In China Speak English?
In the modern era, China understands the value of English like the whole world. There are almost 300 million people who are learning English in China.
Despite that, why are there still so few English speakers in China?
The first reason is that Chinese is so different from English.
It has a completely different structure. The concept of tenses is alien to Chinese people.
Because of that, the learning process can be very hard for them.
In schools, students memorize English. Instead of making them understand. The teachers there have never left China.
They are not exposed to spoken English. And they instill all that in their students.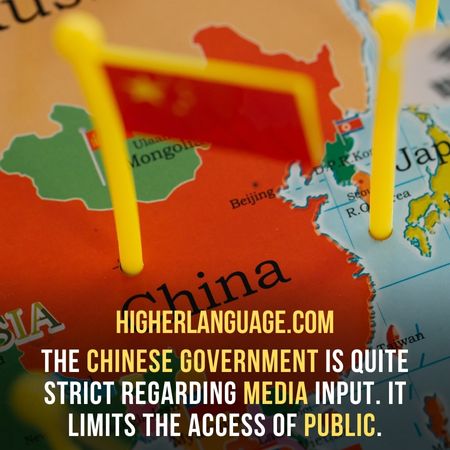 Moreover, the Chinese government is quite strict regarding media input. For example, the Great Chinese Firewall limits access to most media sources.
It limits children's exposure to English media. Resulting in them not getting exposed to spoken English.
Final Thoughts:
Even though China has the largest number of English learners in the world.
But the quality of their English teaching is way lower. Compared to other English learners worldwide.
Probably in the coming years. China would apply more strategies. Such as to give more exposure to English to their youth.
And better teaching techniques that will help them become better English speakers.
Despite that, to answer the question. Do people speak English in China? Of course, but yes, probably not as fluently as foreigners.
Or more widely across the country. But if you plan to travel to China, you will not have trouble around the tourist spots.
Living there can be struggling. So, if you plan to live in China, please learn Chinese before moving.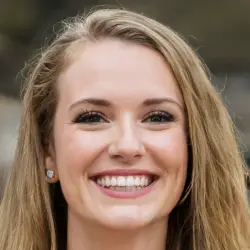 Latest posts by Sylvia Simpson
(see all)