Switzerland is a point of attraction for tourists all over the world. Everyone wants to visit the mesmerizing sites of the country. But, do people speak English in Switzerland?
Every foreigner has this thought before planning a trip to Switzerland. English is the primary or secondary language of a huge audience. Yes, Swiss people speak English too. 
Do People Speak English In Switzerland? 5 Facts Are Here! 
English is a dominant International language. So if you know English, you will survive anywhere because you can find English speakers effortlessly worldwide. 
There are about 1.5 billion people in the world who can speak English. Also, everything empowers English due to globalization, i.e., from media to industrial development. 
Switzerland is a desirable destination for foreigners. Not only because of tourism but also for the economy as well. 
It is one of the top-ranking countries with the highest quality of living standards. Therefore, you can have many educational and career opportunities in Switzerland.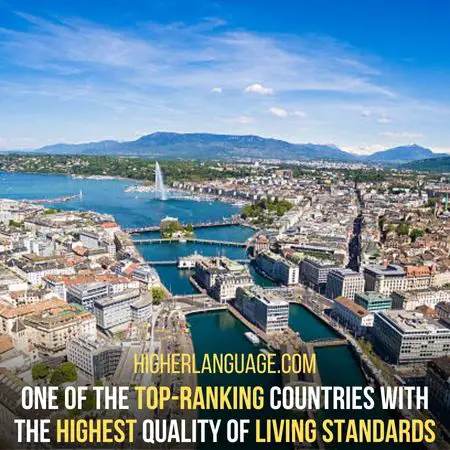 If you are an English speaker, you must want to know "do people speak English in Switzerland?" so that you can adjust there. Well, here are some facts explaining your answer. 
1. Switzerland Is A Multilingual County: 
Switzerland is a multilingual country. It is not having one, two or three but four official languages with a population of 8.63 million. 
The official languages of Switzerland include German, French, Italian and Romansh. English is not an official language, but a wide range of people speak it as a second language. 
The numbers of speakers of all these languages are as;
– German is the most common language in Switzerland, with 5.32 million native speakers. It is almost 62% of the total population. 
– French has 1.97 million speakers, which is approximately 23% of the whole number of citizens. 
– Then comes Italian, which has 0.62 million speakers and 8.2% of the total inhabitants. 
– While 40,000 people speak Romansh as their first language, which is 0.51% of the whole population. 
– English is not a native language, but people can speak and understand it. About 61% of the population can speak English on a general level. However, 45% of people are fluent in it.
Rich, urban and young people have a command of English. However, older generations and people from town sides prefer their native languages. 
English speakers are increasing in Switzerland. As a result, some authorities are considering giving it the official language status. Yet, some people are not in favor. 
Besides that, many people speak English fluently. Consequently, English is a familiar language in most of the public spheres in Switzerland. 
2. A Hub Of Tourism:
Switzerland has a lot of wonders of nature that can make you forget everything. All the captivating views are enough to hold your breath for a moment. 
 A large number of tourists visit the country every year due to the natural charm of Switzerland.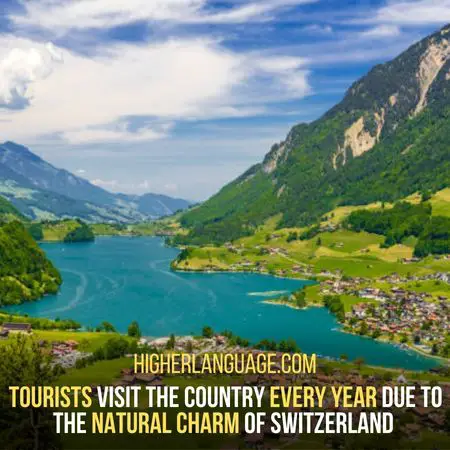 Tourism is one of the contributing factors to the economic growth of the country. Thus, the government pays special attention to facilitating tourists in every way. 
In tourist spots, English is a means of communication. It is understandable around the globe. Locals also interact in English to accommodate international visitors. 
Reports claim that 61% of natives in Switzerland can speak English. So it is clear that English is not unknown to Swiss people. 
You can still enjoy the tour even if you don't understand or speak any local language. 
3. New Swiss Generation Has Inclination Towards English:
The Younger generations of Switzerland show an inclination toward English. Social media has removed borders in communication. In addition, youth is very active on social media. 
As a dominant language, English influences social media too. It has become a global bridge to connect people. 
Moreover, the language of many popular movies, series and music is English. Also, Hollywood is a basic unit in the international entertainment industry. 
Young generations find it cool to be aware of trendy shows and fashion. 
Young people in Switzerland are very dynamic to be a part of the trend. They show interest in learning English in high schools and colleges. 
Mostly high school students love to communicate in English. But, another important thing is younger people show such behavior. The number value drops as the age increases. 
Older and conservative people tend to use local languages for communication. Still, English is acceptable in public settings. 
4. The Country Offers English Education Too:
Education is an important aspect in linking different nations. Therefore, people travel to foreign countries for suitable higher educational opportunities. 
Swiss universities have many courses in the English language to attract international students. 
A lot of prestigious institutions in Switzerland offer multidisciplinary courses in English language. Robert Kennedy College and Geneva Business School are the top names on this list.
Many international students come to study in Switzerland through scholarships and self-support.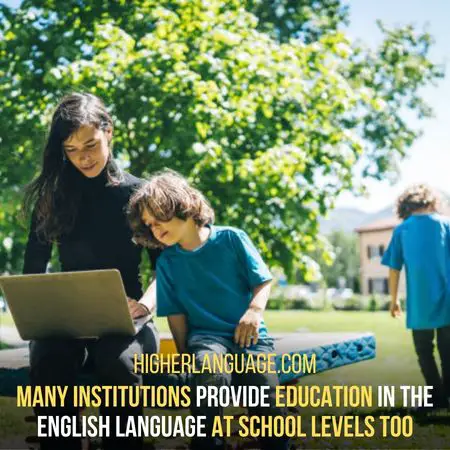 Different institutions provide education in the English language at school and college levels.
If you want to settle in Switzerland but worry about your children's education, feel free to move in. You will find many schools that can help you with the English language. 
5. Career Opportunities For International Workforce:
Switzerland is an international-oriented country. Therefore, its government always ensures smooth relationships with the world. Of course, one reason is tourism but the other is even more important. 
Switzerland is one of the top countries with the highest living standards. With an annual GDP of 4.60 USD Billion, It has a strong economy and industrial growth.
A lot of multinational companies are of Swiss origin. For example, Nestle, Swisscom, and ABB Ltd don't depend on any introduction. They are worldwide famous names. 
An international workforce serves multinational companies. All employees communicate in English, which is a global means of communication.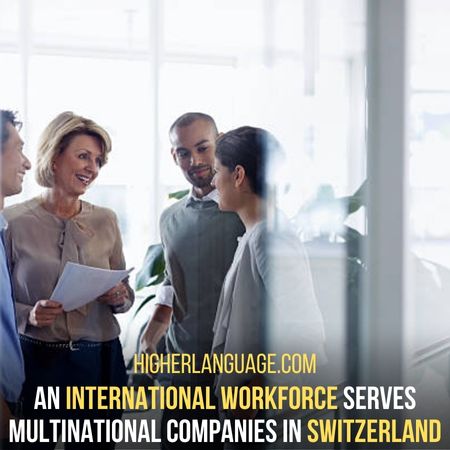 Furthermore, many Swiss companies are service-based. Therefore, they need foreign employees from fields. Such as finance, engineering, agriculture, pharmacies, etc. 
Besides all, state politics regarding trade are very lenient. The government encourages investors and stakeholders through easy tax policies. 
Switzerland has a very competitive economy. Yet, the government welcomes international investors. 
International markets are proof that English is a common language in Switzerland. However, it's not a state language but a second language of many natives and global employees. 
End Result:
English is a primary language in 67 countries, while in 27 countries, it serves as a second language. Out of many languages, English is the one that is understood everywhere. 
Switzerland is connected with international communities, and  English is not unfamiliar among citizens. 
So, the answer to "do people speak English in Switzerland?" is yes! Many people speak English in Switzerland. If you know English, you can adjust to the country. 
Switzerland ranks 18th out of 100 positions in English fluent people. But, some people from rural areas or old age groups are uncomfortable with English. 
On the other side, younger generations show inclined behavior toward English. They learn and speak English, which shows English is growing in Switzerland even more. 
Frequently Asked Questions 
Q1. Are Swiss People Welcoming To English Speakers? 
Yes! Switzerland is very friendly to international people, especially English speakers. Therefore, most of natives can interact in English. 
Due to tourism, English is familiar in Switzerland. Swiss people even learn English to accommodate international visitors in better ways. 
Q2. Can You Live In Switzerland By Only Knowing English? 
Younger people are more aware of English than grown ones. In addition, people in urban areas are more comfortable with English. 
So it depends upon you. Whether you live in big city or town sides. Also, you can live easily if you have a job in an international workplace. 
Q3. Can You Earn In Switzerland If You Don't Know Native Language?
Switzerland has four official languages. People from different cantons speak different languages. Yet, English is common in all areas as a second language. 
If you speak English, you can work in urban areas as more people know English there. 
Moreover, Switzerland is a rich country. You can find many multinational companies. International employees serve in such companies.
Even natives who work in multinational workplaces can speak English. 
Hence, Skilled and professional people are in demand. You can earn well without knowing the native languages if you have a spark.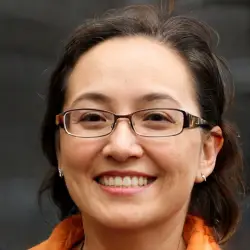 Latest posts by Elizabeth Williams
(see all)