Different regions use different slang words for old people. Their meaning and the way they are used vary from place to place.
In this article, you'll learn common slang words for old people. There are also some insulting slang words for old people. You must know how to use them.
7 Slang Words For Old People
There are plenty of slang words for elderly folks floating around. Some of the common ones you've likely heard include "codger," "geezer," and "fogey."
These terms imply that an individual is old-fashioned or out of touch with modern life.
Some might find these terms offensive, but those who use them often find it amusing. It's important to recognize the humor in life.
Always remember that aging is inevitable. So the next time you see someone senior, try out one of these terms and give them a chuckle.
Here are some common slang words for old people:
1. Codger:
Every generation has its special way of referring to the older generations. It's a slang term for old people, usually used in a lighthearted or affectionate way.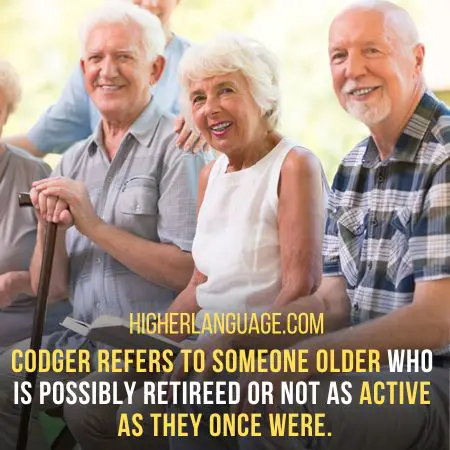 Like any slang term, its exact definition varies from place to place. It can mean different things depending on context.
Though, it refers to someone who is elderly and possibly retired or not as active as they once were.
Codger is not used as an insult. It's all about respect when it comes to this unique word.
So even if you can't quite keep up with them anymore. Show your elders some love by calling them a codger in the most affectionate way possible.
In some parts of the world, a codger refers to someone experienced in a certain field or an expert.
In this context, it carries a more positive connotation and can be seen as an honorific title for someone who has spent their life mastering their craft.
Codgers are respected for their knowledge and wisdom. If you ever find yourself in the presence of one – take note.
The origin of codger is still unknown, but its use dates back at least two centuries.
It crosses cultures and boundaries, making it one of the most versatile slang words. So next time you want to refer to someone older than
2. Geezer:
Even though 'geezer' is commonly used as a slang word for old people, it can be used to refer to anyone regardless of age.
It's often used as a term of endearment or familiarity among friends and family members.
For example, you might hear someone call their dad a geezer in good-natured fun. Similarly, young people may jokingly refer to one another with this term.
All in all, it's an informal way of addressing someone that conveys a sense of warmth and familiarity.
Some people use 'geezer' as shorthand for grandfather or grandpa. The term conjures images of wise old men with many years of experience.
So it's a term that is commonly used with fondness. The slang word 'geezer' and its connotations are always positive and respectful.
3. Fogey:
Fogey is one of the most commonly used slang words for old people. It's derived from an English word meaning "odd, eccentric, or out of date".
It is a great way to describe someone who's not quite with the times. The term also has a negative connotation when used in a derogatory manner.
Fogeys are often seen as grumpy and unwilling to accept change. Try to use this word cautiously. Regardless, fogey is still widely used to refer to anyone over fifty years old and beyond.
So if you know any fogeys in your life, you already understand what the term means. Keep that knowledge in mind and keep on fogey-ing.
4. Crumbly:
"Crumbly" is a slang term for an elderly person, especially someone who is forgetful or frail. It's thought to have originated in the United Kingdom and was first used in the 1950s.
This term has become popular with younger generations regarding their grandparents. Though it may sound disrespectful, using this term can be seen as an act of affection.
So show them some love if you have any crumbles in your life. Remember that not all old people are necessarily fragile or forgetful.
So don't assume everyone over a certain age is "crumbly". Use this term with caution, and if in doubt, don't use it at all!
5. Doddering Old Man:
When you refer to someone as a "doddering old man" or "doddering old lady," you're referring to them in a slang way.
It implies they are elderly and maybe not quite so spry anymore. The term often sounds disrespectful if the context isn't right.
Doddering refers to an older person who moves slowly. Someone who may have difficulty making decisions or navigating tasks.
It's not exactly the kindest term of endearment, but it does get the point across about someone's age.
Respect for our elders should always be maintained no matter what terms we use to describe them!
The origin of this word is unclear, though some believe it may be related to "dodder,". It is a plant that trails along the ground.
This could imply a shuffling gait. It would be fitting for an older person with difficulty getting around.
6. Century Clubber:
When someone says "Century Clubber", it's usually a slang term for an elderly person. There are slang words for an old man only.
It describes someone who has been around for over a century and has seen different eras come and go. This term may be considered derogatory in some contexts.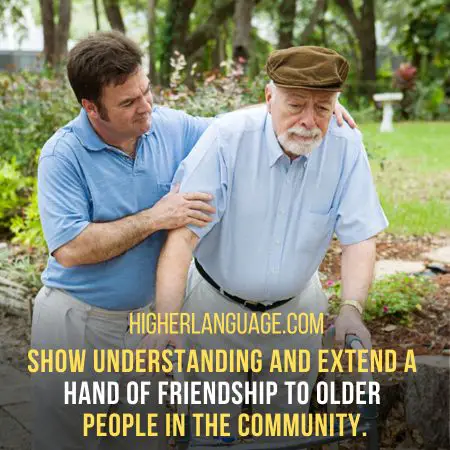 It can also be seen as a sign of respect when used positively. It often conveys admiration for the wisdom and experience that comes with age.
It is used as a way of acknowledging how much life these individuals have lived through. Regardless of its connotation, being called a Century Clubber is impressive.
So give props to all those 100+ year-olds out there. The english language has introduced many slang words for different people.
7. Wrinkle Rooms:
Wrinkle rooms are one of the slang words for old people. It describes old people who refuse to embrace modern conveniences or new technologies.
They're often seen as out of touch, stuck in their ways, and set in their routines. While not everyone fits this stereotype, it's a general term that has been around for a while now.
It might surprise you that even our youngest can be wrinkled rooms. Your grandpa may refuse to use email and is adamant about handwriting letters.
It makes him a wrinkle room. There's no harm in embracing the term "wrinkle room" as a fun way to describe older people who refuse change.
Plenty of other slang words are out there to describe old people. All are used in the context of respect and love.
So find one that suits your situation and makes everyone feel respected.
5 Insulting Slang Words For Old People
There are some insulting slang words for old people. These can be used unknowingly and can hurt the feelings of older people.
You must know the difference between respective and insulting slang words for old people.
Here are some insulting slang words for old people:
1. Old Bag:
Old bag is a phrase used to insult older people. It usually refers to them as being out of touch with the modern world and what's happening around them.
It can also be used to refer to someone who has an outdated opinion or way of thinking. This phrase is not polite and should be avoided in most social situations.
Despite this, it remains a popular slang term among younger generations. It can also be seen as ageist, especially when directed at an older adult, so caution is best.
There are better ways to express yourself if you want to give an opinion without offending anyone.
2. Old Bat:
Old bat is an insult to call someone who is elderly. It implies they are out of touch with modern times and no longer useful.
This phrase has been used throughout history in different languages and contexts.
It originated in the United Kingdom during the 18th century as a derogatory term for older women. The use of this phrase can be seen as ageist and offensive.
Remember that while it has been acceptable language in the past, we shouldn't use it today.
If you want to show respect for your elders, it's best to avoid using an old bat or any other insulting slang words for old people altogether.
Instead, focus on celebrating their wisdom and experience.
3. Wrinkly:
Wrinkly is one of the most commonly used words to describe an older person, and it's often used in a derogatory way.
It can be seen as an insult because it implies that old age is something to be ashamed of. Wrinkles are inevitable with age.
Remember that being wrinkly doesn't have anything to do with a person's worth as a human being.
Aging is a natural part of life. Everyone should be treated with respect regardless of how many wrinkles they have.
Instead of using insulting slang words for old people, show them kindness and appreciation.
4. Old Trout:
Old trout is one of the most commonly used insulting slang words for old people.
It is generally seen as a derogatory term and can be hurtful when used by someone negatively.
However, it can also be an affectionate term between friends or family members.
For example, a young person might refer to their grandfather as an old trout out of fondness and respect.
It's important to remember that these words have a powerful impact on how someone feels. It's always best to think twice before using them.
It would always help to use sensitive words when directed toward someone older.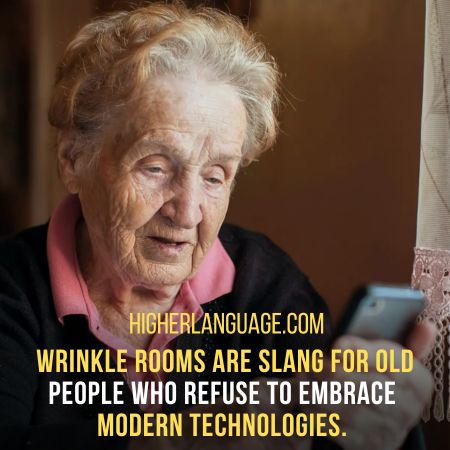 Before referring to any old people, try to know the meaning of the slang words you are using.
5. Geriatric:
When it comes to slang words for old people, the term 'geriatric' is used quite often. This slang word refers to a person over 65 years of age.
It usually implies they are in poor health due to their advanced age. Geriatric is often used as an insult or joke amongst younger generations.
Remember that this term should be used with respect and care when describing seniors.
It's disrespectful and offensive to refer to someone using terms like geriatric. While these words are used between friends, they should never be uttered around older people.
Conclusion:
There are various slang words for old people. No matter which term you use, it's important to remember that senior citizens have a wealth of knowledge and wisdom.
They should be treated with respect and kindness. Show your appreciation by listening to their stories.
It would be best to lend an ear when they need someone to talk to. Show understanding and extend a hand of friendship to older people in your community.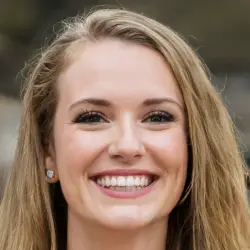 Latest posts by Sylvia Simpson
(see all)