Do people speak English in Sweden? This is a question of many people around the world. Sweden is undoubtedly the best place to live in. So, you might want to know more about it.
Sweden is a developed country in Europe where people are fluent in English. Even some people believe that Swedes can speak better English than many Americans.
Why Do People Speak English In Sweden With High Proficiency? 8 Top Reasons
Sweden is one of the Scandinavian countries with high quality of living standards. Many people dream of living in Sweden because it is a rich country with happy people.
With a good quality of life, Sweden ranks 9th on the list. It has freedom, work-life balance, corporate culture, excellent public services, and so on.
Also, it is one of the safest countries with strong economic growth. All these factors are enough to love Sweden.
But as a foreigner, the most important question is, "do people speak English in Sweden?"
Fortunately, the country won here too. English is a common language in Sweden. Though it's not an official language, almost 90% of people can speak English.
Moreover, Sweden ranked 8th in the English Proficiency Index for non-natives. Here are some reasons to clear your mind about why people are so fluent in English.
1. English Is A Compulsory Subject In Schools:
Sweden has made it compulsory to add English as a subject in the curriculum from the school level. So, Swedish children start learning English at seven or eight.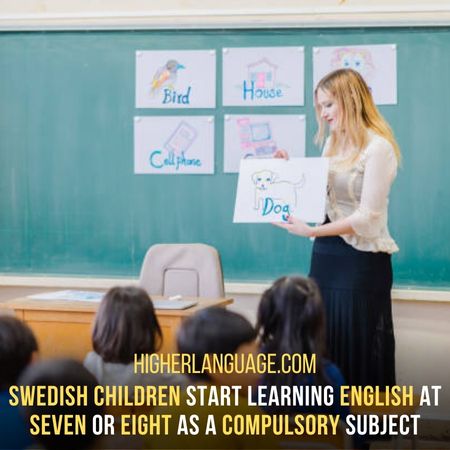 English is a part of basic education. For example, a high school student gets ten years of exposure to English.
At the end of basic education, an average student can speak and understand English well. Hence, after a decade of learning English, students become fluent.
Like other Scandinavian countries, Sweden also prioritizes education first. That's the reason you can find English proficient people in towns and other remote areas.
Once a child has a command of Swedish, learning English is a must. Thus, as a foreigner, you will not feel strange in Sweden because you don't know the local language.
About every 8 to 9 people out of 10 can speak English. So if you don't know Swedish, you can still visit or settle in Sweden.
2. Internet Is Easily Accessible In Sweden:
As mentioned above, Sweden got 9th position in high quality of living standards. Therefore, approaching the internet in public places is not difficult.
In Sweden, you can access high-speed internet effortlessly. Even the government plays its role in providing the best services in this regard.
Due to the internet, the world has become a Global Village. Now anyone can communicate at any time, anywhere with anyone. It has strengthened cross-culture communication.
On the other side, English is the key to communicate as people around the globe understand it. So Swedish people have a grip on both sides, i.e., good internet and English skills.
As a result, Swedes become proficient in English. Although it is not their native language, they can still speak like natives.
3. Cultural Diversity Is A Major Reason:
Sweden is one of the most civilized, developed and advanced European countries. Furthermore, it is full of natural beauty and architectural development.
The quality of education and balanced work-life is the cherry on the cake. Thus, people from all over the world go to Sweden.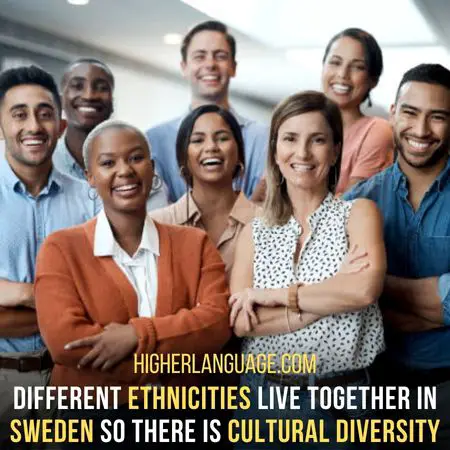 Different ethnicities live together in the country. So, there is cultural diversity in Sweden. And then, English serves as a medium of communication.
Luckily, Swedish people are very accommodating. They shift to English without offense when they find you can't speak their language.
This generosity helps them to have better control over English. Hence, Swedes have become fluent. That is why they maintain higher positions on the English Proficiency Index.
4. Consumption Of American Media:
Swedish people are very active in consuming American media. There is no restriction on the English content in Sweden like in other countries, i.e., North Korea, Iran, etc.
In their leisure, Swedish people love to watch English TV shows and films. And the interesting thing is there is no concept of dubbing in the local language.
In some cases, Swedes want subtitles in their native language. But most of them prefer the English language to enjoy its original meanings.
The Swedish are a happy and lively nation. They enjoy life to the fullest, listen to music, watch films and dramas, etc.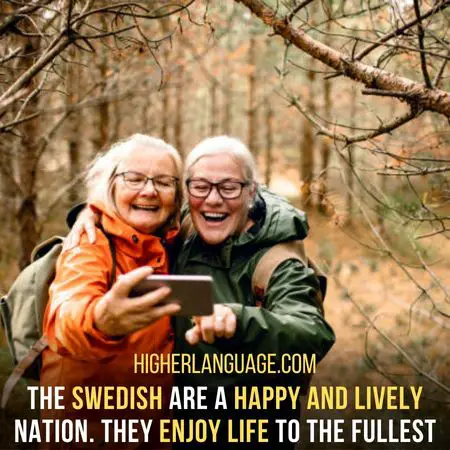 Most of the popular entertainment content is in English. Whether it's "Games Of Throne," "Barbie Cartoons," or "The Avengers series," English is everywhere!
Also, Swedes don't find shortcuts and dub the content. Instead, they consume original content and end up having a strong grip on English.
5. English Is A Global Language:
English is understandable in every country because it is an international language. Further, it has dominated global platforms like the internet, the entertainment industry, etc.
This is an era of information, and English is the medium. Now the most powerful business is selling information. The motivation behind this business is to gain a largest audience.
To cater to most of the audience, producers choose the English language. It helps because it has a wide range of speakers.
English is a dominant language. No matter if it's a website, film series, the music industry or social media content, it is everywhere.
Swedish people are very dynamic in world affairs. As a result, they are very active on every platform.
Due to Frequent exposure to such content, they have attained control over the English language.
6. International Workforce Play A Key Role:
Sweden is a rich country with annual GDP of $534 billion. You will find Sweden behind various successful multinational companies.
Too, Swedes are very dynamic in collaboration and interaction with international communities. Many multinational brands, i.e., Sandvik, Volvo, H&M, IKEA, etc., are Sweden based.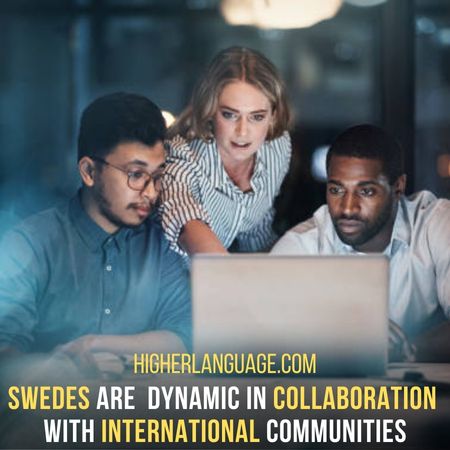 The success rate of a country depends upon annual GDP. And multinational companies play a key role in improving it.
The successful economy of a country attracts international communities. In the case of Sweden, many investors and employees have an interest in benefits.
Thus, the international workforce serves Sweden. In a working environment, everyone communicates in English. Swedish people also speak in English for better communication.
English is acceptable in public settings . Hence, most of the time, natives speak English and become proficient.
7. English Is Closer To Sweden:
English and Swedish belong to the Germanic branch of Indo-European languages. Having common ancestors, both have some similarities.
They share some vocabulary, sentence structures, and grammatical rules. For example, SOV structure is common in both languages.
Furthermore, many words are common in these two languages. For instance, in Spanish, potatoes are "Potatoes," and January is "Januari." In the same way, you can find many examples.
Although many factors matter. But, it is natural that we attract more to languages closer to our native language.
So, this is also a reason that Swedish people learn English more often with fluency.
8. Sweden Is A Tourist Destination:
Nature is kind towards Sweden. That's why it is full of natural views. The country has ancient palaces, towers, arctic landscapes, forests, and lakes.
Also, you can have a wonderful experience with yachts in the southern part of the country.
The government is very active in holding several activities every year for tourists. It includes concerts, exhibitions, fashion shows, sports, and cultural events.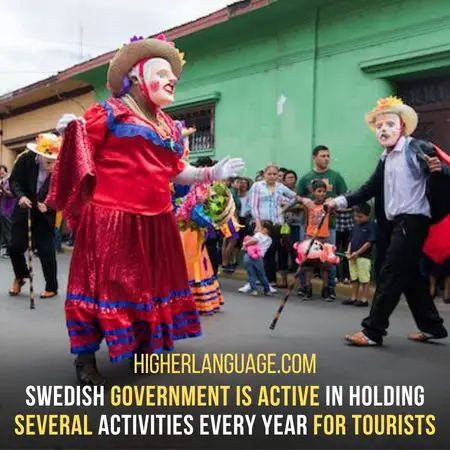 Many people around the globe attend these events. As a result, Swedes keep interacting with international communities. Again, they speak in English to accommodate foreigners.
Furthermore, countries having tourist spots are familiar with English. In the case of Sweden, people are not only knowledgeable but able to speak like a pro.
People in Sweden are very adaptive and smart. No wonder why Sweden excels in every field.
Final Words:
Swedes are one of the most productive and successful nations. From natural treasures to human efforts, Swedes have top rankings in every aspect of life.
This is the reason behind the success of Sweden. Of course, being a foreigner, everybody wants to settle there.
In such scenarios, the first thing to consider is "Do people speak English in Sweden?" or "Is it possible for English speakers to live in Sweden without knowing Swedish?"
Luckily the answer is, "Yes. Swedish people can speak English like a pro. They are literate in English from a young age. Moreover, keep practicing the language throughout their lives.
So if you wanna go or live in Sweden, you can do it without worrying about the language. Just go there and start your happy life!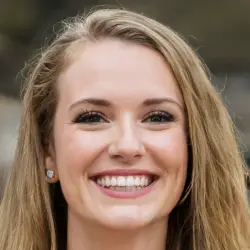 Latest posts by Sylvia Simpson
(see all)