There is no doubt that you can hear English being spoken everywhere around the globe. But "Do people speak English in Croatia?"
How prevalent is English in Croatia in reality? These can be the most common question that comes to everyone's mind before planning a trip.
Let's Surprise You!
Do People Speak English In Croatia – More Than You Think?
English is the most widely spoken foreign language in Croatia. Around 65% of the population can speak English to some extent. This is more than half of the population.
The population of Croatia is about 4 million, more precisely, 4,030,358 (2022). About 2.2 million of them can speak English fluently.
Interestingly, 80% of the population is bilingual. As a result, you may expect at least one out of every two Croatians to be able to communicate in English.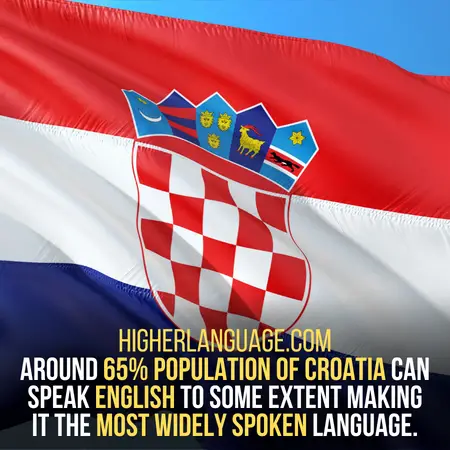 But it's important to remember that not everywhere in the country happens the same thing. The higher concentrations appear in larger cities, similar to most other countries.
Is Croatia A Multilingual Country?
Croatia is a multilingual country. The official language of Croatia is Croatian. Additionally, English and German are also spoken by more than one million people each in Croatia.
So you don't need to worry if you can't speak Croatian. As mentioned before, around 80% of Croats are bilingual. This 80% is divided as:
– 81% of them speak English
– 49% speak German
– 24% of them speak Italian
Official Language Of Croatia
What if someone asks you, "What is the official language of Croatia?" and your tongue slips, "Croatian?"
Yes, you would be correct. The official language of Croatia is Standard Croatian. It is closely followed by Standard Serbian and Standard Bosnian. 95% of the population is a native Croatian speaker.
The majority of the people in many regions/towns throughout Croatia speak Croatian.
Croatian was codified as an independent literary language in 1497. Prior to this time, it was merely referred to as "Croatian" or "Serbian."
The language is most closely related to Slovene. Both languages have many similarities in grammar and vocabulary.
There are also some differences between the Croatian dialects spoken by Croats and those living abroad.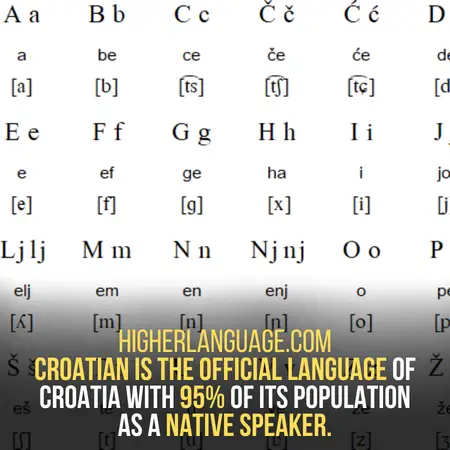 Croatian is spoken by approximately 4.5 million people worldwide. It's not the official language of only Croatia. It is also used as an official language in Bosnia, Herzegovina, and Montenegro.
Croatian is closely related to Serbian, Bosnian, and Montenegrin. However, they are not mutually intelligible.
English-Language Street Signs Are Ubiquitous
English-language street signs are ubiquitous in Croatia. You'll find them on the main roads, in the cities and villages.
Most of the road signs in Croatia have English on them. They are usually found in large cities or tourist areas like Split, Dubrovnik, and Rijeka.
You can also find them in some rural areas like Zagreb and Varaždin. They inform people of upcoming attractions, restaurants, hotels, and other services.
You can also see them near schools. This is to help students can learn both Croatian and English at home.
Most Croatians speak a little bit of both languages. Most people have picked up some basic English because of tourism. But you should expect to hear some words or phrases in Croatian.
Do People Speak English In Croatia – Generation Impact
In Croatia, the young people speak better English than the older population. Young people are more likely to get an education and be in the workforce. So try to find somebody like that if you visit Croatia.
If you're a foreigner, then you have an advantage over the locals. You can ask them questions, and they won't get offended. Just try not to come off as an arrogant American (or Canadian).
Do People Speak English In Croatia – Impact Of The Area
People speak English, but it is dependent on the area of Croatia. Most people speak English in tourist areas but not in rural areas.
To speak English in Croatia, you should first know what kind of environment you're going to be in.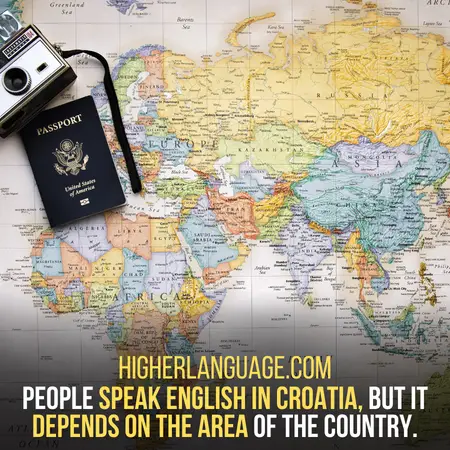 If you live in a big city like Zagreb or Split, chances are that more people will speak English than if you live in rural areas.
You can look for somebody with a map or perhaps just stare at their phone.
Is English Taught In Schools Of Croatia?
Yes, many schools in Croatia teach English as a subject. The Croatian education system has been praised by many as one of the most progressive in Europe.
There are many opportunities for students to learn English. The students have to deal with the fact that they are not native speakers of English.
They have to overcome this problem by learning how to understand and use English in an authentic way.
In other words, they learn how to communicate in English and not just memorize grammar rules.
Do People Speak English In Croatia – At The Workplace?
Yes, people speak English at the workplace in Croatia. It depends on the company and the job you have.
Young people widely speak English, and this has been changing over recent years. Older people are also learning it so they can communicate with younger generations.
Croatia is a country with many languages. English may not be the most common language spoken by locals in Croatia. But it is widely used as a second language.
The cities of Zagreb and Dubrovnik are both major English-speaking cities in Croatia. Many Croatians also speak multiple languages, such as German or Italian.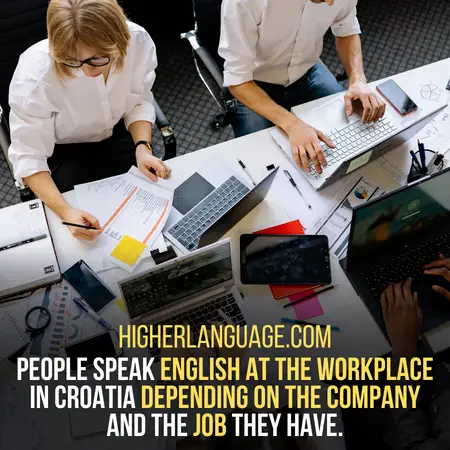 This helps them communicate with foreigners when speaking about business matters. This also makes the discussion about other aspects of life easy.
Job Opportunities For English-Speaking People In Croatia
The most common jobs that require English skills are tourism and education. These are two sectors where you can find many opportunities for employment. You can join as a teacher or tour guide.
If you want to work in Croatia's IT industry, it is best if you speak English fluently.
In general, there are many people who speak English but not professionally. Most employers may not hire someone who doesn't have the appropriate language skills.
Minority Languages Of Croatia
Croatia has a long history of being invaded by foreign powers. So people learned to speak the languages of their conquerors.
The most common languages in Croatia are Croatian and Serbian. Italian, German, Hungarian, and English follow them.
Croatian is the only official language of Croatia. But there are four recognized minority languages.
– Bosnian (a South Slavic language)
– Czech (a West Slavic language)
– Italian (an Indo-European language)
– Slovak (an East Slavic language)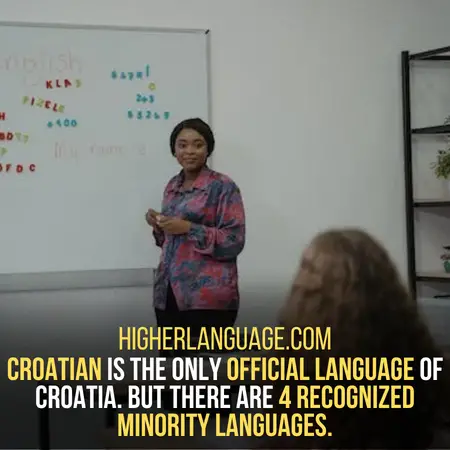 The use of minority languages is allowed in public areas and schools. But Croatian remains the dominant language.
In some areas, there are efforts to revive Old Church Slavonic. It was also used in Croatia during the Middle Ages.
Is It Important To Learn Croatian Before Visiting Croatia?
No doubt, English is spoken widely in Croatia. But you should learn a few key phrases in Croatian for your trip.
Croatian is the official language of Croatia. It's a Slavic language influenced by Turkish and Italian words over time.
It uses the Latin alphabet for writing it down. It has four different dialects (Chakavian, Kajkavian, Shtokavian, and Slovenian).
There are also some minor differences between these dialects. So it's important to learn some key phrases in Croatian if you plan on traveling around a lot during your trip!
About 4.5 million people speak Croatian worldwide. The majority of them live in Croatia.
Conclusion:
Croatia is a country in Southeastern Europe. It's bordered by Serbia and Bosnia-Herzegovina. It has coastlines on the Adriatic Sea and the Ionian Sea.
While visiting Croatia, you'll find English the most common foreign language spoken.
Plenty of signs and phrases appear on public transportation and in tourist attractions. These can help you navigate the country.
Still, learning a few phrases in Croatian is always a good idea. This will help you navigate your way around the country and make new friends.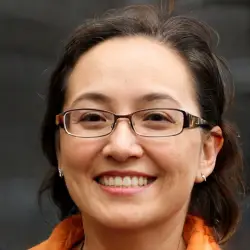 Latest posts by Elizabeth Williams
(see all)