Can you spot the difference between Chinese and Japanese? At first, it may appear that the Japanese language has descended from the Chinese.
After all, they use the same writing system, don't they? No, not quite!
Once you have identified the differences, it will be easier to tell about them. Each language has its set of complexities that may vary from language to language.
7 Major Differences Between Chinese And Japanese
Japanese had no written form. The adoption of Kanji resulted in the adoption of Chinese loanwords. According to Robert Oxman from Columbia University,
"The Japanese consciously and deliberately borrow — in this instance from China. Then they create a cultural synthesis which is uniquely Japanese."
It is also worth noting that Chinese cultural influence Japanese culture. To know more, here we will look at the 7 major differences between Chinese and Japanese.
1. Difference Between Chinese And Japanese Grammar Organization:
Chinese grammar only uses Hanzi characters. Its structure is simpler than the Japanese grammar structure.
The Chinese language does not have different forms based on gender. Also, it does not vary in singular/plural forms.
In Chinese, verbs do not conjugate and have only one form. It is like English language where it employs a subject, verb, and object (SVO) structure.
Chinese is a head-final language. It means that modifiers come before the words change. In a noun phrase, for example, the head noun comes last. It follows all modifiers, including relative clauses.
The Japanese language has "difficult" grammar. Because of the hiragana writing system, the Japanese have many more conjugations and particles. 
The grammatical difference between Chinese and Japanese are very profound. It forced the Japanese to adopt and handle characters. This is not only for meaning but also for phonetics.
The general order of sentence structure differs as well. The order is subject, object, and verb (SOV) in Japanese.
The good news is that every other part of the Japanese sentence is interchangeable. If you include a location, a time, a preposition, or anything else, it can go anywhere in the sentence. 
You are always good to go as long as you use the correct particle and put the verb at the end. The key point to remember is that: verb always comes at the end.
2. Difference Between Chinese And Japanese Tone Variation:
The meaning of your words in tonal languages changes depending on your "pitch accent." That is, on which syllable you emphasize.
The tone is an important part of the Chinese language and pronunciation. There are four tones in Mandarin (tonal language) Chinese, which are:
– The first tone: It is a level tone with a higher pitch.
– The second tone: Rising, beginning with a lower pitch and ending with a slightly higher pitch. 
-The third tone: Falling, beginning at a neutral tone,dipping to a lower pitch, ending at a higher pitch 
-The fourth tone: Falling, beginning the syllable slightly higher than neutral. Then it descends quickly.
For instance, depending on the tone, ma can be four different words (m – mother, má – hemp, m – horse, mà – scold)
On the other hand, Japanese does not use tones and has a much simpler pronunciation. Each syllable is the same length and consists of consonants and vowels.
Japanese speakers can form different meanings without a specific tone for each syllable. It occurs with a high or low distinction in their inflections.
The Japanese language consists of 45 syllables. The pronunciation is the same regardless of where they fall in a word.
The pitch of some words may affect their meaning. The context will allow for clear communication. 
3. Difference Between Chinese And Japanese Plural Forms:

You have heard that nouns in Chinese are the same in both singular and plural forms. Chinese nouns can be countable or uncountable.
The plural form will also be Chinese in more general, commonly used contexts. Yet, the plural form of Chinese can also be in more specific contexts.
This happens when referring to different types of Chinese or a collection of Chinese. Japanese people do not pay attention to plural and singular nouns.
The following methods can be useful to create plural forms of nouns, but they do not always work well:
– We can make a noun plural by repeating it twice.
– To make a noun plural, we add the suffix "tachi" after it.
– To make a noun plural, we add the suffix "domo" after it.
4. Polite Forms:
The majority of Chinese linguistic politeness depends on the lexical level. Some Chinese verbs combine with an honorific modifier, like nouns and proper nouns.
For example, there are some verbs like gào ("to tell"), huán ("to return"), etc.
The honorific prefix fèng, complements them. These verbs complement (Lit. to offer respectfully) to form the more polite versions. (I respectfully tell you) and (I respectfully return to you), respectively.
In contrast to Chinese, many forms of politeness incorporate into the grammar. The polite forms of speech are keigo, and there are three types based on formality. The formal forms are: 
– The polite form 
– The humble form 
-The honorific form
In the Japanese language, polite forms define status, position, and intimacy. Using the incorrect level of politeness can be perplexing and unprofessional. It can even be insulting to the Japanese.
It is important to be well aware of the appropriate level of politeness for each social situation when it comes to forms.
5. Difference Between Chinese And Japanese Writing System:
The number of writing systems included is another distinction between the two languages. The Japanese language has an advantage in this regard. It has three writing systems: 
-Hiragana
-Kanji
-Katakana. 
Kanji is more difficult to learn, but Hiragana and Katakana are easier.For example:
–私はベッドから出る
(I get out of bed).
–The blue characters are kanji, the orange are hiragana and the red are Katakana.
The Hiragana system fills in the gaps between the Kanji for grammatical accuracy. Katakana denotes borrowed names and words. Also, from other languages, such as the English word "Starbucks."
In contrast, the Chinese language has only one written system, which has roots in Hanzi. Since 1949, the government has promoted a simplified version of written Chinese.
This is to increase literacy. For example:
– 我起床了
(I get out of bed).
The blue characters are hanzi.
The Chinese writing system requires approximately 3000 to 4000 words to function. The Japanese writing system expresses its language using three different ways. 
Japanese are unable to find an appropriate Chinese character to express their feelings. They invent new words to express exactly how they feel.
6. All About Numbers In Chinese And Japanese:
Many ancient languages, including Chinese and Japanese, have distinct numbering systems. The writing structure of these languages is the same. They appear to be the same language while writing.
Those having a keen eye can tell the difference between Chinese and Japanese writing. This is possible while considering the shape of the characters.
Chinese characters are more square-shaped, whereas Japanese characters are more curvy.
7. Reading Kanji Vs. Hanzi:
The Chinese and Japanese pronunciations used in both languages are Hanzi and Kanji. It refers to the Chinese characters used in both languages.
Chinese is entirely in hanzi. At the same time, the Japanese make extensive use of Chinese characters.
But are hanzi and kanji interchangeable? They are "Chinese characters," but do the character sets match?
Let us have a look at this! Kanji and hanzi are similar. But the number of ways the same character reads always differs.
There are only two ways to read a hanzi in Chinese, but there could be many more in Japanese.
In Japanese, the character for sun or day can be nichi, jitsu, hi, bi, or ka. In Chinese, the same character can only be ri.
Conclusion:
Chinese can be both a rewarding and difficult language to learn. The grammar is completely different from what we use in European languages.
The pronunciation rules are incomprehensible, and the writing system is complex. 
As long as you are not tone-deaf, Chinese is an easy and approachable language for beginners. While comparing it to Japanese, it is easier than Japanese at first.
In the beginning, there are many traps that you can fall into with Japanese that do not seem to exist in Chinese. 
When it is about pronunciation, we can not deny it. Chinese tones present a significant challenge that the Japanese do not.
Then, what about grammar? Here, the Japanese have taken the position in difficulty level. It is not true that "Chinese has no grammar," as some claim.
Its grammar is delightfully simple, especially when compared to agglutinative Japanese.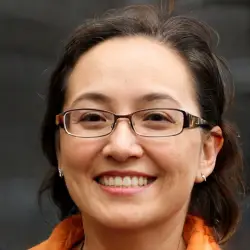 Latest posts by Elizabeth Williams
(see all)