When it comes to how long does it take to learn Japanese, the answer varies greatly depending on how much time and effort you're willing to invest.
It can take quite a while to start from scratch before you feel comfortable enough to hold even a basic conversation in Japanese. So let us look at various factors regarding it.
How Long Does It Take To Learn Japanese?
That is a difficult question, as it depends on how you define "learning" Japanese. Do you want to be able to understand spoken and written Japanese? Or do you want to be able to communicate in day-to-day conversational Japanese?
Depending on the level of proficiency you are aiming for, the time frame for how long does it takes to learn Japanese can vary greatly.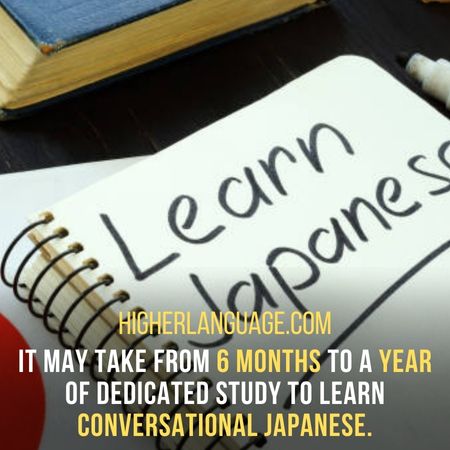 It may take anywhere from 6 months to a year of dedicated study if you want to communicate in day-to-day conversations.
That requires consistent practice and effort and studying grammar, vocabulary, and pronunciation. You will also need plenty of practice speaking with native speakers.
If you aim for a higher level of proficiency, such as being able to read and write Japanese at full fluency, it could take anywhere from 2-5 years or more, depending on how much effort you put in.
This timeline can be significantly shortened if you devote yourself to learning and practicing the language regularly.
No matter how long you decide to dedicate yourself to learning Japanese, it is always a rewarding experience!
Learning a new language can open up many opportunities for you and give you a new perspective on life.
A few important linguistic factors will determine how quickly you learn Japanese.
Your native language, how frequently you use the language, and how much time you spend studying each day.
If your native language is similar to Japanese in terms of grammar and pronunciation, it may take less time for you to pick up on how to speak the language.
Let us look at some factors that can effect and help in your Japanese learning process.
1. How Frequently You Use Japanese:
The more you use a language, the easier it will be for you to learn how to speak and understand it.
Try to immerse yourself in Japanese culture by watching movies or television shows in Japanese.
Plus you can attend local events that focus on the language, or even just listening to people speaking in Japanese as much as possible.
This way, you will become familiar with how the language sounds and start picking up on the words used.
2. Exposure To The Japanese Language:
Learning how to speak Japanese is often easier than how to read and write it.
If you have access to Japanese media, like television shows or movies, it can make it much easier to pick up on how the language sounds and how words are used in context.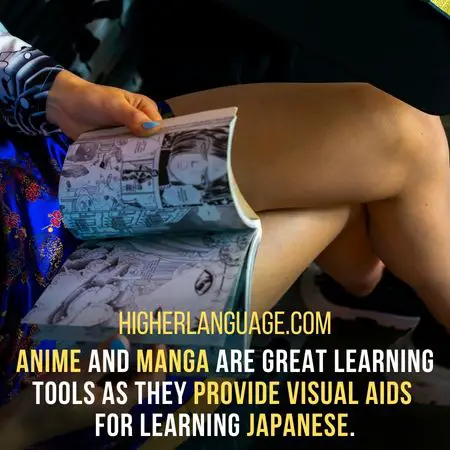 Anime and manga can also be great learning tools as they provide visual aids to how the language is structured and certain words are used.
Plus, it is easier to learn something if it is entertaining. Even listening to music or studying with a native will give you a better idea of pronouncing words and using them in conversation.
3. Your Prior Knowledge of Japanese:
If you have some knowledge of how Japanese grammar works, then this could speed up your learning process.
If not, it's important to spend time researching grammar rules and how Japanese works before diving into the language.
You may even want to take classes or lessons at your local college or language school.
Learning how to read and write Japanese quickly is possible even if you have no prior knowledge.
4. What Type Of Learner Are You:
Everyone learns at different rates and in different ways, so it's important to consider how you learn best when trying to estimate how long it will take to learn Japanese.
Some visual learners pick up the material quickly by reading or watching videos.
Others are auditory learners and may benefit from listening to Japanese podcasts or music.
Some people learn best by practicing conversation, while others do better with writing exercises.
Knowing how you prefer to study can help you determine how long it will take to become proficient in the language.
5. How Committed Are You:
Commitment is also a huge factor in how long it will take to become proficient in Japanese.
If you're taking classes or studying on your own, how often are you able to practice?
If you can dedicate a few hours each day to learning the language, your progress will be faster than if you only have an hour or two every week.
Additionally, how motivated are you? Are you taking classes as a hobby, or do you plan to use your Japanese daily shortly?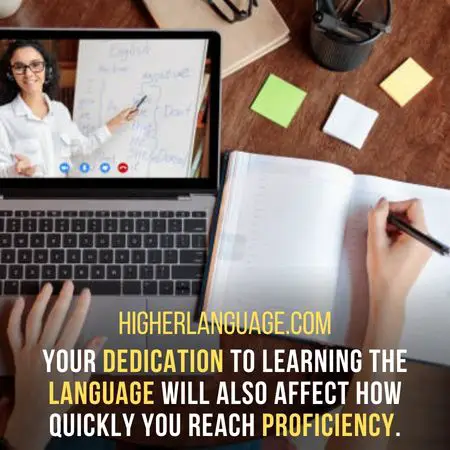 Your dedication to learning the language will also affect how quickly you reach proficiency.
6. If Your Native Language Is Similar To Japanese?
If you are already proficient in a language similar to Japanese, such as Korean or Chinese, the time it takes to learn Japanese will be much less.
For example, Chinese and Japanese share many words and kanji characters.
So if you're already familiar with how those languages work, you can apply much of your knowledge to learning Japanese.
In addition, Chinese, Japanese and Korean have similar writing systems, grammar, and pronunciation.
For example, they all use particles to indicate the grammatical roles of words in a sentence, and the same characters are often used for different sounds.
Hence if you know this language, it will be easier for you to learn Japanese.
7. How Much Time Are You Willing To Put In:
The time it takes to learn Japanese will depend on how much time and effort you are willing to put in.
If you have the ability and resources to dedicate yourself full-time, then you can become fluent in a relatively short time (6–12 months).
On the other hand, if you're studying part-time, it will likely take a few years.
Immersing yourself in the language is an effective way to learn Japanese because you can practice your skills with native speakers and make faster progress.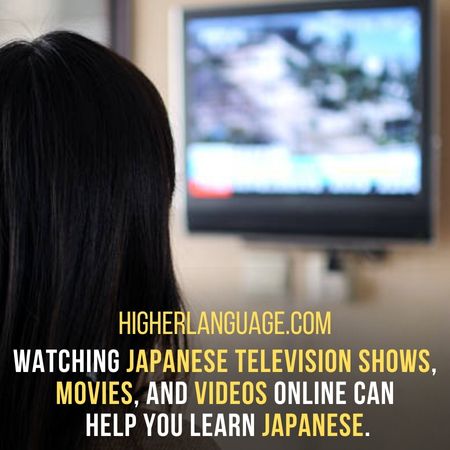 You can also attend language classes or watch Japanese television shows, movies, and videos online.
This way, you can get used to how the language sounds and how it is used in different contexts.
With the right approach, you can learn basic Japanese in about a year, including reading and writing hiragana (one of the writing systems).
However, learning more complex topics such as grammar or Kanji (another writing system) may take longer, depending on how much effort you're willing to put in.
5 Key Points For Learning Japanese
There are various key points essential to know before you start learning Japanese.
Firstly, you must familiarize yourself with how the language works and is used.
Secondly, you should make use of effective learning methods such as reading, listening, and speaking practice.
Thirdly, you must immerse yourself in the language as much as possible by attending regular classes or watching Japanese television shows and movies.
Here are 5 key points essential for learning Japanese.
1. Learn Japanese Alphabets:
The modern Japanese language is written in three different alphabets, i.e., hiragana, Katakana, and Kanji.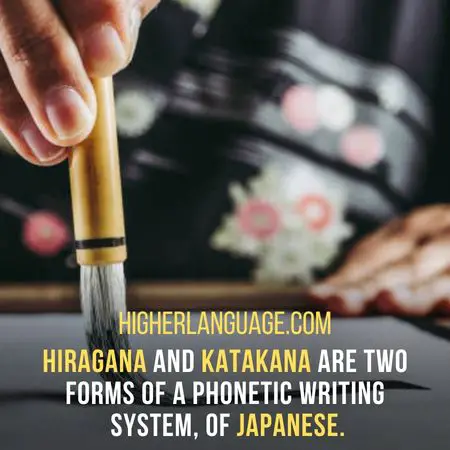 Hiragana and Katakana are two forms of a phonetic writing system, while Kanji is a form of Chinese characters used in the written form of the language.
As such, it is very important to master all three alphabets. Learning these alphabets is one of the key points in learning Japanese and can take some time, depending on how quickly you learn.
2. Learn Grammar Structures:
Learning grammar is essential to understanding how sentences are formed in the Japanese language.
Several grammatical structures, such as verbs, nouns, particles, and conjugation rules, must be learned before using them correctly in a sentence.
It will take some time to get a handle on how the grammar works, but with practice and patience, it will become easier.
3. Memorize Vocabulary:
Memorizing how to read, write, and pronounce words in a foreign language can take time and effort.
It is important to learn how to use the words in different contexts and use them correctly in conversation.
As with any language, it will take a lot of practice to get used to hearing and saying these words.
4. Familiarize Yourself with Writing:
Writing is an important skill when learning a new language.
It would help if you familiarized yourself with how to write in Japanese by studying how it differs from English and how words are constructed.
In addition, it helps if you learn how to read and understand the characters' writing.
5. Understanding Basic Grammar:
Grammar can be one of the trickiest parts of learning a language.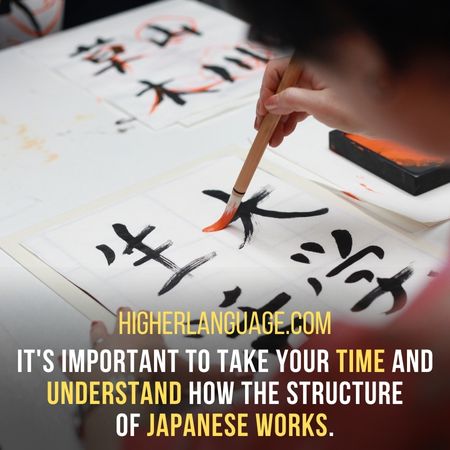 It's important to take your time and understand how the structure of Japanese works.
That can involve studying how the different forms of words change, how verbs are conjugated, how adjectives work, and how different particles are used.
Final Thoughts:
Remembering how long does it takes to learn Japanese largely depends on how much time and effort you put into studying it.
It can take anywhere from a few months to several years to learn Japanese, depending on how much effort you put into studying.
While there is no one definitive answer as to how long it takes, the more dedication and commitment you apply, the faster you may be able to learn.
If you dedicate yourself to learning the language, understand how different parts of the language work, and practice regularly.
You should start noticing progress in a reasonable amount of time. Then, you can learn how to communicate in Japanese with patience and dedication!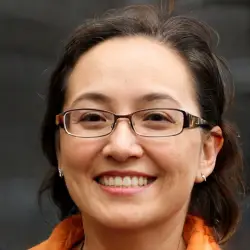 Latest posts by Elizabeth Williams
(see all)