When it comes to British slangs for going to bed, there's no shortage of interesting phrases that may have you scratching your head.
From 'nipping off' to 'bunking down,' let's explore some of these expressions and appreciate their unique charms!
12 British Slangs For Going To Bed – Let's Lit Up Your Lingo Today!
Going to bed may seem straightforward, but when it comes to British culture, there's a new realm of slang to navigate.
From "kip" to "having forty winks," there are countless phrases to describe hitting the hay, but why bother familiarizing yourself with them?
Understanding and using British slangs for going to bed can help you better connect with locals and make friends.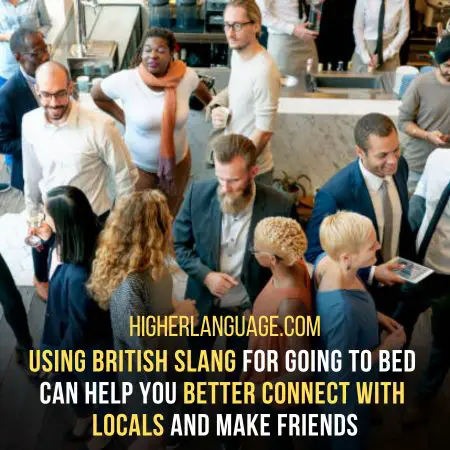 Plus, using these phrases can add a touch of charm to your language and make you sound like a proper Brit rather than a tourist.
So, before you hit the sack tonight, take some time to learn a few British slangs for going to bed – your dreams (and your social life) may just thank you for it.
1. Hitting The Hay – Going To Bed:
There's nothing quite like hitting the hay after a long day of work or play, am I right? But did you know that the phrase "hit the hay" originated from the old days when mattresses were stuffed with hay?
Nowadays, we thankfully have much more comfier options for our slumber needs. However, the importance of getting a good night's sleep remains the same.
Not only does it help us feel more refreshed and energized for the next day, but it also plays a crucial role in maintaining our overall health and well-being.
So go ahead, hit the hay, and rest easy knowing you're doing your body a much-needed favor.
2. Log Off – To Get Off The Computer And Go To Sleep:
Are you still scrolling through your social media feed at 3 am? Well, it's time to log off and hit the hay! Your body and mind need rest to function properly.
The internet can be a bottomless entertainment pit, but your health should come first. So, power down your computer, put down your phone and close those tired eyes.
Trust me; you'll thank yourself in the morning. Plus, the internet will still be there when you wake up, waiting for your next scroll-a-thon. So, go ahead and log off; sweet dreams!
3. Snooze – To Take A Nap:
Are you feeling sleepy and need a quick pick-me-up? Look no further than a good old-fashioned snooze! Yes, that's right, napping is not just for babies and cats.
Studies have shown that taking a 20-minute nap can increase alertness and productivity for the rest of the day.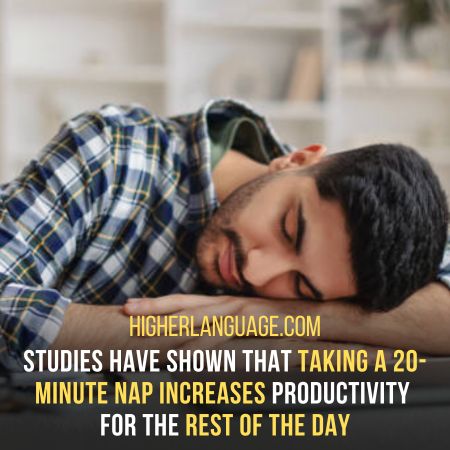 So grab a pillow and blanket, and find a cozy spot to catch some Z's. Remember not to nap too close to bedtime or you might be wide awake all night. Happy snoozing!
4. Calling It A Day – Having An Early Night:
We've all been there – it's been a long day at work, you're exhausted, and all you want to do is climb into bed and drift off to sleep.
But wait a minute, is it possible that calling it a day and having an early night is the answer to all our problems?
Experts say that it is important to get enough sleep. Not getting enough sleep can cause problems like being overweight or feeling sad.
So, if you're feeling tired and run down, it's time to take a step back and prioritize your sleep. Trust us, your body will thank you for it.
5. Catching Some Z's – Taking A Nap:
Are you feeling drowsy? Maybe it's time to catch some Z's. If you're lucky enough to have the luxury of taking naps, you're in good company.
Famous nap enthusiasts include Leonardo da Vinci, Albert Einstein, and Winston Churchill. But how long should you nap for maximum benefit?
Believe it or not, the ideal nap length depends on what you need it for. A 20-minute nap can boost alertness and improve motor skills, while a 90-minute nap can improve creativity and memory consolidation.
So whether you need a quick pick-me-up or a mental recharge, the power of napping is at your command.
6. Have Forty Winks – Take A Short Nap:
Do you feel tired? Do you need a quick way to recharge to get through the day? Well, have no fear; the power of the nap is here!
Taking a quick forty winks has increased productivity, improved focus, and even boosted creativity.
Just imagine, in the time it takes to scroll through Instagram, you could enjoy some much-needed shut-eye. So, find a comfy spot, close your eyes, and let yourself drift away.
You'll wake up feeling refreshed and ready to tackle whatever the day throws your way. So go ahead and take that nap; it's a win-win situation – you won't regret it!
7. Shelling Up – Going To Bed After Midnight:
Shelling up, or going to bed after midnight, might seem like a habit reserved for college students and night owls.
But did you know that your body has a natural sleep-wake cycle, and disrupting it can negatively affect your health?
Studies have found that when you stay up late, past midnight, your body has a harder time making sleep hormones. This makes it hard to fall asleep and wake up the next day.
So while staying up late may seem tempting at the moment, consider the long-term effects and try to prioritize getting enough rest.
It's not just being a morning person or a night owl – it's about caring for your health.
8. Turn In – I'm So Tired, I Think I'm Gonna Turn In:
As the night wears on, we've all been there – feeling exhausted and ready to turn in. Maybe it's after a long day at work, a late-night study session, or just an epic Netflix binge.
Whatever the reason, our bodies are begging for sleep. And while it can be tempting to power through and stay up late, it's crucial to prioritize our rest.
After all, a good night's sleep can improve our productivity, mood, and overall well-being.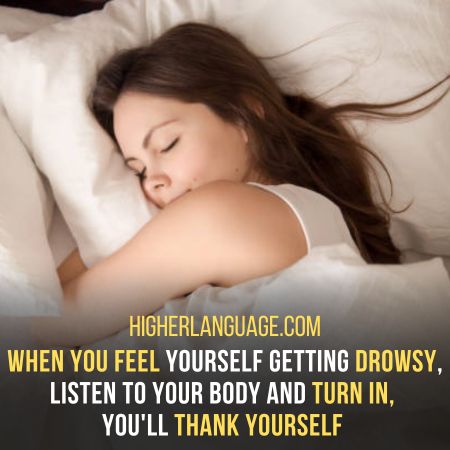 So the next time you feel yourself getting drowsy, listen to your body and turn in – trust us, you'll thank yourself in the morning.
9. Pack it in – It's Getting Late, Time To Pack It In:
As the sun sets on another day, it's time to pack it in and call it a night.
Whether working hard at the office or playing hard in the great outdoors, knowing when to call it quits is essential for maintaining a healthy work-life balance.
So, pack up your laptop or gear and head home feeling accomplished and ready to tackle whatever tomorrow brings.
Remember, a good night's sleep is as important as a productive workday, so embrace the peace of mind that comes with knowing you've given it your all for the day.
10. Draw Your Curtains – Time To Draw Your Curtains For The Night:
Are you ready to draw your curtains for the night? It's the perfect time to cozy inside your little nest and shut out the outside world.
But did you know that drawing your curtains can serve a practical purpose beyond just aesthetics?
By closing them, you're creating a barrier against the cold air that can seep through the windows on chilly nights.
Plus, it adds a layer of security and privacy – no one can see in and disrupt your peaceful slumber. So, go ahead and give those curtains a pull.
Let's get ready to snuggle up and enjoy a restful night's sleep!
11. Curtaining Up – Going To Bed Late At Night:
Are you a night owl? Do you find yourself consistently burning the midnight oil? Well, say hello to your new best friend: "curtaining up."
That's right, by drawing the curtains and blocking out external light sources, you can create the illusion of a cozy, nighttime atmosphere – even during the day!
This trick is especially helpful for those who prefer working late into the night; it can be hard to wind down when the sun is still out.
With "curtaining up," you can create a peaceful, dark environment that will make it easier to drift off to dreamland, no matter the time of day.
So embrace your inner night owl – just make sure to draw those curtains tight!
12. Sack Out/Crash Out – Go Straight From Being Awake To Asleep:
Have you ever been so exhausted that you just "sacked out" or "crashed out"? It's like someone flipped a switch, and you went from wide-eyed and alert to snoring in seconds.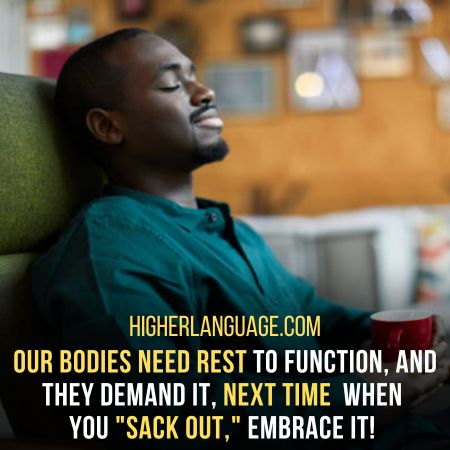 While it may seem like a superpower, it's quite common. Our bodies need rest to function, and occasionally they demand it. So the next time you "sack out," embrace it! Your body knows what it needs.
Just set the alarm if you have important appointments or work in the morning. Sweet dreams, sleepyhead.
Conclusion:
Who knew Britain had such a unique and colorful way of expressing itself? It's been fascinating looking at how Brits talk about going to bed, from throwing a shut eye to snatching a bit of forty winks.
From calling yourself an old boy to grandma toddling off. There are many British slangs for going to bed.
Thus, when it is time for bed, pick a phrase that you like so you can have the best night's sleep. So why not give some of these slang terms a go and see how they suit your fancy?
Before you know it, you'll sleep like a log with all the best British slang at your disposal!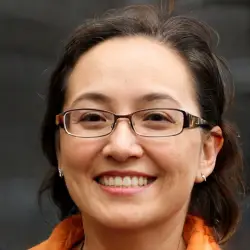 Latest posts by Elizabeth Williams
(see all)