Before we hit the hay, let's talk about Australian slangs for goodbye. Aussies are known for their unique language, and saying "goodbye" is no exception.
Like, Instead of the usual "bye", you might hear them say "cheers." So, when you are down under, don't be afraid to use the local slang and say your goodbyes like a true Aussie mate!
11 Interesting Australian Slangs For Goodbye!
If you're ever in Australia, you might be confused when someone bids you farewell with "Ta-ta," "Hooroo," or "See-ya-later-alligator."
Don't worry; they're not practicing their animal impressions; they're just using some of the country's many slang terms for goodbye.
Aussies are notorious for their unique phrases and colloquialisms; their goodbye lingo is no exception.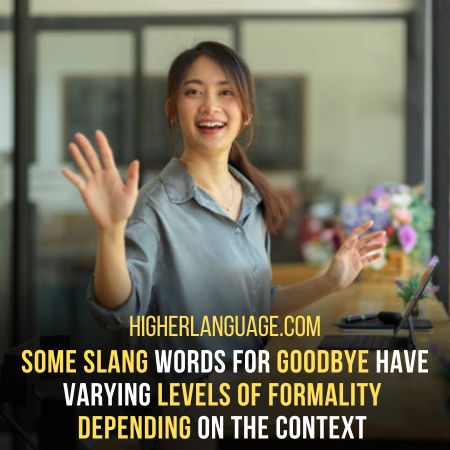 Interestingly enough, some slang words for goodbye have varying levels of formality depending on the context in which they're used.
So whether you're trying to fit in with the locals or just looking to expand your vocabulary, mastering Australian slangs for goodbye is a must.
1. Cheerio – A Fun Way To Say Goodbye:
Had enough of the same old "goodbye"? Let's add some flavor by saying "cheerio"! A jubilant way to bid farewell, cheerio is a British tradition that will liven up your interactions with loved ones.
"cheerio" is derived from the word "cheer," which means to show enthusiasm or joy.
When you say "cheerio," you're not just saying goodbye; you wish the other person happiness and joy on their journey.
When you're ready to say goodbye, try saying "Cheerio". It will make people smile. Maybe even start a new trend!
2. Keep In Touch – An Expression That Encourages Further Contact:
"Keep in touch" is more than just a simple phrase. Maintaining a connection or relationship with someone is a call to action.
Think about it – whenever you've heard those words, you most likely feel a sense of warmth and sincerity from the person saying them. But how do we keep in touch?
You can start by utilizing social media, Skype, or email.
Or, if you're anything like me, you could also resort to the classic pen and paper method (there's something magical about receiving a handwritten letter, am I right?).
Whatever method you choose, keep the conversation going and let that person know they are valued in your life.
3. Ta-ta – A Playful Expression Of Farewell:
When it comes to saying goodbye, there are a lot of options. From the formal "goodbye" to the laid-back "later gator," there are plenty of ways to send someone on their way.
But one of the most playful and entertaining farewell expressions must be "ta-ta."
This whimsical phrase is perfect for friends or family, and it's a surefire way to bring a smile to anyone's face.
When you are saying goodbye to someone, try saying "ta-ta". It will make the moment light and happy.
When you're looking for a fun and endearing way to bid farewell, why not try " ta-ta "? Your loved ones will surely appreciate the gesture!
4. Catch ya later – An Informal "See You Soon":
Catch ya later is a casual and friendly way of saying, "see you soon." It's more playful and laid-back than the standard "goodbye."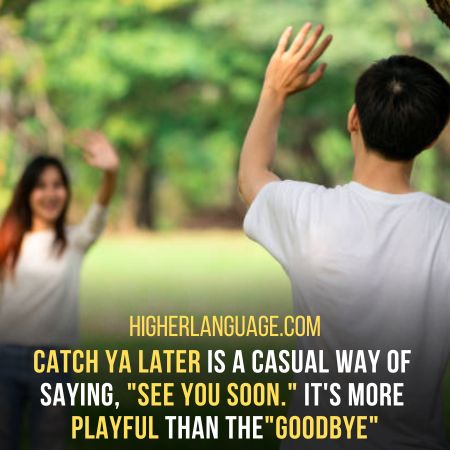 It's perfect for those moments when you're not ready to say goodbye but you don't want to commit to a specific time and place for the next meeting.
This phrase is commonly used between friends and family members who know they will see each other again soon.
So, the next time you're wrapping up a conversation with someone, give them a wink, flash a grin, and say, "catch ya later!"
5. Laters – Short For "See You Later":
Laters, the abbreviated version of "see you later," is a phrase that has taken the world by storm.
Whether used to end a phone conversation or to say goodbye to a group of friends, this phrase has become a staple in our everyday vocabulary.
With its fun and playful tone, it's no wonder why people can't get enough of it. But did you know that the word "later" comes from the Old English term "lǣt"?
Back then, it meant "slow" or "sluggish," but thankfully, we've managed to jazz it up a bit.
Spice up your conversations by saying "laters" instead of "goodbye." Your friends are sure to appreciate it!
6. G'day Mate – A Way To Say Goodbye:
"G'day mate" – a phrase that's as iconic to Australia as koalas and kangaroos.
While it's often a greeting, it's also a way of saying goodbye, especially when something funny or lighthearted has happened.
The phrase encapsulates the easygoing, friendly nature of Australian culture.
But where does it come from? Some say it's a shortened version of "Good day, my friend," while others believe it comes from the Irish "Dia dhuit" meaning "God be with you."
"G'day mate" is more than just a saying. It is a way for Australians to show friendship and kindness to each other. Just saying "G'day" can make someone happy.
7. Seeya Later – A Goodbye In An Informal Way:
When it's time to bid farewell to your mates, you don't want to sound like a broken record chanting the same old adios or later. So that's exactly when "Seeya later" comes in handy!
It's like the perfect last hurrah before the actual goodbye, you know? It's super chill and hip, and you can't emote it in a stuffy business setting.
Seeya later is all about the mates, the pals, the bros, and sisters who make you feel alive and happy.
The next time you say goodbye to your friends, tell them, "Seeya later!" Watch their faces light up with a smile. Everyone will be happy!
8. Bye For Now – A More Casual Version Of Saying Goodbye:
If you can never find the right way to say goodbye, then "Bye for now" might be the perfect phrase for you.
This casual farewell version is a great way to let someone know you're not saying goodbye forever, but only for now.
It's a friendly and comforting phrase that can help ease any awkwardness when you part ways with someone.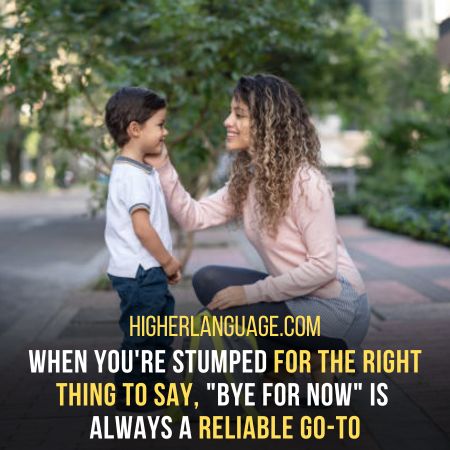 Plus, it's versatile enough to use in almost any situation, whether you're saying farewell to your best friend or boss. When you're stumped for the right thing to say, "Bye for now" is always a reliable go-to.
9. Hooroo – A Pure Local Slang For Goodbye:
If you're a fan of the Big Apple, chances are you've heard of Brooklyn's proud linguistic traditions. The borough boasts its own unique slang, including the word "hooroo."
You might be wondering, what exactly does "hooroo" mean? Well, my friend, strap on your Timbs and listen up.
"Hooroo" is simply Brooklynese for "goodbye." That's right, if you want to sound like a true Brooklynite, just toss out a casual "hooroo" as you part ways with someone.
But be warned, if your accent isn't up to par, you might end up sounding more like a tourist than a local. So practice those "o's" and "r's" and get ready to bid farewell in style. Hooroo for now!
 10. Matey-O – A Friendly Farewell:
Greetings, seafaring friends! Today we embark on a journey of language and meaning to uncover the secret behind "matey-o," the delightful phrase used to bid farewell to our nearest and dearest.
While the term's origin is shrouded in mystery, one thing's for certain: it's a delightful way to express affection and camaraderie.
Whether saying goodbye to your lifelong best friend or bidding adieu to a beloved family member, "matey-o" is the perfect way to let them know how much they mean to you.
The next time you say goodbye to your loved ones, don't forget to give them a hearty "matey-o!" for an extra special farewell.
11. Catch Ya On The Flip Side – Meaning See You Soon:
If you want to end a conversation on a more casual note, then "Catch ya on the flip side" might just be the saying for you.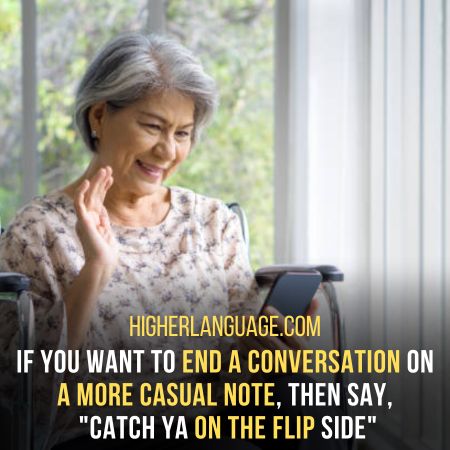 This playful phrase means "see you soon," and is the perfect sign-off for those who like to keep things lighthearted. But where did it come from?
Well, it dates back to the days of vinyl records, where the "flip side" was the B-side of a single.
While the A-side was always the show's star, the flip side was still important, and fans would often flip the record over to listen.
So if you're looking for a fun way to say goodbye, why not try "Catch Ya on the flip side"?
Conclusion:
When you're ready to wrap things up, it's time to pull out the Australian slangs for goodbye.
No need to stick with the usual "see you later" or "farewell" because Aussies have a whole host of quirky phrases to bid farewell.
From the classic "ta" or "cheers" to the more unconventional "g'bye" or "Hooroo," there's a farewell phrase for every occasion.
To truly leave an impression with your Australian contacts, try weaving a "See ya later, mate" and a "Catch ya round like a rissole!" into the conversation!
So don't be boring with your goodbyes when in Australia – embrace the terminology and say g'day to some new slang!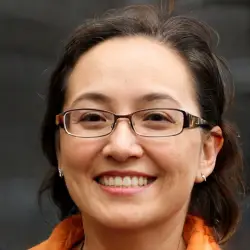 Latest posts by Elizabeth Williams
(see all)