Latin is a complex language with a long and rich history. Learning it can be a fun experience, but how long does it take to learn Latin?
Learning how to speak and write Latin depends on various factors. Let us look at those factors in detail.
How Long Does It Take To Learn Latin?
Learning any language, including Latin, is a process that takes time and dedication.
However, how long it takes to learn Latin depends on how much of the language you need to know.
The process can be short for someone to grasp the language and understand some key phrases and concepts.
With just a few months of regular studies, you can start understanding how Latin is structured and used.
The process will take longer for someone looking to become proficient in the language.
In this case, you would need to study the language regularly for months or even years.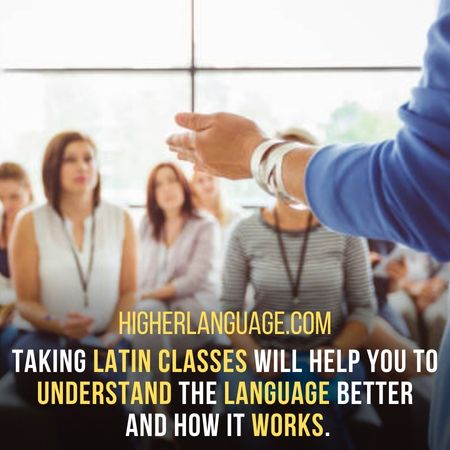 Consider taking Latin classes to help you better understand the language and how it works.
No matter how long it takes, learning Latin is an incredibly rewarding experience.
It can open up a new world of literature, history, and culture that would otherwise be inaccessible.
The dedication required to learn Latin pays off in many ways!
Is Latin A Hard Language To Learn?
Latin is an ancient form from the Indo-European family that was spoken in the Italian peninsula before 800 BC.
However, it eventually spread all over Europe and became the foundation for many modern Romance languages like Spanish, French, Portuguese, Romanian, and more.
It began to decline in popularity during the Middle Ages but still persists.
Latin is an inflected language, meaning how words are used in a sentence can change the meaning.
That makes Latin more difficult to learn than other languages like English, which rely mostly on word order to convey meaning.
Additionally, many Latin words are derived from Greek, so you must have some knowledge of the Greek language to understand Latin fully.
Whether Latin is hard or not depends on how you approach learning it. It should be easy if you devote yourself to regular study and practice.
Understanding the basics of how nouns, verbs, and other parts of speech work to build a strong foundation for your studies is important.
That said, reaching fluency in Latin can take years of hard work and dedication.
However, with the right resources and dedication, you can learn to read and write Latin like a pro.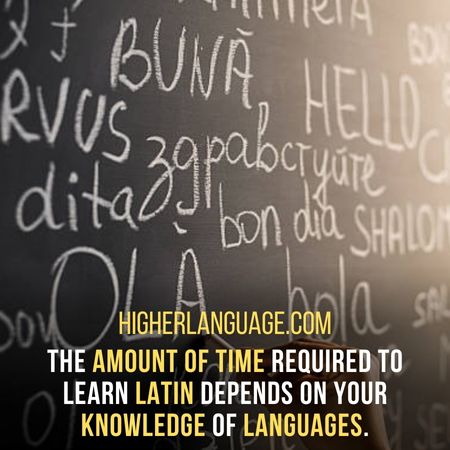 The amount of time required to learn Latin will depend on your knowledge of languages.
If you have previous experience learning a language, it could take less time to pick up Latin.
However, the more familiar you are with how languages work in general, the faster it will be for you to understand how Latin works.
11 Factors Contributing To Learning Latin
Various factors contribute to how long it takes to learn Latin.
These include how much time you're willing to dedicate to learning Latin every day.
How quickly you pick up new concepts, and how well the resources you are using are helping you understand Latin.
Additionally, how comfortable you are with reading text in another language can also impact how fast you progress.
Here are some major factors contributing to your learning of Latin.
1. Learning How The Language Works:
Before speaking Latin, you need to understand how it works. You'll need to learn how words are formed and how they combine.
That involves studying the grammar and syntax of the language as well as its pronunciation rules.
Latin grammar is easier to learn than most other languages. This part should take 1-2 months from alphabet to sentence structure, knowing the basics and then moving to form sentences and paragraphs.
This way, you will be able to practice th language independently.
2. Memorizing Vocabulary:
Once you understand how the language works, the next step will be learning how to use it in conversations.
That involves memorizing words and phrases you can use when speaking with others.
Depending on how much you need to learn, it can take anywhere from a few months to a year.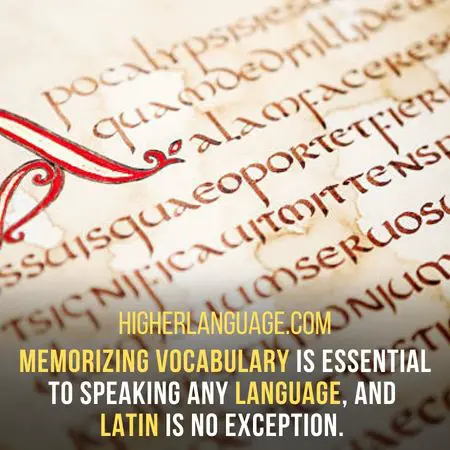 Memorizing vocabulary is essential to speaking any language, and Latin is no exception. Next, you'll need to learn to say and spell words correctly.
3. Learning How To Read Latin:
Learning to read and pronounce Latin words correctly is important, as this will help your understanding of the language.
In addition, you should get familiar with different Latin texts and become comfortable with how they sound when spoken.
This part should take around 2-3 months, depending on how much time you dedicate to it.
4. Keep Practicing:
Using it constantly is the only way to become proficient in a language.
However, you'll need to practice once you have a solid understanding of how the language works and how to speak it correctly.
That is where things get tricky. Latin is more commonly spoken than other languages, so finding someone to practice with can be difficult.
If you don't have a native speaker in your area, consider joining an online community or attending a live event like a Latin language class or meetup.
5. Exposure To Language:
It's important to surround yourself with Latin to absorb how it sounds, and the language works.
That doesn't necessarily mean you need to find a native speaker. However, there are plenty of resources available online.
Look for authentic written sources like newspapers, books, or blogs in Latin, as well as audio recordings and videos.
You can also find helpful language-learning apps and websites that can give you exposure to Latin.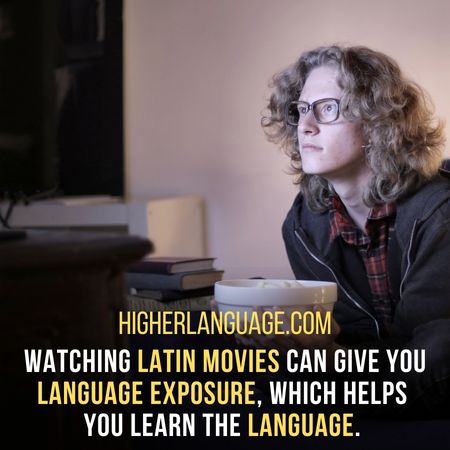 Watching Latin movies can also give you language exposure.
6. Stay Committed:
Learning Latin takes time and commitment. If you're serious about learning the language, dedicate a set amount of time each day or week to studying, such as 30 minutes to an hour.
Also, practice whatever materials you've been working on until they become fluent.
That could involve writing sentences, translating passages from Latin to English or vice versa, and conversing with native speakers or other language learners.
7. Find A Study Partner:
Having a study partner can encourage you to stay on track while learning Latin.
You can exchange materials, practice conversations, or create tasks for each other to complete.
That will help ensure you're doing your best to focus on the language and practice regularly.
Plus, practicing will help you review the concepts repeatedly and solidify them in your memory. Having a study partner can also be encouraging.
8. Native Language Similarity To Latin:
You may learn Latin more easily if you speak a Romance language such as Spanish, Portuguese, or Italian.
That's because these languages are similar to Latin — structure, and vocabulary.
That can make understanding how the language works much more straightforward and provide an easier road to fluency.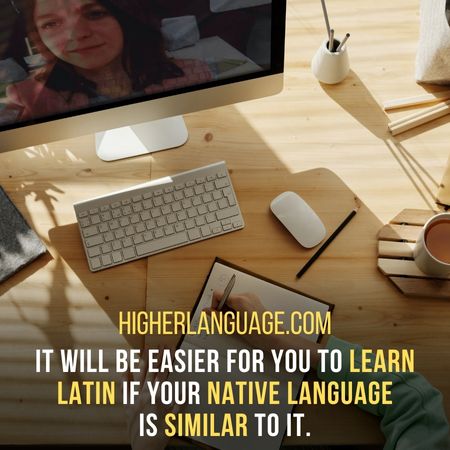 Hence if your native language is similar to Latin or shares roots with it, then it would be easier or you to learn Latin.
9. Be Dedicated To The Process:
Regardless of how quickly you want to learn Latin or how similar it is to your native language, dedicating yourself to the process will be essential.
That means having a schedule for studying and sticking to it as much as possible.
Once you have a routine, learning Latin can become an enjoyable experience where you can measure how far you've come and how much progress you're making.
10. Use Resources:
Many great resources are available online and in print to guide learning Latin.
Look for tutorials, books, courses, quizzes, grammar charts, translations, and dictionary apps tailored to the language.
Additionally, there are Latin language apps to help learn how to speak, write and read.
The most helpful resources to toy and fit well with your learning need are the best for you. So, choose wisely.
11. Patience Is The Key:
Learning a language takes time, and Latin is no exception.
Depending on how much time you spend each day studying and practicing, it could take anywhere from 6 months to 2 years to become proficient in Latin.
However, with patience and dedication, you can master this ancient tongue. And remember to have fun along the way.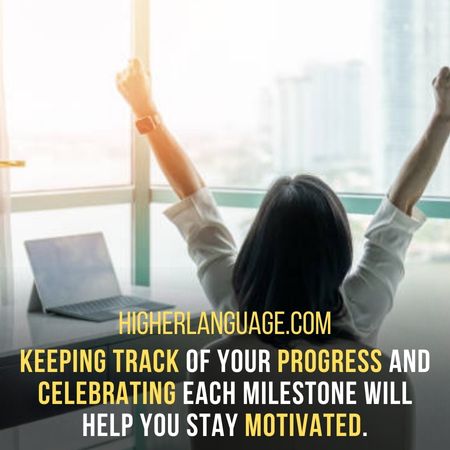 Keeping track of your progress and celebrating each milestone will help you stay motivated and keep up the momentum.
So how long does it take to learn Latin? As long as you put in the work, you can do it.
Final Thoughts:
Learning a new language can be incredibly rewarding, and Latin is no exception.
However, you can learn to speak and understand Latin with patience, dedication, and the right tools.
How long does it take to learn Latin? It all depends on how much time you dedicate each day.
You can become proficient in Latin in 6 months to 2 years with enough hard work and practice.
It's important to remember that everyone learns at their own pace – don't get discouraged if you don't reach your goals as quickly as you'd like.
Just keep practicing and enjoy the journey.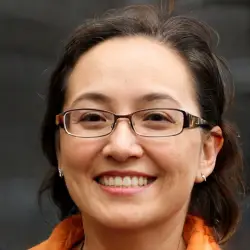 Latest posts by Elizabeth Williams
(see all)