Dancing has always been a way to express oneself without words. And just like how words can be modified, and new ones can be created, so can slang words for dance.
So next time you hit the dance floor, consider incorporating fun and catchy slang words into your moves to add extra flair.
11 Most Energetic Slang Words For Dance!
Dancing has been a form of expression and entertainment for centuries, but have you ever been at a party and heard slang words for dance moves? It's almost like a language of its own.
Whether it's "flossin'", "dabbin'", "whipping," or "nae-naeing", these phrases have become a staple in our modern-day dance culture.
It's fascinating how these slang terms have taken over and become an informal way to describe a dance move.
So, next time you hit the dance floor, try out some slang words and impress your friends with your knowledge of the dance vocabulary.
1. Breakdancing – Acrobatic And Athletic Movements:
Breakdancing is not just about dancing; it showcases human strength and creativity.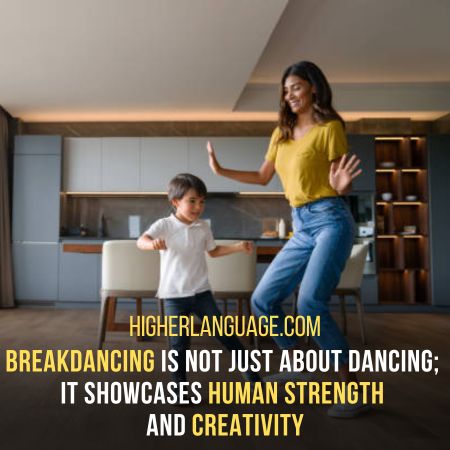 This dance form is a combination of acrobatics, athleticism, and musicality that originated from the streets of New York City in the 1970s.
Breakdancers, also known as B-boys and B-girls, use their bodies as tools, bending, twisting, and spinning in ways that seem impossible for a human.
They defy gravity with endless hand spins, headstands, and flares, leaving the audience in awe.
Breakdancing is not just a form of entertainment but a cultural experience representing human expression's power.
It's a dance that unites people across different cultures, languages, and backgrounds while celebrating the beauty of movement.
2. B-Boying – Another Term For Breakdancing:
B-Boying, also known as breakdancing, is a high-energy dance style that started in the 1970s in the Bronx, New York.
It combines elements of martial arts, gymnastics, and hip-hop culture to create an explosive and athletic performance.
B-Boys and B-Girls, the performers of this dance style, dance to the beat of the music and perform intricate and acrobatic moves.
B-Boying has gained worldwide recognition and has become a staple in hip-hop culture. However, it is not just a dance style but a form of self-expression and a way to showcase individual creativity.
If you've never seen a B-Boy battle, you're missing out on some of the most electrifying performances in the world of dance.
3. Grooving – Moving Your Body To The Beat Of A Song:
There's nothing quite like grooving to the beat of your favorite song, letting the rhythm take over and move your body in ways you never thought possible.
Whether alone in your bedroom, out on the dance floor, or just walking down the street with your headphones in, grooving is a surefire way to lift your spirits and get your blood pumping.
It doesn't matter if you've got the fanciest footwork or the slickest dance moves – all you need is a willingness to let loose and let the music guide you.
So turn up the volume and let yourself groove away to your heart's content. Your body and soul will thank you for it.
4. Popping – Open And Close Body Parts With Music:
If you've ever been to a dance party, you've probably seen people popping.
This dance style involves quickly opening and closing certain body parts in time with the music, resulting in jerky movements that seem to defy gravity.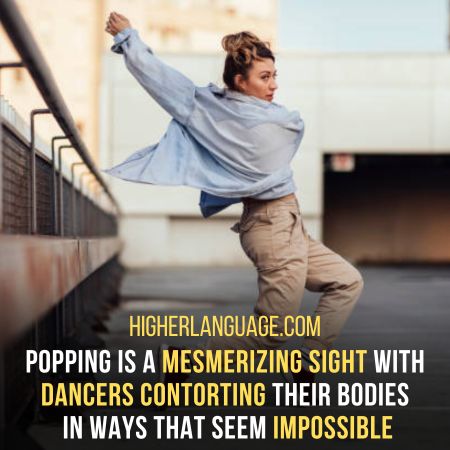 It's a mesmerizing sight to behold, with dancers contorting their bodies in ways that seem impossible.
But popping isn't just about showing off – it's a true art form that requires mastery of rhythm, control, and technique.
Whether you're watching from the sidelines or popping yourself, there's something undeniably thrilling about this funky, energizing dance style.
5. Boogying – To Move Around With Energy While Dancing:
Boogying is more than just dancing; it is a way of expressing yourself with enthusiasm and liveliness.
When boogying on the dance floor, you're not just moving your body to the rhythm of the music; you're fully tapping into the moment's energy.
Your hips sway, your feet shuffle, and your arms move to the beat, all while your spirit soars. Boogying is an incredible self-expression form that lets you let loose and feel joyful.
Whether dancing alone, with a partner, or in a group, boogying is a great way to let go of your inhibitions and fully immerse yourself in the music.
So why not put on your favorite tune and get your boogie on?
6. Electric Slide – A Popular Line Dance:
The Electric Slide is one of the most popular line dances and has been a staple at weddings and other events for years.
This dance brings people to the floor with its catchy beat and fun moves, making it a crowd favorite.
As the music begins, dancers are guided through a series of steps, including a grapevine, a step to the right, a step to the left, and an electric slide.
It's an easy dance to follow, even for those new to it, which is part of its widespread appeal.
Celebrants of all ages come together to revel in the timeless classic that is The Electric Slide, continuously bringing joy and delight at any event.
7. Break It Down – Breaking Out Moves To The Music:
Dancing is all about breaking out moves to the rhythm of the music.
It's a beautiful synchronicity between the mind and body, where every beat and sound complements each other to form a dance routine.
However, for those new to dancing or struggling to maintain their rhythm, breaking out moves can be intimidating.
But fear not because the key lies in breaking it down. Instead, take it step by step, move by move, and let the music guide you.
With practice and confidence, you'll be breaking out your moves in no time. So put on your favorite song, and let the rhythm take control.
8. Busting A Move – Expressing Yourself Through Dance:
Dance is a powerful form of self-expression that has captivated humans for centuries.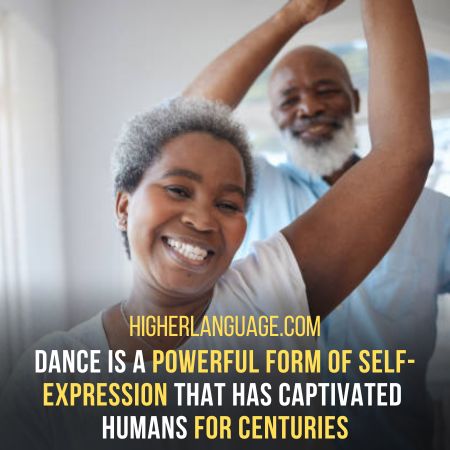 From the ancient rituals of tribal societies to the ballroom dances of today, people have danced to celebrate, connect, and communicate.
Whether it's a smooth tango or a high-energy breakdance, the movement can convey emotions and ideas that words can't always capture.
With every step, every turn, and every gesture, dancers can tell stories, share experiences, and express themselves in a way that is uniquely their own.
Join in the fun and try dancing! It doesn't matter if you are an expert or just starting. Dancing is a great way to be creative and show people who you are.
9. Cracking – An Expressive Dance Style:
Cracking is a dance style that demands technical proficiency and expressive movements that convey the mood of the music.
Often associated with hip-hop, this style involves sharp jabs and twists with the arms that punctuate the rhythm and give it a unique flavor.
Dancers who specialize in this style must be able to convey their emotions through their movements, often using intricate footwork to complement their arm gestures.
The result is a visually stunning athleticism, fluidity, and artistic expression that captivates audiences worldwide.
Whether you're a seasoned dance enthusiast or a newcomer, cracking is a dance style that inspires and amazes you.
10. Boogie – Shaking Your Body And Grooving:
Boogieing has been a beloved dance form for decades. When the beat drops and the rhythm takes over your body, there's no better feeling than letting go and grooving.
The possibilities are endless, whether you prefer to shimmy and shake solo or get lost in a crowd of fellow boogie enthusiasts.
Boogieing is the perfect way to let loose and get in touch with your inner rhythm.
So next time you tap your toes to a funky tune, don't hesitate to bust out your best boogie moves and let the music take control.
11. Get Jiggy – Getting Wild And Crazy On The Dance Floor:
Get ready to sweat and move your body like never before! When it comes to getting wild and crazy on the dance floor, there are no rules.
Let the beat flow through you and let loose with your moves. Don't be afraid to get jiggy with it and bust out some of your more unconventional dance moves.
A dance floor is where you can truly let go and express yourself, so embrace it and let your inner wild child out.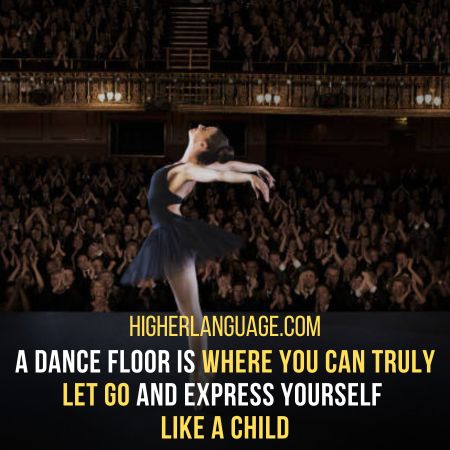 Whether with friends or flying solo, a night of getting dirty on the dance floor is a surefire way to have a great time and create memories that will last a lifetime.
So please put on your favorite dancing shoes, and let's start this party!
Conclusion:
Dancing is an inherently joyful activity that humans have enjoyed for centuries. Over time, various slang terms have emerged to describe this movement-based art form.
Some of the most popular slang words for dance include "grooving," "bust a move," "hit the floor," "shake a leg," and "get down."
These phrases add a playful and fun element to dancing, allowing people to let loose and express themselves even more fully.
It doesn't matter what type of music you like; dancing is fun and has its own language. So put on your shoes and start dancing!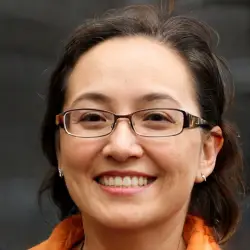 Latest posts by Elizabeth Williams
(see all)