Slang words for fashion are always evolving, just like fashion itself. You might've heard someone say "fire fit" or "drip" and wondered what they were talking about on Earth.
Knowing the right words for fashion trends can help you discuss what is popular. This article will help you learn how to use those words when discussing fashion.
12 Slang Words For Fashion – It's Time To Upgrade Your Vocabulary!
Fashion slang can be a glamorous abbreviation of various fashion terminologies or unfiltered fashion gossip that will make you laugh and even flip your wig.
Every fashion jargon can be the dialect of the fashion world, and every fashion enthusiast must know their way around such language.
Navigating the fashion world can be overwhelming, especially when encountering words and phrases that seem from another universe.
But trust me when I say that understanding fashion slang is crucial if you want to keep up with the fashion world's swift pace.
It's like knowing what 'YOLO' or 'FOMO' means in the social media world – otherwise, you will be lost in translation, and your outfit will be as trendy as a flip phone.
So, let's talk the talk and walk the walk – Fashion Slang 101 starts here!
1. Fashionista – A Person Who Is Involved In The Fashion Industry:
Have you ever met a fashionista? These individuals are not your average fashion enthusiasts; they are experts in the industry with a passion for all things related to fashion.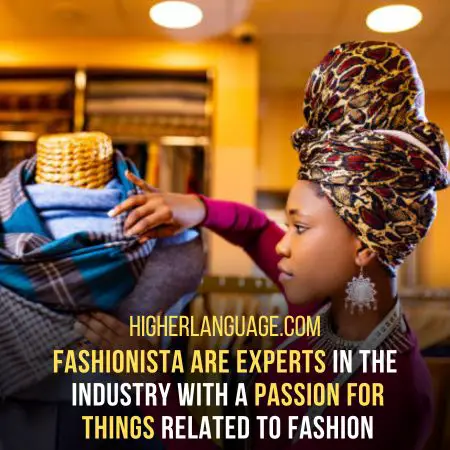 From knowing the latest trends to identifying designer collections, fashionistas are the go-to people for fashion advice.
They can rock any outfit, and their fashion sense is uncanny. However, they are not simply consumers of fashion; they are creators and trendsetters.
They live and breathe fashion, and their industry knowledge is unmatched. So, if you want to be in the know about the latest fashion trends, be sure to get to know a fashionista!
2. Chic- Refers To Something Stylish And Fashionable:
When it comes to fashion, everyone wants to look chic. But what does being chic really mean? It's all about being fashionable without trying too hard.
Be fashionable. Wear something special for a night out, or keep it simple with jeans and a T-shirt. Adding a bit of sparkle to your outfit will make you look even more awesome!
From clean lines and tailored silhouettes to bold accessories and statement pieces, there are endless ways to incorporate chic into your style.
So go ahead and embrace your inner fashionista, and remember that being chic is all about looking and feeling your best!
3. Glam – Describes Someone Wearing Flashy, Almost Showy Clothing:
When walking down the street, you might catch a glimpse of someone in glamorous attire, and let's be honest, we can't help but stare.
Glam is about over-the-top clothing, flashy accessories, and making a statement. Think sequins, rhinestones, and anything sparkly.
It's fun, bold, and not for the faint-hearted. It takes some serious confidence to pull off a glam outfit.
But if you're feeling daring, go all out! Mix and match textures and colors, add some statement jewelry, and strut your stuff.
Just remember, when it comes to glam, the rule is simple: the bigger, the better!
4. Vintage – Clothing Pieces That Are More Than 20 Years Old But Still Considered Fashionable:
Are you tired of the same old fast-fashion trends? Why not take a step back in time with some vintage pieces?
You'll not only be reducing your fashion carbon footprint but also rocking one-of-a-kind pieces that are still considered stylish today.
From cozy cable knit sweaters to flirty floral dresses, vintage clothing offers a wide range of options for those bold enough to try something new.
And don't worry about looking outdated – fashion is cyclical, and even modern designers take inspiration from past eras.
So next time you want to update your wardrobe, consider going to your local thrift store or browsing online vintage retailers for some unique finds that will turn heads.
5. Vibes – Feeling A Person Or Outfit Gives Off:
Whether we realize it or not, we all give off vibes. It's like an invisible aura that surrounds us and can either draw people in or push them away.
You know that feeling when you walk into a room and immediately feel uncomfortable or, on the flip side, feel welcomed with open arms? That's vibes, my friend.
And it's not just limited to people; outfits can have vibes too. You throw on a fierce black leather jacket and suddenly feel like a badass, right? That's the jacket's vibes rubbing off on you.
So, next time you're getting ready to go out or meet someone new, pay attention to the vibes you're giving off and the vibes you're feeling.
With their help, you can unlock the door to your next awe-inspiring journey!
6. FAB – Fabulous, Beautiful Or Fashionable:
What do you first think of when you hear FAB? For me, it's all about feeling fabulous, beautiful, and fashionable. Who wouldn't want to embody those three qualities all at once?
Parade around town in a fashionable outfit, let your confidence shine with an alluring smile, or simply pause to admire yourself—being FAB is about embracing and adoring who you are.
It's not always about the clothes you wear or the makeup you put on (although those certainly help), but more about the attitude you carry with you throughout each day.
So embrace your inner FAB and let the world see just how amazing you truly are.
7. Fits – An Outfit, Often Shortened To Fit:
Have you ever been in a store, frantically searching for an outfit that fits, only to come up empty-handed? It's the worst kind of fashion flop. Luckily, "fits" can be a lifesaver in this situation.
Shortened from "outfits that fit," this term refers to clothing that flatters and fits just right. It's not just about finding the perfect size, either.
The right fit can accentuate your best features and make you feel like a million bucks.
So next time you feel like you're swimming in a sea of ill-fitting options, remember that a good "fit" can make all the difference.
8. Kicks – Sneakers Or Shoes:
It's time to settle the age-old debate: kicks – are you Team Sneakers or Team Shoes?
While sneakers might provide a more casual look and feel, shoes can offer a touch of sophistication and elegance to any outfit.
But let's be real, who doesn't love a comfortable and stylish pair of kicks?
Sneakers have come a long way from their athletic roots and are now a staple in every fashion-forward individual's wardrobe.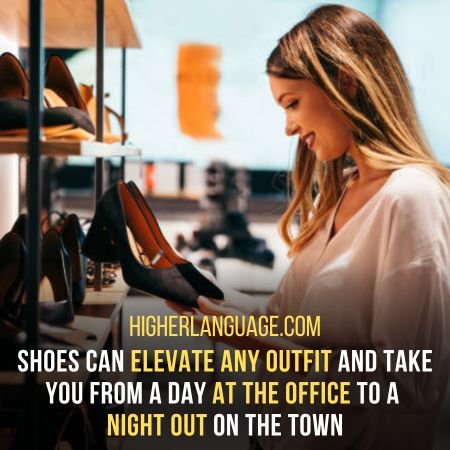 On the other hand, shoes can elevate any outfit and take you from a day at the office to a night out on the town.
So which team are you on? Whether you're Team Sneakers or Team Shoes, one thing is for sure – a great pair of kicks can make all the difference.
9. Drip – A Stylish Look Or Attitude:
Fashion isn't simply about what clothes you wear, but rather the confidence and aura accompanying your outfit. Drip is more than just a stylish look; it's an attitude.
It's the confidence you exude when you walk down the street in your favorite outfit. Drip is about taking risks, trying new things, and ultimately feeling like a boss.
And the best part? There's no wrong way to do it. Whether you're rocking a bold print or a classic monochrome look, as long as you feel good in it, that's all that matters.
So don't be afraid to pour on the drip and own it like the fashion icon you are.
10. Lit – Meaning Great, Cool And Amazing:
Lit has been around for a while, but it's still just as popular as ever. This word has a lot of different meanings, but the most common one is "great, cool, and amazing."
You've probably heard it used about a party or a concert, but it can also describe a person or a piece of art.
The best part about lit is that it's so versatile – you can use it to describe just about anything!
So the next time you see or do something awesome, don't hesitate to call it lit. Trust me; you'll sound pretty hip.
11. Slay – To Do Something Remarkable In A Fashionable Way:
Slay, baby, slay! It's all about doing something remarkable and looking sleek while you do it. It's about wearing your confidence like a cloak and letting your inner diva shine.
Whether nailing a work presentation or conquering a new yoga pose, slaying means doing it with style and grace.
So pull out your killer outfit, put on your favorite lipstick, and get ready to slay the day!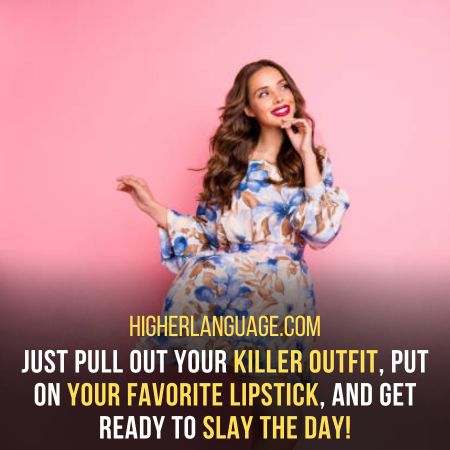 Because when you slay, you don't just do something; you do it in a way that catches everyone's attention and leaves them saying, "Damn, she's impressive."
12. Thirst Trap – Showing Off Clothes To Get Compliments From Others:
Have you heard of a "thirst trap"? This is when someone posts a picture on social media wearing their best clothes to get compliments from other people.
It might seem okay, but it can turn into something bad where you need validation from strangers.
Sure, having someone say you look fire in that top or those shoes feel good, but relying on external validation to feel good about yourself can be a slippery slope.
Don't get me wrong; there's nothing wrong with showing off a bomb outfit or two, just remember that true confidence comes from within, not from the number of likes or comments on a post.
So next time you're contemplating posting a thirst trap, ask yourself, "am I doing this for me or the validation of others?" Your self-esteem will thank you.
Final Thoughts:
Fashion constantly evolves, and with it comes a new set of slang words. It's like keeping up with a secret code only fashionistas know.
From "fire fits" to "drip," it's about expressing your style using the latest terminology. And let's not forget "flex" – because what good is it to look great if you can't show it off?
These words might seem foreign to the uninitiated, but they are simply the tongues we speak to show our fashion prowess.
So, next time you get complimented on your outfit, just drop one of these slang words for fashion into your response and watch your cool factor soar. Trust me; it's all about the flex.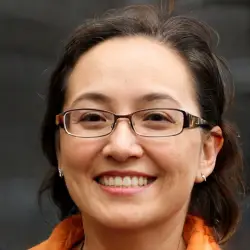 Latest posts by Elizabeth Williams
(see all)