As adults, we often find ourselves perplexed by slang words for children. From "litty" to "situation," the younger generation's language can be confusing.
No need to fret, reader – we have curated a compilation of the most sought-after slang words that can enhance your language skills.
12 Cute Slang Words For Children You Can Use To Address Them!
As children navigate the world of social interactions, they often adopt their language.
From "cooties" to "noggin," slang words for children can be amusing, entertaining, and sometimes downright strange.
These words allow kids to feel like part of a group and communicate with their peers in a way that adults may not understand. However, not all slang words are created equal.
Some words can be hurtful or inappropriate, so parents and educators must stay informed about the latest terms circulating on the playground.
It may even be worth brushing up on your slang to stay relevant and have a few laughs with the kids in your life.
1. Mini Me – A Phrase Used To Describe The Resemblance:
Have you ever been out in public and someone told you, "Wow, you look just like your mom/dad!"? Well, congratulations, you have a Mini Me!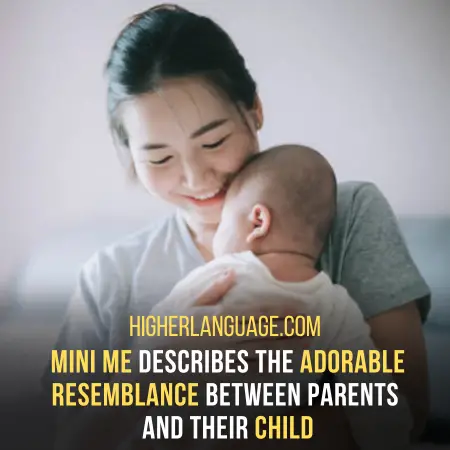 This phrase is commonly used to describe the adorable resemblance between a parent and their child. It's almost like looking in a mirror – but better because there are two of you!
Some might argue that a Mini Me is the ultimate compliment because who wouldn't want to resemble the person who brought them into this world?
So the next time someone tells you, "You look just like your mom/dad," take it as a compliment and rock that Mini Me resemblance!
2. Kiddo – Used To Refer To A Young Person Of Any Age:
Kiddo, one of those slang terms that has stood the test of time, is a fun word to throw around when referring to the young ones, whether toddlers or teenagers.
It's hard to pinpoint exactly where it came from, but one thing's for sure – it's been around for a while.
While "kiddo" might not sound very sophisticated, it can signify friendliness and warmth, especially when used in a casual or familiar setting.
So, the next time you want to address a young person, channel your cool inner cat and throw in a "kiddo" or two for good measure. Trust us; they'll appreciate the gesture.
3. Little Monster – Refers To A Mischievous Child:
Have you ever met a naughty kid? Not a monster that lives in your room, but one who makes trouble wherever they go.
You know, the type who always has a devilish grin and a twinkle in their eye, ready to pounce on any unsuspecting victim.
But don't be fooled by their mischievous antics; these little monsters are often the life of the party, injecting fun and laughter into any situation.
So if you come across a little monster, embrace the chaos and enjoy the ride!
4. Cutie Pie – Endearing Term For A Small Cute Child:
Regarding adjectives describing cute children, "cutie pie" has always been a favorite.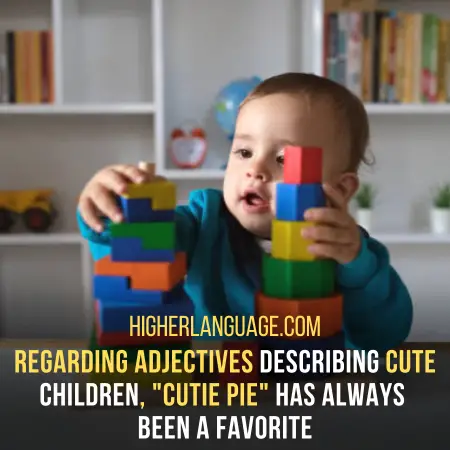 This term of endearment conjures up images of plump, soft cheeks and doe eyes that could melt anyone's heart.
Have you ever wondered where the term "cutie pie" originated? Believe it or not, this phrase is far from new – in fact, its roots date back to the 1940s!
It's believed to have originated in African American communities and quickly spread to become a universally beloved term.
So the next time you see a little one that oozes cuteness, call them a cutie pie – just try not to squeeze their chubby cheeks too hard!
5. Nugget – An Adorable, Lovable, And Smart Kid:
Have you ever met a nugget? No, not the crispy and delicious chicken, but the adorable, lovable, smart kid.
Nuggets' delightful laughter and curious minds will quickly capture your heart.
They're the kids that steal the show during family gatherings, and you can't help but want to squish their soft cheeks.
If you ever have the pleasure of meeting a nugget, be prepared for their awe-inspiring wisdom and humor.
Their intelligence is unparalleled as they quickly absorb knowledge like no other; you may find yourself enchanted by them instantly!
6. Rascal – A Naughty Or Mischievous Child:
Rascals, those naughty little tykes that keep us on our toes. They are known for their wild antics and their love of mischief.
They have a twinkle in their eye and a spring in their step, always ready for the next adventure.
These little explorers constantly test boundaries and push limits, making for an entertaining and unpredictable ride.
Some may find them a handful, but they are a welcome breath of fresh air for others. So if you have a rascal in your life, buckle up and enjoy the ride!
7. Sprout – An Energetic Toddler Or Baby:
Have you ever heard someone refer to a baby or toddler as a sprout? Well, let me tell you, it is the perfect description for those energetic little humans.
Like seedlings, they exude potential and enthusiasm while perpetually chasing the proverbial sun (or maybe just that toy on the highest shelf).
Sprouts may be small and seemingly delicate, but don't be fooled; they possess an inner strength that allows them to overcome obstacles and flourish.
So, the next time you encounter a sprout, embrace its boundless energy and watch as they grow and thrive before your eyes.
8. Bundle Of Joy – Newborn Babies:
Ah, the bundle of joy. That little one who has captured your heart and left you feeling like you've been hit by a ton of bricks (in the best possible way).
It's no wonder we refer to newborn babies as bundles of joy – they bring so much happiness and light into our lives.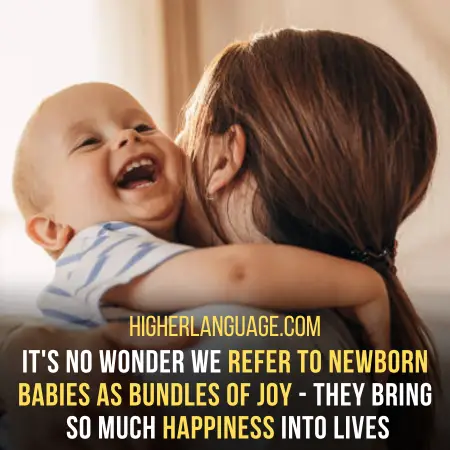 Everything about these precious little ones is enchanting, from how they stretch and yawn to their chubby little fingers and toes.
But don't let their small size fool you. These bundles of joy are full of surprises and will keep you on your toes (and up at all night hours).
So cherish every moment because before you know it, your bundle of joy will be all grown up.
9. Hooligan – An Unruly Child:
If you've ever encountered a hooligan, you know how unruly and wild these little tikes can be. They never seem to sit still or follow directions and have a knack for getting into trouble.
But don't be too quick to judge – hooligans are often misunderstood. Maybe they're bursting with energy and creativity or struggling with something at home or school.
Our job as adults is to help and teach kids, not yell at or ignore them. So next time you see a child acting up, take a deep breath and remember they are just children.
10. Tyke – A Small Or Young Child:
Tykes are adorable and pint-sized humans that have captured our hearts from the moment they open their curious eyes.
These little ones can wiggle into our hearts and stick around for good.
From their infectious giggles, endless energy, and the ability to turn anything into a toy, it's no wonder we can't resist them.
But don't let their small size fool you; tykes are full of surprises and can teach us a thing or two. They may be young, but they are mighty in their way.
So, next time you encounter a tyke, take a moment to appreciate their unique perspective and soak up some of their youthful spirits.
11. Whippersnapper – An Annoying And Impertinent Youngster:
Ah, the whippersnapper – that mischievous youth who always gets into trouble.
They are the ones who will poke and prod until they get their way or interrupt conversations with their incessant babbling.
But while they may be irritating at times, it's important to remember that these little rascals are still developing and learning about the world around them.
It doesn't mean we must always put up with their shenanigans!
So, the next time a whippersnapper tries to get on your nerves, take a deep breath and remember that patience is key, but it's also perfectly okay to tell them to knock it off.
12. Bugaboo – A Troublesome Person:
Bugaboo – the word alone sounds mischievous and playful, but don't be fooled, for anyone who's had to deal with a bugaboo, they'll tell you that it's no laughing matter.
Bugaboos are those tiny troublemakers that always get under your skin, no matter how hard you try to brush them off.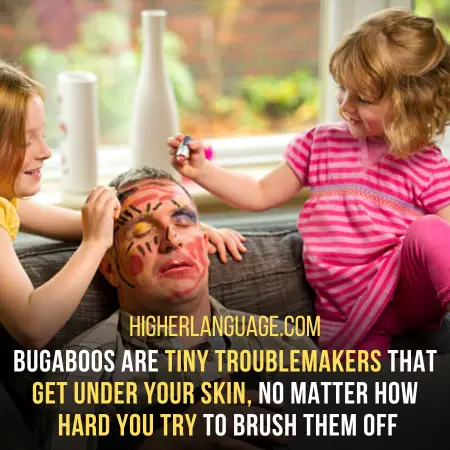 Whether it's a pesky younger sibling, a naughty neighbor kid, or even a coworker who won't back down, bugaboos can make life feel like an endless game of whack-a-mole.
Be patient and use your imagination. Make sure to have a good attitude. Even the most difficult things can be made fun of if you try. Everyone likes some mischief now and then.
Conclusion:
We all know that kids these days seem to have their language. But, unfortunately, it's like a secret code that only they understand. From "lit" to "savage," the slang words for children are constantly evolving.
But have you ever wondered where these words come from?
According to linguists, slang often develops as a way for young people to distance themselves from the adult world and establish their identity.
Don't get frustrated the next time your kid speaks their language – embrace it as a positive step in their development of self-expression. You might even learn something new!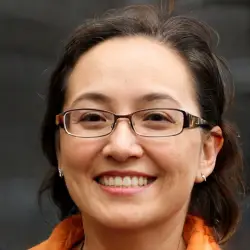 Latest posts by Elizabeth Williams
(see all)