From a cold one to liquid gold, there's no shortage of slang words for beer. Whether you're kicking back with a brewski or throwing back a pint, the language of beer enthusiasts has a life of its own.
Some fun names for beer are Hooch, Brewski, and Pint. So next time you have a cold beer with friends, show off your knowledge using these slang words for beer. Enjoy!
12 Slang Words For Beer – Time To Chill Your Linguistics!
There's no denying that beer has a special spot in our hearts, and it's only natural that we've come up with unique and amusing ways to talk about it.
From lagers to IPAs, we've coined a bunch of slang words for beer that are worth knowing.
For instance, did you know that a cold one is a term used to describe a refreshing beer or that calling a beer a brewski has almost become a rite of passage for college students?
But the fun doesn't stop there. If you're feeling adventurous, you can explore the world of beer slang even further with phrases like "hops juice" and "liquid bread."
So why not put your beer knowledge to the test and impress your friends the next time you order a pint? Cheers to speaking the language of beer!
1. Hooch – A More Old-Fashioned Term For Beer:
If you're in the mood for a cold one, you might be searching for hooch – a slang term for beer. While the word might sound old-fashioned, it's been a popular term for decades.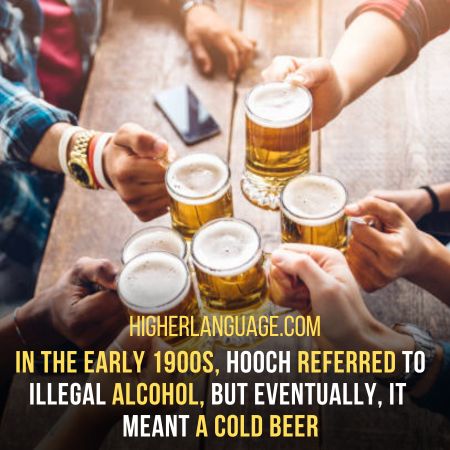 In the early 1900s, hooch referred to illegal alcohol, but eventually, it meant a cold beer. Today, people might use slang words like brew, suds, or even "liquid bread" to describe their favorite beverage.
But something about the word hooch makes you want to pull up a stool at the local pub and order a cold one.
So if you're looking for a classic way to describe a cold beer, just remember – nothing quite hits the spot like a refreshing glass of hooch.
2. Lager Lout – Someone Who Drinks Too Much Lager:
We've all heard the term 'Lager Lout' thrown around before, but what exactly does it mean? A Lager Lout takes their love for beer, particularly lager, a little too far.
They can typically be found at bars or pubs, drinking too many pints and causing some trouble.
But let's not judge them too harshly; after all, beer has been a beloved drink for centuries and has earned itself an impressive list of slang names such as brewski, hops juice, and liquid bread.
So maybe we can cut the Lager Louts some slack; they're enjoying their "cold ones" a bit too enthusiastically. Cheers to that!
3. Cold One – Refers To A Cold Beer:
There's nothing quite like cracking open a cold one after a long day. Whether you prefer a crisp lager or a hoppy IPA, this slang for beer is the perfect way to unwind and kick back.
And let's be honest; there are endless slang words for beer: brewski, suds, cold brew, liquid courage, and the list goes on.
But whatever you choose to call it, there's something magical about the simple pleasure of enjoying a cold one with friends or solo.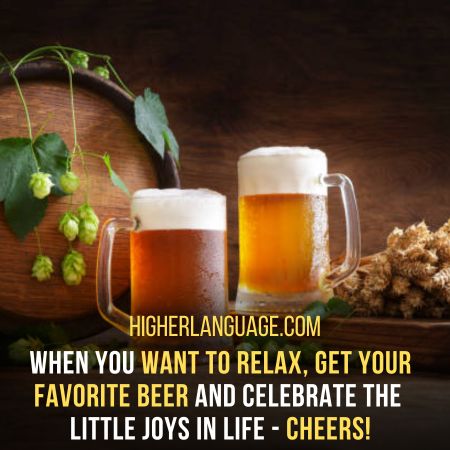 Next time you want to relax, get your favorite beer and celebrate the little joys in life by raising a glass. Cheers!
4. Brewski – A Friendly Term For Beer:
Have you ever heard someone refer to their cold, refreshing beverage as a "brewski"? This slang term for beer has been around since the 1950s and is still used by many today.
This phrase is a fun way to say that you and your friends are about to open some cold drinks. But, of course, there are plenty of other slang words for beer, depending on where you are in the world.
Beer has many fun names, like suds and brew. But when talking with friends, the best name to use is "brewski". So let's cheer on that!
5. Foamy Brew – Another Term For Beer:
When it comes to beers, there are plenty of slang words out there that can leave you scratching your head. But if you've heard someone refer to their drink as a "foamy brew," you're in the right place.
Beer enthusiasts often use this casual term to describe various styles, whether a crisp lager or a hoppy IPA. And let's be honest; it just sounds cool.
So, the next time you're out with friends and want to impress them with your knowledge of slang words for beer, remember to drop "foamy brew" into the conversation.
6. Foamies – Light Beers With Low Alcohol Content:
Foamies are the ultimate go-to when you want to kick back and chat without getting plastered.
These light and easy beers are perfect for hangouts where you want to stay sober but don't want to seem like a buzzkill. You may have heard them being called "session beers", "pounders", or "crushable".
Whatever the name, they all point to one thing – Foamies are the best when you want to have a good time without worrying about waking up with a hangover.
Next time you're at a barbecue or picnic, grab a Foamie and celebrate with your friends!
7. Pop Top – A Slang For An Opened Can Of Beer:
Crack open a cold one, and talk about "pop tops" – the slang term for an opened can of beer. Ah, yes, another way to describe our favorite adult beverage. But where did this term come from?
Some say it originated in the 1960s when pull-tab cans were first introduced. Others credit the phrase to the sound a can makes when you "pop" it open.
Regardless of its origins, pop tops have become a beloved phrase amongst beer enthusiasts.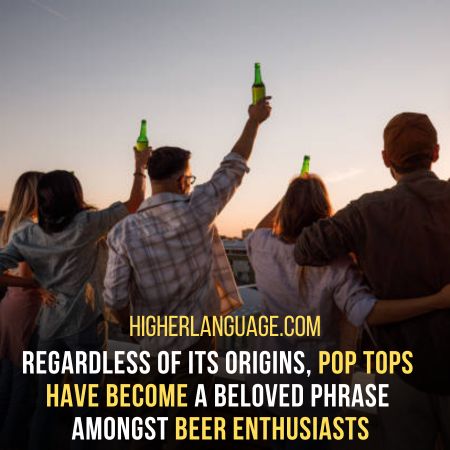 So next time you and your buddies crack open a few brews, impress them with your slang word knowledge and refer to those open cans as pop tops. Cheers!
8. The Bubbly – Refers To The Carbonation Of Beer:
Have you ever wondered why beer is so bubbly? Well, my friend, it's all thanks to the carbonation!
The Bubbly, as some of us beer enthusiasts like to call it, gives our brews that enthusiasm that we all know and love.
But let's be real, this carbonation isn't just any old fizz – it gives beer its soul! And speaking of soul, you know what else has a soul?
The slang words we use to describe beer, like suds, brewskis, and my personal favorite, barley pop.
So next time you crack open a cold one, thank The Bubbly – the unsung hero that makes our beer so damn good!
 9. Suds-A-Palooza – Drinking Lots Of Beer:
Get ready to quench your thirst and tap into the world of beer! Suds-a-palooza is the ultimate beer fest where you can indulge in endless pints of your favorite thirst quencher.
With a wide variety of flavors, hops, and brews, you'll have the opportunity to explore a whole new vocabulary of slang words for beer.
Come to Suds-a-palooza and try different types of beer! You'll learn about beer and have fun too. There are many kinds, like "brew-ski" and "hops juice". Enjoy the party!
10. Sippin' Suds – Casually Drinking Beer:
Cracking open a cold one, chugging a brew, or sipping suds – casually drinking beer- whatever you want to call it- is a pastime many enjoy.
But did you know that there are countless slang words for the beloved beverage? From "liquid loaf" to "the billy," beer has been given some interesting monikers over the years.
And who can forget the classic "cold ones"? It's no secret that beer culture has a language all its own.
The next time you're enjoying a cold beer with your friends, show off your knowledge of beer slang using some lesser-known terms. Be careful not to spill your drink while you do it!
11. Print – Refers To A 16oz Or 20oz Bottle Of Beer:
Imagine you are at a bar with friends, food, and a drink. First, let's talk about the drink – it is called a pint of beer.
This term refers to both 16oz and 20oz bottles or glasses of beer, and it's a must-know in the beer-drinking world.
But did you know that pint has some interesting slang words associated with it? For example, a pint can also be referred to as a "cold one," "frosty mug," or "brewski."
So next time you're at a pub with your mates, impress them with your beer slang knowledge and order a "frosty mug" of your favorite brew. Cheers to that!
12. Frosty Tipple – "How Cold Bear Should Be?":
When it's hot out, and you require a cold beverage, there's nothing like cracking open a frosty tipple.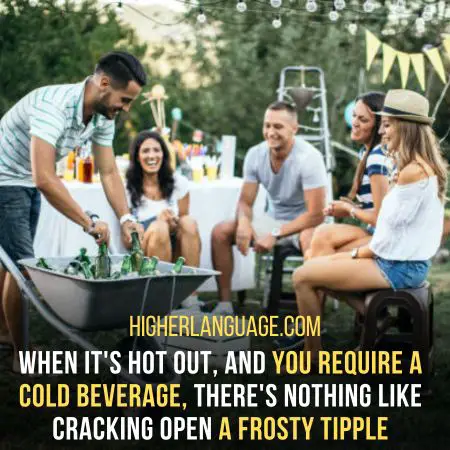 This slang term for beer emphasizes the importance of it being ice-cold and refreshing. But, of course, there are plenty of other slang words for beer out there, too.
Whether you're a fan of a cold brew, a lager, or a hoppy IPA, one thing's certain: there's no shortage of creative ways to describe your favorite beverage.
Next time you have a cold drink, say "Cheers!" to celebrate all the special words used to talk about beer.
Conclusion:
It is clear that beer has been an integral part of many cultures for many years.
Millions of people rely on the ice-cold refreshment that beer provides, from bars and pubs to football stadiums and movie theaters.
It wouldn't be a surprise if the list of slang words for beer had grown beyond what it is today!
However, "Hooch", "Lager Lout", "Cold One", "Brewski" "Foamy Brew," and "Foamies" are all deserving words when you want to express your enthusiasm for a quality beer.
Remember always to drink beer safely and responsibly! You can develop your own phrases to talk about beer with your friends. So have a cold beer and start talking today!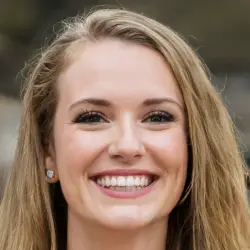 Latest posts by Sylvia Simpson
(see all)