Swedish is part of the North Germanic language family. Hence there are languages similar to Swedish from that language family.
The Swedish language has evolved and has been influenced by various languages. Let us look at some languages Swedish shares similarities with in detail.
5 Languages Similar To Swedish
Swedish is Sweden's official language and one of Finland's two official languages.
Around 10 million people speak it in Sweden, Finland, Norway, Denmark, Estonia, and parts of Germany, Canada, and the USA.
The Swedish Language has three main dialects, West Swedish (Götaland), East Swedish (Svealand), and South Swedish (Götaland).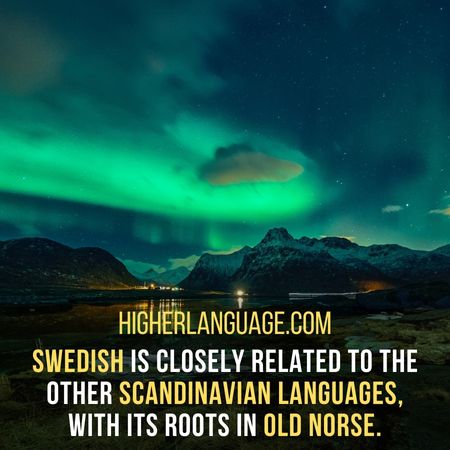 The Swedish language is closely related to the other Scandinavian Languages, with its roots in Old Norse.
However, Sweden adopted Latin as an official language during the Middle Ages and gradually developed into a distinct language with its own rules and grammar.
Over time, this has resulted in the modern version of Swedish spoken today. 
Languages related to Swedish are known as North Germanic Languages and include Danish, Norwegian, Faroese, Icelandic and Finnish.
These languages share many similarities, some even being mutually intelligible but simultaneously having certain differences.
Here are top 5 languages similar to Swedish:
1. Danish:
Danish is a North Germanic language spoken mainly in Denmark, Greenland, and the Faroe Islands.
It has around 6 million speakers, making it the most widely spoken of the Scandinavian Languages.
Danish is very similar to Swedish and Norwegian in terms of grammar, syntax, and vocabulary, but with some distinct differences.
For example, Danish has two genders: masculine and feminine, and verbs are conjugated according to person.
It also has an extensive set of pronouns, including reflexive ones.
Danish is the closest language to Swedish, although there are still some key differences between them.
Similarities:
Both languages have a similar sound system and phonology.
For example, both languages have vowel length distinctions, and some words are pronounced and spelled the same in both languages.
However, there is a significant overlap between word order, noun and verb agreement, and other grammatical features.
Both languages also have three genders (masculine, feminine, and neuter) with similar rules regarding gender agreement.
Additionally, they share many loanwords from other languages, including German and French.
Both Languages have many common words, with minimal spelling or pronunciation differences.
For example, the word for "beautiful" is "vacker" in Swedish and "vackert" in Swedish.
Differences:
The main difference is in pronunciation, as Danish has a more 'flowing' sound than Swedish.
However, there are some syntactic differences between the two languages too. For example, Danish has two genders, while Swedish only has one.
In addition, there is a slight difference in the writing system of both languages.
For example, Danish does not have the letter 'å' that is used in Swedish. Danish also makes use of more particles and enclitics than Swedish.
Additionally, word order in Danish is more flexible than Swedish, and verbs do not change depending on the tense.
Despite the differences, both languages are understood by most speakers of either language, as they share many similarities.
2. Norwegian:
Norwegian is a North Germanic language spoken mainly in Norway, where it is the official language.
It has two written forms, Bokmål (or "book tongue") and Nynorsk ("new Norwegian"). Norwegian also has many dialects.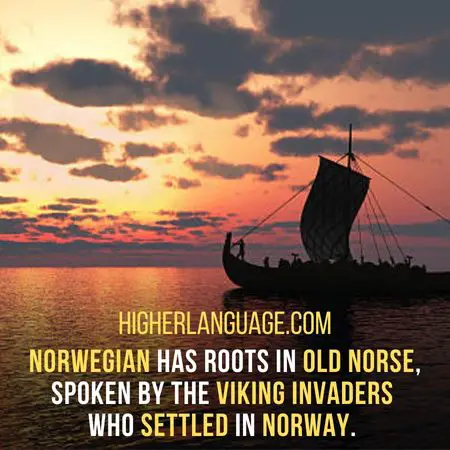 Norwegian is descended from Old Norse, spoken by the Viking invaders who settled in Norway and Iceland during the Middle Ages.
Over time, Norwegian developed into its distinct language, although Danish heavily influenced it.
Norwegian and Swedish are very closely related to each other, so much so that they are sometimes considered dialects of the same language.
They share many similar words but some grammar and pronunciation differences.
Similarities:
Both languages are part of the North Germanic Languages Family. Therefore, they share the same grammar, syntax, and sentence structure.
For instance, both languages use the same verb conjugation and possessive forms.
The sentence structure is also very similar; subject-verb-object is used in both languages.
Norwegian and Swedish also share many vocabulary words, though there are some differences in spelling and pronunciation.
Words in both languages sound very similar and often have the same meaning. For example, the words for "good" in Norwegian and Swedish are both spelled "god".
The two languages also have some dialects that overlap. For instance, a variety of Norwegian is spoken in parts of Sweden and vice versa.
Therefore, if you learn one language, it will be easier to understand the other.
The two languages also share many cognate words,  such as 'tak' (Norwegian), which means 'roof', and 'tak' (Swedish), which means "thank you."
Norwegian and Swedish are very similar languages, and many Swedes and Norwegians can understand each other without having to learn another language.
However, if you want to be able to use both languages fluently, it's still worth taking the time to learn both of them.
Differences:
There are a few fundamental differences between Swedish and Norwegian, the most obvious being the writing system.
Swedish uses a Latin alphabet, while Norwegian uses an alphabetic writing system called Bokmål.
Additionally, pronunciation varies significantly between the two languages – for example, 'j' is pronounced as 'y' in Swedish but as 'h' in Norwegian.
Another difference is that Swedish has a more complex grammatical structure, while Norwegian is simpler.
For example, Norwegian doesn't use gender for words as Swedish does.
Despite the differences, both are mutually intelligible, meaning that speakers of one language can understand the other.
3. Finnish:
Finnish is an official language in Finland and one of the four official languages in the European Union.
It has rich literature, with many writers producing works in both Finnish and Swedish.
Like Swedish, it is based on Indo-European roots but also has some regional differences. Finnish is a Uralic language related to Hungarian and Estonian.
Finnish is thought to have originated around 500 BC. Germanic, Baltic, and Slavic languages have since influenced the Finnish language.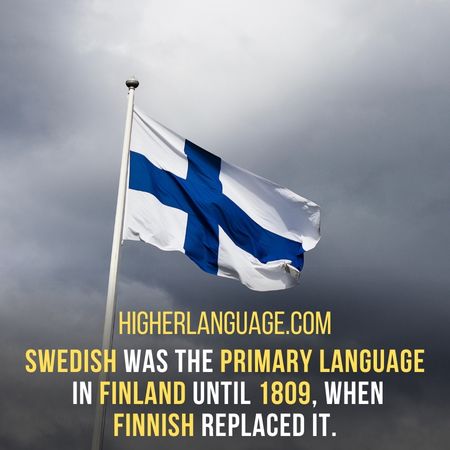 Swedish was the primary language in Finland until 1809, when Finnish replaced it as the official language of education and government.
Although not a Scandinavian language, Finnish shares some similarities with Swedish.
Similarities:
Finnish shares many similarities with Swedish, including similar alphabet and pronunciation.
It has borrowed many words from Swedish, especially in government, politics, and law.
Finnish also shares some common grammar structures with Swedish.
Finnish and Swedish are phonetically based languages, meaning they use their own phonetic rules to create spoken language.
That means that they are quite similar in sound and intonation.
The two languages have many cognates – similar words in both languages due to their common origin.
Additionally, they share a similar alphabet and pronunciation system.
Both languages also share several common grammar structures. For example, both use the same verb forms and sentence structure.
Additionally, they both have an object-verb-subject word order.
That makes it easier for speakers of either language to pick up on each other's words and phrases more quickly than with other languages.
Differences:
The two languages do, of course, have some differences. For example, Finnish uses more suffixes than Swedish, making learning a bit harder for someone from a Swedish-speaking background.
Finnish also retains features that differentiate it from Swedish, such as its agglutinative grammar and phonemes (sounds).
That allows Finnish to be a more expressive language than Swedish, which is more limited in terms of pronunciation and syntax.
Unlike Swedish, it also has certain grammatical cases that don't exist in the Swedish language.
Finnish is relatively easy for native Swedish speakers to learn and understand.
Even with the differences in pronunciation, syntax, and vocabulary, the two languages share many fundamental characteristics.
4. Faroese:
Faroese is another North Germanic language spoken by around 70,000 people in the Faroe Islands.
Faroese is an ancient language with roots stretching back to around 500 AD.
It was heavily influenced by Old Norse and has evolved over the centuries to become its distinct language.
The Faroese alphabet consists of 29 letters written from left to right.
Danish and English have heavily influenced it because these languages were mainly used in the education system of the Faroe Islands until recently.
It is closely related to Icelandic and shares many characteristics, including an identical alphabet and similar syntax.
As with Swedish, the Faroese have borrowed words from other languages, such as English and Danish.
However, since it is a smaller language compared to its Nordic counterparts, many native speakers of Swedish find it easier to pick up Faroese than Icelandic.
Similarities:
In terms of phonology, Faroese is quite similar to Swedish.
For example, both languages have a lot of vowel sounds, with some being identical (such as ei and ou) while others are similar (such as the aa and ä in Swedish).
Both languages also have extensive use of diphthongs. In addition, Faroese is grammatically similar to Swedish.
For example, both languages use the same declension system and have similar verb conjugation rules.
In addition, they share many of the same cognates, meaning that if you understand one language, it can be easier to learn the other.
Differences:
Despite the similarities, there are some differences between Swedish and Faroese.
For example, Faroese does not have definite articles like Swedish does and uses several unique pronouns, such as "hann", which means "he/she".
Additionally, Faroese has a unique spelling system that is not used in Swedish.
Another difference is that Faroese uses several extra vowels and consonants not found in Swedish.
Finally, Faroese has two genders for nouns not found in Swedish.
Overall, languages similar to Swedish, like Faroese, have some similarities and differences compared to Swedish, making it an interesting language to learn about.
With its unique grammar and pronunciation rules, Faroese is a great language to explore if you want to diversify your linguistic knowledge.
5. Icelandic:
Icelandic is the official language of Iceland and is one of the oldest spoken languages in Europe.
Icelandic is spoken by about 330,000 people and is closely related to the Faroese.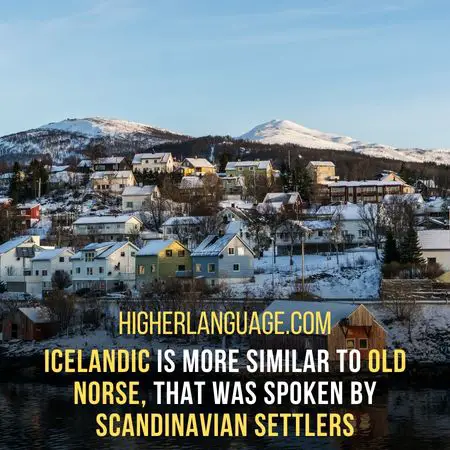 The Icelandic language is similar to Old Norse, the language of Scandinavian settlers in the 9th and 10th centuries.
Like Faroese, Icelandic has many similarities with Swedish but contains elements from other Nordic languages, such as Danish and Norwegian.
As a result, native speakers of Swedish may need a bit more effort to learn Icelandic than some related languages.
Although, if you are already familiar with Swedish grammar and vocabulary, it may be easier for you to pick up Icelandic as well.
Similarities:
Both languages use many of the same consonants and vowels.
For example, the Icelandic words "köttur" (cat) and "sjónvarpsstöð" (television station) have very similar Swedish counterparts, namely "Katt" and "tv-station."
Likewise, both languages use many of the same grammatical structures and conjugations.
For example, the verbs in both languages are conjugated using the same suffixes, and the nouns are declined similarly.
Finally, both languages share similar syntax structures, including relative clauses.
In some ways, Icelandic and Swedish are more similar to each other than they are to other Germanic languages.
For example, while English and German have two genders (masculine and feminine), Icelandic and Swedish use a third gender – neuter.
In addition, both languages heavily emphasize pronoun suffixes and verb conjugation.
Differences:
Despite having some similarities, there are still some major differences between Icelandic and Swedish.
For one, the two languages have different sound systems; Icelandic is characterized by its long and short vowels, while Swedish has more of a "sliding" intonation.
Additionally, Swedish relies heavily on grammar rules and verb conjugation.
Icelandic is known for its many compound words, which can drastically change the meaning of a phrase.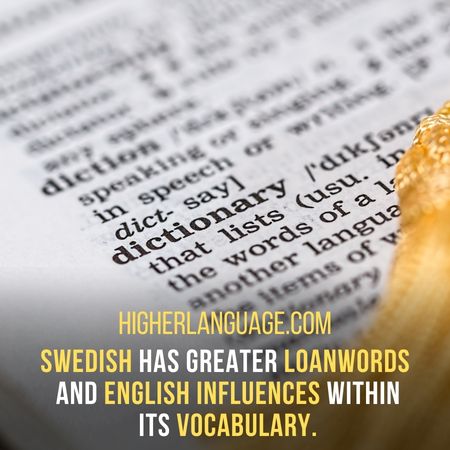 Finally, Swedish has greater loanwords and English influences within its vocabulary, while Icelandic remains more closely tied to Old Norse elements.
Nevertheless, Swedish speakers will find Icelandic familiar and easy to pick up despite the differences.
Final Thoughts:
If you are a native speaker of Swedish or want to add to your linguistic repertoire, there are various options.
Languages such as Danish, Norwegian and Icelandic are very similar in terms of grammar and vocabulary.
However, each language has unique distinctions that can provide a fresh learning experience.
With some effort and dedication, you will be able to master the languages related to Swedish in no time!
Hopefully, this article helped you understand languages similar to Swedish better.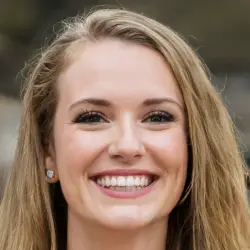 Latest posts by Sylvia Simpson
(see all)