Most tourists in Iceland are from English-speaking countries. And they wonder, do people speak English in Iceland?
Most of the population does speak English in Iceland. There are various reasons for that.
Do People Speak English In Iceland?
English is one of the top second languages spoken in Iceland. So, if you have ever wondered, do people speak English in Iceland? The answer is yes.
Although not every native is fluent in English, most can easily hold a conversation.
Traveling to any country can be exciting. But language can be a big hurdle between you and your good experience.
Languages Spoken In Iceland
Icelandic is the West- Nordic language. Its roots are back to the oldest Nordic language.
Icelandic has not gone through a lot of changes like any other language. That makes learning Icelandic hard.
93% of the population of Iceland speaks Icelandic, as it is the main language there.
About 75% of the population can speak Danish. That is due to the Dutch influence on Iceland in the past.
What Percentage Of Iceland Speaks English?
Iceland has a population of 364000. Out of this, 357000 people are proficient in English. That comes up to 98% of the total population.
According to that statistic, English is largely spoken in Iceland.
Most English-speaking people live in bigger cities. Like the capital of Iceland, Reykjavík.
Compared to big cities, the percentage of English speakers in smaller towns is less.
How

Widely

Spoken Is English In Iceland?
With 98% of the population being able to speak English, it is widely spoken in Iceland.
Almost all the population can converse in English. Except for the elderly population.
It will be easy if you plan on living in Iceland without knowing the language.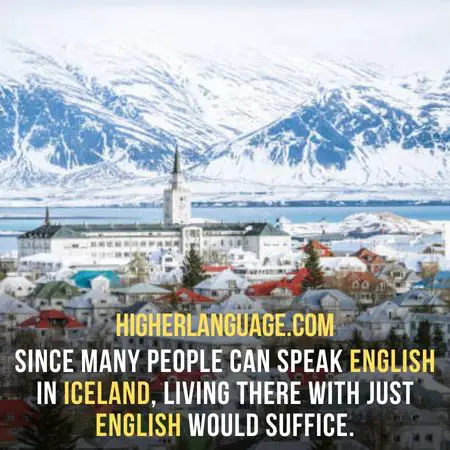 Since many people can speak English, living there with just English would suffice.
Knowing some phrases of Icelandic can help you settle in the community better.
Top 7 Reasons Why People Speak English In Iceland
So, we know that most population in Iceland can speak English. It is the most prominent language in the country.
English is not the official language of Iceland, yet spoken by many. There are several reasons for that.
These reasons revolve around education and exposure. Also, the relation of English to the native language.
Let us look at the top six reasons English gets Spoken so widely in Iceland.
1. Icelandic Is A Hard Language To Learn:
Icelandic is a pure language. That means that it has yet to go through many changes.
The roots of Icelandic go back to the 9th century. That makes it fascinating.
Since Iceland is pretty secluded, little influence has been put on it.
It is similar regarding language. Other European languages have only influenced Icelandic a little.
As a result of this, Icelandic is quite pure in its essence. Speakers can even read ancient texts like the Sagas.
This fact makes Icelandic hard to learn. Even though Icelandic shares roots as that with the English language.
Still, there is a lot of difference. That makes Icelandic one of the hardest languages to learn for English speakers.
It is also a big reason why foreigners who visit Iceland prefer to talk in English.
2. Role Of The English Language In The Education System Of Iceland:
In Iceland, English is taught as early as eight years of age. Even then, most students can already speak English to some extent.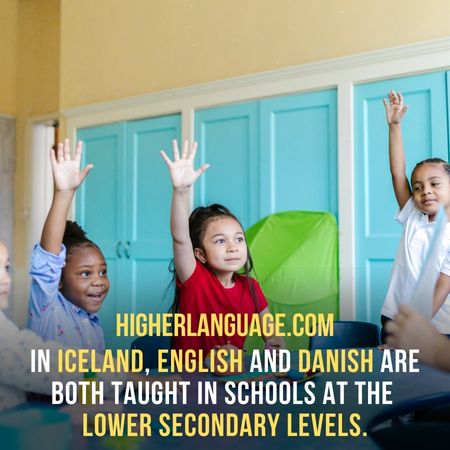 English and Danish are both taught in schools at the lower secondary levels. English is taught to 99.6% of students and Danish to 96.2%.
98% of the students in Iceland learn two or three languages at the lower secondary level.
That is a big reason for the high proficiency in English in Iceland.
3. Tourism Increasing The Number Of English Speakers:
More than 2 million foreigners visit Iceland yearly. Most of these people are from European countries.
Most foreigners cannot speak Icelandic, but they can communicate in English.
So, many businesses in Iceland tourism have English-speaking staff. Aside from them, even locals are fluent in English.
The large number of tourists welcomed in Iceland yearly increases job opportunities.
These job opportunities are from European or American countries. So, the natives learn English as a necessary skill to avail these opportunities.
4. Influence Of T.V And Media:
Media and television shows are a great way to get exposure to any language. In Iceland, most American shows or cartoons are in sub.
That gives children exposure to the English language at an early age. So, most kids can already speak somewhat English before they start learning it in school.
Even teenagers or elders get enough exposure to the English language through media.
That helps them in improving their spoken English skills.
5. Exposure To the English Language:
Aside from media being the biggest medium for exposure to English. Another aspect is to practice speaking English.
Practicing or using a language in everyday life helps you improve.
Most of Iceland's population gets exposure to English and the chance to practice it.
Native speak English in schools and colleges or interact with tourists. As a result, the locals get enough exposure to practice their spoken English skills.
This factor is why English is so widely spoken in Iceland.
6. English Might Replace Icelandic:
Due to Iceland's small population, and most of it speaking English. It is an ongoing concern among the locals that English is replacing Icelandic.
English is a global lingua franca. It has become the language of trade and international affairs around the world.
That has increased its value all around the world. Most countries even teach English as a second language in schools.
The same is the case in Iceland. Most population learns English in schools or through media.
Moreover, 98% of the population speaks English compared to 93% that speak Icelandic.
So, in the coming years, English might completely replace Icelandic in Iceland.
7. Globalization:
The reason for that is that most of the media is in English. So, famous TV shows or even cartoons get aired in English.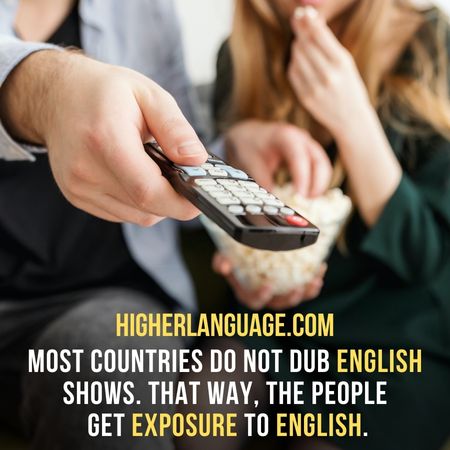 Most countries do not dub English shows. That way, the people of other countries get exposure to English.
Another reason is that English has become the language of trade and business. That gives it a global value.
These reasons are what make English so widely spoken in Iceland.
Final Thoughts:
So, after everything discussed above. We can answer the question, do people speak English in Iceland? With a big yes.
You can spend time learning Icelandic before visiting Iceland.
Since most of the population can converse in English, it'll be easy for an English speaker to fit right in.
Even if you plan on living in Iceland, language won't be a big barrier. Although learning a bit of Icelandic would help you settle in better.
FAQs
Q1. Is Islandic A Dying Language?
It is a fear among the locals that the Islandic language is dying. On the contrary, Iceland's population is more proud of its language than anything.
Since it is rich in history and pure in its essence, they get concerned about preserving it.
The local government has taken various steps to ensure preserving the language.
Yet, more is needed due to the increasing value of the English language worldwide.
Again the county's population is quite small compared to other European English-speaking countries.
So, yes, Icelandic is a dying language. Not in the present but most probably in the future.
Q2. Do Icelanders Get Annoyed If You Speak English?
Most Icelanders are friendly people. They are happy to communicate in English. That say speaks how 98% of the population is fluent in English.
They don't get annoyed if you talk to them in English. However, trying a few Icelandic phrases would seem nice, especially concerning older people.
While communicating, if you use an Icelandic phrase or word. You are making an effort. The locals always appreciate the effort!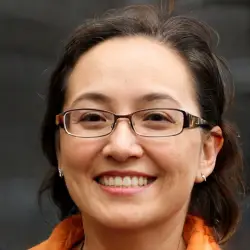 Latest posts by Elizabeth Williams
(see all)