Learning a language is all fun. This is more interesting when speakers are in the hundreds of millions. Many people in the world speak languages similar to Kannada.
For instance, Bangali, Tamil, Telugu, Hindi, Kodava Takk, Konkani, etc., are close to Kannada. So learning one will help you with many others.
Languages Similar To Kannada – 9 Indian Languages!
Kannada is a southern Indian language spoken in the state of Karnataka. Over 40 million people speak Kannada, making it the 27th most-spoken language in the world.
It descends from Sanskrit and shares similarities with Telugu, Tulu, Kodava-Takk, etc.
Kannada also has influence from other languages such as Tamil, Malayalam, and Gond. Moreover, other languages similar to Kannada are Hindi, Bengali, and Marathi.
These languages are common in the southern states of India and share many features. All these languages have a rich literary tradition, classical literature, and interesting cultural influences. 
In addition to Kannada, another language with some similarities is Konkani.
They are close in terms of grammatical structures, vocabulary, and phonology. Thus, people who speak languages similar to Kannada can learn them easily and quickly.
Also, learning languages like Hindi and Bengali is much easier if they know Kannada.
1. Bengali And Kannada Are Close In Terms Of Phonology:
Phonology is the study of sound systems in languages. Many people don't realize that Kannada is quite similar to Bengali in terms of phonology.
This is because both languages share many similarities in their sound systems.
For example, both Kannada and Bengali have retroflex consonants. They are sounds produced by curling the tip of the tongue backward such as the "t" sound in English.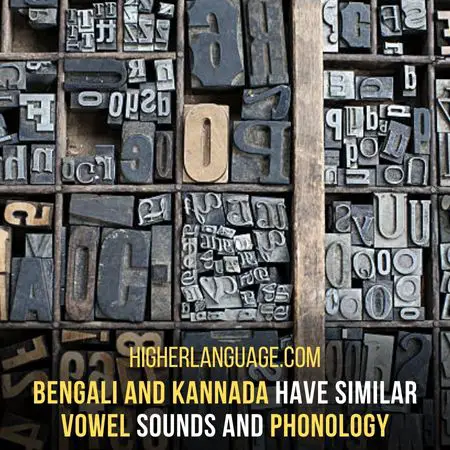 Additionally, both languages have very similar vowel sounds. For instance, Kannada and Bengali have a long "a" sound as "ah". This sound is similar to the one you would use when saying "father" in English.
As a result, people who speak Kannada often have an easier time understanding Bengali, rather, if they try to learn a completely different language.
Another language similar to Kannada is Tamil. More than 70 million people in India and Sri Lanka speak Tamil. Kannada is close to Tamil in terms of conjugation patterns.
Both languages have a similarity in the way words are conjugated. This makes it easier for speakers of one language to understand the other.
This similarity is visible in the way both languages use suffixes to mark tense and aspect.
For example, the Tamil suffix "-al" corresponds to the Kannada suffix "-isu". Both of these indicate the past tense.
Like, a word like "pannal" meaning "came" in Tamil and the Kannada word "pandisu" means the same.
This similarity in conjugation patterns makes it easier for speakers to communicate.
3. Telugu Has Similar Patterns Of Postpositions As Kannada:
Kannada and Telugu are two of the four major Dravidian languages. Telugu is another language that shares many similarities with Kannada.
The grammar of both languages is highly similar. One similarity between their grammar is their use of postpositions.
In both, postpositions help to mark grammatical relations such as case and possession. For instance, the words 'kannu' in Kannada and 'Kanu' in Telugu mean the suffix for the possessive case.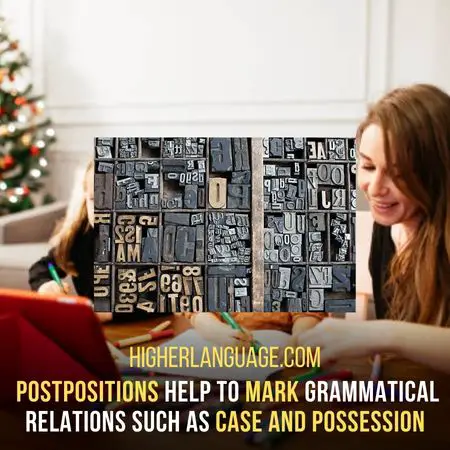 For example, the phrase "this is my book" in Kannada would be 'iyye kannu namma pustakagalu'.
At the same time, in Telugu it would be 'Ye kanuu naaku pusthakaalu'. The similar verb conjugation patterns make it easier to learn the languages.
Kannada and Konkani are two languages spoken in southern India. Both languages share a lot of similarities in terms of vocabulary.
Kannada words often have their roots in Konkani. This makes sense because both languages exist near each other.
The similarity between them is clear in how they borrowed words from each other. For instance, the word 'manga' (meaning 'fruit') is of Konkani origin but is also commonly used in Kannada.
Similarly, the Kannada word for 'house' (gudi) has its roots in Konkani. This borrowing of words from one language to another is not unusual.
It simply reflects the close relationship between Kannada and Konkani.
5. Malayalam And Kannada Have Similar Sentence Structures:
There is a similarity between Kannada and Malayalam in terms of sentence order. Both languages use SOV (subject-object-verb) word order.
This means the subject comes first, followed by the object, and then the verb.
A sentence in Kannada might be "Hannera Neenu Kattida" (I am writing). While in Malayalam, it would be "Neeyenne Katti".
Here, subjects ("Hanna" and "Neeyenne") came before objects ("Neenu" and "Katti"). And verbs ("Kattida" and "Katti") came in the last part.
This differs from English, which uses SVO (subject-verb-object) word order.  This similarity between Kannada and Malayalam makes them close relatives of each other.
6. Kodava Takk Also Emphasis On Respect Order Like Kannada:
This language is close to Kannada and originates in Coorg, a district in Karnataka. People predominantly speak it of the Kodava ethnic community.
Kannada and Kodava Takk are languages, yet there are a lot of similarities between them. For one, both languages place a strong emphasis on respect for people.
In Kannada, it is customary to address older people by their titles.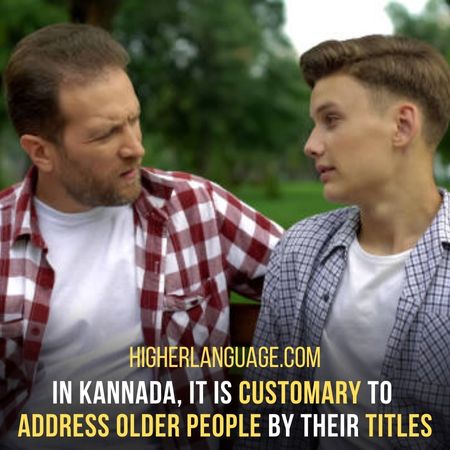 For example, "anna" or "Akka" is for aunt and uncle in Kannada. Similarly, the same is true in Kodava Takk where they use terms like "ayya" or "atte" for them.
Further, the term "you" (nee) is used when addressing someone of a higher social status in Kodava Takk.
At the same time, the same word is used in Kannada too. The respect order of Kannada and Kodava Takk is similar.
This language is from Karnataka and Kerala. People mainly speak it in the Tulu Nadu region of southern India. It has close ties to Kannada.
It's interesting to note the similarity between them in their inflection systems. 
Both languages have four grammatical cases, six tenses, and three genders. Furthermore, they have a strong preference for suffixes over prefixes.
In addition, the two languages use ablaut to indicate grammatical distinctions. Ablaut is a type of vowel change that denotes a difference in meaning without changing the word's spelling or structure.
For example, the word 'avara' in Kannada has two distinct meanings depending on the ablaut: 'they' and 'we.' The same rule applies to Tulu which makes them similar languages.
8. Hindi And Kannada Are Gender-Biased Languages:
It's no secret that languages can be pretty sexist. Take, for instance, the way that many languages have different words for "he" and "she".
In fact, it's something that affects many languages, including Kannada and Hindi. Thus, one of the biggest similarities between Kannada and Hindi is that they both use genders.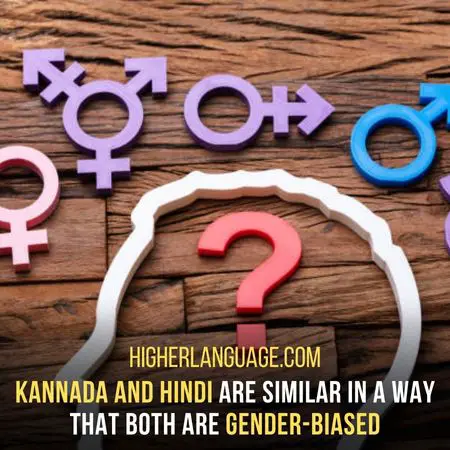 This means they have different words for male and female. Also, they use different grammatical forms depending on a person's gender.
For example, the word "girl" in Hindi differs from "boy". Therefore, people use the word 'Ladki' to refer to a girl and 'Ladka' to refer to a boy.
Also, in Kannada, the word for genders splits into two parts – 'Makkalu' to refer to a boy and 'Magalu' for a girl. This shows how both languages are similar in gender biases.
9. Gond And Kannada Use Honorifics:
Kannada and Gond, two South Asian languages, share many similarities. One notable similarity is the use of honorifics.
Honorifics are words or phrases that show respect for the addressed person. In Kannada, there are three levels of honorifics. For instance, udugappa (very humble), makkalu (humble), and hegide (neutral).
The way you address someone depends on your relationship with that person. For example, honorifics for the son are different from the boss.
Similarly, in Gond, there are four levels of honorifics. For instance, tene (very humble), nabhu (humble), padhi ( neutral), and dhoni (familiar).
Gond honorifics also depend on the speaker's relationship with the addressed person. For example, a woman would use a different honorific when speaking to a man than when speaking to a woman.
So, these two languages, similar to Kannada, use honorific systems.
Conclusion:
Kannada is an interesting language, and its close relatives are even more fascinating. Further, languages similar to Kannada are not even hard to learn.
Some options, like Hindi, Tamil, Telugu, etc., are worth learning.
This makes learning languages similar to Kannada a great way for people to expand their language knowledge. By knowing the languages, they can appreciate the diversity of languages in India.
Also, it helps to understand the rich cultural influences that come with it. Learning can be fun if you're a student or looking to explore languages. It helps to discover how they relate to one another.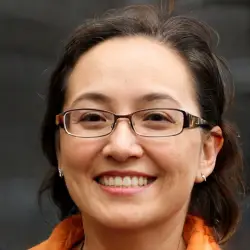 Latest posts by Elizabeth Williams
(see all)