When it comes to Italian American slang words, the list is endless! Many words we use daily in English come from people who moved to the USA a long time ago.
People can show their culture and heritage bond. It does not matter if you do not know what these words mean; you can still use them to celebrate your shared history.
Italian American Slang Words – What It Is And Why It's Important?
Regarding American slang, Italian Americans have a language of their style.
From "fuggedaboutit" to "mamaluke," Italian American slang is full of colorful and distinct phrases that add a touch of humor and personality to everyday conversation.
So where does this unique language come from? It's a result of the fusion of Italian and English, shaped by the experiences of Italian immigrants living in the USA. And why is it important?
Aside from being a fun way to express oneself, Italian American slang has become a beloved part of cultural identity.
So if you ever find yourself talking to a "gavone" or telling someone to "va fa Napoli," just remember you're indulging in a piece of linguistic history.
1. Carciofo – A term Of Endearment For Someone You Cares A Lot:
Are you tired of the same old pet names? Then, get ready to spice up your vocabulary with a new term of endearment, carciofo!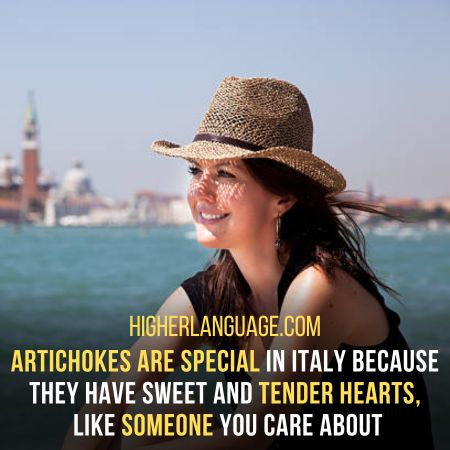 This Italian word means "artichoke" in English. Artichokes are special in Italy because they have sweet and tender hearts, like someone you care about.
In addition to that, saying carciofo sounds much more romantic than "honey" or "sweetie."
So next time you feel extra affectionate towards your significant other, try calling them your carciofo and watch their heart melt.
2. Goombah – A Literal Of The Italian Word For Friend Or Companion:
Hey there, my Goombahs! Did you know that the word "Goombah" actually means "friend" or "companion" in Italian? Yup, that's right!
It's not just a term thrown around by the Italian mafia in movies. It's a genuine and heartfelt word that refers to someone who is always there for you through thick and thin.
So, next time you're hanging out with your closest pals, make sure to address them as your Goombahs.
Not only will you sound cool, but you'll also be honoring a beautiful tradition and culture. Goombahs for life!
3. Mamaluke – Someone Who Acts Foolishly Or Stupidly:
You might have heard the term "mamaluke" thrown around in old gangster movies or among people trying to act tough. But what does it mean?
Well, put simply, it's a derogatory term used to describe someone who is acting foolish.
The origin of the word is believed to come from the Italian word "mammalucco," which was used to describe a blockhead or imbecile.
It eventually made its way into the vocabulary of Italian-American gangsters and then into popular culture.
So, the next time someone calls you a mamaluke, just remember that it's not a compliment – but at least you'll know what they mean!
4. Cugine/Cugini – This Slang Translates To "Cousins":
Cugine, cugini, your homies or your cousins? It's all up to you! This versatile slang term has got you covered when referring to those special people in your life.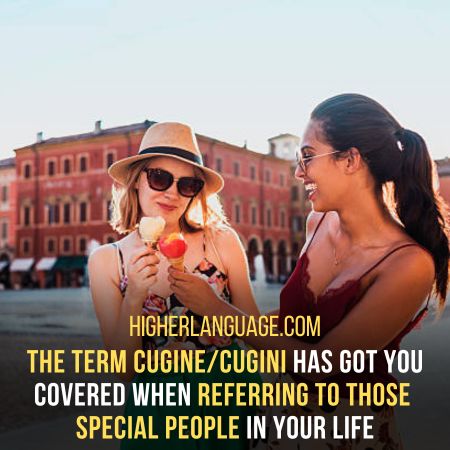 Whether it's your cousin from New York or your best friend down the street, cugine/cugini is the perfect way to let them know how close they are to your heart.
So use it with pride and tell your loved ones how much they mean to you. After all, who needs a formal title when you've got slang like this?
5. Che Palle! – An Expression Of Frustration:
If you happen to be in Italy and hear someone exclaim, "Che palle!" don't be alarmed – they're not talking about anatomy.
This common expression is a way for Italians to vent their frustration or annoyance, and it's hard not to appreciate the straightforwardness of a phrase that translates to "what balls".
Whether complaining about the weather, traffic, or their boss, Italians are not afraid to use colorful language to express their emotions.
So the next time you're in Italy and hear someone say "Che palle!", just remember – it's all part of the charm of this passionate and expressive culture.
6. Saltimbocca – "Jump In The Mouth":
The word "saltimbocca" just rolls off the tongue, and rightfully so, because it quite literally means to "jump in the mouth."
Tasting this Italian food can make you feel great. It is usually made with either veal or chicken. The meat is wrapped in prosciutto and sage, then cooked to be just right.
Pair it with a side of creamy risotto and a glass of bold red wine, and you'll be transported straight to the rolling hills of Tuscany.
So, the next time you see something that makes your taste buds dance, just remember to exclaim, "Saltimbocca!"
7. Facciamolo – "Let's Do It"; An Expression Of Excitement:
Facciamolo! This Italian phrase embodies the contagious energy and enthusiasm of those about to dive headfirst into a thrilling endeavor.
It's not just an expression; it's a mindset allowing us to approach challenges positively and excitedly.
Whether planning a daunting project or simply trying to conquer a personal goal, adopting a Facciamolo attitude can help you stay motivated and focused.
When you feel scared or don't know what to do, take a deep breath and yell "Facciamolo" very loudly. You never know where that burst of energy will lead you!
8. Puzzone – "Stinky Person"; Someone Who Is Smelly:
We all know a Puzzone in our lives, whether it's that one colleague who's always smelling like they haven't showered in days or that guy on the subway carrying a suspicious odor.
But have you ever wondered where the term "Puzzone" came from? Well, as it turns out, it's an Italian term that means "Stinky person".
When you encounter a Puzzone in the future, dazzle your peers with your linguistic know-how!
Of course, being around someone who's a Puzzone is not very pleasant, so it's always good to carry some perfume or deodorant with you – you never know when you might need it!
9. Mangiafuoco – Describe Someone With A Fiery Temper:
The term "Mangiafuoco" may sound like a new Italian restaurant in town, but it refers to a fiery personality.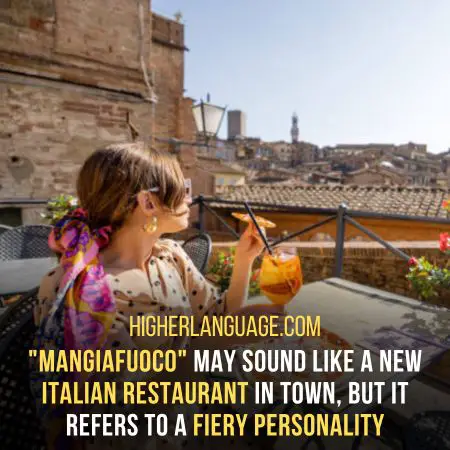 Literally meaning "fire eater," this expression describes an individual with a quick temper that can ignite at any moment.
Whether you have encountered a Mangiafuoco yourself or just heard the phrase thrown around, it's clear that these types of people are not to be messed with.
So the next time you witness a heated argument, you might just think, "Yep, that person is a Mangiafuoco." Just be sure not to light any matches around them.
10. Pinzimonio – "Dip Sauce":
Looking for a dipping sauce that packs a ton of flavor and brings classic Italian vibes to any table? Look no further than Pinzimonio!
This traditional Italian sauce is a delicious blend of olive oil, garlic, vinegar, and herbs. Perfect for dipping vegetables or bread, Pinzimonio adds a zesty kick to any bite.
Not to mention, it's super easy to make – just mix all the ingredients and you're good to go!
So why settle for bland dips when you can spice things up with a little Pinzimonio flair? Give it a try and taste the difference!
11. Occhio Di Bue – "Bull's Eye":
Expressing something that is flawless or spot-on? Italians have a phrase for it, "occhio di bue" – aka the epitome of cool! It's much more interesting than its English translation, "bull's eye".
Maybe it's the Mediterranean flair or the fact that "occhio" just rolls off the tongue, but I can't help feeling a little jealous that we haven't adopted this phrase into our language.
The next time you're admiring a perfectly crafted latte art or a bullseye on a dartboard, give a little nod to the Italians and appreciate the beauty of the "occhio di bue".
12. Chi-Chi-Mè – Used To Express Agreement Or Approval:
Have you ever heard someone say "Chi-chi-mè"? If so, you're in luck because it's your lucky day! This phrase is commonly used to express agreement or approval.
Think of it as your personal "amen" or "hell yeah!" When you hear someone say "chi-chi-mè," you know they are on board with whatever is being discussed.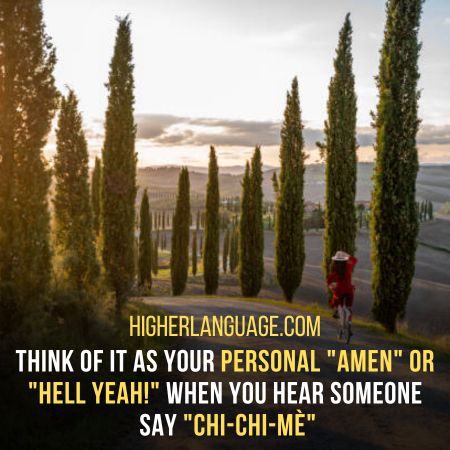 And the best part? It's super fun to say! And the best part? It's super fun to say! So try it out next time you want to show enthusiasm for something. Chi-chi-mè!
Conclusion:
Here's the dealio, amigos. Italian American slang words are il massimo, the best!
These phrases have been passed down from generation to generation and are a perfect mix of English and Italian.
You might have heard people say "fuggedaboudit" or "capisce". These are special words with a lot of personalities.
Whether it's chatting with your paisans at the deli or impressing your crush with your linguistic skills, learning Italian American slang words is a must.
So, start practicing, and don't forget to emphasize those accentos!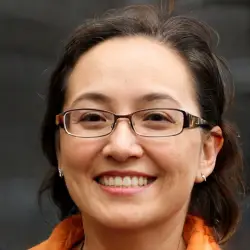 Latest posts by Elizabeth Williams
(see all)