One of the most common questions about Thai is, "How long does it take to learn Thai?" The answer varies depending on your objectives and drive.
If you want to understand words and simple phrases, you can learn them within a few months. But if you want to have conversations in Thai, that might take from six months to a year or more.
How Long Does It Take To Learn Thai?
How Long Does It Take To Learn Thai? That is a tricky question, as the learning process will vary depending on an individual's aptitude or study habits.
Every person learns differently, and it depends on a lot of things like how much time they study, how often they practice, and how good they are at learning new languages.
Thus, it could range from a few months to multiple years to become fluent in reading, writing, and speaking. Also, Thai may take quite some time due to the complexity of the language.
Generally speaking, if you dedicate about 10 hours a week for an entire year, you should be able to become reasonably proficient in Thai.
In addition, with regular practice and reinforcement of words and grammar rules, it is possible to reach a conversational level within 6 – 12 months.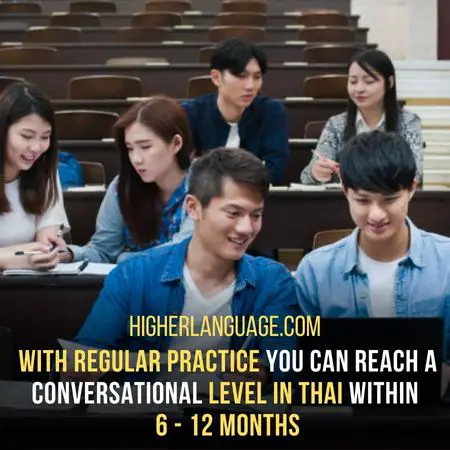 However, it may take longer if you want to be able to read and write Thai fluently at a native level.
Regardless of how comfortable you may feel in having a conversation with native speakers, it is important to remember that learning never truly ends!
With that in mind, you will benefit from continuing to practice and study Thai even after mastering the basics.
This way, you can deepen your understanding of the language and hone your skills!
Factors Impacting Your Thai Language-Learning Process
How long does it take to learn Thai? It depends on several factors.
For example, your previous language learning experience, dedication and commitment to the cause, motivation level, available resources, and the method you choose.
Previous language learners have reported varying results depending on their familiarity and knowledge of other languages.
Dedication and commitment are essential to pick up a new language, requiring both mental distress tolerance and sustained effort over time.
Your motivation level also plays an important role in how fast you pick up Thai.
If you wish to speak like a native speaker in a shorter timeframe, then having some emotional investment must be maintained throughout the learning process.
If you want to learn a language quickly, it is helpful to have resources. These can be books that you use by yourself or classes that you take with a teacher.
There are also online tutoring services that can help you learn. As more options you have, the faster it will be for you to learn Thai.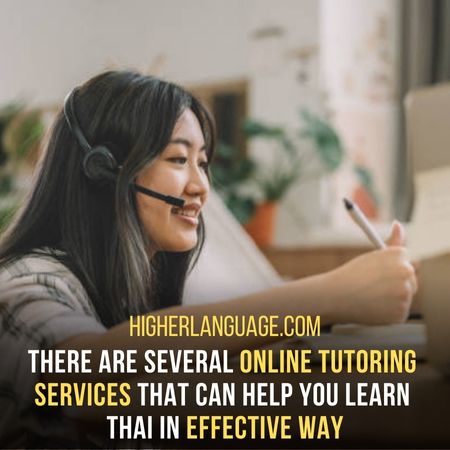 Finally, perhaps most importantly, selecting an effective method relevant to your needs.
So whether that be apps focusing on memorization activities or conversational exercises – ensure whatever you choose best suits your desired outcome.
Why Should You Invest In Learning The Thai Language?
If you're looking for a language to learn that offers the best opportunity for a return on your investment, learning Thai is the way to go.
With its relatively easy-to-learn alphabet and straightforward pronunciation rules, it won't take too long to pick up a basic level of speaking and understanding Thai.
How long it takes ultimately depends on how many hours you put into it – so with some dedication and a little bit of effort, an intermediate level should be achievable in around six months!
After all, the rewards far outweigh the effort required – not only does it make an impression when traveling, but proficiency will also give you career opportunities otherwise unavailable.
Plus, let's not forget the wonderful Thai culture and cuisine that awaits you once you master the language!
Facts About The Thai Language
Learning the Thai language is an interesting and rewarding endeavor. To help you get started, here are some facts about Thai that might help you decide if it's the right language for you.
First, it uses its own script called 'Thai,' so a bit of memorization is involved. This means it takes some time to get used to this new way of reading and writing.
Second, spoken Thai has five tones or "tones of voice" that help add context to words. And learning to use the right tone will help you to communicate more effectively.
Third, the grammar can be tricky, and there are no verb conjugations by gender or number like in European languages.
Fourth, it has borrowed heavily from both Sanskrit and Pali, which makes it a mix of ancient languages. Consequently, some of the words and grammar rules are quite challenging.
Fifth, it is closely related to Lao, which means if you learn one language, you partly know the other too! Therefore, you can use your knowledge of one language to help with the other.
Knowing these facts about Thai will help you learn the language better in a short time.
Step By Step Process To Learn Thai
The thrilling and satisfying adventure of mastering a new language has driven many to start learning Thai!
Figuring out how long it will take to learn Thai depends on your level of commitment.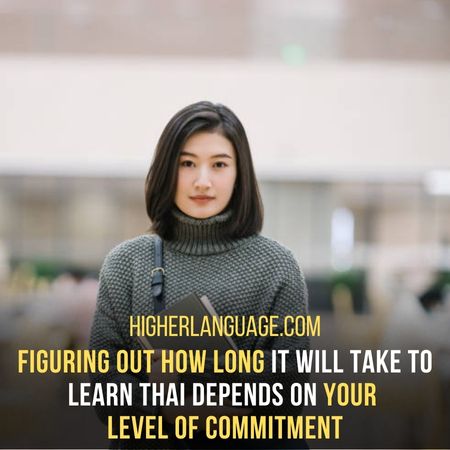 If you want to 'learn' the language, you could join a class or commit to lessons online – but if you want mastery, the process is much more involved.
In general, Thai can be broken down into four main steps.
– First, focus on understanding basic grammar rules and sentence structure.
– Second, learn conversational words and phrases in order to communicate in everyday settings.
– Third, practice your pronunciation regularly, as there are a few sounds unique to the language.
– Finally, get out there and practice speaking with native speakers to really perfect your skills!
After completing these steps, it could take between 3 months to 1 year to gain a good understanding of the language.
Tips To Maximizing Your Language-Learning Journey
Any language-learning journey should be taken at one's own pace, and the length of time it takes to learn a language is subjective.
How long it takes to learn Thai can be different for each person.
This is because some people already know a language similar to Thai, how much time they have to practice each day, and how they learn best.
It can be daunting, but with the right strategies, you can maximize your experience and make your journey enjoyable.
If you have an inspirational purpose, such as boosting your job prospects or pursuing a global opportunity, it pays to soldier on even when feeling overwhelmed or disheartened.
To further boost progress, break down overwhelming concepts into smaller pieces and then use mnemonic devices or visual cues to help remember words and their pronunciation more easily.
Utilizing new language-learning techniques along with communication exchange programs are also great ways to challenge yourself while perfecting what you have already mastered.
This shows that with the right strategies and dedication, it is possible to learn Thai in a relatively short period of time.
In the end, if you are considering taking up the challenge of learning Thai, a good rule of thumb is to allocate at least 3-4 hours per day for mastering new words and phrases.
Will Thai Be An Easy Or Difficult Target For You?
How Long Does It Take To Learn Thai? It depends on your native language.
People who come from Chinese, Vietnamese, Lao, Burmese, or Korean may find it easier as the linguistics behind them could be similar to Thai.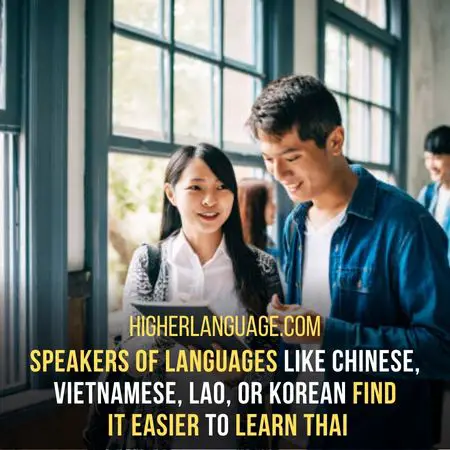 There are also speakers of European languages who have had comparative success in picking up the language.
Moreover, learning a new language can be a long and difficult process. So, for some languages, it can take much longer than others.
For instance, if you are from the western world, then when it comes to learning the Thai language, you may find that it takes longer than some other languages.
This is because its pronunciation and writing system differ so greatly from western languages. Thus, people have to put extra efforts.
In fact, as a native English speaker, Thailand's tonal language system poses an extra challenge that has been compared to 'tuning a musical instrument'.
Different tones affect the meaning of words and sounds – something that is unfamiliar to many learners used to standard letters and sounds.
It certainly will take more time to adjust and thus making learning Thai comparatively difficult.
Conclusion:
All things considered, learning a new language – especially one like Thai – can feel like an intimidating task.
How long does it take to learn Thai? The honest answer is that the amount of time will vary with the individual.
How persistent and self-disciplined you are in your studies, as well as the resources available to you, will all play a part in what kind of progress you make.
Taking all that into consideration, with effort, dedication, and utilizing available tools and technology, it's definitely possible to kickstart your journey successfully.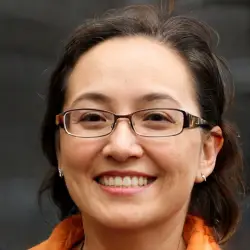 Latest posts by Elizabeth Williams
(see all)