Learning Indonesian is a fun and rewarding experience. But how long does it take to learn Indonesian? With the right strategy learning Indonesian can be easy.
By focusing on pronunciation and grammar, immersing yourself in the language, practicing consistently, and setting small goals, you can become fluent in Indonesian in no time.
How Long Does It Take To Learn Indonesian?
That depends on how much time and effort you are willing to commit. Becoming proficient in Indonesian can take anywhere from two months to two years.
Several factors contribute to your language learning process. Such as how much time you devote to studying the language and how mechanically inclined you are to pick up new words and grammar rules.
Plus, how often you practice speaking and writing the language also matters.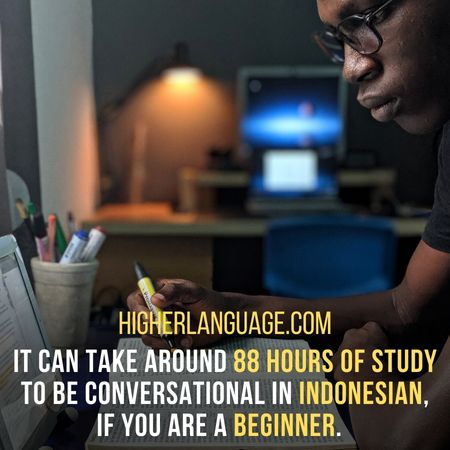 Some language experts suggest that it takes around 88 hours of study to become conversational in Indonesian if you are a beginner.
However, how long it will take for you to reach fluency depends on how dedicated you are and how often you practice the language.
A good tip is to find opportunities to learn new words or grammar rules daily.
Apart from this, you can also opt for learning resources like apps and language courses that offer interactive materials and helpful feedback.
Taking up a course with an experienced teacher who speaks Indonesian as a native language is ideal if you want to progress quickly in the language.
Additionally, joining a language exchange group or engaging in conversations with Indonesian speakers can further improve your language proficiency.
So, how long does it take to learn Indonesian? It depends on how you approach it and how much time you're willing to spend learning the language.
However, you can become conversationally fluent in a relatively short period with dedication and hard work.
10 Factors Contributing To Learning Indonesian
Various factors can affect how long it takes to learn Indonesian.
Factors include how much time you can dedicate to studying and how quickly you absorb new information.
Plus, how committed you are to the process all play important roles in how quickly you can pick up on the language.
Prior knowledge of other languages may also influence how quickly you learn Indonesian.
For example, suppose you already have some fluency in another language.
In that case, your learning process will be quicker as many grammar and pronunciation rules may already be familiar.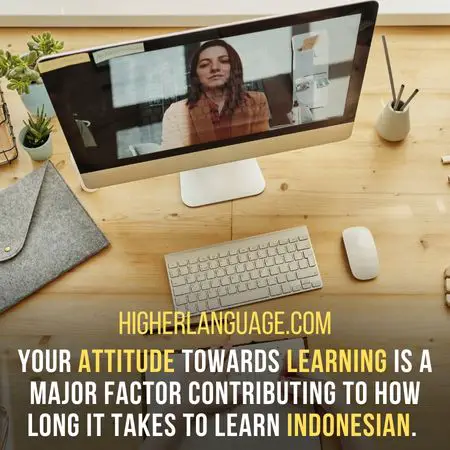 Lastly, your attitude towards learning is a major factor contributing to how long it takes to learn Indonesian.
Having an open mind and the enthusiasm to learn will go a long way in how quickly you pick up the language.
So how long does it take to learn Indonesian? It all depends on how much time and effort you're willing to put in.
Aside from that, there are other factors too that are important in learning a new language:
1. Your Current Language Level:
Are you a beginner, intermediate or advanced learner? That will influence how quickly you learn and how much effort is required.
If you already have some knowledge of the Indonesian language, this will make learning faster as some concepts and aspects of the language would already be familiar to you.
Opposed to that if you are completely new to learning Indonesian, then it can take some extra time to understand the basics of the language first.
Hence, this is important in understanding how long it will take you to learn Indonesian.
2. The Amount Of Time Dedicated To Studying Indonesian:
How often do you study, and how long are your sessions? Dedicating more time can help speed up the process of learning.
Coincidentally, how often you dedicate your time to studying Indonesian and how long of a session can also play an important part in how quickly you learn the language.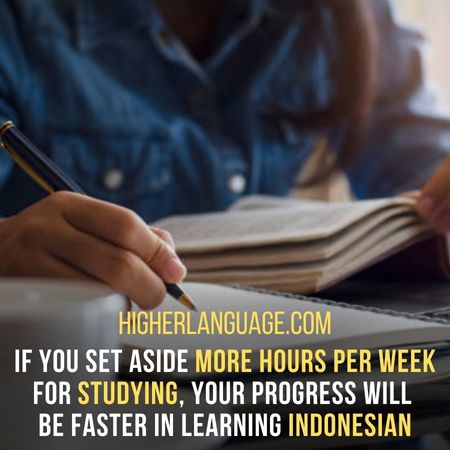 If you can set aside more hours per week for studying, your progress will be faster than if you could only put aside an hour or two every week.
3. Your Methods:
Different learning methods can also affect how quickly you pick up the language.
There are various methods of language learning you can go for.
Such as joining an Indonesian language course, self-study, or joining a language learning group online.
You can even learn by watching various videos on Youtube or other websites.
Therefore, it is important to find a method of learning that works for you, such as rote memorization or an online course, and stick with it.
Finding the best approach for you might take some trial and error, but it will be worth it in the end.
4. Is Your Native Language Similar To Indonesian:
If your native language is similar to Indonesian, such as Malay, it can make learning the language easier.
That is because many of the words and phrases may be familiar.
It might not make the entire process faster, but it could help you better understand how certain concepts work and how words are constructed.
So, how long does it take to learn Indonesian? It varies based on your approach and how similar your native language is to the language you're learning.
5. Utilize Resources:
How long does it take to learn Indonesian? While there is no one-size-fits-all answer, utilizing all available resources can make the process much faster.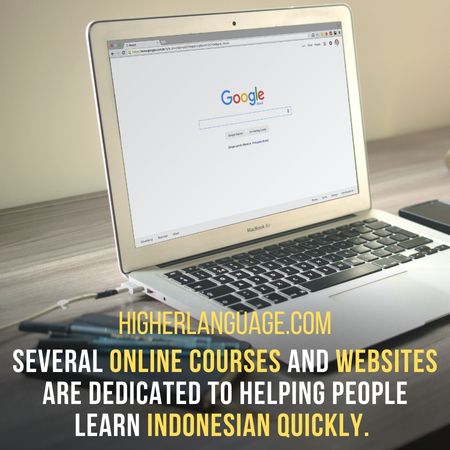 Several online courses and websites are dedicated to helping people learn Indonesian quickly and effectively.
Additionally, many books available can provide you with additional practice and guidance.
By using all the resources at your disposal, it's possible to cut down on how long it takes to learn Indonesian.
6. Focusing On Basics First:
Focusing on mastering the basics is important before attempting more complicated tasks.
For example, focus on how to form a sentence, pronounce words correctly, and use basic grammar.
Once you have mastered these skills, move on to other areas, such as reading and writing.
Indonesian grammar is relatively straightforward, so focus on how the language works and how to use it correctly.
7. Creating A Study Plan:
Creating a study plan is essential if you want to learn Indonesian efficiently. Create achievable goals with realistic timelines for completing them.
Make sure you're allocating enough time for learning and practice, as this will help to keep you motivated and on track.
It's also a good idea to use various resources such as textbooks, websites, audio recordings, and language exchange partners to learn the material.
8. Building Your Vocabulary:
The most important part regarding how long it takes to learn Indonesian is how quickly you can develop your vocabulary.
Memorizing essential words and phrases is key to improving your comprehension and conversational skills in Indonesian.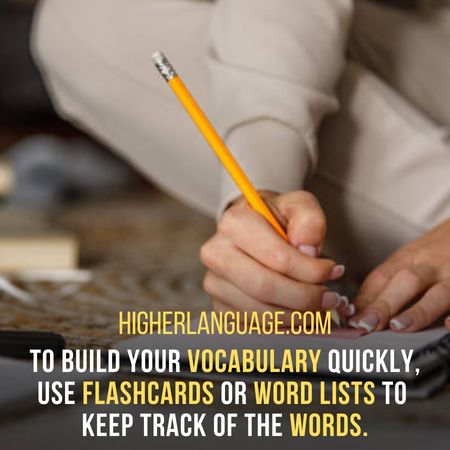 To build your vocabulary quickly, try using flashcards or word lists to keep track of the words you come across daily.
In addition, it would be best to practice speaking with native speakers as much as possible to build a foundation of commonly used words and expressions.
9. Understanding Grammar:
Another important factor to consider when learning how long it takes to learn Indonesian is how much you understand the language's grammar.
Unlike English, Indonesian does not have complex verb conjugations or gender-specific nouns, making it easier for learners to remember how to construct sentences.
However, there are several grammar rules that you will need to become familiar with to communicate effectively.
That can take some time, but luckily most Indonesian courses include explanations on how to use specific pronouns and construct sentences correctly.
10. What Is Your Learning Ability:
It is important to assess how quickly you learn and how well you can retain new information.
Understanding a concept relatively quickly and finding it easy to remember will help speed up the learning process.
However, your progress may be slower if you take longer to learn or need help retaining information.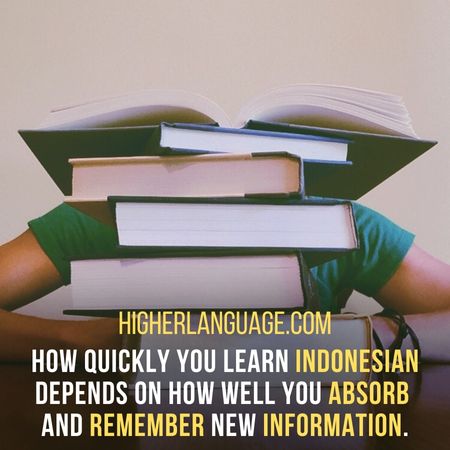 So, how quickly you learn Indonesian will depend heavily on how well you absorb and remember new information.
Final Thoughts:
So, How long does it take to learn Indonesian? Learning Indonesian can be challenging and time-consuming.
Progressing with the right resources, effort, and attitude is possible.
The time it takes to learn the language will depend on how quickly they can process new concepts.
Plus how well they can remember them and how much practice they put into them.
You can learn to communicate in Indonesian and understand the region's culture with dedication and focus.
Frequently Asked Questions
Q1. Can Indonesian Be A Hard Language To Learn?
The Indonesian language is relatively easy to learn compared to other languages.
It uses Latin script, has no verb conjugations, and the sentence structure follows a simple word order of subject-verb-object.
That makes it an ideal choice for beginners who want to learn a new language quickly.
With the right resources and dedication, you can master the fundamentals of Indonesian in a short period.
Q2. How Long Does It Take To Become Fluent?
The answer to how long it takes to become fluent in Indonesian depends on how much effort you're willing to put into learning the language.
Some learners may be able to become conversationally fluent within a few months of focused study, while others may take a year or more.
A good rule of thumb is to practice for at least three hours a week and set a goal of mastering the basics in six months.
If you're able to dedicate more time and energy to learning Indonesian, you may be able to reach fluency sooner.
Q3. What Will You Be Able To Do After Six Months?
After six months of studying Indonesian, you should have a solid foundation in the language's grammar and pronunciation.
You should be able to understand basic conversations and conduct simple exchanges with native speakers.
With more practice, you can continue building your vocabulary and fluency, becoming more confident.
Q4. Is There Anything Else You Can Do To Speed Up The Learning Process?
Yes! While practice and dedication are important for mastering any language, there are some things you can do to help make the learning process smoother and faster.
First, consider attending Indonesian classes or joining a study group, which will provide further opportunities to practice speaking and get feedback.
Finding a language buddy who can help you practice and answer questions is also a great way to improve quickly.
Finally, using online resources such as Indonesian podcasts or blogs is an effective way to keep up your motivation and stay engaged in the learning process.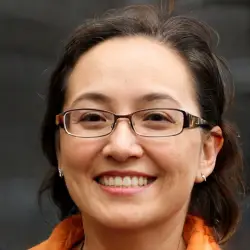 Latest posts by Elizabeth Williams
(see all)