German is among the ten most spoken languages in the world. Hence many people try to learn German as an essential tool for communication. But how long does it take to learn German?
This article will provide useful tips and factors that contribute to the learning process of the German language. So continue reading!
How Long Does It Take To Learn German?
That is a question that many people ask when considering taking up the language.
The answer depends on several factors, such as how much time you can commit to learning German, your current language knowledge, and how quickly you pick up new concepts.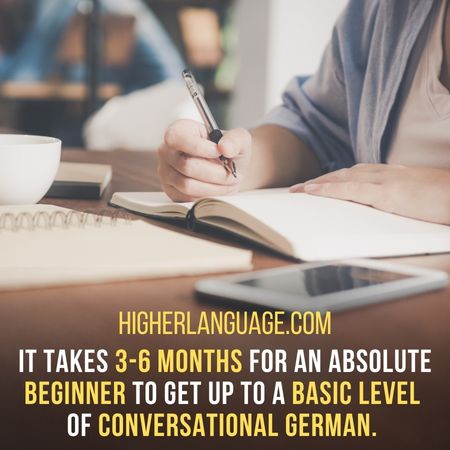 Generally speaking, it could take anywhere from 3-6 months for an absolute beginner to get up to a basic level of conversational German.
It takes up to a year or more for someone wanting to become fluent.
The best way to learn the language is to do it regularly over an extended period.
You can also speed up your learning by taking advantage of online courses, finding native tutors, or attending in-person classes.
Doing as much as possible to immerse yourself in the language is an important part of learning German.
No matter how long it takes you to learn German, you should take pride in your achievements and enjoy the process.
Don't be afraid to make mistakes—the more you make, the more you learn. With enough practice and dedication, you can be well on your way to fluency in German!
How Difficult Is The German Language To Learn?
The difficulty of learning German depends on your language background. If you already have a solid understanding of English.
For example, you may find that some aspects of German are relatively easy to master.
With the right resources and dedication, most people can develop basic conversational abilities in less than six months.
However, it typically takes two or more years to become proficient in the language.
The difficulty of learning increases when you move beyond basic conversational abilities and start tackling more complex aspects of German, such as grammar and higher-level vocabulary.
It is also beneficial to understand the culture behind the language so that it can take a lot longer to fully master all aspects of German than it does to become conversational in the language.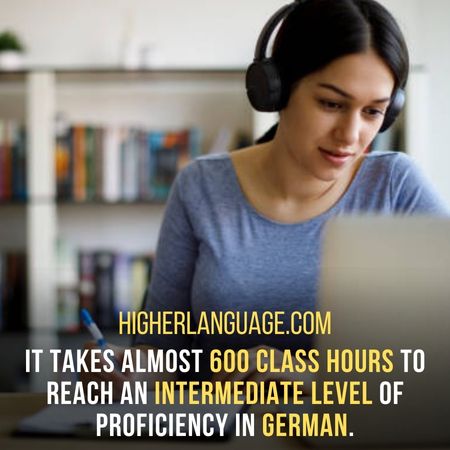 To get an idea of how long it takes to learn German, consider that it generally takes 600 class hours for a student to reach an intermediate level of proficiency.
However, this number can vary depending on your learning style and the resources you use.
For instance, some learners might find that it takes them less time to become proficient in German, while others might need more.
Relation Of German Language To English
It'sIt's important to note that German shares many similarities with English because they are both West Germanic languages.
That means some words in the two languages are very similar, making it easier to learn German if you already know English.
Many words in the two languages are derived from Latin, sharing similar roots and patterns.
For example, "kinder" is a direct relative of the English word "children," and both have the same meaning.
English and German share common roots and have many cognates, words that share the same origin. A good example is the word "mother", which sounds and looks different ('Mutter' in German).
Because of these similarities between German and English, it is relatively easy for English speakers to learn German.
5 Steps To Help In Learning German Language
The best approach to learning German is to start with the essentials and work your way up gradually.
First, improve your pronunciation, build a solid vocabulary base, and master basic grammar rules.
Once you grasp the basics well, spend more time practicing your conversational skills and expanding your vocabulary.
The easiest way to do this is by reading books or watching movies with German subtitles.
In addition, many online resources and apps can help you learn the language. You can also practice conversing with native German speakers to test your comprehension.
Let us look at five steps to help us understand the process in detail:
1. Learn The Alphabet:
The first step is learning the German alphabet. That is crucial as it forms the foundation for understanding the language.
The German alphabet is the same 26 letters as in English.
So, if you are familiar with the English alphabet, you can easily learn the German one.
2. Memorizing The Vocabulary:
Once you've learned some basic grammar and vocab, it's time to start memorizing the words.
Unfortunately, that is where many people get stuck, as it can be difficult to remember so many new words.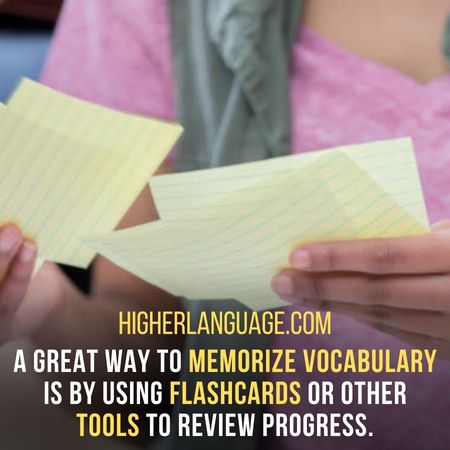 A great way to do this is by using flashcards or other tools to review what you've learned.
3. Learning The Sentence Structure:
The next step is to learn sentence structure and how to use it in practice.
That means understanding when to use certain words, phrases, and sentences.
Learning the sentence structure can be difficult, but with enough practice, you should eventually start speaking like a native German speaker.
4. Knowing The Basic Grammar Rules:
Once you have mastered the sentence structure, learning some basic grammar rules is time.
These will help you understand how the language works and give insight into what makes up a correct German sentence.
That can take some time, but with enough practice and patience, you should be able to understand these concepts quickly.
5. Practicing The Language:
The final step in learning German is to practice the language.
You can do this by watching German films and TV shows, listening to music, reading books, conversing with native speakers, or joining a language exchange group.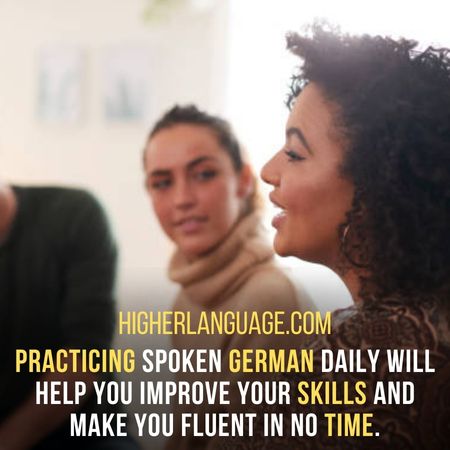 Practicing your German daily will help you improve your skills quickly and become fluent in no time.
6 Major Factors That Contribute To Your Language Learning Process
A lot of factors contribute to an individual's learning process.
For example, how much time and effort you put into the language, your aptitude for languages, and the resources available will all play a role in your progress.
That being said, with enough dedication and practice, anyone can learn German in no time.
Let us look at six major factors that contribute the most to our learning of the German language.
1. Your Exposure To The German Language:
How often you are exposed to the language plays a major role in determining how quickly you can learn it.
If you practice every day, either through speaking with native speakers or using online tools and courses, then your progress will be much faster.
Movies and media also help to improve your listening comprehension.
Listening comprehension is essential to learning, as it helps you understand the spoken language. So, exposure to language is an essential aspect of learning.
2. Relation Of German Language To Your Native Language:
The relation of the German language to your native language can also affect how quickly you learn.
If the two languages are closely related, it will be easier for you to pick up on certain aspects of the new language faster.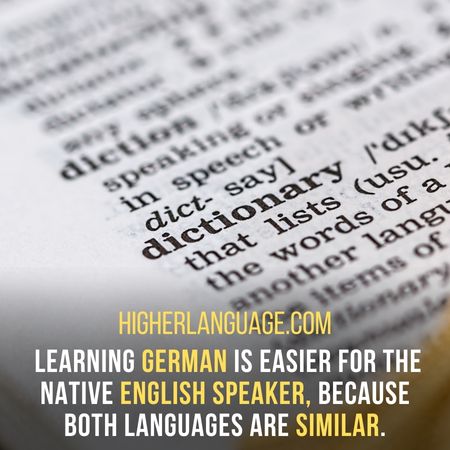 For example, if you're a native English speaker, then learning German is considered easier because of the similarities between the two languages.
So, it would take less time to learn than someone who speaks a language with very little relation to German.
3. What Level Of Fluency Do You Desire To Reach:
Another factor determining how long it takes to learn German is your desired level of fluency.
For example, suppose you only wish to understand the basics, e.g., ordering food in a restaurant, engaging in brief conversations, and reading some signs.
In that case, it will take significantly less time than if you want to become proficient enough to pass a university entrance exam or get a job that requires German fluency.
So, knowing what fluency level you want before starting the learning process is helpful.
4. How Much Time You Are Dedicating To The Learning Process:
The amount of time you have for studying and learning German also matters.
If you have more free time to devote to language learning, it will take less time to learn German than if you are busy with other commitments.
But, of course, you also need to factor in the time you are willing to dedicate; if you're only able to study German for a few hours per week, it may take longer than if you devote more of your free time.
5. What Learning Method Are You Using:
The learning method you choose can also make a huge difference in how long it takes to learn German.
For example, if you're going with traditional language classes or online courses, your progress will likely depend on the speed of the course and the time allotted for each lesson.
On the other hand, if you opt for independent study techniques like flashcards, immersion, or language exchanges, you can determine your learning pace.
6. What Is Your Learning Speed And Ability:
It'sIt's also important to note that everyone learns differently, so your learning speed and ability can affect how quickly you learn German.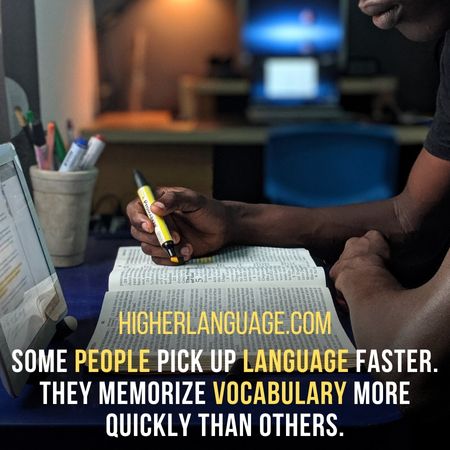 For example, some people may pick up the language faster than others and be able to memorize vocabulary and phrases more quickly.
On the other hand, others might find that it takes more time for them to remember the material. In any case, it's important to be patient and not get discouraged.
Final Thoughts:
Ultimately, the answer to the question, how long does it take to learn German? That depends on you and your learning style.
How much time and effort you put into it can determine how quickly you learn German.
You can determine your learning pace if you commit to studying regularly with study techniques like flashcards, immersion, or language exchanges.
That doesn'tdoesn't mean that you have to learn German in a certain amount of time, but it does mean that with dedication and hard work, you can make significant strides in your language-learning journey.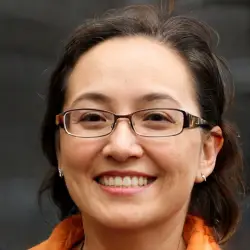 Latest posts by Elizabeth Williams
(see all)