Learning Dutch can be a fun experience, but learning any language requires time and effort. So, how long does it take to learn Dutch? That depends mostly on you.
Dutch is a very logical language based on a system of rules. Once you understand how Dutch works and how the grammar works, learning it can become easier.
How Long Does It Take To Learn Dutch?
The answer to how long it takes to learn Dutch depends on how much effort you put into it and how quickly you want to achieve your goals.
Generally speaking, it can take anywhere from six months to two years or more, depending on how often you practice.
If you're looking for a quick crash course, you could take an intensive Dutch language course.
These courses usually involve intense study for a few weeks or months and can help you get up to speed quickly.
However, it may take longer if you seek more in-depth language knowledge.
The best way to learn how long it will take to learn Dutch is to assess how quickly you can assimilate the language.
If you're already familiar with languages like German or French, it may take considerably less time than if you have no previous experience.
Another factor in how long it takes to learn Dutch is how much time and effort you are willing to practice and learn.
For instance, how much time you allocate to learning the language and how many hours you can commit to studying per week.
Dedicating consistent study time to your schedule will help move things along faster than if you try to cram everything into one weekend.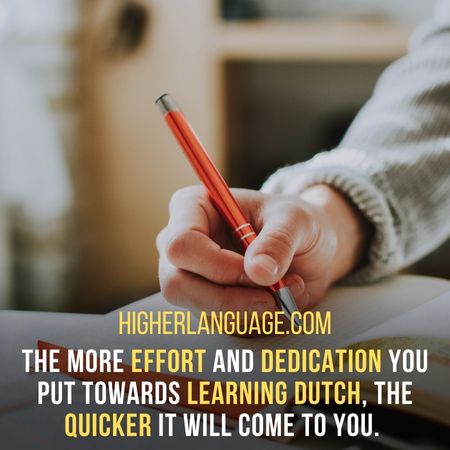 The more effort and dedication you put towards learning Dutch, the quicker it will come to you.
In addition, spending more time studying and practicing the language.
Such as reading articles in Dutch or having conversations with native speakers will help you learn how to speak Dutch faster.
So how long does it take to learn Dutch? The answer is that it depends on how much effort you are willing to put into learning.
Plus it also matters how quickly your particular brain absorbs information.
The more time and effort you put into learning Dutch, the faster you'll be able to speak it.
Is Dutch A Hard Language To Learn?
Dutch is a West Germanic language closely related to English and German. It is spoken by about 24 million people in the Netherlands and about 5 million worldwide.
Dutch has many dialects, but most of them are mutually intelligible.
Dutch is written using the Latin alphabet with additional symbols for sounds that don't exist in other languages.
How difficult you find Dutch is based on your prior knowledge of other languages.
Dutch is considered easier to learn than other languages due to its straightforward grammar and pronunciation.
For example, there are no genders in Dutch, and it has no complicated verb conjugations or irregular verbs like in other languages.
That means you can quickly speak Dutch once you learn basic grammar.
If you already speak one of the other Germanic languages, like German or Afrikaans.
Then learning Dutch will also be easier for you since there are a lot of similarities between those languages.
On the other hand, if you are completely new to the language, it may be more difficult for you.
That said, Dutch is a relatively easy language to learn because of its phonetic and logical structure.
Additionally, many resources are available online and in bookstores to help you learn the basics quickly and easily.
5 Factors Contributing To Learning Dutch
The amount of time it takes to learn Dutch will depend on several factors.
Including how much effort you are willing to put into learning the language and how often you practice speaking.
If you dedicate yourself to studying for at least an hour a day, then you should be able to achieve a basic understanding within a few months.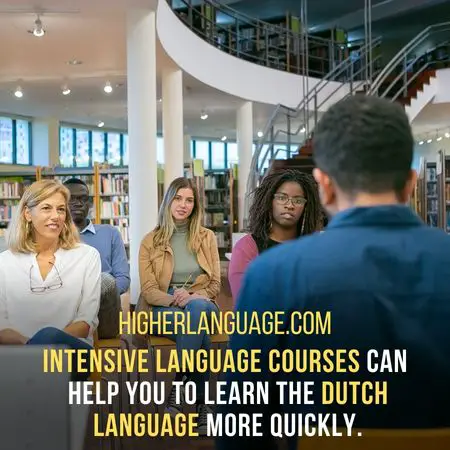 Intensive language courses can help you to learn more quickly, and it's always beneficial to practice with native Dutch speakers. Let's look at some other factors in detail:
1. The Amount Of Exposure You Get To Dutch:
The more exposure you get to the Dutch language, the more quickly you'll learn how to speak it. Immersion is one of the best ways to pick up a new language.
Living or volunteering in a Dutch-speaking country is an excellent way to familiarize yourself with how native speakers talk and use their grammar and vocabulary.
You can also get exposure to Dutch by watching Dutch movies or listening to Dutch music and podcasts.
Listening to the language helps you understand the pronunciation.
2. Time Spent Practicing Dutch:
How quickly you learn to speak Dutch is how much time you dedicate to practice.
If you attend regular classes or talk with native speakers, it will help improve your pronunciation and understanding of the language.
Learning a new language requires repetition, so review what you learned in each class. The more you practice, the faster you learn how to speak Dutch.
By studying for at least an hour every day and actively engaging with the language, you can reach a conversational level of Dutch within six months to one year.
3. Your Learning Style:
Everyone has their learning style, and how quickly you learn Dutch will depend on how well your chosen method suits you.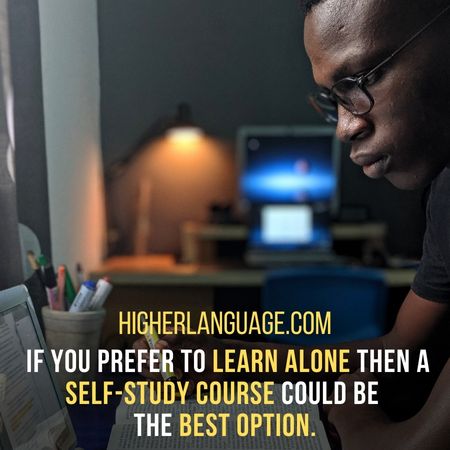 For example, a self-study course could be the best option if you prefer to learn alone.
However, if you pick up new information better when taught in an interactive environment, attending a language school or classes may be the better option.
So. choose whichever method fits your preference and how you like to learn.
4. Immersion:
If you want to learn Dutch more quickly, immersion is the way.
Try to immerse yourself in the language as much as possible by watching films, reading books, or listening to music in Dutch.
If you're lucky enough to live in a Dutch-speaking area, then even better! Use every opportunity to practice with native speakers and pick new words and phrases.
5. Is Your Native Language Similar To Dutch:
Suppose you're a native speaker of another Germanic language, such as English, German, or Afrikaans (a language spoken in South Africa and Namibia).
In that case, you'll find that learning how to speak Dutch is much easier.
That is because these languages share similarities in terms of grammar and vocabulary.
Such as how they form their plurals and how they phrase certain sentences. The same principle applies to Romance languages such as French, Spanish or Italian.
6 Key Points To Learning Dutch Faster
Learning any new language can be challenging, which is the same for Dutch.
Learning Dutch can take a few months to several years, depending on how well you know other languages and how much time and effort you are willing to put in.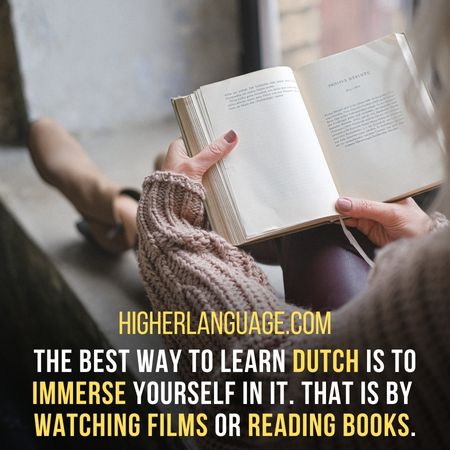 The best way to learn Dutch is to immerse yourself in it. Whether it be watching Dutch films, listening to Dutch music, or conversing with native speakers.
It would help if you also looked into how the Dutch communicate with each other.
Aside from that, other key points will help you in learning Dutch faster.
1. Practice With Native Speakers:
Practicing is the key to learning any language, as it helps you repeatedly review the concepts.
If you get an opportunity to practice Dutch with native speakers, then it would be great.
That way, you can understand the language the best way.
You can also use online video chat platforms to find native speakers and practice your Dutch with them.
2. Take Online Courses:
There are many online courses available that will help you learn the language faster.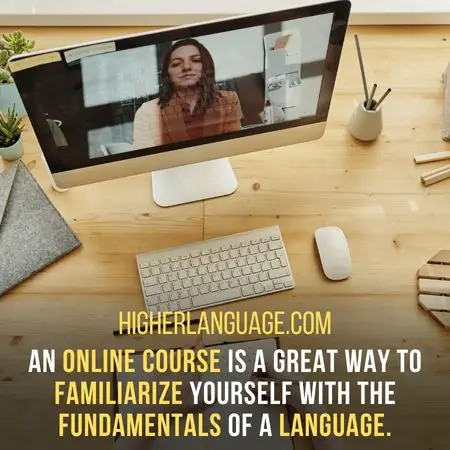 An online course is a great way to familiarize yourself with the fundamentals of the language and build a strong foundation for further learning.
Plus, you can interact with your instructors and other learners in the class, which will help you understand how to best use the language.
Learning through a course is faster than learning at home on your own.
3. Set Short-term Goals:
Setting small, achievable goals helps keep you motivated to learn Dutch.
Aim for a few words or phrases each day or week and gradually increase it as your confidence grows.
Knowing that you're making progress will help you reach your goal of learning Dutch.
Motivation is important to help in learning a new language.
4. Immerse Yourself:
The best way to learn any language is through immersion – hearing, speaking, and writing as much as possible.
If you can visit a country where Dutch is spoken, take advantage of the opportunity!
If not, try using online resources to immerse yourself in the language.
There are plenty of apps, websites, and social media platforms that can help you learn Dutch.
5. Set A Timetable:
It is important to set a timetable for learning the language.
Make sure to allocate time daily to review how you learned Dutch, practice what you know, and learn new concepts.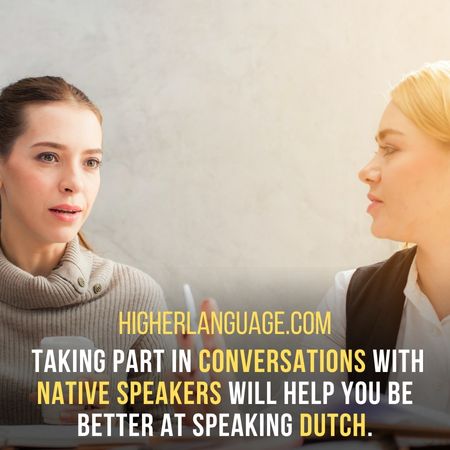 In addition to this, try taking part in conversations with native speakers whenever possible. That way, you can test how well you are doing.
6. Be Consistent:
Learning any language takes time and practice, so make sure you make an effort every day to review your lessons, practice, and stay up to date with the language.
That will help you build a strong foundation for Dutch and make sure that you retain what you have learned.
Final Thoughts:
So, How long does it take to learn Dutch? It all depends on how much time and effort you put into it.
The more regular your practice is, the better your progress will be.
Being consistent in your learning journey will help you greatly as you work towards gaining a good level of fluency in the language.
With dedication and commitment, you can make significant strides toward mastering Dutch.
Learning to speak Dutch can be a rather rewarding experience, and it's up to you how quickly or slowly you approach it.
It all depends on how often and consistently you practice, how much effort you put in, and how motivated you are.
However, you will soon be speaking Dutch fluently with enough dedication, time, and effort.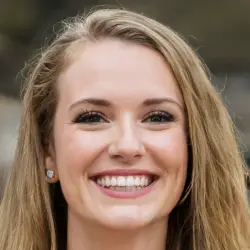 Latest posts by Sylvia Simpson
(see all)