In the Northeastern part of the United States, people often use a special way of talking by adding East Coast slang words. People from other places might not understand it.
Knowing words that people use on the East Coast can help you understand jokes and fit in. If you plan to visit or move there, learn some special words people use.
Here Are 12 East Coast Slang Words To Enlighten You Today!
If you're ever planning a trip to the East Coast, it's important to understand the slang of the locals.
It's not just a matter of fitting in but also a way to quickly connect with people and understand their culture.
East Coast slang words are a mishmash of different languages and dialects shaped by the region's history and melting pot of diverse communities.
With a simple phrase like "wicked" (which implies "very"), or the term for a local store – "bodega", and even an informal greeting of "yo", you can speak to people in their language.
It's almost as if learning this type of slang unlocks access to conversations you would otherwise not be able to join.
Plus, who doesn't want to sound like a true East Coaster? So, brush up on your vocab, and you'll be ready to "chillax" with the locals in no time.
1. Fuhgeddaboutit – An Expression Of Disbelief:
Fuhgeddaboutit! It's a phrase commonly heard on the streets of New York and in mafia movies.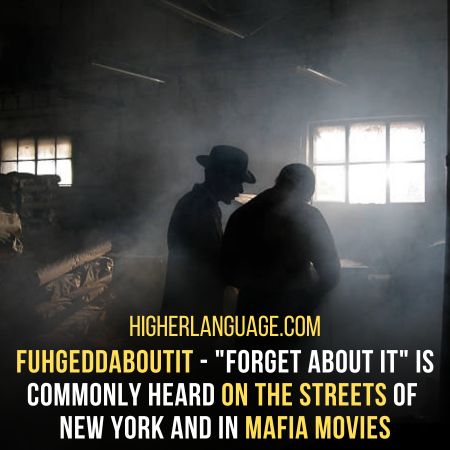 The origin of this slang dates back to the 1930s and 1940s when Italian Americans would say "fuggeddaboudit" to mean "forget about it."
Over time, it evolved into "fuhgeddaboutit" and took on a variety of meanings, including disbelief, agreement, or dismissal.
It's a versatile phrase that can convey emotions with just a four-syllable word. For example, if someone asks you if you want to go to a vegan restaurant, say "No thanks!" or "fuhgeddaboutit."
2. Uffda – A Way Of Expressing Surprise Or Alarm:
Have you ever heard someone exclaim "Uffda!" when something surprising happens?
This quirky word is a popular expression of surprise or alarm in the upper Midwest region of the United States, particularly in areas with a strong Scandinavian heritage.
Its origins are uncertain, but the word is thought to have roots in the Norwegian language.
Regardless of its origins, "Uffda" has become a beloved and unique part of the region's culture. It's a fun word to shout out when you're caught off guard or amazed by something unexpected.
The next time you're frazzled and at a loss for words, try shouting out your surprise with an enthusiastic "Uffda!"
3. Capeesh – A Term Used To Indicate Understanding:
Capeesh, my friend? Ah, the beautiful Italian-American slang word that means to understand.
It's one of those words that rolls off the tongue, isn't it? And it sounds so much cooler than the traditional "got it" or "understood."
Capeesh has a certain kind of swagger, a confident nod that says, "I'm not just hearing you; I'm getting it."
It's a word referenced in countless mobster movies and TV shows, but it's also worked its way into everyday language.
So, next time you want to show off your Italian-American slang vocabulary, just toss a "capeesh" and watch as heads turn in admiration.
4. Slice – Something Cool Or Awesome:
When someone says "slice," you might assume they're talking about a delicious piece of pizza. However, in this context, slice means something that is cool or awesome.
It's a slang term that's been kicking around for a while, but it's still popular among young people today.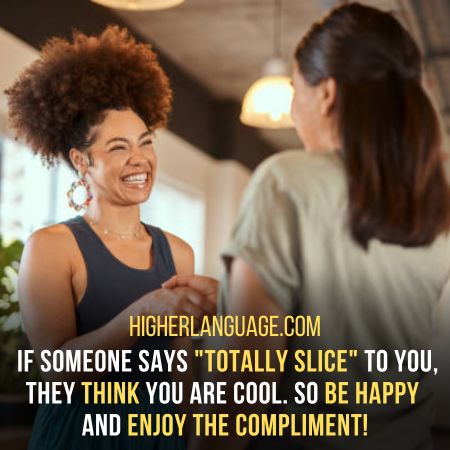 If someone tells you that your outfit is "slice" or that the new Marvel movie was "slice," it's a good thing. If someone says "totally slice" to you, they think you are cool. So be happy and enjoy the compliment!
5. Fam – Short For Family:
Fam – it's not just a word; it's a feeling. Short for family and commonly used among close friends, calling someone "fam" shows deep affection and trust.
It's like saying, "You may not be related to me by blood, but you are part of my inner circle."
Nowadays, it's not uncommon to see people refer to their favorite celebrities as "fam", as if they truly know them personally.
But that's the beauty of the word – it brings people together and creates a sense of belonging. So next time you call someone "fam", remember the special bond you share and cherish it always.
6. Chillax – An Abbreviation Of Chill And Relax:
Do you ever feel like life is moving too fast? Like you're constantly on the go, and you need a break? Well, my friend, it's time to chillax. Yes, you heard me right, chillax.
It's the newest and coolest way to say chill and relax all in one word. So grab a book, take a bubble bath, or just lay in bed and binge-watch your favorite TV show.
Whatever it is, just remember to take it easy and give yourself some much-needed downtime. Because let's face it, we all need some chillax time every now and then.
7. Tight – Describe Something Good Or Satisfactory:
Tight – a word that represents a whole spectrum of good. Do you know when you find that perfect pair of jeans that fits in all the right places? That's tight.
Or when you finish a challenging workout and feel invigorated? That's tight too. It can even describe a killer party, where the music is pumping, and the drinks are flowing.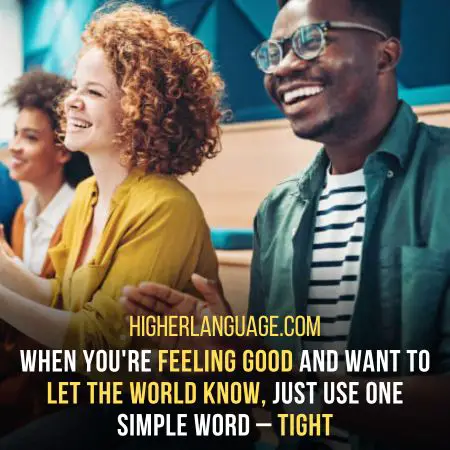 Tight is the ultimate seal of approval, the gold standard of satisfaction. So, when you're feeling good and want to let the world know, just use one simple word – tight.
8. Caper – Refers To A Wilder Type Of Adventure:
If you're ready for a wild time, it's time to caper! This term may sound like it belongs in Shakespearean times, but its meaning still holds up today.
When you caper, you're letting loose and having a blast, often on some adventure. It's like taking your typical chillaxing activity and amping it up to the next level.
So whether you're hiking through the woods with your friends or exploring a city you've never been to, let loose and caper on!
Just make sure you're prepared for whatever wildness comes your way.
9. Wicked– A Way Of Saying Cool Or Awesome:
If there's one thing you need to know about Boston slang, it's the word "wicked." Nope, it's not just the name of a famous musical; it's the ultimate compliment.
When you hear someone say something is "wicked," you better believe it's amazing.
It's like the cherry on top of an already awesome sundae. And don't think you can just substitute it for the word "cool" or "awesome" – wicked is so much more than that.
Next time you're in Boston, drop a few "wicked" bombs and you'll fit right in with the locals.
10. Bae – An Endearing Term For A Significant Other:
Have you ever heard someone call their significant other "bae" and wondered what it meant? Well, my friend, let me enlighten you.
Bae is an acronym for "before anyone else," which means that this person is the most important person in your life.
It's an endearing term that has become increasingly popular in modern dating culture. Whether you love it or hate it, there's no denying that "bae" has found a permanent place in our vocabulary.
If someone calls their partner "bae," you can show them how much you know by telling them how this word started.
11. Fo'sho – Definitely, For Sure:
If you're looking to sound hip and happening, then "Fo'sho" is a phrase you must add to your vocabulary. It's short, snappy, and oh-so-cool-sounding. But where did it come from?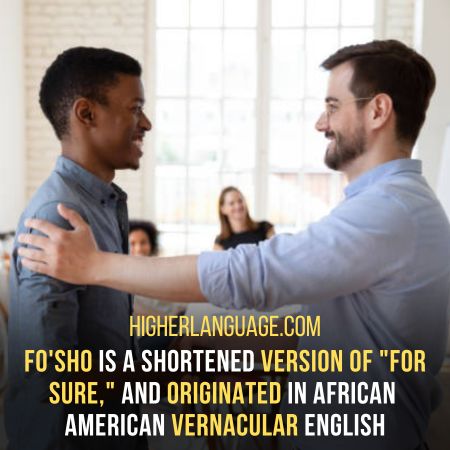 Well, it's a shortened version of "for sure," which originated in African American Vernacular English (AAVE) in the 60s.
But now, people of all backgrounds widely use it, and it's even made its way into pop culture, with rappers and singers dropping it in their lyrics.
When you want to show people you know, say "Fo'sho". People will nod their heads and agree.
12. Bet – Yes, I Agree:
Are you ready to roll the dice and take a chance? If so, then betting might just become your new favorite pastime. I'm all for a good bet, as long as it's done responsibly.
It is thrilling to put faith in your intuition and watch it pay off.
Putting a little money on the line can excite any situation, whether at the race track or a casino.
So go ahead, place that bet – just remember to set limits and have fun with it.
Conclusion:
I hope you feel enlightened and amused as we say goodbye to our exploration of East Coast slang words.
From the timeless "wicked" to the more contemporary "lit," it's clear that the East Coast has no shortage of colorful vocabulary.
Some words are special just to certain areas. In Philadelphia, people might say "jawn" and in the East Coast, you may hear people say "youse" or "y'all". You might have already heard these words.
So next time you're hanging out with your friends and looking for a laugh, bust out some slang words and see if they're impressed (or just confused).
When in doubt, embrace the classics: a simple "yo" or an iconic "bodega"!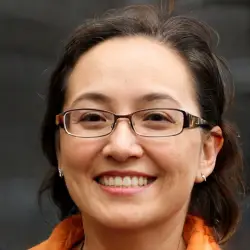 Latest posts by Elizabeth Williams
(see all)